DeSantis Announces Actions to Confront CCP Influence in Florida
Florida Governor Ron DeSantis on Sept. 22 signed a new executive order and unveiled a package of legislative proposals to combat "malign foreign influence," particularly from communist China."The number one source of that influence, not just in the United States but really around the world, is the Chinese Communist Party," DeSantis said during an event at Miami Dade College on Thursday. Standing behind a podium with a "Stop CCP Influence" sign, DeSantis said he signed an executive order to address the cybersecurity risks posed by foreign companies, especially those with ties to the Chinese Communist Party (CCP). "The last thing we want to see is the [CCP] getting their mitts onto people's personal information," DeSantis said. The new executive order, he said, prohibits Florida's government agencies from procuring or using technology products and services from companies connected to "foreign countries of concern." He added that these counties include China, Iran, Russia, Cuba, and "other types of regimes hostile to American interests." "This will prevent the exposure of Floridians' personal information and technology systems in Florida to foreign entities and bad actors," he said. "One of the things they [the CCP] like to do is use technology to advance themselves and that includes trying to get personal information of Americans," DeSantis said. TikTok was popular among teens in the United States. The governor singled out Chinese-owned TikTok, hugely popular among young Americans, as a concern. "They are amassing a lot of data," he said of the app. "I think it's a huge national security risk." Users browse through the Chinese-owned video-sharing TikTok app on a smartphones in Amritsar, India, on June 30, 2020. (Narinder Nanu/AFP via Getty Images) The short-video app is founded and owned by Bytedance, a Beijing-based tech giant. The social media company's Chief Operating Officer Vanessa Pappas confirmed to the Senate Homeland Security on Sept. 14 that its China-based employees have access to U.S. users' data. The TikTok representative insisted the company has "very strict access controls around the type of data that they [China-based employees] can access." But the possibility that the CCP could access Americans' data, given that Chinese laws compel companies to cooperate with security agencies when asked, prompted Sen. Rob Portman (R-Ohio) to request Pappas to cut all U.S. data flows to China. Pappas didn't make the commitment during the hearing. "We really need to do much, much more," DeSantis said on Sept. 22. The governor added that he has proposed new legislation to block "government entities from contracting with companies owned by, controlled by, or domiciled in foreign countries of concern if the contract would provide access to Floridians' personal information." "This is things like Social Security numbers; it's things like your bank account information, and it's things like your medical records," he continued. "That should not be in the hands of the Chinese Communist Party." Purchases of US Land In addition to the cybersecurity concerns, the governor of the Sunshine State warned about U.S. land being purchased by the groups and companies with ties to the CCP. DeSantis noted the CCP-affiliated companies have already bought land near military bases in other states, like the Grand Forks Air Force Base in North Dakota. "Why are they doing that? Of course, they want to get intelligence; they want to know what's going on here in the United States," he said. Noting that Florida is home to 21 military bases from every branch of the armed forces, DeSantis announced a new proposed legislative action that would curb the purchase of agricultural land and lands near military bases by foreign countries of concern. As of 2019, more than 5 percent of the agricultural land in Florida was owned by foreign investors, the fifth-highest in the United States, according to the Republican governor. While some of the owners are from friendly countries like the UK, he said millions of Floridians need "a layer of protection" from the CCP. DeSantis has previously called out the CCP for China's massive investment in real estate in Florida. A July report by the National Association of Realtors showed that Chinese investors were among the top foreign buyers of U.S. real estate. From April 2021 to March, Chinese buyers spent $6.1 billion on existing homes, up 30 percent from a year ago. Florida was among the top destinations for their purchases. "I think it's a huge problem," DeSantis said when asked about the report in a July interview with Fox News. "I don't think they should be able to do it," the governor said at that time. "I think the problem is these companies have ties to the CCP, and it's not always apparent on the face of whatever a company is doing." Scrutinizing College Donations DeSantis also wants to step up efforts to safeguard higher education institutions' intellectual property from the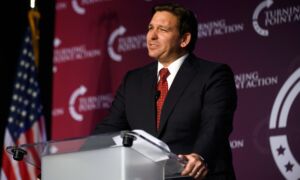 Florida Governor Ron DeSantis on Sept. 22 signed a new executive order and unveiled a package of legislative proposals to combat "malign foreign influence," particularly from communist China.
"The number one source of that influence, not just in the United States but really around the world, is the Chinese Communist Party," DeSantis said during an event at Miami Dade College on Thursday.
Standing behind a podium with a "Stop CCP Influence" sign, DeSantis said he signed an executive order to address the cybersecurity risks posed by foreign companies, especially those with ties to the Chinese Communist Party (CCP).
"The last thing we want to see is the [CCP] getting their mitts onto people's personal information," DeSantis said.
The new executive order, he said, prohibits Florida's government agencies from procuring or using technology products and services from companies connected to "foreign countries of concern." He added that these counties include China, Iran, Russia, Cuba, and "other types of regimes hostile to American interests."
"This will prevent the exposure of Floridians' personal information and technology systems in Florida to foreign entities and bad actors," he said.
"One of the things they [the CCP] like to do is use technology to advance themselves and that includes trying to get personal information of Americans," DeSantis said. TikTok was popular among teens in the United States.
The governor singled out Chinese-owned TikTok, hugely popular among young Americans, as a concern.
"They are amassing a lot of data," he said of the app. "I think it's a huge national security risk."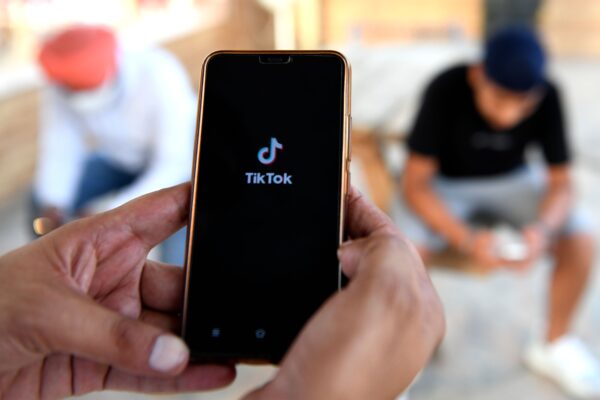 The short-video app is founded and owned by Bytedance, a Beijing-based tech giant. The social media company's Chief Operating Officer Vanessa Pappas confirmed to the Senate Homeland Security on Sept. 14 that its China-based employees have access to U.S. users' data.
The TikTok representative insisted the company has "very strict access controls around the type of data that they [China-based employees] can access." But the possibility that the CCP could access Americans' data, given that Chinese laws compel companies to cooperate with security agencies when asked, prompted Sen. Rob Portman (R-Ohio) to request Pappas to cut all U.S. data flows to China. Pappas didn't make the commitment during the hearing.
"We really need to do much, much more," DeSantis said on Sept. 22.
The governor added that he has proposed new legislation to block "government entities from contracting with companies owned by, controlled by, or domiciled in foreign countries of concern if the contract would provide access to Floridians' personal information."
"This is things like Social Security numbers; it's things like your bank account information, and it's things like your medical records," he continued. "That should not be in the hands of the Chinese Communist Party."
Purchases of US Land
In addition to the cybersecurity concerns, the governor of the Sunshine State warned about U.S. land being purchased by the groups and companies with ties to the CCP.
DeSantis noted the CCP-affiliated companies have already bought land near military bases in other states, like the Grand Forks Air Force Base in North Dakota.
"Why are they doing that? Of course, they want to get intelligence; they want to know what's going on here in the United States," he said.
Noting that Florida is home to 21 military bases from every branch of the armed forces, DeSantis announced a new proposed legislative action that would curb the purchase of agricultural land and lands near military bases by foreign countries of concern.
As of 2019, more than 5 percent of the agricultural land in Florida was owned by foreign investors, the fifth-highest in the United States, according to the Republican governor. While some of the owners are from friendly countries like the UK, he said millions of Floridians need "a layer of protection" from the CCP.
DeSantis has previously called out the CCP for China's massive investment in real estate in Florida. A July report by the National Association of Realtors showed that Chinese investors were among the top foreign buyers of U.S. real estate. From April 2021 to March, Chinese buyers spent $6.1 billion on existing homes, up 30 percent from a year ago. Florida was among the top destinations for their purchases.
"I think it's a huge problem," DeSantis said when asked about the report in a July interview with Fox News.
"I don't think they should be able to do it," the governor said at that time. "I think the problem is these companies have ties to the CCP, and it's not always apparent on the face of whatever a company is doing."
Scrutinizing College Donations
DeSantis also wants to step up efforts to safeguard higher education institutions' intellectual property from the CCP.
A 2021 bill required universities to disclose gifts and donations at the value of $50,000 or more from countries of concern. These countries are China, Cuba, Iran, North Korea, Russia, Syria, and Venezuela.
"But even sub-$50,000 donations from individuals and groups pushing the agendas of hostile foreign powers on college campuses can undercut academic integrity, warp the perspectives of many students, and sway the research and writing of many professors to align with the interests and values of the sources of that funding," according to his office.
One of the new legislative proposals, DeSantis said, would ban "any gift to a higher education institution in Florida from any individual, private entities, or government organizations that is domiciled in a foreign country of concern."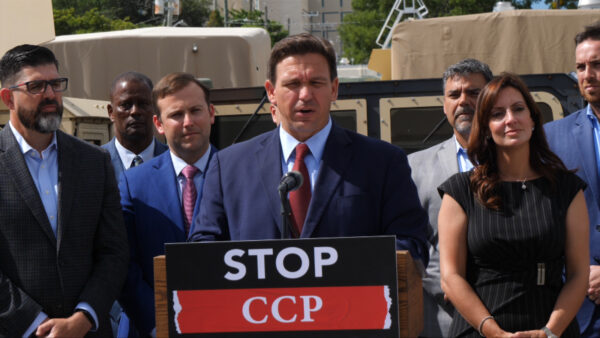 The governor said he has witnessed incidents in recent years involving foreign students or researchers coming to American universities and taking intellectual property back to China.
In February 2021, a former University of Florida professor Lin Yang was indicted for concealing the CCP aid while collecting $1.75 million in U.S. taxpayer grant money for research that benefited a firm he secretly founded in China. However, Yang fled to China in 2019 and hasn't returned to the United States.
In 2019, the Florida-based Moffitt Cancer Center announced the resignation of its CEO and five other senior staff members for "violations of conflict of interest rules through their work in China." The statement came after the research institute's internal review found the five's participation in the Thousand Talents Program, a recruitment plan designed by the CCP to attract top scientists and engineers to work in China.
Frank Fang, Eva Fu, and Ivan Pentchoukov contributed to the report.