DEA Announces Record Fentanyl Seizures in 2022, Accounting for 379 Million Deadly Doses
The Drug Enforcement Agency (DEA) has announced massive seizures of fentanyl power and fentanyl-laced pills, many of them produced in Mexico using chemical ingredients supplied by Chinese chemical plants, in the course of the calendar year 2022, altogether accounting for more than 379 million doses of the drug.According to a Dec. 20 DEA release, the agency has dealt a blow to the operations of the Mexican Sinaloa and Jalisco cartels trafficking fentanyl into the United States, capturing more than 10,000 pounds of fentanyl powder, and more than 50.6 million fake prescription pills laced with fentanyl, over the course of the year. "In the past year, the men and women of the DEA have relentlessly worked to seize over 379 million deadly doses of fentanyl from communities across the country. These seizures—enough deadly doses of fentanyl to kill every American—reflect the DEA's unwavering commitment to protect Americans and save lives, by tenaciously pursuing those responsible for the trafficking of fentanyl across the United States," said Anne Milgram, administrator of the DEA. What makes the influx of fentanyl-tainted pills into the country such a grave danger for U.S. citizens—whose annual overdose deaths from opioids and other drugs have crossed the 100,000 mark—is that the fake prescription pills can be hard if not impossible for the untrained eye to differentiate from such legitimate prescription medications as Xanax and OxyContin, the agency notes. While frankly acknowledging the role of secret factories associated with the Mexican cartels in the production of the drugs, the DEA statement omits the role of China in the global production and supply of chemical ingredients used to produce opioids. At a Brookings Institution virtual event in March, Vanda Felbab-Brown, the author of a report on China's role in fentanyl supply chains, made clear that that role easily exceeds those of other countries and governments. "China remains the principal supplier of precursor chemicals for the production of fentanyl not just in the United States, but across all of North America. This includes Canada, which is now dealing with as devastating an opioid crisis as the United States, and we are also seeing the spread of fentanyl in various parts of Mexico," Felbab-Brown said, By Felbab-Brown's estimate, 78,388 of the 104,288 overdose deaths in the United States between October 2020 and September 2021 are attributable to opioids. The report painted a disturbing picture of a Chinese opioid shadow industry where hundreds of thousands of manufacturers and distributors operate without licenses and mask their operations behind shell companies, with little or no oversight from government regulators. At the same time, the report noted that officials in Beijing deny blame for the spread of the crisis and insist that social problems in the United States, not their leniency in the face of the sprawling illicit industry, are the culprit. Michael Washburn is a New York-based reporter who covers U.S. and China-related topics. He has a background in legal and financial journalism, and also writes about arts and culture. Additionally, he is the host of the weekly podcast Reading the Globe. His books include "The Uprooted and Other Stories," "When We're Grownups," and "Stranger, Stranger."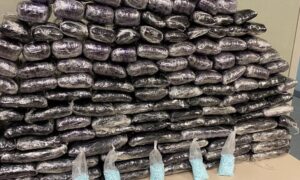 The Drug Enforcement Agency (DEA) has announced massive seizures of fentanyl power and fentanyl-laced pills, many of them produced in Mexico using chemical ingredients supplied by Chinese chemical plants, in the course of the calendar year 2022, altogether accounting for more than 379 million doses of the drug.
According to a Dec. 20 DEA release, the agency has dealt a blow to the operations of the Mexican Sinaloa and Jalisco cartels trafficking fentanyl into the United States, capturing more than 10,000 pounds of fentanyl powder, and more than 50.6 million fake prescription pills laced with fentanyl, over the course of the year.
"In the past year, the men and women of the DEA have relentlessly worked to seize over 379 million deadly doses of fentanyl from communities across the country. These seizures—enough deadly doses of fentanyl to kill every American—reflect the DEA's unwavering commitment to protect Americans and save lives, by tenaciously pursuing those responsible for the trafficking of fentanyl across the United States," said Anne Milgram, administrator of the DEA.
What makes the influx of fentanyl-tainted pills into the country such a grave danger for U.S. citizens—whose annual overdose deaths from opioids and other drugs have crossed the 100,000 mark—is that the fake prescription pills can be hard if not impossible for the untrained eye to differentiate from such legitimate prescription medications as Xanax and OxyContin, the agency notes.
While frankly acknowledging the role of secret factories associated with the Mexican cartels in the production of the drugs, the DEA statement omits the role of China in the global production and supply of chemical ingredients used to produce opioids.
At a Brookings Institution virtual event in March, Vanda Felbab-Brown, the author of a report on China's role in fentanyl supply chains, made clear that that role easily exceeds those of other countries and governments.
"China remains the principal supplier of precursor chemicals for the production of fentanyl not just in the United States, but across all of North America. This includes Canada, which is now dealing with as devastating an opioid crisis as the United States, and we are also seeing the spread of fentanyl in various parts of Mexico," Felbab-Brown said,
By Felbab-Brown's estimate, 78,388 of the 104,288 overdose deaths in the United States between October 2020 and September 2021 are attributable to opioids.
The report painted a disturbing picture of a Chinese opioid shadow industry where hundreds of thousands of manufacturers and distributors operate without licenses and mask their operations behind shell companies, with little or no oversight from government regulators.
At the same time, the report noted that officials in Beijing deny blame for the spread of the crisis and insist that social problems in the United States, not their leniency in the face of the sprawling illicit industry, are the culprit.