DC Rally Urges 'Aggressive Actions' by Congress to End CCP's Forced Organ Harvesting of Falun Gong Practitioners
WASHINGTON—More than 1,500 Falun Gong practitioners gathered on the National Mall on July 21 to call for an end to the Chinese communist regime's persecution of the faith group.With the U.S. Capitol in the background, speakers at a rally highlighted the growing awareness of the forced organ harvesting of detained Falun Gong practitioners and the Chinese Communist Party (CCP)'s threat to the United States. "Forced organ harvesting is one of the most barbaric practices in human history. And it's past time for real accountability," Rep. Steve Chabot (R-Ohio) said, noting that Congress must take "aggressive actions" against the crime. "America is finally waking up to the threat posed by China. And we all need to hear your story, understand how brutal the CCP has been to you, and learn from your experience." July 20 marked 23 years since the Chinese Communist Party (CCP) launched its sweeping campaign to eradicate Falun Gong, a spiritual practice involving meditative exercises and a set of moral teachings based on the tenets of truthfulness, compassion, and tolerance. The practice's popularity, with an estimated 70 million to 100 million adherents in China by 1999, was perceived by the Party as a threat to its authoritarian control over society. Rep. Steve Chabot (R-Ohio) speaks at a rally to commemorate the 23rd anniversary of the launch of the Chinese regime's persecution of spiritual group Falun Gong, held on the National Mall in Washington on July 21, 2022. (Samira Bouaou/The Epoch Times) 'Congress Absolutely Must Act' Speakers at the rally also urged support for the Stop Forced Organ Harvesting Act of 2021, legislation that would sanction those responsible for forced organ harvesting and prohibit the export of medical devices used in the grisly practice. An independent tribunal in 2019 found that the Chinese regime had, for years, been killing detained prisoners of conscience—primarily Falun Gong practitioners—for their organs to supply the organ transplant market on a "significant scale," a practice that continues today. Ambassador Andrew Bremberg, president of the Victims of Communism Memorial Foundation (VOC), a Washington-based advocacy group, urged Congress to take the lead in passing the legislation. Andrew Bremberg, president of the Victims of Communism Memorial Foundation, speaks at a rally in Washington on July 21, 2022, calling for an end to the 23-year-long persecution of Falun Gong. (Lisa Fan/The Epoch Times) "It is now known that due to CCP policies, highly trained surgeons have, for decades, been turned into executioners of prisoners on the operating table," he said, referring to the findings of VOC fellow Matthew Robertson's April paper in the American Journal of Transplantation. "Millions of people who practice Falun Gong in China have been imprisoned, tortured, or killed," Rep. Gus Bilirakis (R-Fla.) said in his video message to rally attendees. "If we remain silent in the face of these transgressions, we neglect that moral imperative and do so at the peril of civil society." In his video speech, Sen. Ted Cruz (R-Texas) said: "America has an obligation to uphold and promote the ability to practice religion free of government hindrance. Allowing the Chinese Communist Party to continue this vicious cycle of persecution without consequences is a dereliction of moral duty." Rep. Scott Perry (R-Pa.) also sent his virtual speech: "China's persecution of the Falun Gong, whether it's forced organ harvesting, unjust imprisonment, or forced labor, is evil. It's perverse. Falun Gong practitioners take part in a rally to commemorate the 23rd anniversary of the launch of the Chinese regime's persecution of spiritual group Falun Gong, on the National Mall in Washington on July 21, 2022. (Larry Dye/The Epoch Times) "Congress absolutely must act, ensuring that millions of Falun Gong practitioners are not denied the freedom to exercise their religious belief." Perry also noted that he introduced the Falun Gong Protection Act last December. The legislation would sanction individuals who are involved or have contributed to forced organ harvesting of Falun Gong practitioners and asks the State Department to evaluate whether the persecution constitutes genocide. Religious Freedom Worsened in China Commissioner Eric Ueland of the U.S. Commission on International Religious Freedom (USCIRF) said the religious freedom condition in China has rapidly deteriorated in the past decade. "Not since the worst day of the Cultural Revolution have you seen such widespread and terrible persecution of religious communities in China, including the Falun Gong," Ueland said at the rally. Eric Ueland, commissioner at the United States Commission on International Religious Freedom, speaks at a rally in Washington on July 21, 2022, marking the 23rd year since the commence of the Chinese regime's persecution of Falun Gong. (Lisa Fan/The Epoch Times) He said USCIRF had repeatedly noted the persecution of Falun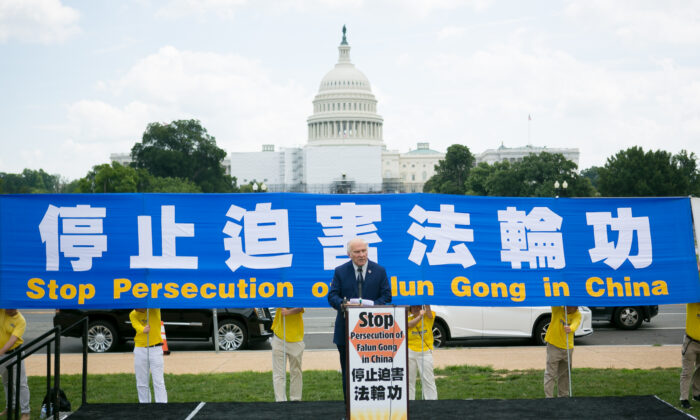 WASHINGTON—More than 1,500 Falun Gong practitioners gathered on the National Mall on July 21 to call for an end to the Chinese communist regime's persecution of the faith group.
With the U.S. Capitol in the background, speakers at a rally highlighted the growing awareness of the forced organ harvesting of detained Falun Gong practitioners and the Chinese Communist Party (CCP)'s threat to the United States.
"Forced organ harvesting is one of the most barbaric practices in human history. And it's past time for real accountability," Rep. Steve Chabot (R-Ohio) said, noting that Congress must take "aggressive actions" against the crime. "America is finally waking up to the threat posed by China. And we all need to hear your story, understand how brutal the CCP has been to you, and learn from your experience."
July 20 marked 23 years since the Chinese Communist Party (CCP) launched its sweeping campaign to eradicate Falun Gong, a spiritual practice involving meditative exercises and a set of moral teachings based on the tenets of truthfulness, compassion, and tolerance. The practice's popularity, with an estimated 70 million to 100 million adherents in China by 1999, was perceived by the Party as a threat to its authoritarian control over society.
'Congress Absolutely Must Act'
Speakers at the rally also urged support for the Stop Forced Organ Harvesting Act of 2021, legislation that would sanction those responsible for forced organ harvesting and prohibit the export of medical devices used in the grisly practice.
An independent tribunal in 2019 found that the Chinese regime had, for years, been killing detained prisoners of conscience—primarily Falun Gong practitioners—for their organs to supply the organ transplant market on a "significant scale," a practice that continues today.
Ambassador Andrew Bremberg, president of the Victims of Communism Memorial Foundation (VOC), a Washington-based advocacy group, urged Congress to take the lead in passing the legislation.
"It is now known that due to CCP policies, highly trained surgeons have, for decades, been turned into executioners of prisoners on the operating table," he said, referring to the findings of VOC fellow Matthew Robertson's April paper in the American Journal of Transplantation.
"Millions of people who practice Falun Gong in China have been imprisoned, tortured, or killed," Rep. Gus Bilirakis (R-Fla.) said in his video message to rally attendees. "If we remain silent in the face of these transgressions, we neglect that moral imperative and do so at the peril of civil society."
In his video speech, Sen. Ted Cruz (R-Texas) said: "America has an obligation to uphold and promote the ability to practice religion free of government hindrance. Allowing the Chinese Communist Party to continue this vicious cycle of persecution without consequences is a dereliction of moral duty."
Rep. Scott Perry (R-Pa.) also sent his virtual speech: "China's persecution of the Falun Gong, whether it's forced organ harvesting, unjust imprisonment, or forced labor, is evil. It's perverse.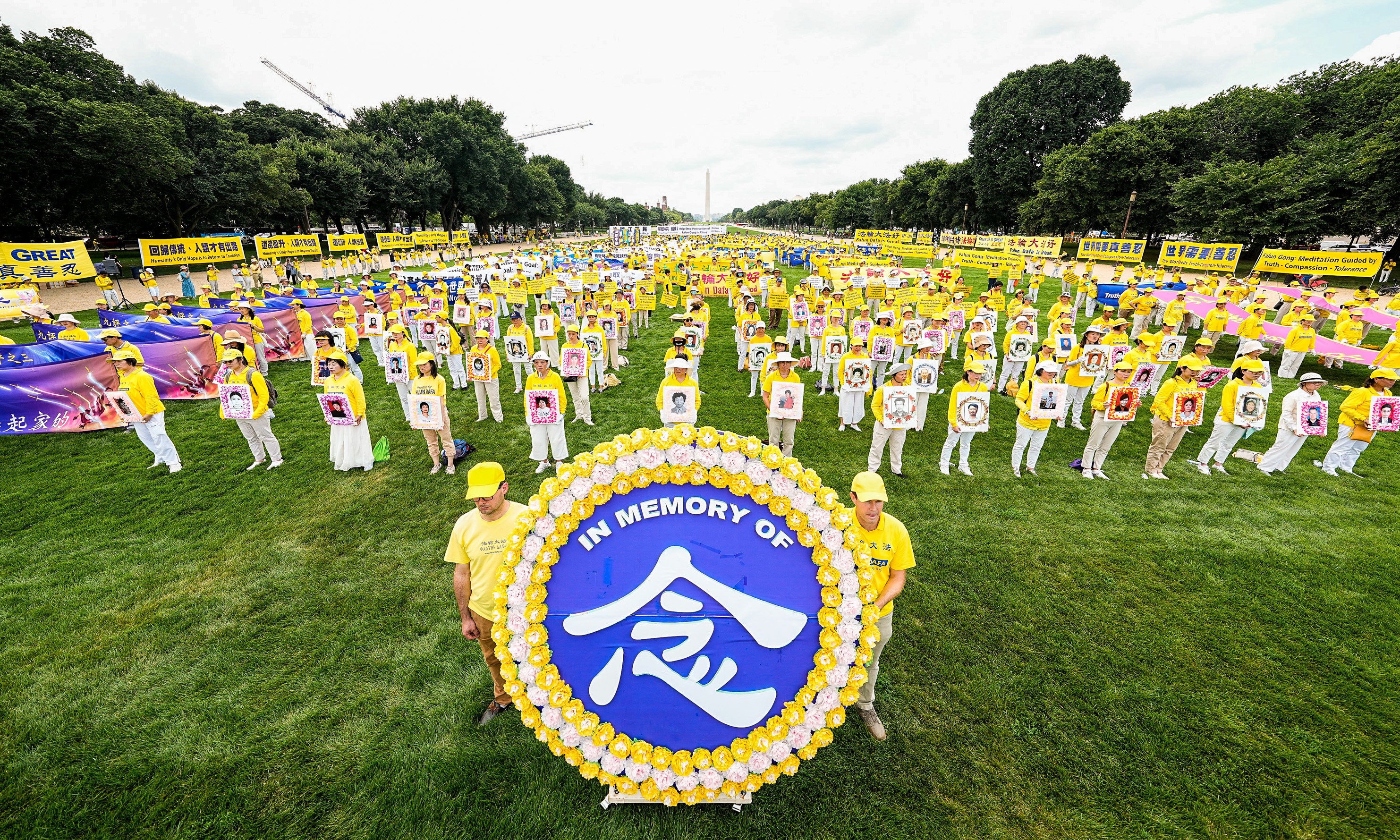 "Congress absolutely must act, ensuring that millions of Falun Gong practitioners are not denied the freedom to exercise their religious belief."
Perry also noted that he introduced the Falun Gong Protection Act last December.
The legislation would sanction individuals who are involved or have contributed to forced organ harvesting of Falun Gong practitioners and asks the State Department to evaluate whether the persecution constitutes genocide.
Religious Freedom Worsened in China
Commissioner Eric Ueland of the U.S. Commission on International Religious Freedom (USCIRF) said the religious freedom condition in China has rapidly deteriorated in the past decade.
"Not since the worst day of the Cultural Revolution have you seen such widespread and terrible persecution of religious communities in China, including the Falun Gong," Ueland said at the rally.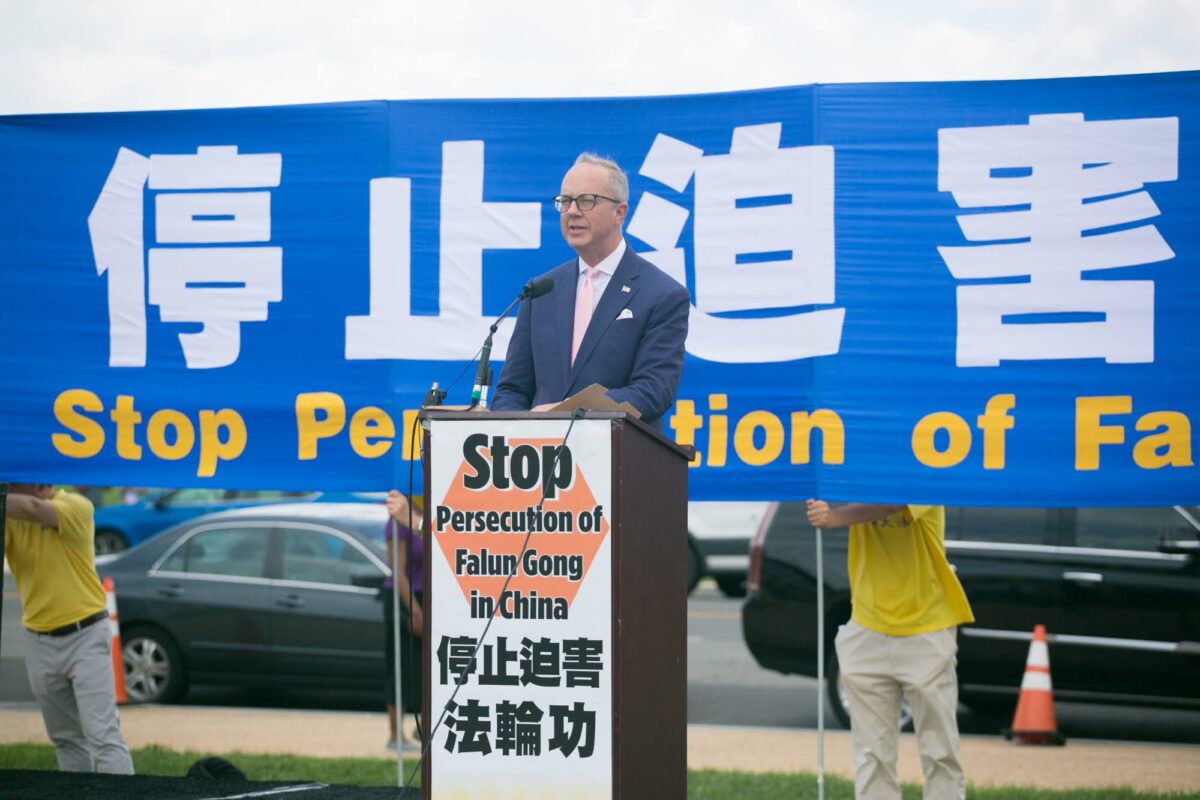 He said USCIRF had repeatedly noted the persecution of Falun Gong and that some practitioners had even "died at the hands of Chinese officials."
"This shocks the conscience and should seize our souls," Ueland said.
Annie Boyajian, a vice president at Freedom House, a human rights organization, said the persecution of Falun Gong had worsened over the past five years, especially during the COVID-19 pandemic. She also worried that Falun Gong practitioners and Catholics in Hong Kong might be targeted in the coming year.
"Many may not know that some of the architects of repression in Xinjiang perfected those techniques on Tibetans and Falun Gong practitioners," Boyajian said.
The Stop Forced Organ Harvesting Act of 2021 has to pass this year, or it will have to be reintroduced in 2023. In March 2021, Sens. Tom Cotton (R-Ark.) and Christopher Coons (D-Del.) introduced the Senate version of the legislation, and Reps. Chris Smith (R-N.J.) and Thomas Suozzi (D-N.Y.) introduced the House version.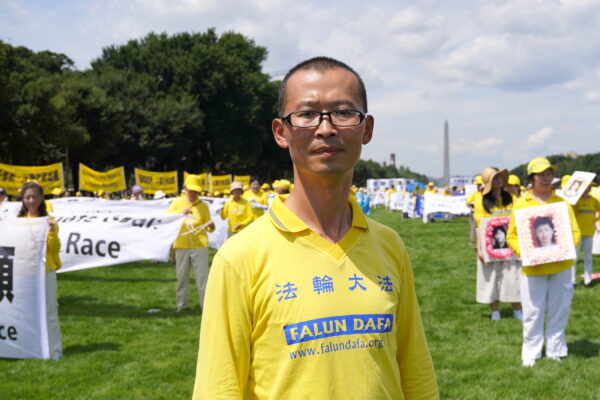 Safeguarding Free Will in China and the US
Arthur Zhang, a U.S. Air Force staff sergeant based in Florida, took the day off to participate in the event. To him, raising awareness of the persecution of Falun Gong in China and safeguarding the United States are two sides of the same coin; they are both about upholding virtue, his "priority in life."
When the persecution began overnight on July 20, 1999, Zhang was a 17-year-old high school senior in a small county in China's Hebei Province. He had begun practicing Falun Gong three years earlier.
For following Falun Gong's tenets of truthfulness, compassion, and forbearance and refusing to denounce them to the CCP, he lost the opportunity to attend a university in Beijing and later his choice of graduate school. He endured torture during his one-year term in a Chinese labor camp.
In February 2001, at a reeducation camp dispatch office in a suburb of Beijing, a dozen policemen shocked four Falun Gong practitioners with electric batons for declaring that "Falun Dafa is good."
Zhang was one of the four. His teeth were clenched in a tight bite as the rods landed on his face, mouth, and neck. He couldn't open his mouth and lost control of his facial muscles. As electric batons buzzed loudly next to his ears, he barely held on to his mind.
"I am not dead. I'm not dead," Zhang said he kept telling himself. "I won't say Falun Dafa is bad, even if I were to die."
In January 2002, Zhang was released from Tuanhe Labor Camp in Beijing.
After graduating from a university in Hebei Province, he worked in Shanghai for a U.S. corporation, through which he obtained a visa to visit the United States. As a result of an application in 2012, he was granted asylum in 2014.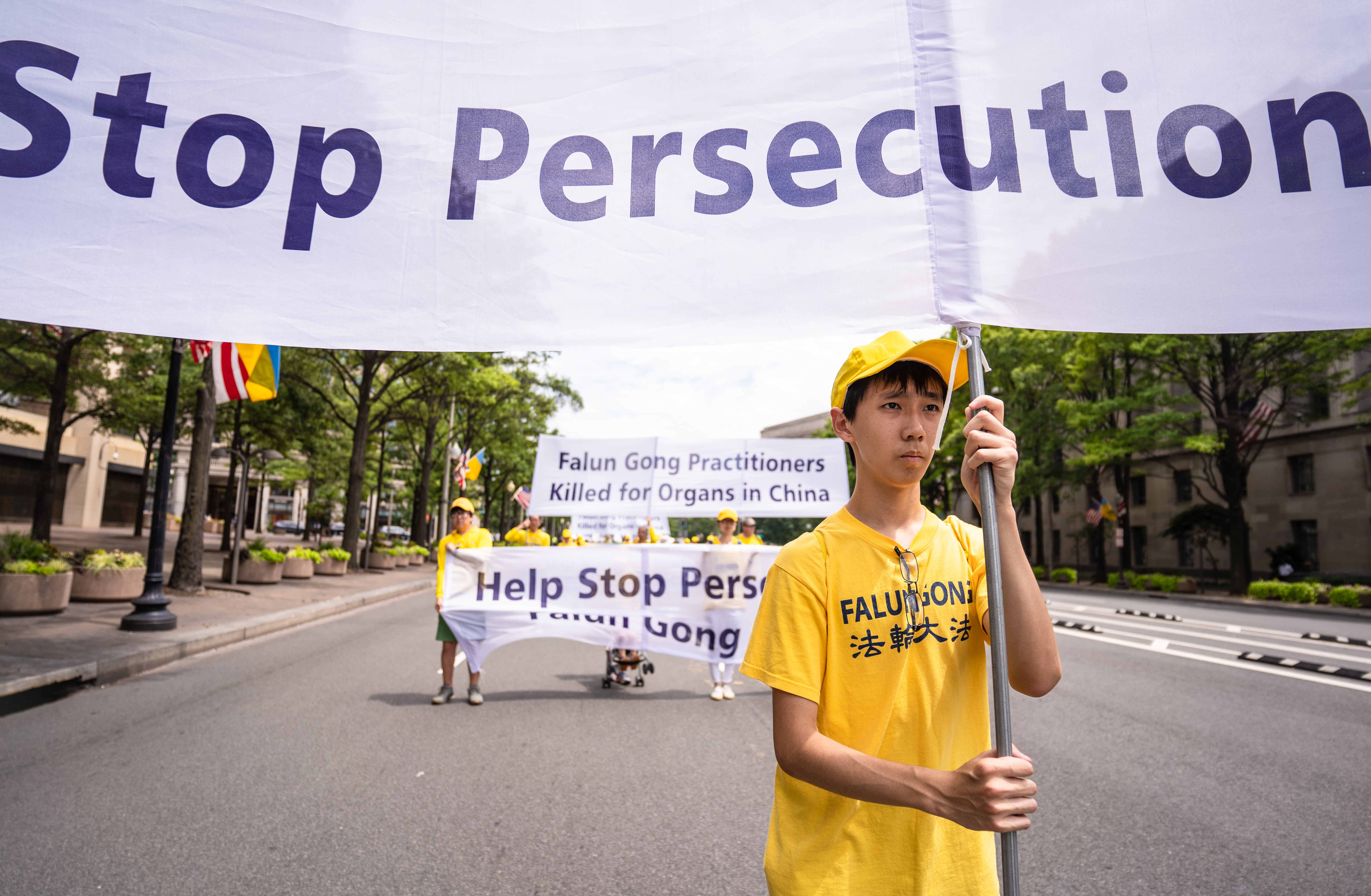 As he was looking for a way to give back to the United States, he came across the U.S. Air Force's recruitment information in 2016. The values of "integrity first," "service before self," and "excellence in all we do" resonated with him deeply—so much so that he became a rookie at 35, almost twice as old as the youngest recruit in his 52-member cohort.
The Air Force's core values "are similar to the principles taught by Falun Gong, such as to be honest, to consider others first, to sacrifice, and to bear our responsibilities," Zhang told The Epoch Times.
The then-35-year-old had never been to a gym before joining the Air Force. Yet with grit, he passed the physical test and graduated in 2017 with a distinguished student award.
Zhang said he wanted to offer insights gained from life experience to help safeguard the United States, his adopted country that he believes is under attack from communism on many fronts.
To him, the CCP imposes its will on people, takes away their free will, and deprives them of critical thinking and options to make their own choices.
"Of all the people [who have] had their free will destroyed by the CCP, they either blindly follow it or hate it. Yet they are under the CCP's control," Zhang said. "Falun Gong has enabled me to transcend that and see the CCP beyond my own persecution experience."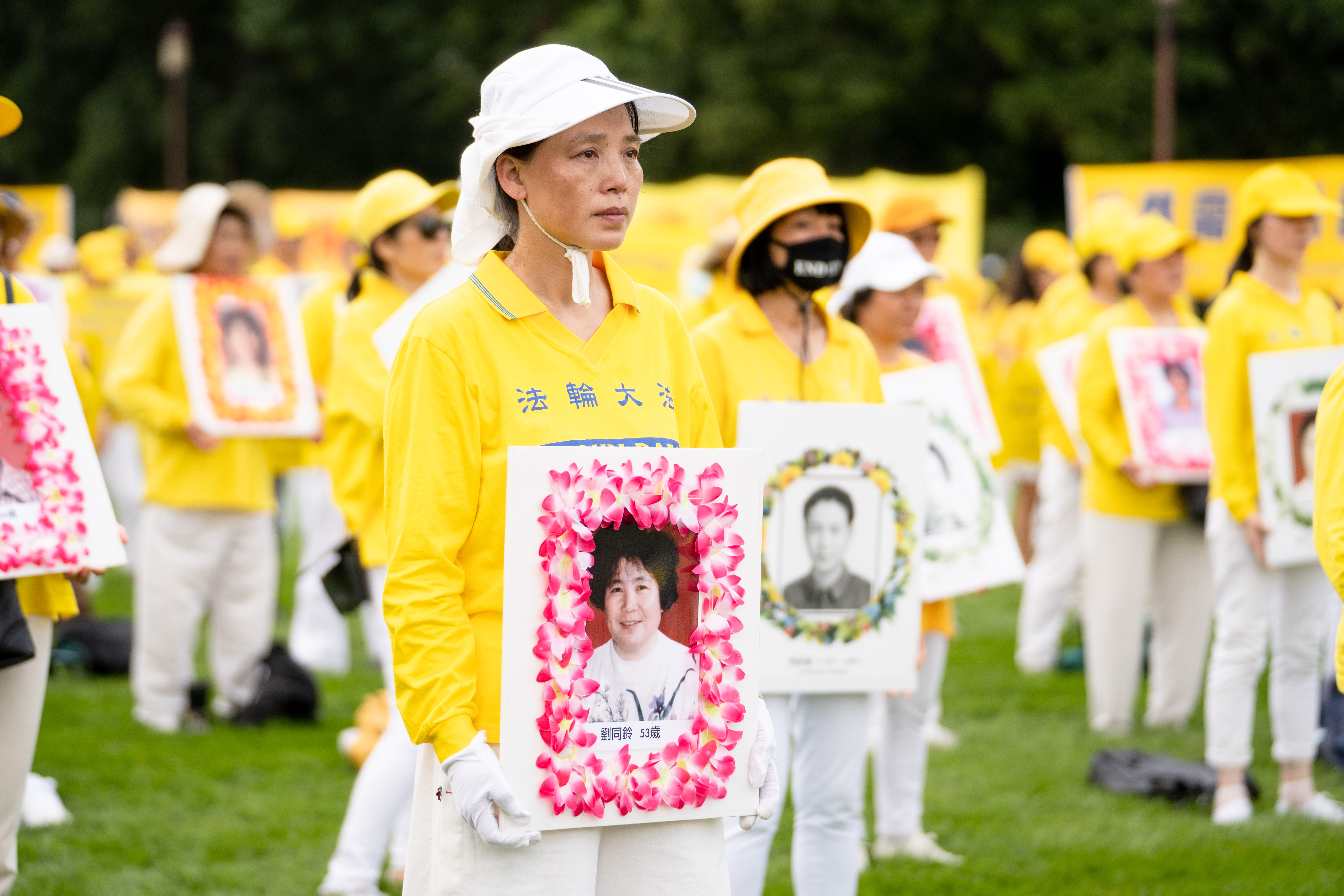 The service member said he wanted to help more people lead a normal life by ridding them of the CCP's control and restoring their free will. So he was glad to see that the federal grand jury recently indicted five people—Chinese and non-Chinese alike—for allegedly repressing Chinese dissidents on U.S. soil.
Zhang said Chinese agents have done the same to Falun Gong practitioners in the United States for decades. Raising awareness about the persecution of Falun Gong in China would help secure the United States and its values, he said.
Other speakers at the rally included Piero Tozzi, senior adviser to Rep. Chris Smith (R-N.J.); Sean Nelson, legal counsel at the Alliance Defending Freedom International; Arielle Del Turco, assistant director of the Center for Religious Liberty at the Family Research Council; Darren Spinck, associate research fellow at Henry Jackson Society; Christina Sturgeon, assistant to the executive director at Jubilee Campaign USA; Alan Adler, executive director of Friends of Falun Gong; Luna Lyu, a victim of the persecution of Falun Gong; Rong Yi, president of the New York-based Tuidang (Quit the Party) Center; and Wang Zhiyuan of the World Organization to Investigate the Persecution of Falun Gong. Del. Eleanor Holmes Norton (D-D.C.) also sent a video greeting to the rally attendees.
The rally was followed by a march from the National Mall to Freedom Plaza. A candlelight vigil was scheduled for the evening of July 21 in front of the Washington Monument.