Dancer: 'We All Stand Against the Communist Party'; Americans Welcome End CCP Cross-Country Tour
It's been over a week since the fourth "End CCP Tour of America" started its cross-country journey, and on Aug. 3 it reached its westernmost destination, Seattle, Washington, where the tour participants met up with a local Polish group. Then they headed southeast, arriving at Salt Lake City, Utah on Aug. 7 and held a press conference in front of the Utah State Capitol.The End CCP Tour, refers to a car tour of people who have fled China and are traveling across the United States, calling for an end to the Chinese Communist Party (CCP). 'We All Stand Against the Communist Party' Former ballet dancer Lisa Fifield was among those welcoming the group at the Utah State Capitol. Fifield was the first-ever American to be contracted by a Chinese ballet company. She danced with the Guangzhou Ballet decades ago. [embedded content] In both Chinese and English, Fifield said, "Today is a very important day. Seeing all of you really moved me because we all stand against the communist party." "In 1999, I became Guangzhou Ballet's first American ballet dancer. At that time, I had an immediate impression that China was also my country, Chinese people were my brothers and sisters." However, she also realized right away that the rights she enjoyed in the United States were no longer available in China. "I knew that my rights as an American were gone. I had not realized the blessing and the privilege that the U.S. Constitution provided me. For instance, in China I had no right to privacy." Fifield said that as an American dancer in Guangzhou, her mail, email, and phone conversations were all monitored; and that she could not talk to her Chinese friends about her religious belief. Furthermore, "when I was told to report on any practitioner of qigong by the Chinese government," she said, "and I expressed my opinion that they should have the right to do what they chose, I was warned that I would join them in the jail." Unequal Collaboration Fifield continued to talk about CCP's infiltration in the United States through the Confucius Institutes. "Still I don't know many things, but I do know that the soft control of the Chinese communist government in our public schools, which makes me feel uncomfortable." Fifield worked as a Chinese teacher at local schools. She gave the example of the Confucius Institute teachers. "All of the Hanban teachers [at Confucius Institutes] that come to teach our students are from the CCP. Often times, they can criticize and oppose American freedom, culture, parents, students, teaching methods and government, but I could not open my mouth and tell them how I feel. Is this an equal collaboration?" Confucius Institutes are Chinese language institutes embedded in many American universities and public schools, but they are funded by the CCP. Through its agency called Hanban, the CCP selects and pays Chinese nationals to teach Chinese language and culture in the United States. Fifield said that these so-called teachers are spreading the CCP's rhetoric in U.S. schools. "I have seen American students learn the songs from Mao Zedong [the first generation CCP head]. The Chinese communist government also dictates what we teach. Right of privacy of the students is often violated. Even the other teachers who had Taiwan flags in their classrooms had to take it down because of the opposition of communist teachers." 'Cult-like Regime' Utah State Rep. Kay Christofferson (R-District 56) also welcomed the tour participants outside the Utah State Capitol. Utah State Representative Christofferson speaks outside the Capitol on August 7, 2022. (Sarah Lu/Epoch Times) In his speech, Christofferson talked about communism and the influence of the CCP. "Through false promises of equality and liberation, communist regimes have, as a matter of government policy, robbed their own citizens of the rights of freedom of religion, freedom of speech, and freedom of association through coercion, brutality, and fear." Christofferson said, "communism is based on atheism. It tells people not to believe in God and attacks human morality. Throughout its rule, the CCP has destroyed believers of all religions. Eventually the CCP wants its people to worship itself as the one and only idol. Truly a cult-like regime." He condemned the CCP's persecution of Falun Gong meditators and the Uyghurs, its destruction of democracy in Hong Kong and its threats to Taiwan. "Practices such as live organ harvesting, harassment, re-education camps, and torture, theft of intellectual property and coercing other countries to adopt CCP policies must stop." 'Communism is a Complete Lie' Aug. 3, 2022 marked another significant milestone of the "tuidang movement." "Tuidang" means quitting the Chinese Communist Party (CCP) and its affiliated organizations, a grassroots movement started in late 2004. On Aug. 3, the number of Chinese people worldwide who cut their ties to the CCP, the Chinese Communist Youth League, the Communist Young Pioneers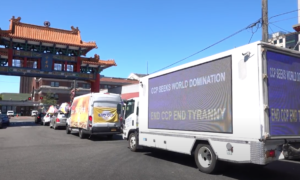 It's been over a week since the fourth "End CCP Tour of America" started its cross-country journey, and on Aug. 3 it reached its westernmost destination, Seattle, Washington, where the tour participants met up with a local Polish group. Then they headed southeast, arriving at Salt Lake City, Utah on Aug. 7 and held a press conference in front of the Utah State Capitol.
The End CCP Tour, refers to a car tour of people who have fled China and are traveling across the United States, calling for an end to the Chinese Communist Party (CCP).
'We All Stand Against the Communist Party'
Former ballet dancer Lisa Fifield was among those welcoming the group at the Utah State Capitol. Fifield was the first-ever American to be contracted by a Chinese ballet company. She danced with the Guangzhou Ballet decades ago.
[embedded content]
In both Chinese and English, Fifield said, "Today is a very important day. Seeing all of you really moved me because we all stand against the communist party."
"In 1999, I became Guangzhou Ballet's first American ballet dancer. At that time, I had an immediate impression that China was also my country, Chinese people were my brothers and sisters."
However, she also realized right away that the rights she enjoyed in the United States were no longer available in China. "I knew that my rights as an American were gone. I had not realized the blessing and the privilege that the U.S. Constitution provided me. For instance, in China I had no right to privacy."
Fifield said that as an American dancer in Guangzhou, her mail, email, and phone conversations were all monitored; and that she could not talk to her Chinese friends about her religious belief.
Furthermore, "when I was told to report on any practitioner of qigong by the Chinese government," she said, "and I expressed my opinion that they should have the right to do what they chose, I was warned that I would join them in the jail."
Unequal Collaboration
Fifield continued to talk about CCP's infiltration in the United States through the Confucius Institutes. "Still I don't know many things, but I do know that the soft control of the Chinese communist government in our public schools, which makes me feel uncomfortable."
Fifield worked as a Chinese teacher at local schools. She gave the example of the Confucius Institute teachers. "All of the Hanban teachers [at Confucius Institutes] that come to teach our students are from the CCP. Often times, they can criticize and oppose American freedom, culture, parents, students, teaching methods and government, but I could not open my mouth and tell them how I feel. Is this an equal collaboration?"
Confucius Institutes are Chinese language institutes embedded in many American universities and public schools, but they are funded by the CCP. Through its agency called Hanban, the CCP selects and pays Chinese nationals to teach Chinese language and culture in the United States.
Fifield said that these so-called teachers are spreading the CCP's rhetoric in U.S. schools. "I have seen American students learn the songs from Mao Zedong [the first generation CCP head]. The Chinese communist government also dictates what we teach. Right of privacy of the students is often violated. Even the other teachers who had Taiwan flags in their classrooms had to take it down because of the opposition of communist teachers."
'Cult-like Regime'
Utah State Rep. Kay Christofferson (R-District 56) also welcomed the tour participants outside the Utah State Capitol.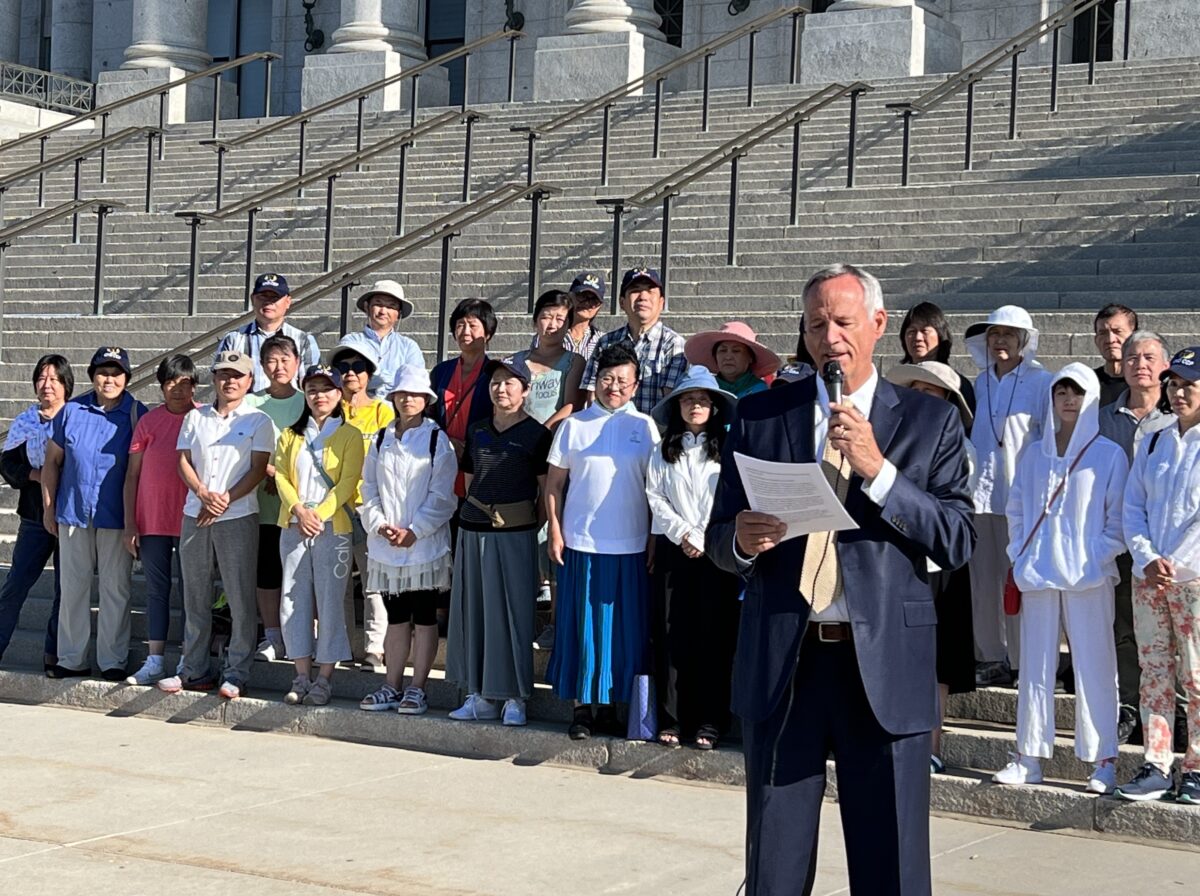 In his speech, Christofferson talked about communism and the influence of the CCP.
"Through false promises of equality and liberation, communist regimes have, as a matter of government policy, robbed their own citizens of the rights of freedom of religion, freedom of speech, and freedom of association through coercion, brutality, and fear."
Christofferson said, "communism is based on atheism. It tells people not to believe in God and attacks human morality. Throughout its rule, the CCP has destroyed believers of all religions. Eventually the CCP wants its people to worship itself as the one and only idol. Truly a cult-like regime."
He condemned the CCP's persecution of Falun Gong meditators and the Uyghurs, its destruction of democracy in Hong Kong and its threats to Taiwan. "Practices such as live organ harvesting, harassment, re-education camps, and torture, theft of intellectual property and coercing other countries to adopt CCP policies must stop."
'Communism is a Complete Lie'
Aug. 3, 2022 marked another significant milestone of the "tuidang movement." "Tuidang" means quitting the Chinese Communist Party (CCP) and its affiliated organizations, a grassroots movement started in late 2004. On Aug. 3, the number of Chinese people worldwide who cut their ties to the CCP, the Chinese Communist Youth League, the Communist Young Pioneers and other affiliated organizations reached 400 million.
Along with a local Polish immigrants group, the End CPP tour celebrated this milestone in Seattle.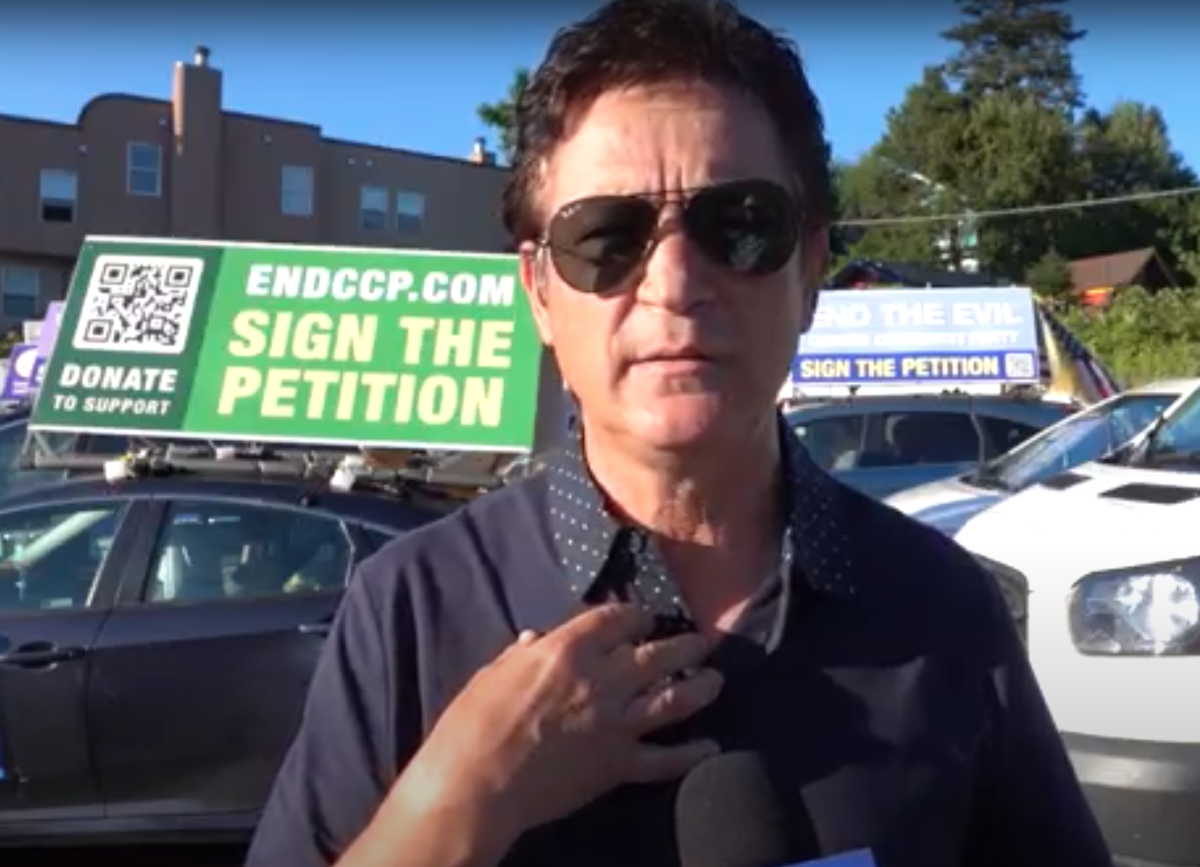 Jerzy Radka, a business owner and a Polish immigrant, brought his friends from a Polish church and the youngest of his five children to greet the End CCP tour participants.
Radka was very moved to know that the group had travelled to Seattle all the way from New York to awaken Americans about the evil nature of communism.
He said that Seattle is a very important stop for the End CCP tour, because "there are a lot of Chinese people from different backgrounds here [in Seattle]. Some poor, some very rich, some are working with the CCP. Seattle is also very liberal, they need to hear your voice. You drive around here to show people that there are people from china who are against the brutal regime."
"We fought against communism under the banner of solidarity. Today, Chinese people and Polish people together in Seattle, that's a beautiful thing. It's God sent. We are all freedom loving people, we are together!"
Radka, who experienced and fled communism, is concerned about what is being taught in schools in the United States. "Today communism is taught in American universities, and the kids are buying lies such as, 'there will be paradise on earth,' and 'you are going to get this and that for free.' Communism is a complete lie. Nothing is free. It's paid for by blood and tears," he said.
'Changing People's Hearts and Minds'
Radka's youngest child, Marysia Radka came to meet with the End CCP tour wearing the traditional Polish girl scout uniform. She said that the girl scout was very important in Poland's history of fighting against multiple regimes, "be it the Nazis or communism, they understood that it was important to instill in young people the values, the love for God, for the country, for your fellow people. … These are the same things you [the End CCP tour] are fighting for."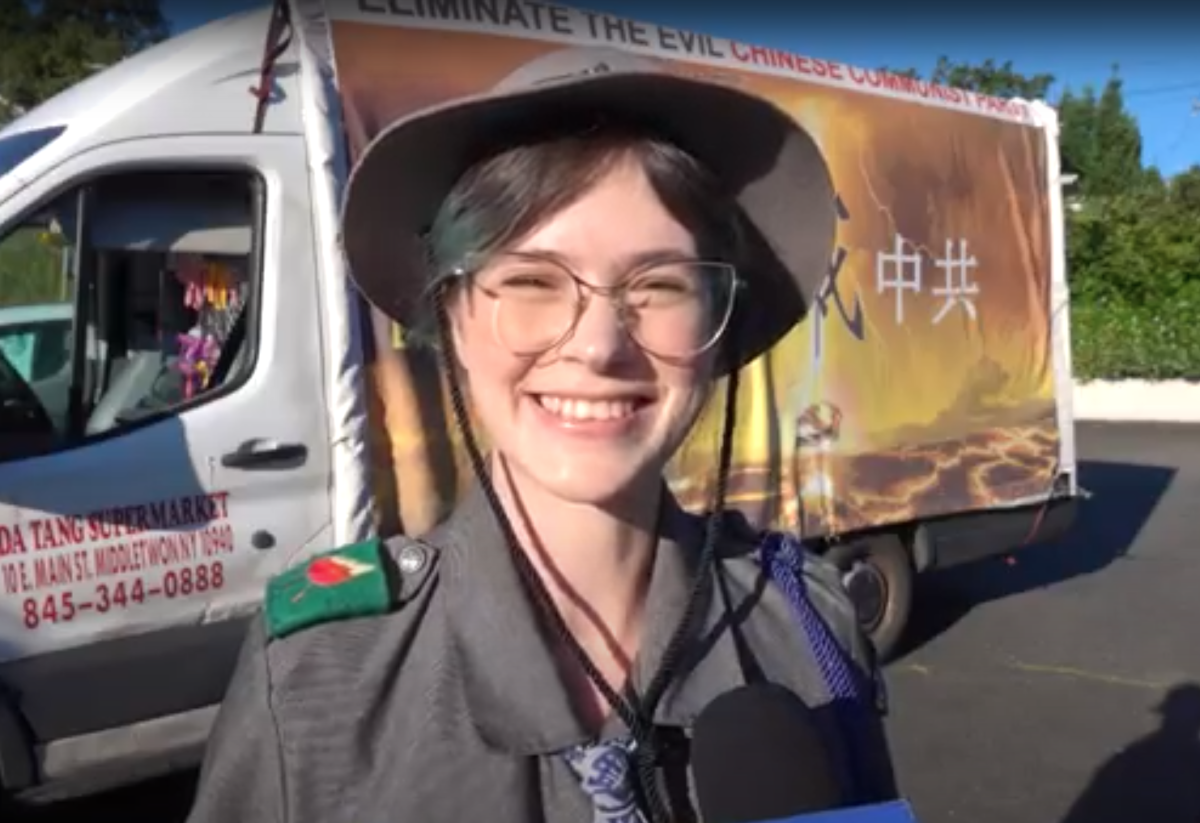 "I Support the movement to End the CCP, as a daughter of Polish immigrants, I feel it's important to get the message around the world about the importance of ending communism. A lot of young Americans don't understand the horrors of communism."
Marysia has talked to a lot of people about communism. She said, "a lot of people think of the struggles of people in other countries [as] something far away from them or it's just history and doesn't happen anymore. Other people say 'they just did it wrong, but [communism] is a good idea.'
"But it is not a good idea. Having one on one conversation with people and changing people's hearts and minds is the number one thing. That's where you are going to see real change."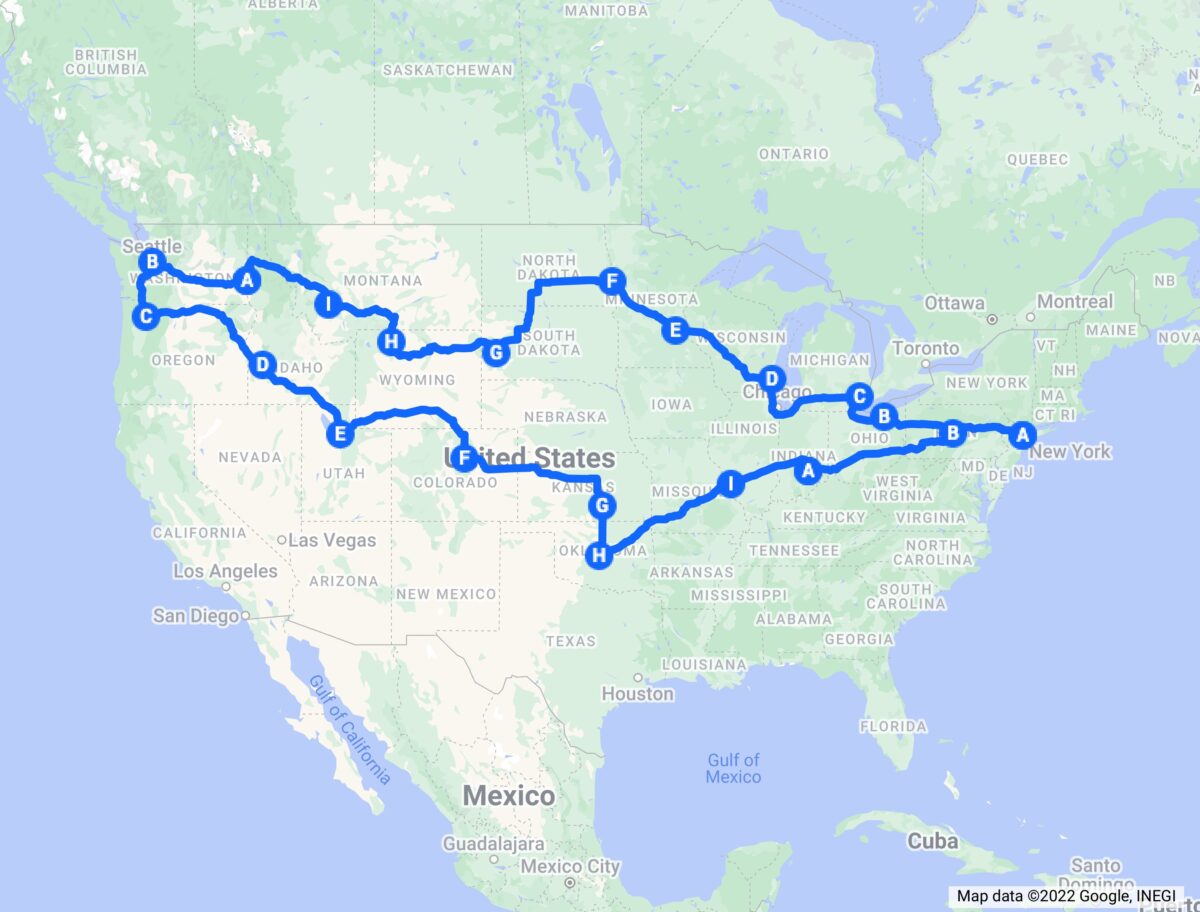 The End CCP car tour continues to travel eastward. They plan to return to New York by mid-August.