COVID-19 Symptoms Much Worse Than Those of Influenza: Chinese Patients
While a new wave of COVID-19 is sweeping across China, Zhong Nanshan, an academician of the Chinese Academy of Engineering, said on Dec. 15 that COVID-19 should be renamed "COVID flu," as current variant Omicron's fatality rate "has dropped to a very low [level]" and is equivalent to that of the "seasonal flu," according to Cailianshe, a state-run financial media mouthpiece based in Shanghai.Zhong's remarks triggered backlash among Chinese netizens. "COVID flu my foot!" a netizen wrote on Netease, a popular Chinese digital news portal. The netizen said that he disagrees with Zhong because Omicron is more infectious and more harmful to people's health than the common flu. Though the true death toll is unknown, funeral homes in Beijing and other cities in the country have been reportedly overwhelmed with bodies for cremation. COVID-19 symptoms are more severe than the common flu, according to two Chinese residents infected by COVID-19 in an interview with the Chinese language edition of The Epoch Times on Dec. 19. High Fever and Acute Pain Wang Jing (pseudonym), a resident of Beijing, began to feel unwell on Nov. 29, when Beijing was still under lockdown. She did an antigen test at home and found she tested positive for COVID-19. However, she decided not to report her symptoms to the local COVID prevention authorities as she was afraid that she and her husband would be taken to makeshift isolation facilities. She had a high fever for three days and a sharp pain coming from deep within the muscle. This photo shows an almost empty shelf of cold medicine at a pharmacy amid the Covid-19 pandemic in Beijing on Dec. 15, 2022. (Yuxuan Zhang/AFP via Getty Images) "The high fever caused the muscle pain, which was so sharp that I had to ask my husband to use a fascia massage gun to relieve the pain," Wang said. The fascia gun is an electric massaging tool that penetrates deep fascia through high-frequency impact to minimize muscle soreness and tension. She had never experienced such acute pain before, Wang told The Epoch Times. She took some cold tablets and Tylenol. On the fifth day, she tested negative for COVID-19, but three days later, the symptoms came back, during which her body reached a temperature of 107.6 degrees F. She took Ibuprofen for five consecutive days, but it didn't work on her. She also had a thumping headache. "I felt so painful that I thought I was going to die," Wang said. Her husband took her to the hospital as he was afraid that she might have other health issues. After queueing up for a long time, she managed to see a doctor, who prescribed a box of Lianhua Qingwen and some antipyretics, which were still available from the hospital. "The doctor told me that these medications can relieve my symptoms but cannot cure COVID. He said no medicine can effectively cure COVID. He told me to drink a lot of water, take a lot of Vitamin C, and eat a lot of protein," Wang recalled. Wang said that COVID-19 symptoms are different from those of the flu. She experienced a weakened sense of taste, a slow reaction, and a dull brain. She forced herself to eat meat and eggs and took Vitamin C every day. "I ate five eggs a day, drank about two to three liters of water, basked in the sun, and slowly got better." She stopped taking medication on Dec. 14. She said she recovered gradually by building up her own physical strength and immunity. She still has a cough and a stuffy nose. She feels discomfort in her cervical spine and her body gets tired easily. Ms. Liu (pseudonym) is a resident of Dalian City, China's northeastern Liaoning Province. She said that she tested positive for COVID-19 and had an extremely painful experience with the disease. She said that her body temperature stayed between 99.5 degrees F and 101.3 degrees F. She also had a very sharp pain in her body. "I felt the pain throughout my body, a pain that is difficult to describe. The pain seemed to come from within my bones, which made me tumble when I moved to the toilet. I couldn't sleep at all for three days due to the severe pain," Liu said in the phone interview. People buy medicines outside a pharmacy amid the Covid-19 pandemic in Beijing on December 17, 2022. (JADE GAO/AFP via Getty Images) Other symptoms Liu had included a sore throat, coughing with sputum, feeling nauseous and throwing up, lacking appetite, and having no taste or smell. "I didn't feel hungry. Whatever I ate, I couldn't tell the taste or smell anything. The hawthorn fruit, which should be very sour, was tasteless to me," Liu said. Her dog tested positive for COVID-19 as well, though Liu kept her distance from her dog. She said her colleague's cat also tested positive for COVID after her colleague was infected by the COVID virus. Liu said that COVID symptoms were different from those of the flu. "Medicines didn't work on me at all—I took antipyretics and antiviral medicines, which didn't have any effect. All you can rely on is your own immunity," L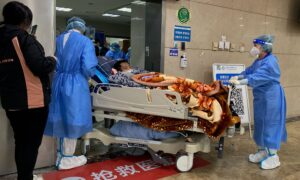 While a new wave of COVID-19 is sweeping across China, Zhong Nanshan, an academician of the Chinese Academy of Engineering, said on Dec. 15 that COVID-19 should be renamed "COVID flu," as current variant Omicron's fatality rate "has dropped to a very low [level]" and is equivalent to that of the "seasonal flu," according to Cailianshe, a state-run financial media mouthpiece based in Shanghai.
Zhong's remarks triggered backlash among Chinese netizens.
"COVID flu my foot!" a netizen wrote on Netease, a popular Chinese digital news portal. The netizen said that he disagrees with Zhong because Omicron is more infectious and more harmful to people's health than the common flu.
Though the true death toll is unknown, funeral homes in Beijing and other cities in the country have been reportedly overwhelmed with bodies for cremation.
COVID-19 symptoms are more severe than the common flu, according to two Chinese residents infected by COVID-19 in an interview with the Chinese language edition of The Epoch Times on Dec. 19.
High Fever and Acute Pain
Wang Jing (pseudonym), a resident of Beijing, began to feel unwell on Nov. 29, when Beijing was still under lockdown. She did an antigen test at home and found she tested positive for COVID-19. However, she decided not to report her symptoms to the local COVID prevention authorities as she was afraid that she and her husband would be taken to makeshift isolation facilities.
She had a high fever for three days and a sharp pain coming from deep within the muscle.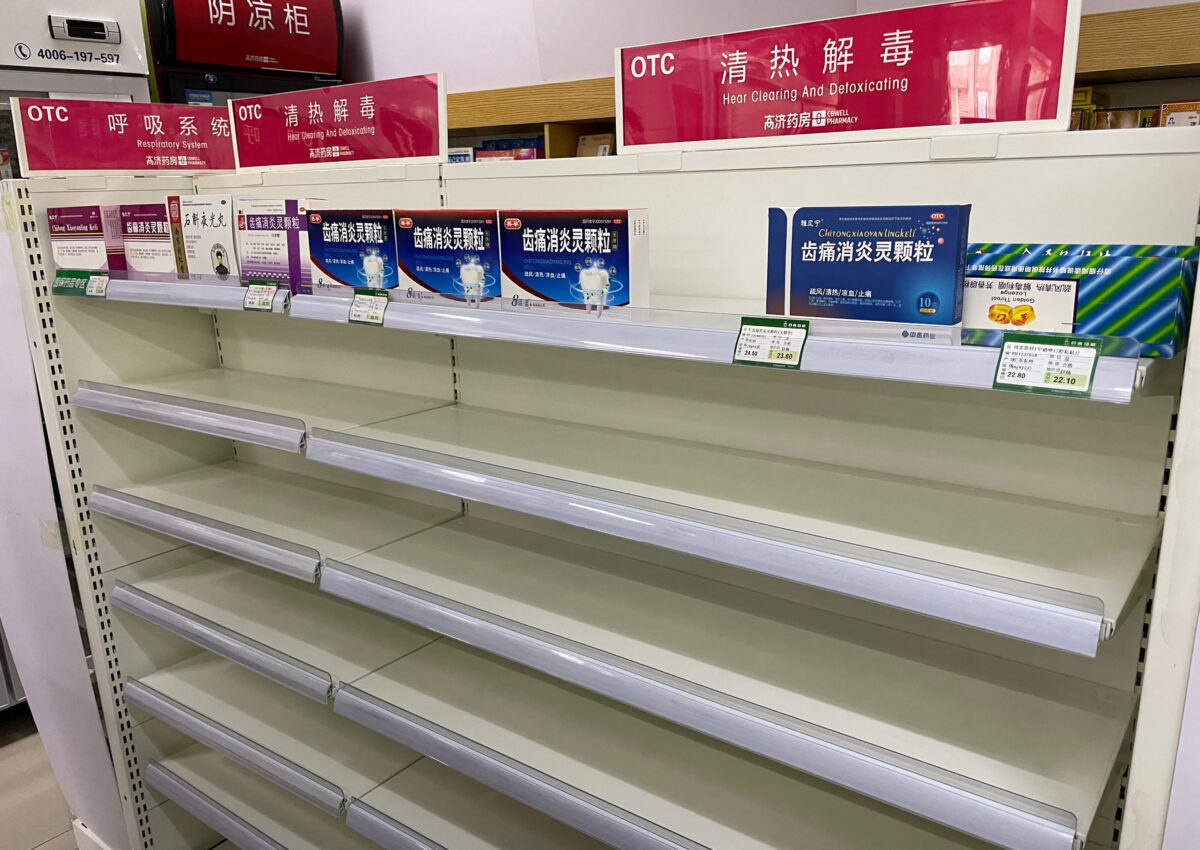 "The high fever caused the muscle pain, which was so sharp that I had to ask my husband to use a fascia massage gun to relieve the pain," Wang said.
The fascia gun is an electric massaging tool that penetrates deep fascia through high-frequency impact to minimize muscle soreness and tension.
She had never experienced such acute pain before, Wang told The Epoch Times.
She took some cold tablets and Tylenol. On the fifth day, she tested negative for COVID-19, but three days later, the symptoms came back, during which her body reached a temperature of 107.6 degrees F.
She took Ibuprofen for five consecutive days, but it didn't work on her. She also had a thumping headache.
"I felt so painful that I thought I was going to die," Wang said. Her husband took her to the hospital as he was afraid that she might have other health issues.
After queueing up for a long time, she managed to see a doctor, who prescribed a box of Lianhua Qingwen and some antipyretics, which were still available from the hospital.
"The doctor told me that these medications can relieve my symptoms but cannot cure COVID. He said no medicine can effectively cure COVID. He told me to drink a lot of water, take a lot of Vitamin C, and eat a lot of protein," Wang recalled.
Wang said that COVID-19 symptoms are different from those of the flu. She experienced a weakened sense of taste, a slow reaction, and a dull brain.
She forced herself to eat meat and eggs and took Vitamin C every day. "I ate five eggs a day, drank about two to three liters of water, basked in the sun, and slowly got better." She stopped taking medication on Dec. 14. She said she recovered gradually by building up her own physical strength and immunity.
She still has a cough and a stuffy nose. She feels discomfort in her cervical spine and her body gets tired easily.
Ms. Liu (pseudonym) is a resident of Dalian City, China's northeastern Liaoning Province. She said that she tested positive for COVID-19 and had an extremely painful experience with the disease.
She said that her body temperature stayed between 99.5 degrees F and 101.3 degrees F. She also had a very sharp pain in her body.
"I felt the pain throughout my body, a pain that is difficult to describe. The pain seemed to come from within my bones, which made me tumble when I moved to the toilet. I couldn't sleep at all for three days due to the severe pain," Liu said in the phone interview.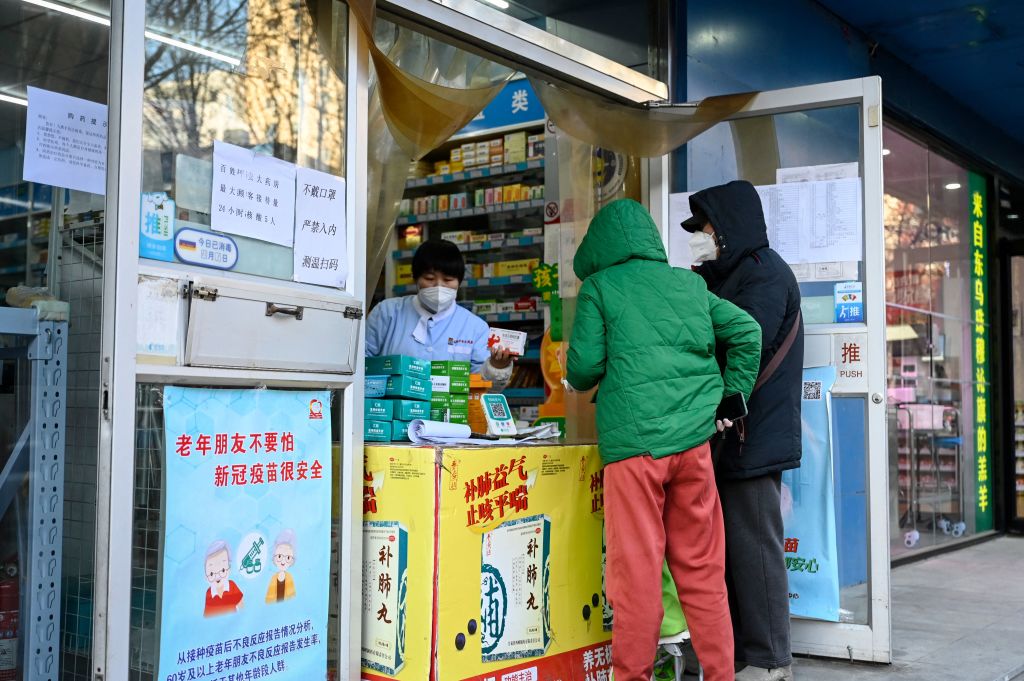 Other symptoms Liu had included a sore throat, coughing with sputum, feeling nauseous and throwing up, lacking appetite, and having no taste or smell.
"I didn't feel hungry. Whatever I ate, I couldn't tell the taste or smell anything. The hawthorn fruit, which should be very sour, was tasteless to me," Liu said.
Her dog tested positive for COVID-19 as well, though Liu kept her distance from her dog. She said her colleague's cat also tested positive for COVID after her colleague was infected by the COVID virus.
Liu said that COVID symptoms were different from those of the flu.
"Medicines didn't work on me at all—I took antipyretics and antiviral medicines, which didn't have any effect. All you can rely on is your own immunity," Liu said.
China estimated that 248 million people were likely to have been infected with the disease in the first 20 days of December, officials said during the National Health Commission's internal meeting on Dec. 21. Leaked minutes from the meeting cited 12 Omicron subvariants, with BA.5.2, BF.7, and BM.7 being the three most prevalent subvariants.
However, the publicly disclosed number is much smaller than the number at the internal meeting. The National Health Commission announces a total of 4,128 COVID-19 cases in the country on Dec. 23 on its official website. It reports no deaths for the day.
Xia Song and Gu Xiaohua contributed to this report.