COVID-19 'State of Emergency' Keeps LA Residents Under Health Official's Thumb
CommentaryThis week Angelenos got some good news when the county health director announced that, for now, she will not subject them to another indoor mask mandate. But the announcement begs the question: How is it that she continues to have the power to issue such mandates nearly two and a half years after the emergency was first declared? The answer is the "emergency" order remains in place, and so does the director's mandate that masks be worn in taxis, Ubers, airports, and healthcare settings. Los Angeles County first declared a state of emergency due to COVID-19 on March 4, 2020. It stated that the emergency is "in response to increased spread of coronavirus across the country and six additional cases in LA County." Yes, you read that correctly. The county issued a state of emergency based upon the discovery of "six" new cases. It was issued on the same day that the State of California issued its own state of emergency. In its order, the state noted that "there are 129 confirmed cases of COVID-19 in the United States, including 53 in California." Yes, you also read that correctly. Just 53 cases formed the basis for the statewide emergency order. It also remains in place today. Considering the COVID-19 levels at the time the orders were issued it would appear we are not anywhere close to them being rescinded. If the disease is here to stay, as many experts predict, we Angelenos may live under a state of emergency for the rest of our lives. That means that an unelected health official will continue to decide, at her discretion, where and when you must wear a mask and social distance. She will also decide whether you may enjoy public spaces like parks, beaches, trails, and museums. And she will decide whether your business is "essential" and thus permitted to be open. She can decide whether you may gather socially with people outside of your own household, whether or when you are permitted to leave your home, and she will decide who is required to be injected with a new vaccine. These are all things she has issued orders for in the past and remains free to do so today. As noted, she was on the verge of issuing a new mask mandate this week until she changed her mind. The order would have applied indoors for anyone age two or older at all kinds of locations, such as shared office space, manufacturing and retail settings, event spaces, restaurants and bars, gyms and yoga studios, educational settings, and children's programs. It appeared clear that the order would take effect this week. In the past the director had held firm that if the region reached the high COVID-19 community level as defined by the CDC, and remained there for two straight weeks, the mask mandate would take effect. Los Angeles County entered that category July 14 and remained there last week. Thus, the mandate should have taken effect. But inexplicably and on a whim, the director changed her mind. Instead of implementing the mandate as she had threatened, she said she will now adopt a more flexible approach. She now states, "we will pause implementation of universal indoor masking as we closely monitor our transmission rates." Meanwhile, the people can only watch her flex both the power to place restrictions upon us, and the power not to. Who is she?  Her name is Dr. Barbara Ferrer.  According to her biography, she is a philanthropic strategist, educational leader, and community advocate.  She works "to improve population outcomes through efforts that build health and education equity."  She served as the chief strategy officer for the W.K. Kellogg Foundation, focusing on things like, "Family Economic Security," "Racial Equity," and "Community Engagement."  She has a Ph.D. in social welfare from Brandeis University, and a Bachelor of Arts in community studies from the University of California, Santa Cruz. These are excellent credentials to teach at a liberal university, but not so good to be given the keys to deciding when the largest county by GDP ($710 billion) in the United States may be open or closed. State of emergency orders are normally associated with hurricanes, earthquakes, and floods. In the midst of a catastrophe, the governor would come on television and provide comfort by announcing a state of emergency. Few understood what that meant beyond perhaps qualifying the state for federal assistance and mobilizing first responders. The new normal appears to be declaring a health emergency upon the slightest sign of disease, using the associated powers to implement things the legislature could not (like eviction moratoriums), and keeping them in place indefinitely. Under these states of emergency, legislative acts are not required. It is hard to imagine a legislature passing a law stating that young, healthy people with no sign of illness may not leave their home. But Ferrer did it. This week the mayor of San Francisco announced a new state of emergency due to monkeypox. They have 261 known cases. For all the left's pu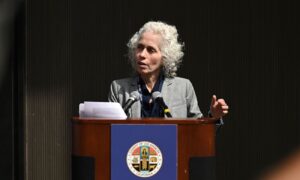 Commentary
This week Angelenos got some good news when the county health director announced that, for now, she will not subject them to another indoor mask mandate. But the announcement begs the question: How is it that she continues to have the power to issue such mandates nearly two and a half years after the emergency was first declared?
The answer is the "emergency" order remains in place, and so does the director's mandate that masks be worn in taxis, Ubers, airports, and healthcare settings.
Los Angeles County first declared a state of emergency due to COVID-19 on March 4, 2020. It stated that the emergency is "in response to increased spread of coronavirus across the country and six additional cases in LA County." Yes, you read that correctly. The county issued a state of emergency based upon the discovery of "six" new cases.
It was issued on the same day that the State of California issued its own state of emergency. In its order, the state noted that "there are 129 confirmed cases of COVID-19 in the United States, including 53 in California." Yes, you also read that correctly. Just 53 cases formed the basis for the statewide emergency order. It also remains in place today.
Considering the COVID-19 levels at the time the orders were issued it would appear we are not anywhere close to them being rescinded. If the disease is here to stay, as many experts predict, we Angelenos may live under a state of emergency for the rest of our lives.
That means that an unelected health official will continue to decide, at her discretion, where and when you must wear a mask and social distance. She will also decide whether you may enjoy public spaces like parks, beaches, trails, and museums. And she will decide whether your business is "essential" and thus permitted to be open. She can decide whether you may gather socially with people outside of your own household, whether or when you are permitted to leave your home, and she will decide who is required to be injected with a new vaccine. These are all things she has issued orders for in the past and remains free to do so today.
As noted, she was on the verge of issuing a new mask mandate this week until she changed her mind. The order would have applied indoors for anyone age two or older at all kinds of locations, such as shared office space, manufacturing and retail settings, event spaces, restaurants and bars, gyms and yoga studios, educational settings, and children's programs.
It appeared clear that the order would take effect this week. In the past the director had held firm that if the region reached the high COVID-19 community level as defined by the CDC, and remained there for two straight weeks, the mask mandate would take effect. Los Angeles County entered that category July 14 and remained there last week. Thus, the mandate should have taken effect. But inexplicably and on a whim, the director changed her mind.
Instead of implementing the mandate as she had threatened, she said she will now adopt a more flexible approach. She now states, "we will pause implementation of universal indoor masking as we closely monitor our transmission rates." Meanwhile, the people can only watch her flex both the power to place restrictions upon us, and the power not to.
Who is she?  Her name is Dr. Barbara Ferrer.  According to her biography, she is a philanthropic strategist, educational leader, and community advocate.  She works "to improve population outcomes through efforts that build health and education equity."  She served as the chief strategy officer for the W.K. Kellogg Foundation, focusing on things like, "Family Economic Security," "Racial Equity," and "Community Engagement."  She has a Ph.D. in social welfare from Brandeis University, and a Bachelor of Arts in community studies from the University of California, Santa Cruz.
These are excellent credentials to teach at a liberal university, but not so good to be given the keys to deciding when the largest county by GDP ($710 billion) in the United States may be open or closed.
State of emergency orders are normally associated with hurricanes, earthquakes, and floods. In the midst of a catastrophe, the governor would come on television and provide comfort by announcing a state of emergency. Few understood what that meant beyond perhaps qualifying the state for federal assistance and mobilizing first responders.
The new normal appears to be declaring a health emergency upon the slightest sign of disease, using the associated powers to implement things the legislature could not (like eviction moratoriums), and keeping them in place indefinitely. Under these states of emergency, legislative acts are not required. It is hard to imagine a legislature passing a law stating that young, healthy people with no sign of illness may not leave their home. But Ferrer did it.
This week the mayor of San Francisco announced a new state of emergency due to monkeypox. They have 261 known cases.
For all the left's purported concern about "attacks on democracy," when it comes to giving a government official unfettered control of their daily lives in the name of "health equity," they seem quite satisfied.
Views expressed in this article are the opinions of the author and do not necessarily reflect the views of The Epoch Times.