Corruption Is Destroying Communist China's Dream of Dominating Chip Industry
News AnalysisIt appears China's national chipmaking campaign is coming to an end, with huge investments drained and key figures in the semiconductor industry arrested recently. According to Chinese financial media Caixin, on Aug. 2, Zhao Weiguo, former chairman of Tsinghua Unigroup, and Diao Shijing, the company's former co-president, were both investigated last month. Li Luyuan, the chairman of Beijing Tsinghua, a subsidiary of Tsinghua Unigroup, was also taken away by authorities at the same time. Tsinghua Unigroup, a Beijing-based leading company in China's semiconductor industry, filed for bankruptcy and restructured in 2021. Six years prior, during a visit to Taiwan in 2015, the company's then-chairman Zhao had claimed to buy TSMC, the world's dedicated semiconductor foundry. On July 30, China's top disciplinary watchdog agency announced that Ding Wenwu, the general manager of the National Integrated Circuit Industry Investment Fund (ICF), was placed under investigation. Since the establishment of ICF in 2014, Ding has served as its president. ICF invested and acquired shares in enterprises under the Tsinghua Unigroup. Other key individuals investigated in the semiconductor circle include the following: Lu Jun, former president of SINO-IC Capital; Yang Zhengfan, deputy general manager of the company's investment department; and Wang Wenzhong, partner of Hongtai Fund and former classmate of Lu Jun. SINO-IC Capital is the sole management part of ICF and responsible for its investment operation. Key Figure Under Investigation The most significant official to be taken down in this round of investigations is Xiao Yaqing, minister of Industry and Information Technology. According to the website of the Central Commission for Discipline Inspection, on July 28, Xiao was investigated for allegedly violating the law. The statement did not provide further details about the allegation. Xiao was a vital figure in the Chinese Communist Party's (CCP) attempt to build a world-class chip industry. Xiao is rumored to have attempted to commit suicide before being taken away by authorities. Notably, Xiao served as deputy secretary-general of the CCP's State Council and was a direct subordinate of Premier Li Keqiang. According to Radio Free Asia, CCP leader Xi Jinping aims to weaken Li's political faction; meaning, Xi wants to remove any obstacles that would prevent him from securing a third term at the Party's 20th Congress at the end of this year. Regardless, the Great Leap Forward-style campaign for semiconductors launched by Xi's administration appears to have failed. The Great Leap Forward was initiated by former CCP leader Mao Zedong, a campaign of agricultural collectivization and rural industrialization that resulted in an economic depression from 1958 to 1962. Workers build smartphone chip component circuits at the Oppo factory in Dongguan, Guangdong Province, on May 8, 2017. (NICOLAS ASFOURI/AFP via Getty Images) Hefty Investments The chip industry is one of the most high-tech fields. The CCP has been hoping to lead the world by throwing money into it, even though China's technology lags far behind international standards. In an interview with the CNBC program "Squawk Box Asia" on Jan. 19, Mario Morales, group vice president for enabling technologies and semiconductors at the International Data Corporation, said that China is the world's second-largest consumer of semiconductors, slightly below the United States, but China is still unable to produce high-end semiconductor. "I still believe that [China is] probably three or four generations behind what is considered leading edge," Morales said. Regardless, National Integrated Circuit Industry Investment Fund (ICF) received a lot of state funds. It received over 130 billion yuan (about $19 billion) in the first round of investment and over 204 billion yuan (about $30 billion) in the second round. ICF provides financial support to Chinese semiconductor companies through direct equity participation, and the capital leveraged is estimated to be in trillions. In 2020, Beijing launched a national chipmaking campaign as a result of Chinese tech giant Huawei being banned from using American chips. Local governments scrambled to set up investment funds, offering a wide range of subsidies and incentives, and semiconductor industrial parks were constructed. According to the South China Morning Post, about 15,700 new semiconductor companies were registered between January and May 2021, tripling the number compared to the same period in the previous year. But only two years later, not only are the chips not being manufactured but also the enterprises in which the CCP invested went bankrupt, defaulting one after another. One such example is China's star company, Huaian Imaging Device Manufacturer (HIDM), located in Jiangsu Province. HIDM emerged in early 2016 and claimed to have completed its equipment, mass production, and revenue within a year. However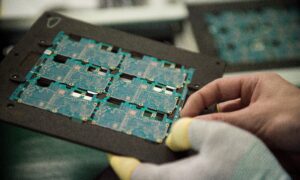 News Analysis
It appears China's national chipmaking campaign is coming to an end, with huge investments drained and key figures in the semiconductor industry arrested recently.
According to Chinese financial media Caixin, on Aug. 2, Zhao Weiguo, former chairman of Tsinghua Unigroup, and Diao Shijing, the company's former co-president, were both investigated last month. Li Luyuan, the chairman of Beijing Tsinghua, a subsidiary of Tsinghua Unigroup, was also taken away by authorities at the same time.
Tsinghua Unigroup, a Beijing-based leading company in China's semiconductor industry, filed for bankruptcy and restructured in 2021.
Six years prior, during a visit to Taiwan in 2015, the company's then-chairman Zhao had claimed to buy TSMC, the world's dedicated semiconductor foundry.
On July 30, China's top disciplinary watchdog agency announced that Ding Wenwu, the general manager of the National Integrated Circuit Industry Investment Fund (ICF), was placed under investigation.
Since the establishment of ICF in 2014, Ding has served as its president. ICF invested and acquired shares in enterprises under the Tsinghua Unigroup.
Other key individuals investigated in the semiconductor circle include the following: Lu Jun, former president of SINO-IC Capital; Yang Zhengfan, deputy general manager of the company's investment department; and Wang Wenzhong, partner of Hongtai Fund and former classmate of Lu Jun.
SINO-IC Capital is the sole management part of ICF and responsible for its investment operation.
Key Figure Under Investigation
The most significant official to be taken down in this round of investigations is Xiao Yaqing, minister of Industry and Information Technology. According to the website of the Central Commission for Discipline Inspection, on July 28, Xiao was investigated for allegedly violating the law. The statement did not provide further details about the allegation.
Xiao was a vital figure in the Chinese Communist Party's (CCP) attempt to build a world-class chip industry. Xiao is rumored to have attempted to commit suicide before being taken away by authorities.
Notably, Xiao served as deputy secretary-general of the CCP's State Council and was a direct subordinate of Premier Li Keqiang. According to Radio Free Asia, CCP leader Xi Jinping aims to weaken Li's political faction; meaning, Xi wants to remove any obstacles that would prevent him from securing a third term at the Party's 20th Congress at the end of this year.
Regardless, the Great Leap Forward-style campaign for semiconductors launched by Xi's administration appears to have failed.
The Great Leap Forward was initiated by former CCP leader Mao Zedong, a campaign of agricultural collectivization and rural industrialization that resulted in an economic depression from 1958 to 1962.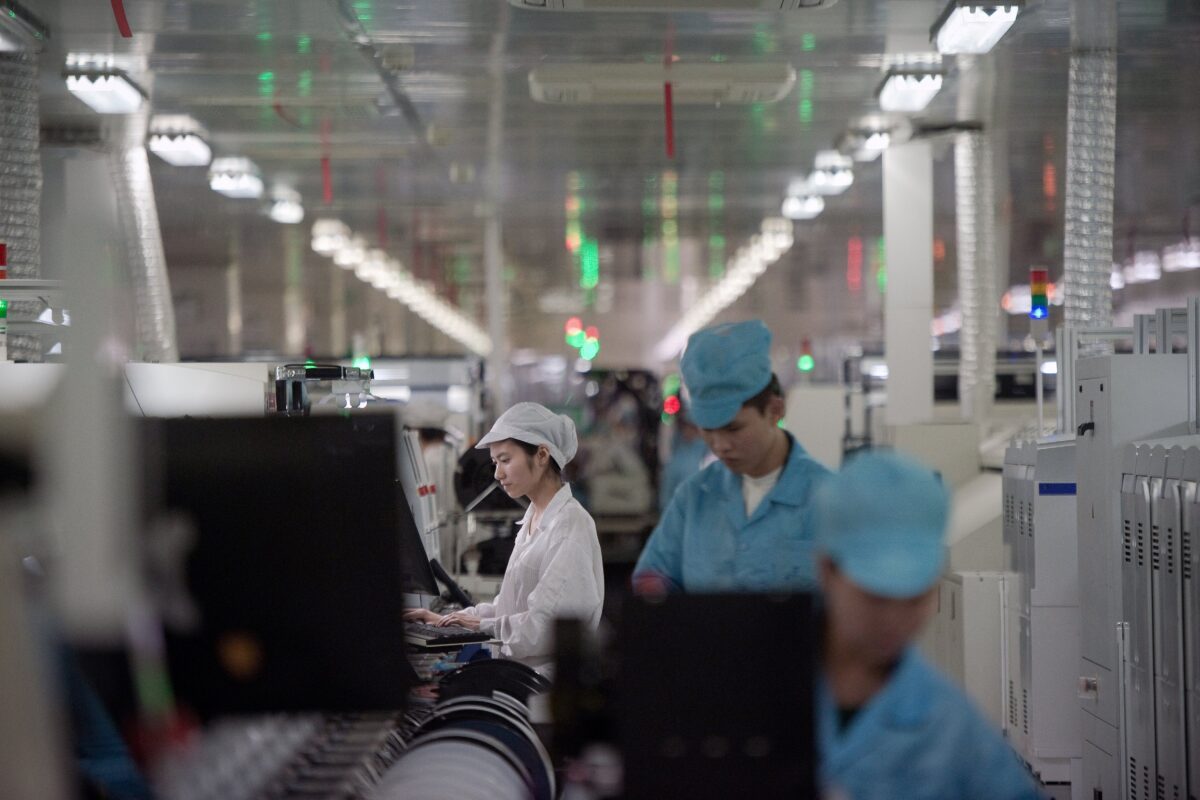 Hefty Investments
The chip industry is one of the most high-tech fields. The CCP has been hoping to lead the world by throwing money into it, even though China's technology lags far behind international standards.
In an interview with the CNBC program "Squawk Box Asia" on Jan. 19, Mario Morales, group vice president for enabling technologies and semiconductors at the International Data Corporation, said that China is the world's second-largest consumer of semiconductors, slightly below the United States, but China is still unable to produce high-end semiconductor.
"I still believe that [China is] probably three or four generations behind what is considered leading edge," Morales said.
Regardless, National Integrated Circuit Industry Investment Fund (ICF) received a lot of state funds. It received over 130 billion yuan (about $19 billion) in the first round of investment and over 204 billion yuan (about $30 billion) in the second round. ICF provides financial support to Chinese semiconductor companies through direct equity participation, and the capital leveraged is estimated to be in trillions.
In 2020, Beijing launched a national chipmaking campaign as a result of Chinese tech giant Huawei being banned from using American chips. Local governments scrambled to set up investment funds, offering a wide range of subsidies and incentives, and semiconductor industrial parks were constructed. According to the South China Morning Post, about 15,700 new semiconductor companies were registered between January and May 2021, tripling the number compared to the same period in the previous year.
But only two years later, not only are the chips not being manufactured but also the enterprises in which the CCP invested went bankrupt, defaulting one after another.
One such example is China's star company, Huaian Imaging Device Manufacturer (HIDM), located in Jiangsu Province.
HIDM emerged in early 2016 and claimed to have completed its equipment, mass production, and revenue within a year.
However, since the first half of 2019, HIDM has not been able to pay salaries, according to some insiders who told Jiwei, a Chinese semiconductor news media.
At that time, HIDM had already received 4.6 billion yuan (about $680 million) in investments, but it was estimated that an additional 3 billion yuan ($440 million) was needed to purchase equipment before it could enter the "operation phase." The authority of Huai'an city refused to continue subsidizing HIDM; thus, the "star enterprise" collapsed.
HIDM claimed to have created a "12-inch wafer factory with an annual capacity of 240,000 wafers." But it did not build a single wafter.
Where did the $4.6 billion yuan ($680 million) go?
According to Jiwei, roughly 650 million yuan ($96 million) was spent on the annual salaries of the company's top executives. HIDM also spent a lot of money on public relations and entertainment. For example, the company spent more than 2 million yuan (approximately $300,000) on a single New Year's Eve dinner for executives.
At least half a dozen other companies in China are in a similar situation as HIDM, Jiwei said.
China's Biggest Chipmaking Scam
On July 31, Chinese financial media Caijing published a commentary, titled "A Brief History of Corruption in the Chip Industry." The authors, dubbed "Financial Eleven Person," pointed out that the decline of China's chip industry has been linked to corruption.
The article cited the "Hanxin 1" case, calling it the "biggest scandal in the history of Chinese science."
In February 2003, Hanxin Technology Co., which is affiliated with Shanghai Jiaotong University, announced that it designed the "Hanxin 1" chip using the internationally advanced 0.18-micron semiconductor process, with 2.5 million devices on an integrated block half the size of a fingernail, with a 32-bit processing core and 200 million calculations per second.
The Shanghai government held a press conference for this purpose. A number of Chinese experts highly evaluated "Hanxin 1" at the meeting, saying that its application technology has reached a world-leading level and is a "milestone" in the development of Chinese chips.
The Shanghai government even applied for six patents for this project.
Since then, Chen Jin, the inventor of "Hanxin 1," has been awarded a series of honors and his assets have increased more than 80 times. He also applied for 1.1 billion yuan (about $160 million) in research funding for "Hanxin 1" and other research projects and may be eligible for the title of academician.
However, it's doubtful that "Hanxin 1" was put into mass production. In early 2006, a report was published on the website forum of Tsinghua University, revealing that "Hanxin I" was a big scam.
Subsequently, more media outlets discovered that Chen was once an employee of Motorola, a U.S. telecommunications company. He reportedly asked a former colleague to buy a Motorola chip, then a local laborer polished off the Motorola name and stamped it with the name "Hanxin 1."
Chen is not the only person to blame. According to the Caijing article, the real problem in the chip sector lies in the CCP's system.
The article was censored shortly after it was published on the Chinese internet. But the original content can still be seen on the U.S.-based Chinese media Xuehua News.