Confucius Institutes 2.0: Chinese Government Money Speaks Loudly
Originally published by Gatestone InstituteCommentary In my book "Red-Handed," we meet a remarkable young man named Nathan Law, the Chinese-born, Hong Kong-raised leader of a pro-democracy effort called the "Umbrella Movement," which protested Beijing's suppression in Hong Kong. Law's efforts were brutally crushed by the Chinese government, and he went to prison for eight months. Time magazine named him one of "the 100 Most Influential People of 2020." Once freed from Chinese prison, Law decided to attend graduate school at Yale University, an institution whose history of educating Chinese students goes back to 1850, when the first Chinese student to graduate from an American university took his degree from there. Times are different now. Law's welcome at Yale was anything but warm. Most Chinese students there today owe their education to the Beijing regime, but when Law tried to speak out on campus, they subjected him to sustained harassment based on his firsthand experience against China's repression of democracy and freedom in Hong Kong. Even Yale's administration remained deaf to the harassment he endured. Why? Because Chinese government money spoke too loudly. Law's story highlights a decades-long effort by the Chinese Communist Party (CCP) to co-opt America's most gleaming ivory towers by funding "Confucius Institutes" at leading U.S. colleges and universities. It has been going on since about 2005. By 2020, more than 118 such "institutes" had sprung up, offering innocent-sounding language and cultural education, directly funded by Hanban, an arm of the Chinese communist regime's ministry of education. Donald Trump's administration and Congress recognized the perniciousness of the influence campaign. Secretary of State Michael Pompeo flagged Confucius Institutes as "part of the Chinese Communist Party's global influence and propaganda apparatus" in a 2020 statement that officially designated the Confucius Institute U.S. Center as a foreign mission of the People's Republic of China. The State Department warned college and university governing boards that Confucius Institutes "exert malign influence on U.S. campuses and disseminate CCP propaganda." Even more, FBI Director Chris Wray told the U.S. Senate in 2018 that the bureau was investigating Confucius Institutes because it detected that China uses "nontraditional collectors, especially in the academic setting" to engage in espionage. Under such pressure, universities moved to shutter these arrangements, and 104 of the 118 Confucius Institutes that once existed in the United States have closed or are being closed. But as I have learned from my own study of China's influence on American institutions, Chinese money doesn't need to speak loudly to co-opt foreign institutions. Sometimes a whisper will do. A new, detailed, and thorough report by the National Association of Scholars (NAS) confirms that not a single one of these institutes disappeared; they were just re-branded under a "sister university" arrangement with universities in China, given a different name, or moved to a different sponsor school. And the money continues to flow. The Chinese government renamed Hanban to the Ministry of Education Center for Language Education and Cooperation (CLEC). It spun off a separate organization, called the Chinese International Education Foundation (CIEF), that continues to fund and oversee Confucius Institutes and many of their replacements, the NAS report tells us. The NAS report traces the fate of each of the 109 Confucius Institutes and did deep case study investigations of several of them. One case study that stood out was the Confucius Institute at the University of Washington in Seattle, which was spun off to Pacific Lutheran University in Tacoma, Washington. The Confucius Institute at Western Kentucky University wound up partnering with the county K–12 school system in Simpson County, where it continues to be run by the same people. The tendency in academia is to treat these institutes as they do other donor gifts, but there are disclosure laws concerning foreign funds that go to American schools. Yale was caught looking the other way at precisely this when it accepted $30 million from billionaire entrepreneur and Yale graduate Joe Tsai (Alibaba) to the China Center of Yale Law School, which was renamed the Paul Tsai China Center for his father. The Tsai Center, which studies Chinese law, might have been a good place for a man with Law's experience to have spoken, given his deep knowledge of the subject. But the Tsai Center apparently wasn't interested in hearing his perspective. He was never invited. Jamie P. Horsley, senior fellow of the Tsai Center and its former executive director, defends the purpose of Confucius Institutes on American campuses. He argues that they're needed to teach students Mandarin, a language increasingly necessary for business success. She has also written articles minimizing the effects of China's social credit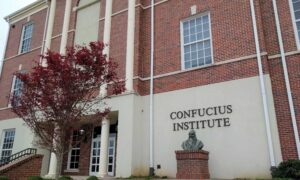 Originally published by Gatestone Institute
Commentary
In my book "Red-Handed," we meet a remarkable young man named Nathan Law, the Chinese-born, Hong Kong-raised leader of a pro-democracy effort called the "Umbrella Movement," which protested Beijing's suppression in Hong Kong. Law's efforts were brutally crushed by the Chinese government, and he went to prison for eight months. Time magazine named him one of "the 100 Most Influential People of 2020."
Once freed from Chinese prison, Law decided to attend graduate school at Yale University, an institution whose history of educating Chinese students goes back to 1850, when the first Chinese student to graduate from an American university took his degree from there.
Times are different now. Law's welcome at Yale was anything but warm. Most Chinese students there today owe their education to the Beijing regime, but when Law tried to speak out on campus, they subjected him to sustained harassment based on his firsthand experience against China's repression of democracy and freedom in Hong Kong. Even Yale's administration remained deaf to the harassment he endured. Why? Because Chinese government money spoke too loudly.
Law's story highlights a decades-long effort by the Chinese Communist Party (CCP) to co-opt America's most gleaming ivory towers by funding "Confucius Institutes" at leading U.S. colleges and universities. It has been going on since about 2005. By 2020, more than 118 such "institutes" had sprung up, offering innocent-sounding language and cultural education, directly funded by Hanban, an arm of the Chinese communist regime's ministry of education.
Donald Trump's administration and Congress recognized the perniciousness of the influence campaign. Secretary of State Michael Pompeo flagged Confucius Institutes as "part of the Chinese Communist Party's global influence and propaganda apparatus" in a 2020 statement that officially designated the Confucius Institute U.S. Center as a foreign mission of the People's Republic of China. The State Department warned college and university governing boards that Confucius Institutes "exert malign influence on U.S. campuses and disseminate CCP propaganda."
Even more, FBI Director Chris Wray told the U.S. Senate in 2018 that the bureau was investigating Confucius Institutes because it detected that China uses "nontraditional collectors, especially in the academic setting" to engage in espionage.
Under such pressure, universities moved to shutter these arrangements, and 104 of the 118 Confucius Institutes that once existed in the United States have closed or are being closed. But as I have learned from my own study of China's influence on American institutions, Chinese money doesn't need to speak loudly to co-opt foreign institutions. Sometimes a whisper will do.
A new, detailed, and thorough report by the National Association of Scholars (NAS) confirms that not a single one of these institutes disappeared; they were just re-branded under a "sister university" arrangement with universities in China, given a different name, or moved to a different sponsor school. And the money continues to flow.
The Chinese government renamed Hanban to the Ministry of Education Center for Language Education and Cooperation (CLEC). It spun off a separate organization, called the Chinese International Education Foundation (CIEF), that continues to fund and oversee Confucius Institutes and many of their replacements, the NAS report tells us.
The NAS report traces the fate of each of the 109 Confucius Institutes and did deep case study investigations of several of them. One case study that stood out was the Confucius Institute at the University of Washington in Seattle, which was spun off to Pacific Lutheran University in Tacoma, Washington. The Confucius Institute at Western Kentucky University wound up partnering with the county K–12 school system in Simpson County, where it continues to be run by the same people.
The tendency in academia is to treat these institutes as they do other donor gifts, but there are disclosure laws concerning foreign funds that go to American schools. Yale was caught looking the other way at precisely this when it accepted $30 million from billionaire entrepreneur and Yale graduate Joe Tsai (Alibaba) to the China Center of Yale Law School, which was renamed the Paul Tsai China Center for his father. The Tsai Center, which studies Chinese law, might have been a good place for a man with Law's experience to have spoken, given his deep knowledge of the subject. But the Tsai Center apparently wasn't interested in hearing his perspective. He was never invited.
Jamie P. Horsley, senior fellow of the Tsai Center and its former executive director, defends the purpose of Confucius Institutes on American campuses. He argues that they're needed to teach students Mandarin, a language increasingly necessary for business success. She has also written articles minimizing the effects of China's social credit system and supporting its Belt and Road Initiative.
This is exactly what many Americans fear about placing China's government-funded institutes, whatever they're called, on American campuses. It's what led the State Department to classify them as diplomatic missions.
After the study's author, Rachelle Peterson, concluded her prepared remarks about the NAS research before an audience at The Heritage Foundation recently, she shared a conversation she had with the Chinese director of one Confucius Institute at an American university, which she declined to name. Peterson asked the Chinese director how she would respond if a student asked her about Tiananmen Square. The director answered that she "would show a photograph [of it] and point out the beautiful architecture. That's the most important thing about that square."
Views expressed in this article are the opinions of the author and do not necessarily reflect the views of The Epoch Times.