Concerns Raised Over Chinese Near-Monopoly of Tokyo's Funeral Industry: Executive
Japan has become the go-to market for Chinese businesses wanting to expand through acquisitions there. In addition to acquiring the oldest home appliance store Laox and turning it into a popular duty-free store for tourists, Chinese investors have snatched up hotels that struggled during the pandemic and recently come to a near monopoly of Tokyo's death care services industry. This is concerning to funeral home executives like Minoru Osugi who suspects China may use its business model to spread Chinese Communist Party (CCP) influence.Japan's crematoriums are public facilities operated by the local government. But in Tokyo, the local government operates only two of nine total crematoriums. Private entities own the remaining seven. Of those, Tokyohakuzen Co., Ltd. owns six which account for 70 percent of Tokyo's funeral business. Japan's weekly news magazine "Shukan Shincho" reported on Oct. 13 that Tokyohakuzen Company has become a Chinese-owned company since this summer. The company is responsible for the majority of the funeral business in 23 districts in Tokyo. The body of former Japanese Prime Minister Shinzo Abe was also cremated at Kirigaya Crematorium under Tokyohakuzen. Through an evolution of stock transactions dating back to 2004 and capital investments increase that concluded in January of this year, Tokyohakuzen Co., Ltd. and its parent, Kosaido Co., Ltd., came under the control of Chinese entrepreneur, Luo Yiwen. It is customary in Japan to liaise with the funeral home in order to get the services of the crematorium. Minoru Osugi, the president of a funeral company, said that they sell Buddhist niches and introduce monk services in the crematorium. Worst of all, they even opened a funeral home. Osugi said the Chinese have completely disrupted Tokyo's standard cost of a cremation which now fluctuates monthly and includes a new fuel surcharge due to the rise in crude oil prices. Their cremation fee was about $394 and then became $528. In October, it was about $680. The Epoch Times reached out to Tokyohakuzen for comment. Residents Unhappy Luo's controlling interest in Tokyohakuzen Co., Ltd. has enabled China to nearly monopolize Tokyo's funeral industry. A fact that Tokyo's residents said they are unhappy about when interviewed by The Epoch Times. One resident, Ms. Fukuda, criticized the Tokyo government for being cold-hearted and irresponsible toward Japan's taxpayers. She believes the Japanese should be responsible for managing their own dignified funeral arrangements, not the Chinese. Mr. Tanaka, a civil servant, said this rampant monopoly by Tokyohakuzen is extremely disgraceful. It has turned what should be a very public crematorium into a business and further into an oligopoly, and the Tokyo government should be held responsible for the crematorium situation. Ms. Hirayama, who works in Tokyo's beauty industry, fears that unless the Japanese government intervenes, China's continuing acquisitions may create additional monopolies that may throw Japan's economy and resources into chaos. Ms. Hanata, a retired teacher, notes that Japan is already an aging society which means the funeral industry is likely to prosper significantly in the coming years. The conversion of public infrastructure to private operators in Tokyo will certainly lead to this situation. Ms. Fujii, who lives in Osaka, warned that if the government and Prime Minister Fumio Kishida do not step in to regulate China's acquisitions, Japan could lose its sovereignty and become a colony of the CCP. From her point of view, Japan's government and Prime Minister do not seem to care about the threat of this happening. Follow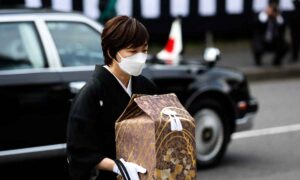 Japan has become the go-to market for Chinese businesses wanting to expand through acquisitions there. In addition to acquiring the oldest home appliance store Laox and turning it into a popular duty-free store for tourists, Chinese investors have snatched up hotels that struggled during the pandemic and recently come to a near monopoly of Tokyo's death care services industry. This is concerning to funeral home executives like Minoru Osugi who suspects China may use its business model to spread Chinese Communist Party (CCP) influence.
Japan's crematoriums are public facilities operated by the local government. But in Tokyo, the local government operates only two of nine total crematoriums. Private entities own the remaining seven. Of those, Tokyohakuzen Co., Ltd. owns six which account for 70 percent of Tokyo's funeral business.
Japan's weekly news magazine "Shukan Shincho" reported on Oct. 13 that Tokyohakuzen Company has become a Chinese-owned company since this summer. The company is responsible for the majority of the funeral business in 23 districts in Tokyo. The body of former Japanese Prime Minister Shinzo Abe was also cremated at Kirigaya Crematorium under Tokyohakuzen.
Through an evolution of stock transactions dating back to 2004 and capital investments increase that concluded in January of this year, Tokyohakuzen Co., Ltd. and its parent, Kosaido Co., Ltd., came under the control of Chinese entrepreneur, Luo Yiwen.
It is customary in Japan to liaise with the funeral home in order to get the services of the crematorium. Minoru Osugi, the president of a funeral company, said that they sell Buddhist niches and introduce monk services in the crematorium. Worst of all, they even opened a funeral home.
Osugi said the Chinese have completely disrupted Tokyo's standard cost of a cremation which now fluctuates monthly and includes a new fuel surcharge due to the rise in crude oil prices. Their cremation fee was about $394 and then became $528. In October, it was about $680.
The Epoch Times reached out to Tokyohakuzen for comment.
Residents Unhappy
Luo's controlling interest in Tokyohakuzen Co., Ltd. has enabled China to nearly monopolize Tokyo's funeral industry. A fact that Tokyo's residents said they are unhappy about when interviewed by The Epoch Times.
One resident, Ms. Fukuda, criticized the Tokyo government for being cold-hearted and irresponsible toward Japan's taxpayers. She believes the Japanese should be responsible for managing their own dignified funeral arrangements, not the Chinese.
Mr. Tanaka, a civil servant, said this rampant monopoly by Tokyohakuzen is extremely disgraceful. It has turned what should be a very public crematorium into a business and further into an oligopoly, and the Tokyo government should be held responsible for the crematorium situation.
Ms. Hirayama, who works in Tokyo's beauty industry, fears that unless the Japanese government intervenes, China's continuing acquisitions may create additional monopolies that may throw Japan's economy and resources into chaos.
Ms. Hanata, a retired teacher, notes that Japan is already an aging society which means the funeral industry is likely to prosper significantly in the coming years. The conversion of public infrastructure to private operators in Tokyo will certainly lead to this situation.
Ms. Fujii, who lives in Osaka, warned that if the government and Prime Minister Fumio Kishida do not step in to regulate China's acquisitions, Japan could lose its sovereignty and become a colony of the CCP. From her point of view, Japan's government and Prime Minister do not seem to care about the threat of this happening.