Communist China Can't Run Hong Kong
CommentaryOct. 1 marks the 73rd anniversary of the founding of Communist China. For the Hong Kong government, it will, on the one hand, propagate that Hong Kong is writing a new chapter of history "from chaos to governance, and from governance to greater prosperity" under the National Security Law; on the other hand, the Hong Kong Police announced that 8,000 police officers will be deployed on Oct. 1, which contrasts sharply with the propaganda of "governance" and "greater prosperity." The continuous denial of the ongoing wave of emigration from Hong Kong and the endless letters from the top men in the Hong Kong government to the foreign media protesting their "false reports" about Hong Kong, the all-around regression of Hong Kong in the past three years shows that it is impossible for the "loyal rubbish" (a name coined by a Beijing scholar to refer to Hong Kong's incompetent, pro-establishment, politicians who flatter Beijing without doing anything useful) to run Hong Kong and accomplish anything significant. Hong Kong has Changed Before 1997, Hong Kong's last governor Chris Patten said, "My anxiety is not that this community's autonomy would be usurped by Peking [now Beijing], but that it could be given away bit by bit by some people in Hong Kong." This prophecy, unfortunately, came true after the 1997 handover from Britain to China. The social elite know that the communists demand explicit allegiance in exchange for a secured "rice bowl." Quoting Xi Jinping has become part of routine life, along with selectively praising the National Security Law despite its obvious disastrous effects on Hong Kong. The educational sector is unquestionably a big part of the disaster. Since 1998, the Education Bureau has indulged itself in distorting history, and its latest achievement was to recruit a group of students to produce a musical celebrating communist China's National Day. The content is a distortion of a renowned essay by Liang Qichao, a famous modern Chinese constitutionalist, such as, the deletion of the phrase "independent young people will make an independent China," which they (the CCP) fear will hint at Hong Kong independence. As flattery and taboo prevail, how can Hong Kong find a way out? An open and transparent political environment is a prerequisite for an international city. But the Chinese communists do not agree. To date, they are still running a covert communist party in Hong Kong, making itself outside the law and unaccountable to Hong Kong residents. According to Ching Cheong, a veteran Hong Kong journalist, there are 400,000 such underground communists in Hong Kong. It is noteworthy that the first place Leung Chun-ying went to thank his supporters after being elected chief executive was the Liaison Office. The Liaison Office is Hong Kong's de facto government, and the Hong Kong government merely an executive arm of it. The party media are Ta Kung Pao and Wen Wei Po newspapers. Hong Kong's politics have become highly uncertain. Red lines are everywhere, toppling the rule of law. The Hong Kong government remained silent on the request of the United Nations to translate the report on human rights in Hong Kong under the National Security Law into Chinese. Critics believe that it was a deliberate attempt to prevent the report from circulating among the public. Now, the Hong Kong government primarily serves the Chinese Communist Party (CCP), not the Hong Kong people, which explains the setting up of a candidate eligibility review committee to screen out those legislative council candidates that the regime does not like. "Leftism" has become a new norm in Hong Kong, and in order to not make mistakes, public servants compete to be as "left" as possible, resulting in "extreme leftism." Compared to the 1967 Riots against colonial rule, at that time pro-communist bookshops could sell Mao's books and leftist schools could preach their political beliefs, now Hong Kong is a city of banned books, and talk of democracy and freedom is taboo in schools. Meanwhile, it is acceptable to teach that imperialism was brought about by McDonald's and Disneyland. The Reason After 1997, the Hong Kong government adopted cronyism as its guiding principle, and most of the restaurants prosecuted for alleged violation of COVID regulations were "yellow" (that is, support a protest movement). "Political neutrality," which has been a core value of civil servants and worked so well in the colonial era, has been shattered by the leftists, and replaced by "politics in command." As a result, the most fundamental cause of Hong Kong's governance failure emerged: treating Hong Kong residents the same way mainland Chinese are treated. There was a time when the CCP apprehended that a hardline policy on Hong Kong would not work. Jiang Enzhu, a former director of the Liaison Office, once said that Hong Kong was a very difficult book to read and understand, and needed to be taken seriously. In contrast to what the first chief e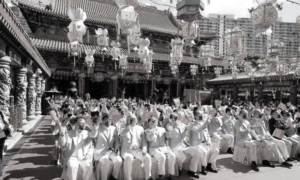 Commentary
Oct. 1 marks the 73rd anniversary of the founding of Communist China. For the Hong Kong government, it will, on the one hand, propagate that Hong Kong is writing a new chapter of history "from chaos to governance, and from governance to greater prosperity" under the National Security Law; on the other hand, the Hong Kong Police announced that 8,000 police officers will be deployed on Oct. 1, which contrasts sharply with the propaganda of "governance" and "greater prosperity."
The continuous denial of the ongoing wave of emigration from Hong Kong and the endless letters from the top men in the Hong Kong government to the foreign media protesting their "false reports" about Hong Kong, the all-around regression of Hong Kong in the past three years shows that it is impossible for the "loyal rubbish" (a name coined by a Beijing scholar to refer to Hong Kong's incompetent, pro-establishment, politicians who flatter Beijing without doing anything useful) to run Hong Kong and accomplish anything significant.
Hong Kong has Changed
Before 1997, Hong Kong's last governor Chris Patten said, "My anxiety is not that this community's autonomy would be usurped by Peking [now Beijing], but that it could be given away bit by bit by some people in Hong Kong."
This prophecy, unfortunately, came true after the 1997 handover from Britain to China. The social elite know that the communists demand explicit allegiance in exchange for a secured "rice bowl." Quoting Xi Jinping has become part of routine life, along with selectively praising the National Security Law despite its obvious disastrous effects on Hong Kong.
The educational sector is unquestionably a big part of the disaster. Since 1998, the Education Bureau has indulged itself in distorting history, and its latest achievement was to recruit a group of students to produce a musical celebrating communist China's National Day. The content is a distortion of a renowned essay by Liang Qichao, a famous modern Chinese constitutionalist, such as, the deletion of the phrase "independent young people will make an independent China," which they (the CCP) fear will hint at Hong Kong independence. As flattery and taboo prevail, how can Hong Kong find a way out?
An open and transparent political environment is a prerequisite for an international city. But the Chinese communists do not agree. To date, they are still running a covert communist party in Hong Kong, making itself outside the law and unaccountable to Hong Kong residents.
According to Ching Cheong, a veteran Hong Kong journalist, there are 400,000 such underground communists in Hong Kong. It is noteworthy that the first place Leung Chun-ying went to thank his supporters after being elected chief executive was the Liaison Office. The Liaison Office is Hong Kong's de facto government, and the Hong Kong government merely an executive arm of it. The party media are Ta Kung Pao and Wen Wei Po newspapers. Hong Kong's politics have become highly uncertain.
Red lines are everywhere, toppling the rule of law. The Hong Kong government remained silent on the request of the United Nations to translate the report on human rights in Hong Kong under the National Security Law into Chinese. Critics believe that it was a deliberate attempt to prevent the report from circulating among the public.
Now, the Hong Kong government primarily serves the Chinese Communist Party (CCP), not the Hong Kong people, which explains the setting up of a candidate eligibility review committee to screen out those legislative council candidates that the regime does not like.
"Leftism" has become a new norm in Hong Kong, and in order to not make mistakes, public servants compete to be as "left" as possible, resulting in "extreme leftism." Compared to the 1967 Riots against colonial rule, at that time pro-communist bookshops could sell Mao's books and leftist schools could preach their political beliefs, now Hong Kong is a city of banned books, and talk of democracy and freedom is taboo in schools. Meanwhile, it is acceptable to teach that imperialism was brought about by McDonald's and Disneyland.
The Reason
After 1997, the Hong Kong government adopted cronyism as its guiding principle, and most of the restaurants prosecuted for alleged violation of COVID regulations were "yellow" (that is, support a protest movement). "Political neutrality," which has been a core value of civil servants and worked so well in the colonial era, has been shattered by the leftists, and replaced by "politics in command."
As a result, the most fundamental cause of Hong Kong's governance failure emerged: treating Hong Kong residents the same way mainland Chinese are treated. There was a time when the CCP apprehended that a hardline policy on Hong Kong would not work.
Jiang Enzhu, a former director of the Liaison Office, once said that Hong Kong was a very difficult book to read and understand, and needed to be taken seriously.
In contrast to what the first chief executive Tung Chee-hwa said at the founding ceremony of the Hong Kong government, Hong Kong people were to be in charge of their own destiny, they have become a target of reform that begins in childhood. The recent efforts of the leftist newspapers to cleanse colonial nostalgia that arose from the public tributes to the late Queen Elizabeth II is in fact trying to remove the features that have made Hong Kong.
The impact of the emigration wave from Hong Kong will be coupled with the wave of "returning home" (a term that residents apply to traveling to Japan, which is their first travel destination) that is to come. On the eve of the Communist China National Day, Hong Kong's COVID-19 restrictions were lessened and people flocked to book a trip to Japan. This may be seen as a form of referendum on the communist regime.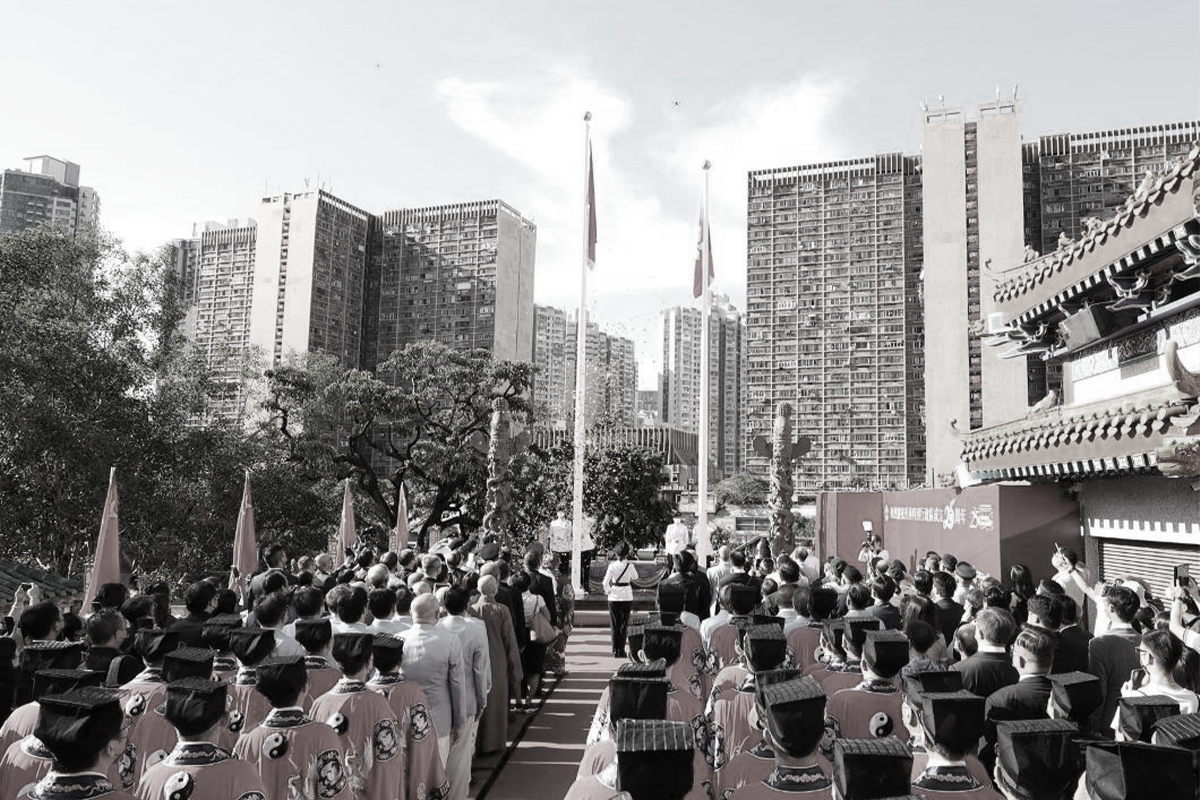 Views expressed in this article are the opinions of the author and do not necessarily reflect the views of The Epoch Times.