Commentators: Jimmy Lai Found Guilty of Fraud, Under Political Persecution He May Never Walk Free Again
Jimmy Lai Chee-ying, founder of the now-dissolved Next Digital Media Group, was convicted of fraud and sentenced to five years and nine months of imprisonment on Dec. 10 for using a small part of a media office for his private consultancy business.This ruling is in addition to his earlier conviction for unlawful assembly and a pending case in which he is accused of colluding with foreign forces under the Hong Kong National Security Law. Lai was found guilty of two counts of fraud, for concealing the operation of his consulting business, Dico Consultants Limited, in the Apple Daily office in the Tseung Kwan O Industrial Building without informing his landlord. Lai was said to have violated the lease agreement of Apple Daily's headquarters in a building owned by the Science and Technology Park. Using a Small Portion of an Office is Fraud On Dec. 10, national security law designated judge Chan Kwong-chi sentenced Lai to five years and nine months in prison, a fine of HK$2 million (about $255,000), and banned Lai from serving as a company director for eight years. Former Chief executive director of Next Digital, Wong Wai-keung, was sentenced to one year and nine months for the same charge. As soon as the verdict was given, the public criticized both the heavy-handed sentencing and judge Chan Kwong-chi. Commentators say that the fraud trial is part of the government's political persecution of Jimmy Lai. Are the Factors Reasonable? When announcing his judgment, Chan listed six factors that influenced his decision. The judge said the first charge spans more than 17 years, from April 1998 to December 2015. He emphasized that Dico is Lai's private interest. It is an "intangible interest" for Lai's company to move into Next Digital Headquarters with preferential rates and conditions, coupled with the convenience of operation and unlikely rent increase. Judge Chan said that Lai acted under an umbrella of media organizations and used it as a shield, a cover, to commit his "fraudulent crime," which made the Science and Technology Park scared of taking action, let alone making unannounced inspections. The judge called Lai's plan "an illegal trilogy." The judge also thought that Lai committed the crime with others, and the intention and the fraudulent plan were deliberate, organized, and long-term. Chan said no Dico logo was ever displayed at the office reception, adding that Lai hadn't informed the landlord of Dico's existence either. Regarding the HK$2 million fine, the judge said the penalties were based on the benefits Dico might have gained from 1998 to December 2015, and from January 2016 to May 19, 2020, for occupying premises at a much lower rental rate. Lai  was ordered to pay a lump sum within three months. Otherwise, he will be given an additional 12 months of prison time. Judge Justifies His Verdict Chan emphasized that Lai and Next Digital Media Group had a certain social status and many supporters in Hong Kong. The judge claimed that no one from the Science and Technology Park or other law enforcement agencies would "dare" to take action against him. The judge said that was an added factor in the longer sentence. The judge felt he should be fair to Lai, however, since Lai was cooperative and agreed with most parts of the case. He said he reduced Lai's sentence by three months as a "reduction at judicial discretion." The judge said undoubtedly, "Jimmy Lai carried no remorse at all." So he saw no foundation to reduce the sentence any further. Chan said that since there were no sentencing guidelines for fraudulent crimes in Hong Kong, the criminal consequences would depend on the case. Chan used five years as a starting point for the sentencing. Lai was sentenced to five years in prison for his first charge, which involved fraud from 1998 to 2015, and for the second charge for the crime of fraud from 2016 to 2020, Chan said he started at three years as the minimum sentence. Chan gave a final total of six years but reduced Lai's sentence by three months. The 'Media Tycoon,' Bullied the Landlord The judge criticized the landlord, Hong Kong Science and Technology Park, for not doing its best to enforce the law and crack down on Lai's commercial lease violation. Chan said it was apparent that HKSTA was manipulated and degraded since Lai was using his social status as a "media tycoon" to oppress the landlord and stop the company from doing its job. The Worst is Yet To Come Siu Yeuk-Yuen, a businessperson and current affairs commentator, believes that the case was an attack on press freedom. "If Jimmy Lai were not a media professional who upset the government, the regime would not have charged or sentenced him so severely." As stated during the trial, Lai only used 0.16 percent of the Next Digital Headquarters space for Dico Consultants. Siu also slammed the judge for his "absurd" rationale for adding penalties to Lai's sentence. "The law treats everyone the same regardless of social statu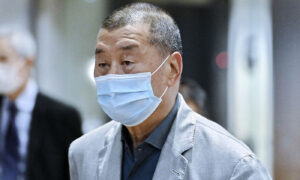 Jimmy Lai Chee-ying, founder of the now-dissolved Next Digital Media Group, was convicted of fraud and sentenced to five years and nine months of imprisonment on Dec. 10 for using a small part of a media office for his private consultancy business.
This ruling is in addition to his earlier conviction for unlawful assembly and a pending case in which he is accused of colluding with foreign forces under the Hong Kong National Security Law.
Lai was found guilty of two counts of fraud, for concealing the operation of his consulting business, Dico Consultants Limited, in the Apple Daily office in the Tseung Kwan O Industrial Building without informing his landlord.
Lai was said to have violated the lease agreement of Apple Daily's headquarters in a building owned by the Science and Technology Park.
Using a Small Portion of an Office is Fraud
On Dec. 10, national security law designated judge Chan Kwong-chi sentenced Lai to five years and nine months in prison, a fine of HK$2 million (about $255,000), and banned Lai from serving as a company director for eight years.
Former Chief executive director of Next Digital, Wong Wai-keung, was sentenced to one year and nine months for the same charge.
As soon as the verdict was given, the public criticized both the heavy-handed sentencing and judge Chan Kwong-chi.
Commentators say that the fraud trial is part of the government's political persecution of Jimmy Lai.
Are the Factors Reasonable?
When announcing his judgment, Chan listed six factors that influenced his decision.
The judge said the first charge spans more than 17 years, from April 1998 to December 2015.
He emphasized that Dico is Lai's private interest. It is an "intangible interest" for Lai's company to move into Next Digital Headquarters with preferential rates and conditions, coupled with the convenience of operation and unlikely rent increase.
Judge Chan said that Lai acted under an umbrella of media organizations and used it as a shield, a cover, to commit his "fraudulent crime," which made the Science and Technology Park scared of taking action, let alone making unannounced inspections. The judge called Lai's plan "an illegal trilogy."
The judge also thought that Lai committed the crime with others, and the intention and the fraudulent plan were deliberate, organized, and long-term.
Chan said no Dico logo was ever displayed at the office reception, adding that Lai hadn't informed the landlord of Dico's existence either.
Regarding the HK$2 million fine, the judge said the penalties were based on the benefits Dico might have gained from 1998 to December 2015, and from January 2016 to May 19, 2020, for occupying premises at a much lower rental rate.
Lai was ordered to pay a lump sum within three months. Otherwise, he will be given an additional 12 months of prison time.
Judge Justifies His Verdict
Chan emphasized that Lai and Next Digital Media Group had a certain social status and many supporters in Hong Kong. The judge claimed that no one from the Science and Technology Park or other law enforcement agencies would "dare" to take action against him. The judge said that was an added factor in the longer sentence.
The judge felt he should be fair to Lai, however, since Lai was cooperative and agreed with most parts of the case. He said he reduced Lai's sentence by three months as a "reduction at judicial discretion."
The judge said undoubtedly, "Jimmy Lai carried no remorse at all." So he saw no foundation to reduce the sentence any further.
Chan said that since there were no sentencing guidelines for fraudulent crimes in Hong Kong, the criminal consequences would depend on the case. Chan used five years as a starting point for the sentencing. Lai was sentenced to five years in prison for his first charge, which involved fraud from 1998 to 2015, and for the second charge for the crime of fraud from 2016 to 2020, Chan said he started at three years as the minimum sentence. Chan gave a final total of six years but reduced Lai's sentence by three months.
The 'Media Tycoon,' Bullied the Landlord
The judge criticized the landlord, Hong Kong Science and Technology Park, for not doing its best to enforce the law and crack down on Lai's commercial lease violation.
Chan said it was apparent that HKSTA was manipulated and degraded since Lai was using his social status as a "media tycoon" to oppress the landlord and stop the company from doing its job.
The Worst is Yet To Come
Siu Yeuk-Yuen, a businessperson and current affairs commentator, believes that the case was an attack on press freedom. "If Jimmy Lai were not a media professional who upset the government, the regime would not have charged or sentenced him so severely."
As stated during the trial, Lai only used 0.16 percent of the Next Digital Headquarters space for Dico Consultants.
Siu also slammed the judge for his "absurd" rationale for adding penalties to Lai's sentence. "The law treats everyone the same regardless of social status."
Siu said he thinks the worst is yet to come.
As for the judge's argument that the Science and Technology Park did not make good use of its given power under the law and crack down on tenants who violated the policy, Siu said under normal circumstances, if the situation is not excessive, no one would care.
Siu affirmed Lai's case is essentially political persecution. "Under normal circumstances, if any party violates a lease agreement condition, the case would be a civil claim for breach of contract."
Siu said that legally there is no precedent for "misusing" the park's land being considered fraud. He said two businesses sharing an office is not uncommon, and it happens every day, but none were sued or charged with fraud. Siu felt there was no reason for the case to be tried as fraud instead of a civil claim of breach of contract.
Lai To Be Jailed at all Cost
Former RTHK radio host and political commentator Ng Chi-sum said the court's ruling was "absolutely shocking." He said it was an example of political persecution from the start. Ng warned that it was only the beginning.
The former Headliners host pointed out it was never a secret that companies leasing government properties would commonly rent out a small portion of their office space or rooms.
Ng stated that it was never an issue because the tenants were not Jimmy Lai Chee-ying.
"It is doubtful that Mr. Jimmy Lai will ever walk out of prison as a free man."
He added that the Department of Justice had failed in many attempts to prevent Lai from appointing a British barrister as his defense lawyer for the trial.
Ng noted that everything that happened shows the Hong Kong government would use any means to convict Lai, even if it undermines the rule of law and judicial independence in Hong Kong.
Government Mouthpiece Blows Whistle
In May 2020, Ta Kung Pao, a pro-Beijing media, headlined Dico's operation within Next Digital headquarters and chastised the government departments for ignoring the "problem."
Then in June 2020, the Hong Kong Police searched Dico's office in Wan Chai.
When Lai reported to the police station in December 2020, the National Security Bureau arrested and charged him with fraud.
The Ugly Truth
On Dec 14, scholar and former professor Chung Kim-wah shared his viewpoint on an online news channel, The Chaser.
The professor affirmed, "I am sure everyone can see clearly, that the Hong Kong government has completely shown their ugliness, from how it handled Jimmy Lai's trials and his appointment of Tim Owen, a British barrister."
Chung said that the regime, again and again, destroyed Hong Kong's rule of law. After the government repeatedly failed its appeal, it gave direct orders and pressured the High Court.
Chow stated that the government was a sore loser after the High Court granted Jimmy Lai bail, which was essentially home confinement with harsh conditions.
"After that, the government mouthpiece Ta Kung Pao and other pro-Beijing people came out and threatened the court again, as they have always done. The High Court eventually had to cancel Lai's bail grant."
Chung said whenever the government said it would "revise" the current law, it would add new rules as it saw fit.
The professor said he was shocked that Lai was being tried and convicted for fraud, which was previously unheard of in Hong Kong.
Jimmy Lai is now waiting for another trial in September 2023, and will remain in jail until then. "It does not matter how long Lai remains in jail. He has been imprisoned before any trial for quite some time." Chung said.
The current affairs scholar indicated that the regime pinned Jimmy Lai, a democracy and freedom fighter, for breach of a leasing contract, which was a commercial and civil issue.
The professor echoed other political commentators, "It is crystal clear that Lai's case is political persecution from the Hong Kong government."