Clinical Nutritionist and Former Fad Dieter Finds Beauty and Happiness Through Being Kind to Herself
"The healthy life is not the perfect life," Jessica Sepel wants you to know. "The healthy life is truly one that has balance at the core of everything." The 33-year-old Australian beauty is a clinical nutritionist, an author, and the founder of a worldwide nutrition empire. Now a rising star in international business, Sepel lived through an ugly, years-long dependence on fad dieting that hijacked her sense of self, until a turning point set her on a path to finding a different kind of life. Now, she wants other people to know that being gentle and kind to themselves can lead to better health and beauty.Gentle, Kind Weight Loss "I think my lowest point was when I had to throw the scale out," said Sepel. She recalled that in 2012 her daily weigh-in had come to determine her self worth: "[I was] so distressed by it that my partner, now my husband, looks to me and says, 'We've got to bring this to an end.'" He suggested that she get rid of the scale for good. "'I cannot do it!' I kept telling him—because I felt like I was throwing away a part of myself." Sepel held the scale in her arms "like a baby" as they walked together to the dumpster. Deep down she knew she wanted to be rid of it, however, and threw the scale in of her own accord. She felt relief when it was gone. "I don't think I would have done it myself," said Sepel. It was an incredibly emotional turning point in her journey toward a gentler, kinder approach to beauty: self-acceptance. In place of extremes, dieting to pursue perfection, and counting calories, carbs, or pounds, she began eating healthy food most of the time, as well as supporting her sleep patterns and hormonal health through relaxing mindfulness routines that combat anxiety. "Slowly—I would say quite slow—[I] transitioned from being this fad dieter to becoming more of this healthy eater, but it was a quest." In Sepel's early experiences eating for lifelong health instead of anxiety-ridden weight loss, she was thrilled to discover how great she started feeling. "I was adding more fiber into my diet, adding more carbohydrates that I had restricted for 10 years, adding more fat—and I actually started feeling better. I started feeling more energetic, my skin started glowing, I started feeling like I can sleep better, I was less anxious—I started sort of feeling on top of the world. I always say to people, 'just get a taste of the healthy life, because you'll be addicted.'" In 2012, Sepel graduated with an advanced diploma in nutritional medicine. She also started a blog to share with the world her struggles involving body image and fad dieting, hoping to find kindred spirits. "I just felt like there must be a better way to live a healthy life," she said. "I started the blog to try and find other women who might be feeling the same. I was kind of like: 'together, let's find freedom with food and our bodies.'" Since then, Sepel has published three books and launched a healthy living app; but, JSHealth is best known for its line of vitamins sold in pharmacies around the globe—one of Sepel's products is sold every 10 seconds. The Un-Diet Sepel shares what she calls the un-diet. She says that people can maintain healthy, sexy weights when they stop comparing themselves with others and let go of the stress caused by associating food with reward and punishment. She shares recipes filled with fresh, whole ingredients as a way to help people feel and look good. Fad diets often contradict one another, Sepel points out. One promotes low carbs while another touts high carbs. One says eat a little protein while another says no protein and a third says high protein. "At the end of that, you disconnect from yourself and your body—[from] being intuitive with yourself—and you feel utterly confused and overwhelmed," said Sepel. "I think, when people start repairing their relationship with food and their bodies, they actually start calming down—their cortisol levels come down," said Sepel (cortisol is known as the stress hormone). "We know cortisol leads to weight gain—and especially around the abdominal area." In her 8-week course, participants are encouraged to ditch the scale temporarily. Many are surprised to find they've lost pounds when they weigh themselves again after following Sepel's balanced, gentle approach to cooking, eating, and body image. "But it also takes time," she said. "It does take a couple of weeks or months to adjust—at first you might overeat." In Sepel's eyes, a healthy relationship with food means eating plenty of fruits, vegetables, healthy fats, and lean proteins—but not all the time. "It's really about a sustainable, long term, achievable way of feeling good and eating well 70 or 80 percent of the time," she said. "Because the truth of the matter is, having your sweet potato and chicken avocado salad at lunchtime is going to really make me feel good the rest of the afternoon—I won't start craving sugar and coffee to feel good—but then, absolutely on the weekends, I wa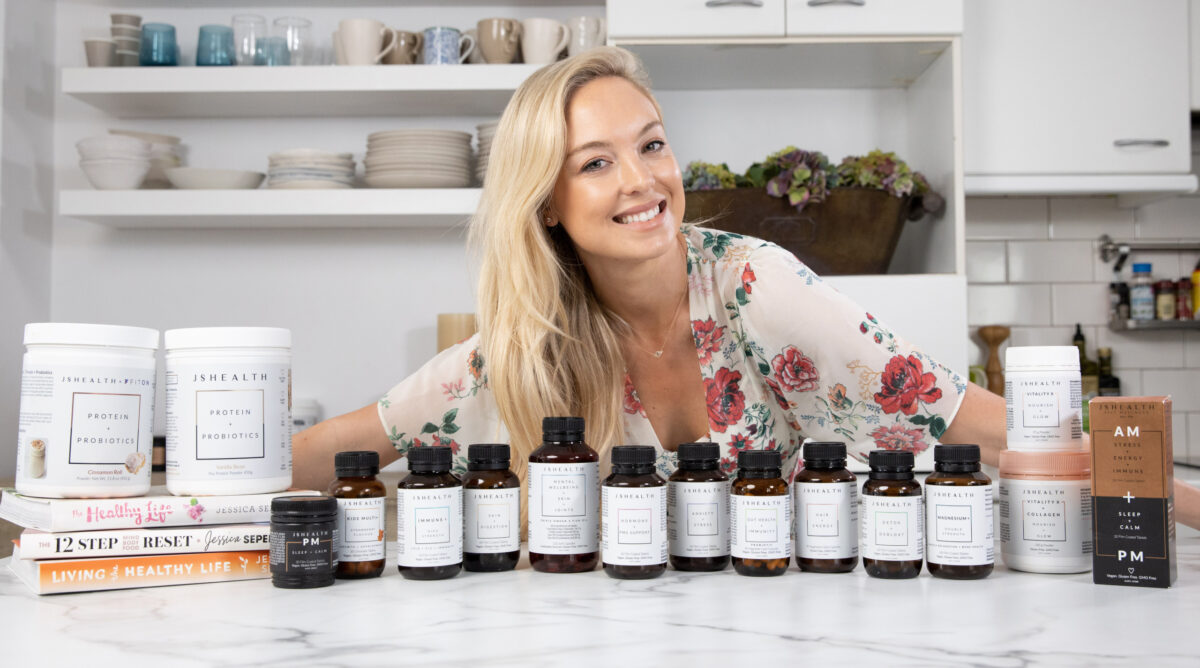 "The healthy life is not the perfect life," Jessica Sepel wants you to know. "The healthy life is truly one that has balance at the core of everything." The 33-year-old Australian beauty is a clinical nutritionist, an author, and the founder of a worldwide nutrition empire. Now a rising star in international business, Sepel lived through an ugly, years-long dependence on fad dieting that hijacked her sense of self, until a turning point set her on a path to finding a different kind of life. Now, she wants other people to know that being gentle and kind to themselves can lead to better health and beauty.
Gentle, Kind Weight Loss
"I think my lowest point was when I had to throw the scale out," said Sepel. She recalled that in 2012 her daily weigh-in had come to determine her self worth: "[I was] so distressed by it that my partner, now my husband, looks to me and says, 'We've got to bring this to an end.'" He suggested that she get rid of the scale for good. "'I cannot do it!' I kept telling him—because I felt like I was throwing away a part of myself." Sepel held the scale in her arms "like a baby" as they walked together to the dumpster. Deep down she knew she wanted to be rid of it, however, and threw the scale in of her own accord. She felt relief when it was gone.
"I don't think I would have done it myself," said Sepel. It was an incredibly emotional turning point in her journey toward a gentler, kinder approach to beauty: self-acceptance. In place of extremes, dieting to pursue perfection, and counting calories, carbs, or pounds, she began eating healthy food most of the time, as well as supporting her sleep patterns and hormonal health through relaxing mindfulness routines that combat anxiety. "Slowly—I would say quite slow—[I] transitioned from being this fad dieter to becoming more of this healthy eater, but it was a quest."
In Sepel's early experiences eating for lifelong health instead of anxiety-ridden weight loss, she was thrilled to discover how great she started feeling. "I was adding more fiber into my diet, adding more carbohydrates that I had restricted for 10 years, adding more fat—and I actually started feeling better. I started feeling more energetic, my skin started glowing, I started feeling like I can sleep better, I was less anxious—I started sort of feeling on top of the world. I always say to people, 'just get a taste of the healthy life, because you'll be addicted.'"
In 2012, Sepel graduated with an advanced diploma in nutritional medicine. She also started a blog to share with the world her struggles involving body image and fad dieting, hoping to find kindred spirits. "I just felt like there must be a better way to live a healthy life," she said. "I started the blog to try and find other women who might be feeling the same. I was kind of like: 'together, let's find freedom with food and our bodies.'"
Since then, Sepel has published three books and launched a healthy living app; but, JSHealth is best known for its line of vitamins sold in pharmacies around the globe—one of Sepel's products is sold every 10 seconds.
The Un-Diet
Sepel shares what she calls the un-diet. She says that people can maintain healthy, sexy weights when they stop comparing themselves with others and let go of the stress caused by associating food with reward and punishment. She shares recipes filled with fresh, whole ingredients as a way to help people feel and look good.
Fad diets often contradict one another, Sepel points out. One promotes low carbs while another touts high carbs. One says eat a little protein while another says no protein and a third says high protein. "At the end of that, you disconnect from yourself and your body—[from] being intuitive with yourself—and you feel utterly confused and overwhelmed," said Sepel. "I think, when people start repairing their relationship with food and their bodies, they actually start calming down—their cortisol levels come down," said Sepel (cortisol is known as the stress hormone). "We know cortisol leads to weight gain—and especially around the abdominal area."
In her 8-week course, participants are encouraged to ditch the scale temporarily. Many are surprised to find they've lost pounds when they weigh themselves again after following Sepel's balanced, gentle approach to cooking, eating, and body image. "But it also takes time," she said. "It does take a couple of weeks or months to adjust—at first you might overeat."
In Sepel's eyes, a healthy relationship with food means eating plenty of fruits, vegetables, healthy fats, and lean proteins—but not all the time. "It's really about a sustainable, long term, achievable way of feeling good and eating well 70 or 80 percent of the time," she said. "Because the truth of the matter is, having your sweet potato and chicken avocado salad at lunchtime is going to really make me feel good the rest of the afternoon—I won't start craving sugar and coffee to feel good—but then, absolutely on the weekends, I want to go out with my husband and have wine, and gelato, and pasta."
Honest and Open
Despite all her success and how polished she looks on Instagram, Sepel is still open about her ongoing health struggles, and she hopes to inspire others to be kind to themselves and reach out for help when needed. She's currently on a journey with her mental health, she said, which is an issue many women in their thirties face these days, unfortunately.
For Sepel, it began with a shocking catalyst: "I lost my best friend to mental health at the end of 2018. She took her life," said Sepel. "And so, it actually sparked my own sort of anxiety disorder. … They say it was PTSD and, really, complicated grief." Sepel realized that she needed help, so she sought a good therapist and added sessions to the roster of her developing healthy lifestyle. Thankfully, she said, she's "in a really good place now."
Sepel is still inspired by her husband, Dean Steingold, CEO of JSHealth and the man who helped her see life beyond the scale. Her mother and grandmother are also inspirations for her, she said, as role models of healthy, balanced living. "I think it's a very big blessing to have a parent who preaches [while you're] growing up, [about] how important it is to be honest. … I have her in my head saying: 'Life is not easy. I also sometimes feel sad. I also feel overwhelmed.' It's this sort-of reality check, like: 'Why did you expect it to be any other way?'"