Chinese YouTuber Twin Sisters Call for Family to Be Released From Chinese Prison
What do you think of when you see a pair of twin sisters in their 20s, who are popular YouTubers making entertainment videos? Beauty, youth, fame?These are some labels frequently associated with Huang Doudou and Huang Guoguo, who're originally from the central Anhui Province in China and now reside in Sydney, Australia. The twin sisters created their Chinese YouTube channel in 2018, which focuses on entertainment programs. In less than four years, the channel has attracted over 100,000 subscribers and over 40,000,000 total views. Among their happy entertainment videos about the latest movies, TV series, and pop stars, some fans may notice that there are occasionally videos about human rights issues in China. One video uploaded in 2021, for instance, introduced the H&M incident, in which Beijing pressured the global apparel brand to recant its stance on the forced labour of Uyghurs in the Xinjiang region. Another one, uploaded in 2019 about the 2019 American film "The Laundromat," shed light on the Chinese communist regime's forced organ harvesting of Falun Gong practitioners. Falun Dafa practitioners commemorate lives lost and 20 years of persecution by the Chinese communist regime in Sydney, Australia, on July 19, 2019. (The Epoch Times) Falun Gong, also known as Falun Dafa, is a meditation practice of the Buddhist tradition with moral teachings centred on the principles of truthfulness, compassion, and tolerance. Fearful of its popularity as an independent ideology in China-with, with up to 100 million practicing in 1990s-the Chinese Communist Party (CCP) started a brutal campaign to "eradicate" the practice and its adherents since July 1999. Few know that behind the video is a heartbreaking story of the sisters' family. A Turning Point in Happy Times Like their peers, Doudou and Guoguo used to have a happy childhood with the care and love of their families and friends. "We grew up loving to go outdoors with our parents to do the (Falun Gong) exercises. The music is pleasant to hear. The adults made us stand at the front of the line. We were often complimented by passersby as lovely girls," said the elder sister Doudou. "My father quit many of his previous bad habits, such as addiction to smoking and alcohol, in a short time after practicing Falun Gong." According to Doudou, at his workplace, her father treated his colleagues according to the principles of 'truthfulness, compassion, forbearance; and made a profit for the factory, which was originally losing money. He was awarded as an advanced worker in the main factory in late 1997. "But all these good times disappeared with the unreasonable suppression. The CCP, led by Jiang Zemin, used all the state machinery and media to spread rumours and launch government-sanctioned persecution against Falun Gong adherents," she said. "Since then, there has been no peace in our family. We have been illegally raided three times. Our father was illegally detained six times, illegally sentenced to four years in prison, illegally imprisoned in brainwashing classes three times, and dismissed from his workplace. Our mom was kidnapped once, illegally locked up in a brainwashing class once, had her duties revoked, and was forcibly suspended from work for three months with no pay or bonus." A childhood photo of the twin sisters Doudou and Guoguo. (supplied) "We grew up under such fear and pressure," she said. The twins' father ended four years of imprisonment in 2007 and started driving a taxi to make a living. "He treats people kindly and always think of others," Doudou said. "In the past few years, he has found countless cell phones, wallets, and other items left by passengers in the car. Every time he was afraid that the owner would be anxious, so he took the initiative to find ways to contact them and return them as soon as possible, and he always refused the money or gifts given by the owners in gratitude." Illegal Arrests Consistent in Family's Lives  Unfortunately, the twin sisters recently learned that their father had been arrested again by the Chinese regime. On the evening of June 19, the sisters' father, Huang Zhisong, mother, Chen Lingxia, and six other Falun Gong practitioners were reading Falun Dafa books in their home when, at around 9:00 p.m., more than 20 local police officers burst into the house and seized eight practitioners, including their parents. According to the sisters, the police did not show any legal documents when they arrested the sisters' family. The policemen also seized dozens of Falun Gong books, two laptops, an iPad, four iPhones, and a printer without their family present. Their mother found the loss when she returned home from the detention centre. "Among the 14 recognized and identified cults in China, there is not a mention of Falun Gong," said Doudou. "The charge of my father was forced upon him. One can be arrested simply for reading books at home. There are no human rights at all in China!" Speaking Out a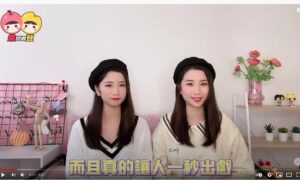 What do you think of when you see a pair of twin sisters in their 20s, who are popular YouTubers making entertainment videos? Beauty, youth, fame?
These are some labels frequently associated with Huang Doudou and Huang Guoguo, who're originally from the central Anhui Province in China and now reside in Sydney, Australia.
The twin sisters created their Chinese YouTube channel in 2018, which focuses on entertainment programs. In less than four years, the channel has attracted over 100,000 subscribers and over 40,000,000 total views.
Among their happy entertainment videos about the latest movies, TV series, and pop stars, some fans may notice that there are occasionally videos about human rights issues in China.
One video uploaded in 2021, for instance, introduced the H&M incident, in which Beijing pressured the global apparel brand to recant its stance on the forced labour of Uyghurs in the Xinjiang region.
Another one, uploaded in 2019 about the 2019 American film "The Laundromat," shed light on the Chinese communist regime's forced organ harvesting of Falun Gong practitioners.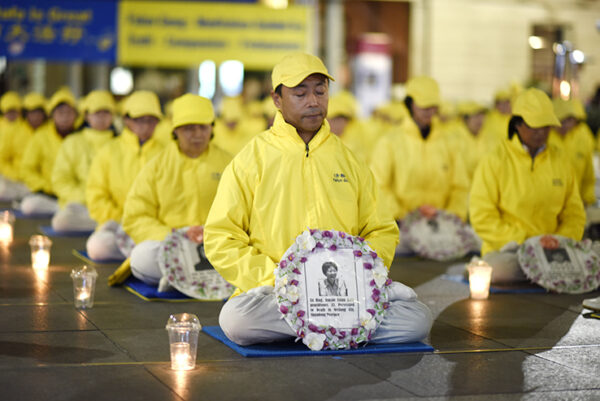 Falun Gong, also known as Falun Dafa, is a meditation practice of the Buddhist tradition with moral teachings centred on the principles of truthfulness, compassion, and tolerance. Fearful of its popularity as an independent ideology in China-with, with up to 100 million practicing in 1990s-the Chinese Communist Party (CCP) started a brutal campaign to "eradicate" the practice and its adherents since July 1999.
Few know that behind the video is a heartbreaking story of the sisters' family.
A Turning Point in Happy Times
Like their peers, Doudou and Guoguo used to have a happy childhood with the care and love of their families and friends.
"We grew up loving to go outdoors with our parents to do the (Falun Gong) exercises. The music is pleasant to hear. The adults made us stand at the front of the line. We were often complimented by passersby as lovely girls," said the elder sister Doudou.
"My father quit many of his previous bad habits, such as addiction to smoking and alcohol, in a short time after practicing Falun Gong."
According to Doudou, at his workplace, her father treated his colleagues according to the principles of 'truthfulness, compassion, forbearance; and made a profit for the factory, which was originally losing money. He was awarded as an advanced worker in the main factory in late 1997.
"But all these good times disappeared with the unreasonable suppression. The CCP, led by Jiang Zemin, used all the state machinery and media to spread rumours and launch government-sanctioned persecution against Falun Gong adherents," she said.
"Since then, there has been no peace in our family. We have been illegally raided three times. Our father was illegally detained six times, illegally sentenced to four years in prison, illegally imprisoned in brainwashing classes three times, and dismissed from his workplace. Our mom was kidnapped once, illegally locked up in a brainwashing class once, had her duties revoked, and was forcibly suspended from work for three months with no pay or bonus."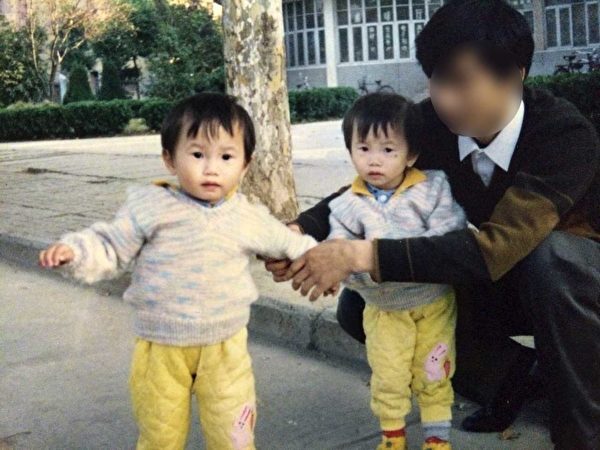 "We grew up under such fear and pressure," she said.
The twins' father ended four years of imprisonment in 2007 and started driving a taxi to make a living.
"He treats people kindly and always think of others," Doudou said. "In the past few years, he has found countless cell phones, wallets, and other items left by passengers in the car. Every time he was afraid that the owner would be anxious, so he took the initiative to find ways to contact them and return them as soon as possible, and he always refused the money or gifts given by the owners in gratitude."
Illegal Arrests Consistent in Family's Lives
Unfortunately, the twin sisters recently learned that their father had been arrested again by the Chinese regime.
On the evening of June 19, the sisters' father, Huang Zhisong, mother, Chen Lingxia, and six other Falun Gong practitioners were reading Falun Dafa books in their home when, at around 9:00 p.m., more than 20 local police officers burst into the house and seized eight practitioners, including their parents.
According to the sisters, the police did not show any legal documents when they arrested the sisters' family. The policemen also seized dozens of Falun Gong books, two laptops, an iPad, four iPhones, and a printer without their family present. Their mother found the loss when she returned home from the detention centre.
"Among the 14 recognized and identified cults in China, there is not a mention of Falun Gong," said Doudou.
"The charge of my father was forced upon him. One can be arrested simply for reading books at home. There are no human rights at all in China!"
Speaking Out and Asking for Help from the Australian Government
On the eve of the Mid-Autumn Festival (also known as Moon Festival or Mooncake Festival), a traditional Chinese festival for a family reunion, the sisters came to the gate of the Chinese Consulate General in Sydney, holding the display boards of "Release Huang Zhisong immediately" and "Freedom of Faith."
"Mid-autumn [festival] is a day for a family reunion, but we, who are far away from home, are worried about our family and our father's condition at this moment," Guoguo, the younger sister told The Epoch Times.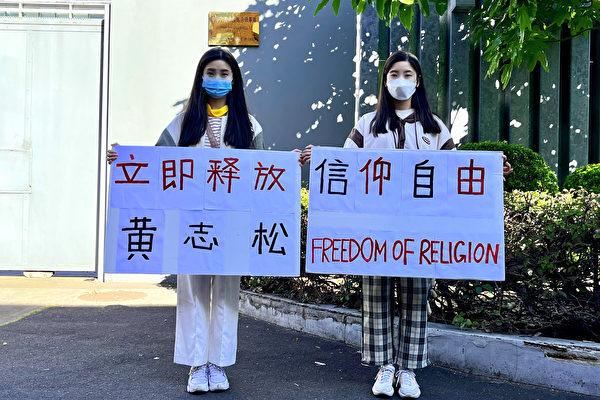 Feeling isolated and helpless, the sisters decided to ask for help from the Australian government.
"We want to use our small power to speak out as much as possible through our family's experience," she said.
In a letter seen by The Epoch Times the twins called on Australian Prime Minister Anthony Albanese and Jo Haylen, the New South Wales MP for Summer Hill, to help and described the experience of their father in detail.
"As we remember, because of his belief in Falun Dafa, our father became a person of integrity and kindness, a person with a sense of responsibility…When we encountered problems in our studies or at work, Dad was always the one who would be the first to give us advice and guidance," they wrote. "We are far apart and have not seen each other for many years…We are very worried about him, and we can't let Dad suffer another wrongful imprisonment."
The Epoch Times reached out to the Chinese consulate in Sydney regarding the arrest of Huang Zhisong but has not received a response by publication time.