Chinese Slavery Beyond China
CommentaryDo mysterious people send you messages on social media that simply say, "Hi"? I never answer. Likely as not, they are scammers in Southeast Asia under the management of Chinese cybergangs. That little "Hi" is one of their strategies according to reporting this year from VOD, a Cambodian news outlet that deserves a Pulitzer. It creates curiosity in the scam victim, or "mark", that gets the conversation going. As many as 100,000 foreigners work for cybercriminals in Cambodia, according to its Interior Ministry secretary of state Sok Phal. Yet, the Cambodian government does little to close the scam factories in which they are often imprisoned. In a report this week, the Los Angeles Times claims "the Cambodian government has given Chinese crime syndicates free rein to bring in tens of thousands of foreign men and women who — according to human rights organizations and their own accounts — are held captive to work in crowded cyber scam mills." Chinese, Vietnamese, Malaysian, Taiwanese, Indonesian, Burmese, and Thai nationals are among those confined in the scammer compounds that sometimes grow as large as self-enclosed towns holding thousands each. Guards take passports from victims and stand guard at doors. Workers fall into debt peonage and can only buy freedom for as much as $30,000 each. A casino at NagaWorld hotel and entertainment complex Aug. 4, 2018, in Sihanoukville, Cambodia. Chinese money accounted for about 30 percent of Cambodia's total foreign investment in 2017. (Paula Bronstein/Getty Images) Some of the compounds are hotel or casino groups, including in Cambodia's capital city of Phnom Penh. The scams include gambling, romance, and pornography. Scammers who don't cooperate are beaten, electrocuted, sold, or worse. Workers sell for thousands of dollars each on messaging apps that include their photos. One had a man bloodied with missing fingers. A gang allegedly sent another to an underground blood bank that drew his blood so many times that, to find a vein and keep it flowing, they had to cut into his thigh. After news reports, the emergence of videos, and diplomatic pressure to free particular captives, Cambodian officials finally conducted raids in September. Thousands of slaves were freed, but for the most part, the Chinese and Cambodian regimes are looking the other way. A few raids demonstrate the rule of law, but the scammers are bussed to less visible parts of Southeast Asia, including Myanmar and Laos. The Times alleges a cozy relationship between officials and Chinese syndicates that focuses attention on Cambodia's endemic corruption and relationship with China. Chinese police and China's embassy in Cambodia denied help to an enslaved Chinese man named Lin (VOD changed his real name to protect him) in a hotel complex controlled by gangs with links to legitimate Chinese companies and Cambodian officials. Lin was captured, his phone taken, and he was forced to work in a romance scam that targeted women ages 25 to 40 in places like Malaysia, Singapore, the United States, and Europe in an attempt to get tens of thousands of dollars from each. The detainee only got his phone returned as a reward for seeming to participate in the scam to win his captors' trust. Then he did internet research and made inquiries of officials and nonprofit rescue groups from the bathroom of the factory. Gangs detain their unwilling scammers within large business compounds that masquerade as hotel groups and technology centers. Chinese, Cambodian, and Vietnamese rescue teams help free detainees, including one renamed "Zhang" by VOD. "Zhang said he eventually got in touch with a Chinese entrepreneur-run rescue team, texting them daily until early November, when Cambodian military police came into the Sihanoukville 'Crown' compound and brought Zhang out," according to VOD. Sihanoukville is a seedy casino town on Cambodia's coast. This photograph shows a general view of a casino in Sihanoukville late on Sept. 23, 2022. (Tang Chhin Sothy/AFP via Getty Images) In another operation to "arrest" Chinese and Thai slaves, Cambodian police kept their processes, raids, and interrogations secret from Thai police, who initiated the action and wanted more direct involvement. Thai police issued 71 warrants for Thais, of which only 21 resulted in repatriation. Cambodian officials did not release the Chinese scammers that Thai police tried to arrest. Similar Chinese gangs are linked to Philippine offshore gaming operators (POGOs), in which local reporting reveals the enslavement of Chinese, Malaysians, and Burmese, for example, to chat up the marked victims into online gambling. Cyberslaves in the Philippines are bought and sold just as in Cambodia. Chinese gangs are extending modern slavery from the Beijing-supported versions of Uyghurs in Xinjiang, well beyond China's borders to Southeast Asia. This is our own future, if we allow the Chinese Communist Party (CCP) to continue towards its goal of globa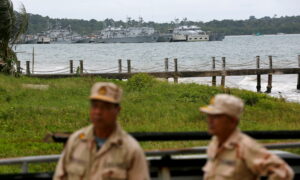 Commentary
Do mysterious people send you messages on social media that simply say, "Hi"? I never answer.
Likely as not, they are scammers in Southeast Asia under the management of Chinese cybergangs. That little "Hi" is one of their strategies according to reporting this year from VOD, a Cambodian news outlet that deserves a Pulitzer. It creates curiosity in the scam victim, or "mark", that gets the conversation going.
As many as 100,000 foreigners work for cybercriminals in Cambodia, according to its Interior Ministry secretary of state Sok Phal. Yet, the Cambodian government does little to close the scam factories in which they are often imprisoned.
In a report this week, the Los Angeles Times claims "the Cambodian government has given Chinese crime syndicates free rein to bring in tens of thousands of foreign men and women who — according to human rights organizations and their own accounts — are held captive to work in crowded cyber scam mills."
Chinese, Vietnamese, Malaysian, Taiwanese, Indonesian, Burmese, and Thai nationals are among those confined in the scammer compounds that sometimes grow as large as self-enclosed towns holding thousands each. Guards take passports from victims and stand guard at doors. Workers fall into debt peonage and can only buy freedom for as much as $30,000 each.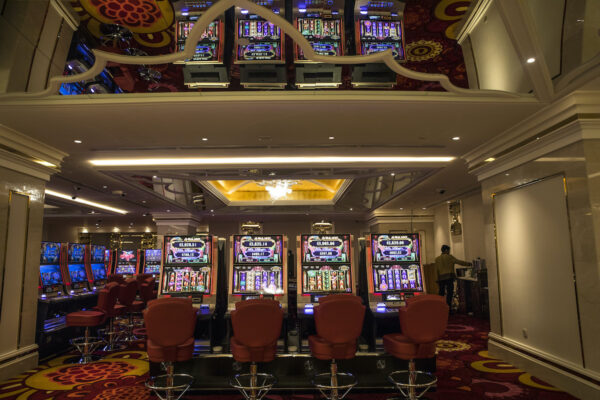 Some of the compounds are hotel or casino groups, including in Cambodia's capital city of Phnom Penh. The scams include gambling, romance, and pornography. Scammers who don't cooperate are beaten, electrocuted, sold, or worse.
Workers sell for thousands of dollars each on messaging apps that include their photos. One had a man bloodied with missing fingers. A gang allegedly sent another to an underground blood bank that drew his blood so many times that, to find a vein and keep it flowing, they had to cut into his thigh.
After news reports, the emergence of videos, and diplomatic pressure to free particular captives, Cambodian officials finally conducted raids in September. Thousands of slaves were freed, but for the most part, the Chinese and Cambodian regimes are looking the other way. A few raids demonstrate the rule of law, but the scammers are bussed to less visible parts of Southeast Asia, including Myanmar and Laos.
The Times alleges a cozy relationship between officials and Chinese syndicates that focuses attention on Cambodia's endemic corruption and relationship with China.
Chinese police and China's embassy in Cambodia denied help to an enslaved Chinese man named Lin (VOD changed his real name to protect him) in a hotel complex controlled by gangs with links to legitimate Chinese companies and Cambodian officials.
Lin was captured, his phone taken, and he was forced to work in a romance scam that targeted women ages 25 to 40 in places like Malaysia, Singapore, the United States, and Europe in an attempt to get tens of thousands of dollars from each.
The detainee only got his phone returned as a reward for seeming to participate in the scam to win his captors' trust. Then he did internet research and made inquiries of officials and nonprofit rescue groups from the bathroom of the factory.
Gangs detain their unwilling scammers within large business compounds that masquerade as hotel groups and technology centers.
Chinese, Cambodian, and Vietnamese rescue teams help free detainees, including one renamed "Zhang" by VOD. "Zhang said he eventually got in touch with a Chinese entrepreneur-run rescue team, texting them daily until early November, when Cambodian military police came into the Sihanoukville 'Crown' compound and brought Zhang out," according to VOD.
Sihanoukville is a seedy casino town on Cambodia's coast.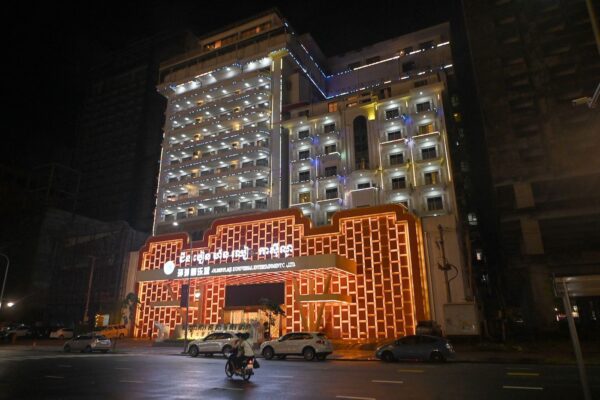 In another operation to "arrest" Chinese and Thai slaves, Cambodian police kept their processes, raids, and interrogations secret from Thai police, who initiated the action and wanted more direct involvement. Thai police issued 71 warrants for Thais, of which only 21 resulted in repatriation. Cambodian officials did not release the Chinese scammers that Thai police tried to arrest.
Similar Chinese gangs are linked to Philippine offshore gaming operators (POGOs), in which local reporting reveals the enslavement of Chinese, Malaysians, and Burmese, for example, to chat up the marked victims into online gambling. Cyberslaves in the Philippines are bought and sold just as in Cambodia.
Chinese gangs are extending modern slavery from the Beijing-supported versions of Uyghurs in Xinjiang, well beyond China's borders to Southeast Asia. This is our own future, if we allow the Chinese Communist Party (CCP) to continue towards its goal of global domination. The export of Chinese gangs to the periphery of China is one of many ways that Beijing extends its malign influence.
Views expressed in this article are the opinions of the author and do not necessarily reflect the views of The Epoch Times.