Chinese Regime Intends to Have as Many People in China Infected as Possible: Sources
The Chinese Communist Party (CCP)'s plan is to "let those who are destined to be infected get infected," according to an official who viewed an internal document.The official told the Chinese-language Epoch Times that the internal document has been circulating within the top echelons of the CCP, requesting that all regions should "let those who are destined to be infected get infected" and let this wave of infections reach and pass its peak before the CCP's two sessions in 2023, which is usually held in March. It indicates that the CCP's plan is to have the entire population reach herd immunity on a full scale in two months, so that people will go back to work and production will resume at normal levels. To this end, local governments and enterprises in China have issued new regulations requiring employees who test positive to go to work and not to take sick leave, or else their wages will be deducted. The official asked to remain anonymous to protect his safety. The Chinese-language Epoch Times was able to verify the existence of the internal document independently with two other sources. Big Cities Criticized for Opening Up Too Slow The Chinese Communist Party (CCP) suddenly eased all pandemic control measures on Dec. 7, 2022, and a tsunami of infections immediately ensued across the country. The internal document reveals that the CCP purposely reopened society at this point because the economy was on the verge of collapse after three years of strict pandemic controls and lockdowns. The Chinese authorities will also start issuing passports for Chinese citizens to travel abroad from Jan. 8, once again exposing the entire world to the virus, the same way it originally spread from Wuhan. Song Wen (pseudonym), a public servant in Shanghai, spoke to The Epoch Times on Dec. 27. "There are people with positive test results everywhere in the mega-city, but the central inspection team still said that Shanghai is too slow in its opening. They criticized Shanghai, saying that the city should reopen quickly," he said. "Some people also reported that many have died from COVID infections, but the leaders above said the intention is exactly to have those who are destined to be infected to get infected, and those who are destined to pass away should die as soon as possible. Some time ago, the media also made a similar statement, that let whoever destined to be infected get infected, let whoever destined to die from COVID die from it." According to Song, the leaders at the top also said that the society should be opened and return to normal production by March 2023; otherwise, China's economy won't be able to sustain itself. "After three years of pandemic control, city-wide lockdowns, dynamic Zero-COVID measures, etc, everyone still becomes COVID 'positive' in the end, basically all people who are 'COVID negative' have been zeroed out," Song said. Taiwanese media Newtalk also reported that a leaked social media chat among officials at Wuxi City, Jiangsu Province, showed that the provincial level officials criticized the city for being "too slow to get into [COVID] positive" and told the municipal officials that the economy "can resume to a normal level of operation" if Wuxi can get "most residents contract COVID-19 once" by March 2023. Massive Wave of Infections Hu Ming (pseudonym), doctor of Shanghai Hongqiao Hospital, told The Epoch Times on Dec. 28 that almost all doctors and nurses in the hospital have tested positive for the virus. "This is the first time in my ten years of medical practice that I have seen so many patients in the hospital. It is as crowded as a shopping mall. Almost all medics have been COVID-positive, and those who are seriously ill cannot come to work. With reduced staffing, for those who are still working, it is normal to work on a 12-hour rotation. And we have to continue to come to work the next day," Hu said. The recent massive infections and even deaths of COVID patients, among whom many were high-ranking officials, seem to confirm that the CCP is indeed carrying out a forced herd immunity campaign. Before the CCP lifted its COVID restrictions, it instructed the public not to panic, saying that over 95 percent of COVID-positive cases are asymptomatic or causing very mild symptoms, as illnesses caused by Omicron are less severe than previous variants. However, there were numerous reports on Chinese social media about "white lung" COVID patients, referring to CT images of lungs showing white spots or patches. The white lung images indicate a serious infection, as alveoli in the lungs are filled with exudative or inflammatory cells at this state. Other Countries on High Alert as China Opens Its Border The CCP's National Health Commission announced on Dec. 26 that China would downgrade management of COVID-19 from Class A to Class B, and cancel quarantine requirements on inbound travelers from Jan. 8. Moreover, the country will gradually resume outbound tourism. The U.S. Center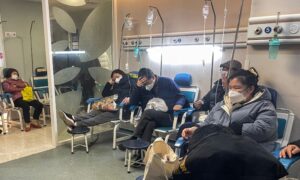 The Chinese Communist Party (CCP)'s plan is to "let those who are destined to be infected get infected," according to an official who viewed an internal document.
The official told the Chinese-language Epoch Times that the internal document has been circulating within the top echelons of the CCP, requesting that all regions should "let those who are destined to be infected get infected" and let this wave of infections reach and pass its peak before the CCP's two sessions in 2023, which is usually held in March.
It indicates that the CCP's plan is to have the entire population reach herd immunity on a full scale in two months, so that people will go back to work and production will resume at normal levels.
To this end, local governments and enterprises in China have issued new regulations requiring employees who test positive to go to work and not to take sick leave, or else their wages will be deducted.
The official asked to remain anonymous to protect his safety.
The Chinese-language Epoch Times was able to verify the existence of the internal document independently with two other sources.
Big Cities Criticized for Opening Up Too Slow
The Chinese Communist Party (CCP) suddenly eased all pandemic control measures on Dec. 7, 2022, and a tsunami of infections immediately ensued across the country. The internal document reveals that the CCP purposely reopened society at this point because the economy was on the verge of collapse after three years of strict pandemic controls and lockdowns.
The Chinese authorities will also start issuing passports for Chinese citizens to travel abroad from Jan. 8, once again exposing the entire world to the virus, the same way it originally spread from Wuhan.
Song Wen (pseudonym), a public servant in Shanghai, spoke to The Epoch Times on Dec. 27. "There are people with positive test results everywhere in the mega-city, but the central inspection team still said that Shanghai is too slow in its opening. They criticized Shanghai, saying that the city should reopen quickly," he said. "Some people also reported that many have died from COVID infections, but the leaders above said the intention is exactly to have those who are destined to be infected to get infected, and those who are destined to pass away should die as soon as possible. Some time ago, the media also made a similar statement, that let whoever destined to be infected get infected, let whoever destined to die from COVID die from it."
According to Song, the leaders at the top also said that the society should be opened and return to normal production by March 2023; otherwise, China's economy won't be able to sustain itself.
"After three years of pandemic control, city-wide lockdowns, dynamic Zero-COVID measures, etc, everyone still becomes COVID 'positive' in the end, basically all people who are 'COVID negative' have been zeroed out," Song said.
Taiwanese media Newtalk also reported that a leaked social media chat among officials at Wuxi City, Jiangsu Province, showed that the provincial level officials criticized the city for being "too slow to get into [COVID] positive" and told the municipal officials that the economy "can resume to a normal level of operation" if Wuxi can get "most residents contract COVID-19 once" by March 2023.
Massive Wave of Infections
Hu Ming (pseudonym), doctor of Shanghai Hongqiao Hospital, told The Epoch Times on Dec. 28 that almost all doctors and nurses in the hospital have tested positive for the virus.
"This is the first time in my ten years of medical practice that I have seen so many patients in the hospital. It is as crowded as a shopping mall. Almost all medics have been COVID-positive, and those who are seriously ill cannot come to work. With reduced staffing, for those who are still working, it is normal to work on a 12-hour rotation. And we have to continue to come to work the next day," Hu said.
The recent massive infections and even deaths of COVID patients, among whom many were high-ranking officials, seem to confirm that the CCP is indeed carrying out a forced herd immunity campaign.
Before the CCP lifted its COVID restrictions, it instructed the public not to panic, saying that over 95 percent of COVID-positive cases are asymptomatic or causing very mild symptoms, as illnesses caused by Omicron are less severe than previous variants.
However, there were numerous reports on Chinese social media about "white lung" COVID patients, referring to CT images of lungs showing white spots or patches. The white lung images indicate a serious infection, as alveoli in the lungs are filled with exudative or inflammatory cells at this state.
Other Countries on High Alert as China Opens Its Border
The CCP's National Health Commission announced on Dec. 26 that China would downgrade management of COVID-19 from Class A to Class B, and cancel quarantine requirements on inbound travelers from Jan. 8. Moreover, the country will gradually resume outbound tourism.
The U.S. Centers for Disease Control and Prevention announced on Dec. 28 that the United States will require all travelers two years of age and older entering from China, Hong Kong, and Macao, to show proof of a negative COVID test within 48 hours prior to boarding an airplane, starting on Jan. 5. This requirement also applies to passengers arriving in the United States from China via a third country in transit.
Italy began testing incoming Chinese passengers on Dec. 26. On the first plane being tested, more than 50 percent of Chinese passengers on board were positive.
The Indian Ministry of Health said on Dec. 24 that it will be mandatory for travelers from China, Japan, Korea, Hong Kong, and Thailand to provide proof of negative COVID tests, and if they test positive, they will be quarantined.
Japan began testing all inbound passengers from China or whoever had visited China in the past seven days on Dec. 30. A total of 92 inbound passengers from various countries tested positive on that day, 90 of whom had a history of travel to China.
Mizobe Hgasi, a resident of Tokyo, Japan, told The Epoch Times on Dec. 31 that the CCP's border opening is terrible, as Chinese tourists will bring the virus with them into other countries, just as they did when the pandemic first broke out in Wuhan.
"They made a mess all over the world back then, and now we are going back to where we were three years ago," Hgasi said. "The CCP's conduct is immoral. It's simply too scary."
Amano Misuki, a calligraphy teacher in Saitama Prefecture, Japan, also expressed serious concerns with The Epoch Times on Dec. 31.
"I know an old saying in China, 'Do unto others as you would have them do unto you.' Why did the CCP do this? The Japanese government should seal the border to China, the COVID tests they are doing will always have omissions. If tourists lead to a new outbreak again, the consequences will be unimaginable," she said.
WHO chief Tedros Adhanom Ghebreyesus posted on Twitter on Dec. 30, saying that: "In the absence of comprehensive information from China, it is understandable that countries around the world are acting in ways that they believe may protect their populations."