Chinese Openly Oppose Regime's Zero-COVID Policy Ahead of CCP Party Congress
Chinese citizens are openly expressing opposition to the communist regime's highly restrictive zero-COVID policy, which has caused immense suffering, in the weeks before the Chinese Communist Party's (CCP) national party meeting in mid-October.A recent bus accident in Guizhou Province in southwest China is sparking public anger over the policy. Early on Sept. 18, 27 people were killed when a bus rolled over on a highway. The vehicle had been transferring 47 people who had tested negative for COVID-19—but live in the same building as an infected person—to a centralized quarantine facility. A health worker wearing a personal protection suit stands next to a bus used to transport people to COVID-19 quarantine in China, in a file photo. (Nicolas Asfouri/AFP via Getty Images) A screenshot of an article, authored by "Gao Yu, executive deputy editor-in-chief of Caixin," a major financial media outlet in China, and posted on a group chat has been widely circulated on Chinese social media. The article condemns the regime's zero-COVID policy, noting that while the rest of the world has returned to normal, one case of infection in China can lead to all of the occupants of a residential building being forcefully sent to centralized quarantine and the whole city locked down. Additionally, frequent PCR tests on all residents have been normalized nationwide. "Omicron variant hasn't killed a single person in Guiyang [provincial capital of Guizhou], but they put the city of 6 million under lockdown. 30,000 people have been forcibly quarantined, and nearly 10,000 people have been sent to other cities," the article states. "Now, 27 people have been killed when they were transferred overnight just because there may be an infected person in the same building they live!" The article ends with strong opposition. "Resolutely oppose the nationwide regular PCR testing! Resolutely oppose zero-COVID measures! Resolutely oppose seclusion and isolation of the country!" The screenshot of the article has been blocked by Chinese social media Weibo. Motive Behind Zero-COVID Control The Guizhou bus crash was widely reported by Western media. The public in China isn't aware that many cities across the country are under lockdown, or about tragedies that have occurred as a result, a mainland Chinese lawyer surnamed Li told The Epoch Times on Sept. 21. "In China, basically, you can't see any information about them from the media or on the internet. Overseas media may not know about those incidents. … And it's hard to upload the information, photo, or video about it in China," he said. "If they don't have the apps to breach the internet censorship, they can't send the information out." In the circle of lawyers and government employees, it's believed that the authorities use COVID-19 as an excuse to cover up that the Chinese economy is declining and there are major problems in the economy, Li added. "Many people in the system know it very well that it is not about COVID. The economy is bad across the country, so the local authorities further tighten COVID-19 control and use it as an excuse for their low economic data," he said. A nurse takes throat swab samples in the new rounds of COVID-19 test in Nanjing in China's Jiangsu Province, on Aug. 2, 2021. (Chinatopix/Via AP) A retired official from a high-ranking CCP family in Beijing, whose identity is being withheld over concerns for his safety, told The Epoch Times that while the public is calling for the regime to stop the zero-COVID policy, CCP officials are ignoring them. "I can't even go out to get medicine if I don't have a negative PCR test result done within 72 hours. People are all complaining [about the control measures]. I don't understand what the government is afraid of. Are they afraid that the people will rebel, so they lock people in at home?" he said. He also questioned the safety of regular PCR testing. "This nucleic acid testing cotton swab is also not safe. It has special chemicals on it. Does it also have side effects? There's no solution, and now China has reached a dead end," he said. Unchecked Power Zhang Hai, a citizen from Wuhan whose father died from COVID-19 in 2020, has publicly requested the CCP to release COVID-19 outbreak information, disclose the origin of the virus, and hold officials who covered up the initial outbreak in Wuhan in late 2019 accountable. His social media accounts have often been censored by the regime. He told The Epoch Times that people are strongly against the increasingly strict COVID-19 measures, but their voices are hardly heard because the CCP has also tightened control of the internet. "People's grievances are mounting. Many of them have experienced lockdown and being sent to centralized quarantine in the middle of the night. The zero-COVID control measures have a huge impact on all walks of life. Many people are locked in at home without food or supplies," he said. "The zero-COVID policy shows that [once] there is no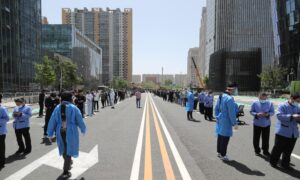 Chinese citizens are openly expressing opposition to the communist regime's highly restrictive zero-COVID policy, which has caused immense suffering, in the weeks before the Chinese Communist Party's (CCP) national party meeting in mid-October.
A recent bus accident in Guizhou Province in southwest China is sparking public anger over the policy.
Early on Sept. 18, 27 people were killed when a bus rolled over on a highway. The vehicle had been transferring 47 people who had tested negative for COVID-19—but live in the same building as an infected person—to a centralized quarantine facility.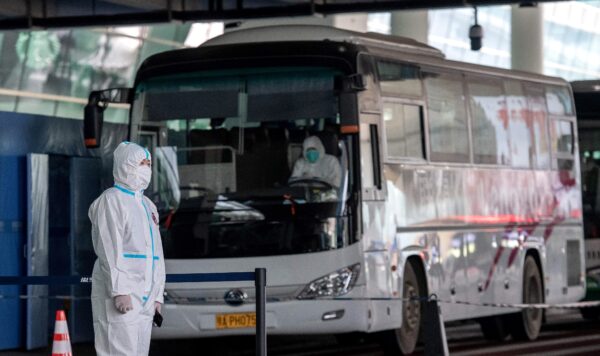 A screenshot of an article, authored by "Gao Yu, executive deputy editor-in-chief of Caixin," a major financial media outlet in China, and posted on a group chat has been widely circulated on Chinese social media.
The article condemns the regime's zero-COVID policy, noting that while the rest of the world has returned to normal, one case of infection in China can lead to all of the occupants of a residential building being forcefully sent to centralized quarantine and the whole city locked down. Additionally, frequent PCR tests on all residents have been normalized nationwide.
"Omicron variant hasn't killed a single person in Guiyang [provincial capital of Guizhou], but they put the city of 6 million under lockdown. 30,000 people have been forcibly quarantined, and nearly 10,000 people have been sent to other cities," the article states. "Now, 27 people have been killed when they were transferred overnight just because there may be an infected person in the same building they live!"
The article ends with strong opposition. "Resolutely oppose the nationwide regular PCR testing! Resolutely oppose zero-COVID measures! Resolutely oppose seclusion and isolation of the country!"
The screenshot of the article has been blocked by Chinese social media Weibo.
Motive Behind Zero-COVID Control
The Guizhou bus crash was widely reported by Western media.
The public in China isn't aware that many cities across the country are under lockdown, or about tragedies that have occurred as a result, a mainland Chinese lawyer surnamed Li told The Epoch Times on Sept. 21.
"In China, basically, you can't see any information about them from the media or on the internet. Overseas media may not know about those incidents. … And it's hard to upload the information, photo, or video about it in China," he said. "If they don't have the apps to breach the internet censorship, they can't send the information out."
In the circle of lawyers and government employees, it's believed that the authorities use COVID-19 as an excuse to cover up that the Chinese economy is declining and there are major problems in the economy, Li added.
"Many people in the system know it very well that it is not about COVID. The economy is bad across the country, so the local authorities further tighten COVID-19 control and use it as an excuse for their low economic data," he said.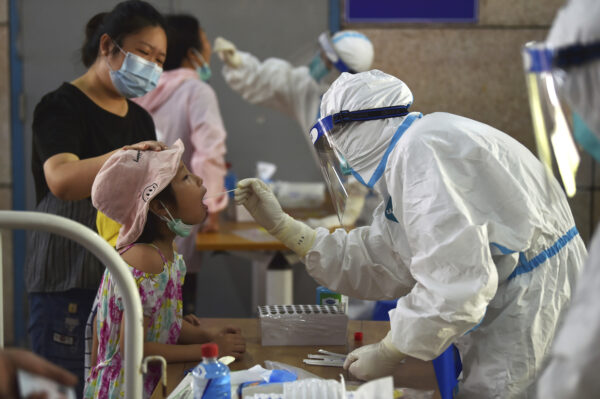 A retired official from a high-ranking CCP family in Beijing, whose identity is being withheld over concerns for his safety, told The Epoch Times that while the public is calling for the regime to stop the zero-COVID policy, CCP officials are ignoring them.
"I can't even go out to get medicine if I don't have a negative PCR test result done within 72 hours. People are all complaining [about the control measures]. I don't understand what the government is afraid of. Are they afraid that the people will rebel, so they lock people in at home?" he said.
He also questioned the safety of regular PCR testing.
"This nucleic acid testing cotton swab is also not safe. It has special chemicals on it. Does it also have side effects? There's no solution, and now China has reached a dead end," he said.
Unchecked Power
Zhang Hai, a citizen from Wuhan whose father died from COVID-19 in 2020, has publicly requested the CCP to release COVID-19 outbreak information, disclose the origin of the virus, and hold officials who covered up the initial outbreak in Wuhan in late 2019 accountable. His social media accounts have often been censored by the regime.
He told The Epoch Times that people are strongly against the increasingly strict COVID-19 measures, but their voices are hardly heard because the CCP has also tightened control of the internet.
"People's grievances are mounting. Many of them have experienced lockdown and being sent to centralized quarantine in the middle of the night. The zero-COVID control measures have a huge impact on all walks of life. Many people are locked in at home without food or supplies," he said.
"The zero-COVID policy shows that [once] there is nothing to restrain power, if you don't put power in a cage, it can lock you in a cage."
Xia Song and Luo Ya contributed to this report.