Chinese Military Using US Semiconductors to Train Combat AI: Report
The Chinese military is purchasing semiconductors designed by U.S. companies and manufactured in Taiwan and South Korea to fuel its advancements in artificial intelligence (AI), according to a new report.The People's Liberation Army (PLA) is making "significant progress" in adapting AI to its combat and support technologies, according to the June report (pdf), which was published by The Center for Security and Emerging Technology at Georgetown University (CSET). Through an analysis of 66,000 public contracts issued by the PLA, the authors of the report found just 24 that dealt with the purchase of the types of high-end chips used for AI applications, the vast majority of which were American designs. "Despite more aggressive efforts by the Trump and Biden administrations to limit technology exports to the Chinese military, the PLA is placing orders for AI chips designed by U.S. companies and manufactured in Taiwan and South Korea," the report said. "Of the 97 individual AI chips we could identify in public PLA purchase records, nearly all of them were designed by Nvidia, Xilinx (now AMD), Intel, or Microsemi." China Reliant on High-End US Semiconductors The PLA has steadily advanced its AI capabilities since 2017, when China's communist government published the "New Generation AI Development Plan." That document outlined the regime's plan to achieve global dominance in AI by 2030. In pursuit of that goal, the PLA has sought to greatly expand and enhance its AI capabilities, but its ability to train its own advanced machine learning systems currently relies on access to top-tier semiconductors designed by U.S. companies, according to the CSET report. Indeed, of the 97 AI chips explicitly listed for purchase among the PLA contracts, just one originated from China's Fudan Microelectronics, and that one was a clone of a U.S. design. "We searched for, but could not find, any records of PLA units or defense state-owned enterprises (SOEs) awarding contracts for Chinese-designed AI chips … Indeed, while most of the contracts mentioning these firms were for CPUs and other processors, none were for AI chips," the report said. That discrepancy offers new insight into how greatly China's military relies on U.S. products to power its most advanced research. It isn't, however, the first time that U.S.-designed chips have found their way into the regime's state security apparatus. Not 1st Time for US Chips in China Both Intel and Nvidia came under scrutiny in 2020, when it was uncovered that the companies' chips were being used by the Chinese Communist Party (CCP) to power its immense surveillance program in Xinjiang, where more than a million Muslim ethnic minorities have been detained in concentration camps. A previous CSET report (pdf) also found that Intel had conducted research with Chinese company 4Paradigm at the same time that company had an open contract to develop AI decision-making software for the PLA. The Victims of Communism Memorial Foundation, a Washington-based advocacy group, went so far as to say that Intel provided "direct support" to the PLA, and accused the company, among others, of supporting "Beijing's military modernization, surveillance state, domestic securitization, and attendant human rights violations." The appearance of Intel and Nvidia's technologies at the heart of the PLA's AI research thus serves as another example of how technologies developed by U.S. companies are supercharging the CCP and its military development through large-scale technology transfer. The report also sheds light on how China's communist regime is able to continue to quasi-legally acquire cutting-edge technologies by leveraging front organizations to make purchases on its behalf when it is barred from doing so outright. As an associated CSET fact sheet (pdf) on the issue noted, "These previously unknown cases prove that the Chinese military uses intermediary suppliers to gain access to U.S.-designed AI chips to support their military modernization." China's Military Is End-User of US Semiconductors The CSET report also underscores a vital tension at the heart of U.S. export policy and China's technological ascent. The regime's emphasis on so-called dual-use technologies that can be used for both civil and military applications, combined with its policy of military-civil fusion, means that all exports of such technologies to mainland China may well be leveraged by the PLA. Despite that risk, the report notes that the $600 billion global market for semiconductors means that U.S. tech firms are unlikely to be willing to slow the flow of such tech on their own accord. That's problematic, given that the U.S. government currently limits its exports based on end-user controls, effectively meaning that it can't realistically prevent the Chinese military from obtaining high-end chips through a third party. To that end, the authors of the report suggest that the United States implement more exacting export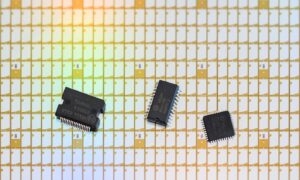 The Chinese military is purchasing semiconductors designed by U.S. companies and manufactured in Taiwan and South Korea to fuel its advancements in artificial intelligence (AI), according to a new report.
The People's Liberation Army (PLA) is making "significant progress" in adapting AI to its combat and support technologies, according to the June report (pdf), which was published by The Center for Security and Emerging Technology at Georgetown University (CSET).
Through an analysis of 66,000 public contracts issued by the PLA, the authors of the report found just 24 that dealt with the purchase of the types of high-end chips used for AI applications, the vast majority of which were American designs.
"Despite more aggressive efforts by the Trump and Biden administrations to limit technology exports to the Chinese military, the PLA is placing orders for AI chips designed by U.S. companies and manufactured in Taiwan and South Korea," the report said.
"Of the 97 individual AI chips we could identify in public PLA purchase records, nearly all of them were designed by Nvidia, Xilinx (now AMD), Intel, or Microsemi."
China Reliant on High-End US Semiconductors
The PLA has steadily advanced its AI capabilities since 2017, when China's communist government published the "New Generation AI Development Plan." That document outlined the regime's plan to achieve global dominance in AI by 2030.
In pursuit of that goal, the PLA has sought to greatly expand and enhance its AI capabilities, but its ability to train its own advanced machine learning systems currently relies on access to top-tier semiconductors designed by U.S. companies, according to the CSET report.
Indeed, of the 97 AI chips explicitly listed for purchase among the PLA contracts, just one originated from China's Fudan Microelectronics, and that one was a clone of a U.S. design.
"We searched for, but could not find, any records of PLA units or defense state-owned enterprises (SOEs) awarding contracts for Chinese-designed AI chips … Indeed, while most of the contracts mentioning these firms were for CPUs and other processors, none were for AI chips," the report said.
That discrepancy offers new insight into how greatly China's military relies on U.S. products to power its most advanced research. It isn't, however, the first time that U.S.-designed chips have found their way into the regime's state security apparatus.
Not 1st Time for US Chips in China
Both Intel and Nvidia came under scrutiny in 2020, when it was uncovered that the companies' chips were being used by the Chinese Communist Party (CCP) to power its immense surveillance program in Xinjiang, where more than a million Muslim ethnic minorities have been detained in concentration camps.
A previous CSET report (pdf) also found that Intel had conducted research with Chinese company 4Paradigm at the same time that company had an open contract to develop AI decision-making software for the PLA.
The Victims of Communism Memorial Foundation, a Washington-based advocacy group, went so far as to say that Intel provided "direct support" to the PLA, and accused the company, among others, of supporting "Beijing's military modernization, surveillance state, domestic securitization, and attendant human rights violations."
The appearance of Intel and Nvidia's technologies at the heart of the PLA's AI research thus serves as another example of how technologies developed by U.S. companies are supercharging the CCP and its military development through large-scale technology transfer.
The report also sheds light on how China's communist regime is able to continue to quasi-legally acquire cutting-edge technologies by leveraging front organizations to make purchases on its behalf when it is barred from doing so outright.
As an associated CSET fact sheet (pdf) on the issue noted, "These previously unknown cases prove that the Chinese military uses intermediary suppliers to gain access to U.S.-designed AI chips to support their military modernization."
China's Military Is End-User of US Semiconductors
The CSET report also underscores a vital tension at the heart of U.S. export policy and China's technological ascent. The regime's emphasis on so-called dual-use technologies that can be used for both civil and military applications, combined with its policy of military-civil fusion, means that all exports of such technologies to mainland China may well be leveraged by the PLA.
Despite that risk, the report notes that the $600 billion global market for semiconductors means that U.S. tech firms are unlikely to be willing to slow the flow of such tech on their own accord.
That's problematic, given that the U.S. government currently limits its exports based on end-user controls, effectively meaning that it can't realistically prevent the Chinese military from obtaining high-end chips through a third party.
To that end, the authors of the report suggest that the United States implement more exacting export controls that focus on the physical and technical characteristics of the chips themselves, rather than the chips' intended applications and end users.
"In each case, PLA units and state-owned defense companies awarded contracts for U.S.-designed chips to Chinese intermediary companies," the report said.
"Effectively limiting Chinese military progress in AI and other cutting-edge technologies will require the U.S. government to adopt new and creative forms of export control which extend beyond the current focus on visible end-uses and end-users."
Only through a change in the specifications upon which export controls are built, the report said, could the U.S. adequately contend with the fact that the PLA was an end-user of U.S. semiconductors in everything but name.
"It bears repeating that none of the seven PLA AI chip suppliers identified in this study are named in either the U.S. Entity List or Military End User List," the report said.
"Congress should authorize, and the Department of Commerce should craft, a multilateral export control system based on the physical and technical characteristics of technologies exported to China, including high-end semiconductors."