Chinese Domestic Stocks Disclose Interim Results, Half Record Significant Drop in Profit
As of Aug. 31, Chinese shares listed on domestic stock exchanges have disclosed their interim operating results, with over half of them reporting a huge loss in profits.There are 4,888 Chinese companies listed on China's domestic stock exchanges in Shenzhen, Shanghai, and Beijing; 4,887 companies have published their performance results for the first half of 2022, according to a report on Netease, a Chinese online news portal, on Sept. 2. The domestically listed Chinese companies show polarization in terms of their profitability. Petrol companies are among the top performers, thanks to strong oil and gas prices, while the transportation sector and real estate companies reported huge losses. Evergrande, China's heavily indebted real estate developer, hasn't completed the audit for 2021 or the preparation of its half-year report for 2022 due to "major changes in the operation" of the company, according to a notice regarding Evergrande on the official website of the Shenzhen Stock Exchange on Sept. 1. Top Performers in Revenues and Profits Looking at individual companies, PetroChina reported operating revenue of 1,614.621 billion yuan ($234 billion), with a net income of 82.39 billion yuan ($11.94 billion). A man works in a filling station of Sinopec, China Petroleum and Chemical Corporation, in Shanghai, China, on March 22, 2018. (Johannes Eisele/AFP via Getty Images) China Petroleum & Chemical Corporation, or Sinopec Corp, reported operating revenue of 1,612.126 yuan ($233 billion), with a net income of 43.53 billion yuan ($6.3 billion). Industrial and Commercial Bank of China (ICBC) was the most profitable bank in China for the first half of 2022, reporting a net income of 1,725.7 billion yuan ($25 billion). It is followed by China Construction Bank (CCB), reporting a net income of 1,616.42 billion yuan ($23.4 billion). Despite the income growth, five of China's largest banks, including ICBC and CCB, all reported increased bad real estate debt, according to Reuters on Aug. 31. CCB disclosed a 68 percent increase in bad debt linked to real estate. Andon Health Co. Ltd. reported a profit of 17.74 billion yuan ($2.57 billion), an increase of 49,528.36 percent over the same period last year. The company attributed its surging profit to its iHealth COVID-19 antigen rapid testing kit authorized by the FDA under an Emergency Use Authorization (EUA) and sales in the United States in November 2021. Companies Report Profit Losses of Over 10,000 Percent The transportation sector is among the worst hit by the communist regime's draconian zero-COVID policies. Guangshen Railway Company (GSH) reported a net loss of over 765 million yuan ($111 million), a decrease of 18,000 percent as compared to the same period last year. The company attributed the huge loss to the impact of the ongoing pandemic. Statues adorn the facade of the New York Stock Exchange in New York on July 14, 2022. (John Minchillo/AP Photo) GSH's American Depositary Receipts (ADRs) were listed on the New York Stock Exchange (NYSE) in 1996, but it filed its intention to delist from the exchange in November 2020 due to the "significant administrative burden and costs of maintaining the listing of the ADSs on the NYSE." Other companies also reported profit losses of more than 10,000 percent YOY: Guangdong Golden Dragon Development Inc., a securities service company, reported a loss of 222,570,582 yuan ($32.2 million), a decrease of 16,341 percent. BEH-Property Co., Ltd., a real estate company based in Beijing, reported a loss of 30,354,055 yuan ($4.4 million), a decrease of 16,146 percent. Zhongfu Information Inc., whose core businesses are big data and cloud security, reported a loss of 270,409,555 yuan ($39 million), a decrease of 14,223 percent. Dinglong Culture Co. Ltd., a titanium mining company, reported a loss of 60,422,690 yuan ($8.7 million), a decrease of 12,018 percent. Airlines China's three major airlines—Air China, China Eastern Airlines, and China Southern Airlines—reported a total of 49.658 billion yuan ($7.2 billion) loss in profit for the half-year period ending June 30, 2022. The logo of Air China is pictured on a tail of an airplane parked at the aircraft builder's headquarters of Airbus in Colomiers near Toulouse, France, on Nov. 15, 2019. (Regis Duvignau/Reuters) Hainan Airlines, Juneyao Airlines, Spring Airlines, and China Express Airlines all reported huge losses in profit. 'China's Economic Momentum Further Weakens:' China Financial Analyst Wei Ran, a China financial analyst and Youtuber, said on her program "Economics Up and Down" that the profit losses of more than half of domestically listed Chinese companies reveal that "China's economic momentum further weakens." "China's sluggish real estate sector will impact its upstream and downstream industries, signaling that China's past economic model driven by real estate will become a thing of the past," Wei Ran noted. "Entering August, the COVID-19 pa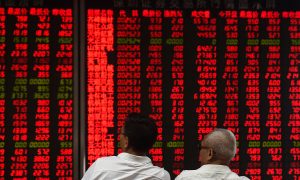 As of Aug. 31, Chinese shares listed on domestic stock exchanges have disclosed their interim operating results, with over half of them reporting a huge loss in profits.
There are 4,888 Chinese companies listed on China's domestic stock exchanges in Shenzhen, Shanghai, and Beijing; 4,887 companies have published their performance results for the first half of 2022, according to a report on Netease, a Chinese online news portal, on Sept. 2.
The domestically listed Chinese companies show polarization in terms of their profitability.
Petrol companies are among the top performers, thanks to strong oil and gas prices, while the transportation sector and real estate companies reported huge losses.
Evergrande, China's heavily indebted real estate developer, hasn't completed the audit for 2021 or the preparation of its half-year report for 2022 due to "major changes in the operation" of the company, according to a notice regarding Evergrande on the official website of the Shenzhen Stock Exchange on Sept. 1.
Top Performers in Revenues and Profits
Looking at individual companies, PetroChina reported operating revenue of 1,614.621 billion yuan ($234 billion), with a net income of 82.39 billion yuan ($11.94 billion).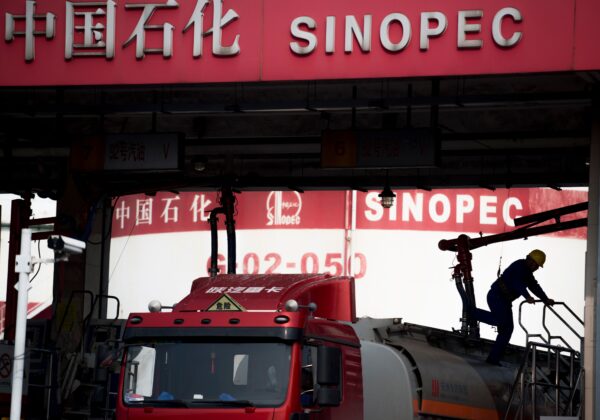 China Petroleum & Chemical Corporation, or Sinopec Corp, reported operating revenue of 1,612.126 yuan ($233 billion), with a net income of 43.53 billion yuan ($6.3 billion).
Industrial and Commercial Bank of China (ICBC) was the most profitable bank in China for the first half of 2022, reporting a net income of 1,725.7 billion yuan ($25 billion). It is followed by China Construction Bank (CCB), reporting a net income of 1,616.42 billion yuan ($23.4 billion).
Despite the income growth, five of China's largest banks, including ICBC and CCB, all reported increased bad real estate debt, according to Reuters on Aug. 31. CCB disclosed a 68 percent increase in bad debt linked to real estate.
Andon Health Co. Ltd. reported a profit of 17.74 billion yuan ($2.57 billion), an increase of 49,528.36 percent over the same period last year. The company attributed its surging profit to its iHealth COVID-19 antigen rapid testing kit authorized by the FDA under an Emergency Use Authorization (EUA) and sales in the United States in November 2021.
Companies Report Profit Losses of Over 10,000 Percent
The transportation sector is among the worst hit by the communist regime's draconian zero-COVID policies.
Guangshen Railway Company (GSH) reported a net loss of over 765 million yuan ($111 million), a decrease of 18,000 percent as compared to the same period last year. The company attributed the huge loss to the impact of the ongoing pandemic.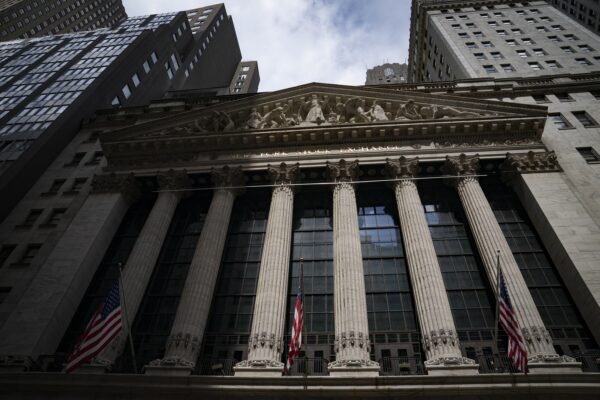 GSH's American Depositary Receipts (ADRs) were listed on the New York Stock Exchange (NYSE) in 1996, but it filed its intention to delist from the exchange in November 2020 due to the "significant administrative burden and costs of maintaining the listing of the ADSs on the NYSE."
Other companies also reported profit losses of more than 10,000 percent YOY:
Guangdong Golden Dragon Development Inc., a securities service company, reported a loss of 222,570,582 yuan ($32.2 million), a decrease of 16,341 percent.
BEH-Property Co., Ltd., a real estate company based in Beijing, reported a loss of 30,354,055 yuan ($4.4 million), a decrease of 16,146 percent.
Zhongfu Information Inc., whose core businesses are big data and cloud security, reported a loss of 270,409,555 yuan ($39 million), a decrease of 14,223 percent.
Dinglong Culture Co. Ltd., a titanium mining company, reported a loss of 60,422,690 yuan ($8.7 million), a decrease of 12,018 percent.
Airlines
China's three major airlines—Air China, China Eastern Airlines, and China Southern Airlines—reported a total of 49.658 billion yuan ($7.2 billion) loss in profit for the half-year period ending June 30, 2022.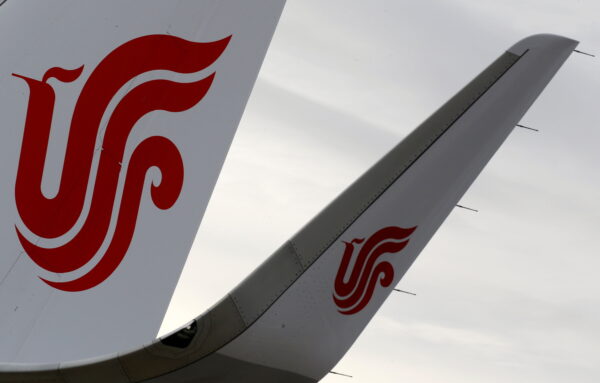 Hainan Airlines, Juneyao Airlines, Spring Airlines, and China Express Airlines all reported huge losses in profit.
'China's Economic Momentum Further Weakens:' China Financial Analyst
Wei Ran, a China financial analyst and Youtuber, said on her program "Economics Up and Down" that the profit losses of more than half of domestically listed Chinese companies reveal that "China's economic momentum further weakens."
"China's sluggish real estate sector will impact its upstream and downstream industries, signaling that China's past economic model driven by real estate will become a thing of the past," Wei Ran noted.
"Entering August, the COVID-19 pandemic broke out throughout the country. At least 30 provinces and municipalities were under various levels of lockdown. At the same time, rare heat waves occurred in many places in China, all of which had a huge impact on the Chinese economy," said Wei Ran.
Economists at ANZ Bank lowered their forecast of China's 2022 GDP to 3.0 percent from 4.0 precent, "as both [China's] domestic and external demand continues to weaken," reported FXStreet, an independent portal focusing on the foreign exchange market, on Aug. 31.
Li Bing contributed to the article.