Chinese Diplomat Endorsed Montreal Councillor Who Heads Organizations Under RCMP Probe: Report
A senior diplomat from the Chinese consulate in Montreal reportedly urged attendees of an event in September 2017 to support a Brossard municipal candidate who is the director of two organizations now under RCMP investigation for being alleged Chinese police stations. On Sept. 8, 2017, the Chinese consulate in Montreal held an event at the Service à la Famille Chinoise du Grand Montréal (SFCGM) to announce the release of a handbook meant to assist Chinese visitors to Canada. The event was moderated by Xixi Li, director of SFCGM and another Chinese community centre in Brossard, the South Shore Sino-Quebec Centre (CSQRS), according to an article first published by Sept Days, a Chinese-language weekly in Montreal. The article said China's then-deputy consul general Bian Zhichun, who also attended the event, congratulated Li on her running for councillor in Brossard's District 8 at the time and urged attendees to support her on behalf of people of Chinese origin. The Toronto Star first reported on the endorsement. While the Sept Days article is now removed, it has been republished by Chinese state media, China News Service. A similar report of the event was also published on the website of the Montreal Chinese consulate, though its version didn't include Bian's endorsement for Li. Li has not responded to several requests for comment from The Epoch Times. The Chinese diplomat's support of Li, if occurred as reported, would be an example of the regime's foreign influence and interference in Canada, Guy Saint-Jacques told the Toronto Star. Saint-Jacques noted that moral support for a candidate would also be inappropriate as diplomats should remain neutral. "There is a red line between trying to influence decisions and interfering," said the former Canadian ambassador to China. "If you support a candidate you are interfering." Li, who lost the 2017 bid, was elected Brossard city councillor in the 2021 contest. Photos accompanying the Sept Days article show that the Sept. 8, 2017, event was also attended by former Brossard Mayor Paul Leduc and then-Montreal city councillor Steve Shanahan. Liberal MP Alexandra Mendès, who was reported to have attended the event, told the Star in a statement that she was not aware of the Chinese deputy consul general's endorsement of Li, saying that the comment was likely made in Mandarin, a language that she doesn't understand. The Epoch Times reached out to Mendès for comment on whether she had any concerns about the Chinese consulate holding an event at Li's organization just months ahead of the municipal election in November 2017. The MP didn't respond by publication time. RCMP Investigation SFCGM and CSQRS–two organizations associated with Li–are currently under RCMP investigation on allegations that they are functioning as unofficial Chinese police service stations. While Li and her organizations have denied allegations of being Chinese police stations, police say they've received at least 15 serious tips in relation to the two locations in Montreal and Brossard. Concerns about China's secret police stations stemmed from reports by the Spain-based NGO Safeguard Defenders, which has identified 102 such police outposts in 53 countries, including five in Canada–three in the Greater Toronto Area and two in Metro Vancouver, British Columbia. The Chinese Embassy has acknowledged that local authorities have set up online service platforms, but said their purpose is to help Chinese citizens abroad with services such as driver's licence renewal, and that the service centres are needed to perform eyesight and hearing examinations. The embassy said those service centres were staffed by volunteers, who are "not Chinese police officers" and that they are "not involved in any criminal investigation or relevant activity," reported CBC News. A Safeguard Defenders report, citing open-source information from Chinese local and state media, raised concerns that some of those alleged Chinese police service stations were engaged in Beijing's crackdown on criminal activities involving overseas Chinese people. Citing one incident provided by Chinese authorities, the report showed that the police stations have a role in the so-called "persuade to return" effort, which is an involuntary repatriation method used in China's Sky Net operation and Operation Fox Hunt, which the report said has led to over "10,000 successful returns by Christmas 2021, from 120 different countries."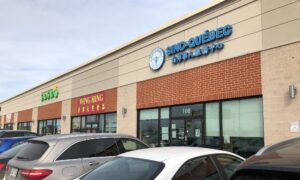 A senior diplomat from the Chinese consulate in Montreal reportedly urged attendees of an event in September 2017 to support a Brossard municipal candidate who is the director of two organizations now under RCMP investigation for being alleged Chinese police stations.
On Sept. 8, 2017, the Chinese consulate in Montreal held an event at the Service à la Famille Chinoise du Grand Montréal (SFCGM) to announce the release of a handbook meant to assist Chinese visitors to Canada. The event was moderated by Xixi Li, director of SFCGM and another Chinese community centre in Brossard, the South Shore Sino-Quebec Centre (CSQRS), according to an article first published by Sept Days, a Chinese-language weekly in Montreal.
The article said China's then-deputy consul general Bian Zhichun, who also attended the event, congratulated Li on her running for councillor in Brossard's District 8 at the time and urged attendees to support her on behalf of people of Chinese origin. The Toronto Star first reported on the endorsement.
While the Sept Days article is now removed, it has been republished by Chinese state media, China News Service. A similar report of the event was also published on the website of the Montreal Chinese consulate, though its version didn't include Bian's endorsement for Li.
Li has not responded to several requests for comment from The Epoch Times.
The Chinese diplomat's support of Li, if occurred as reported, would be an example of the regime's foreign influence and interference in Canada, Guy Saint-Jacques told the Toronto Star. Saint-Jacques noted that moral support for a candidate would also be inappropriate as diplomats should remain neutral.
"There is a red line between trying to influence decisions and interfering," said the former Canadian ambassador to China. "If you support a candidate you are interfering."
Li, who lost the 2017 bid, was elected Brossard city councillor in the 2021 contest.
Photos accompanying the Sept Days article show that the Sept. 8, 2017, event was also attended by former Brossard Mayor Paul Leduc and then-Montreal city councillor Steve Shanahan. Liberal MP Alexandra Mendès, who was reported to have attended the event, told the Star in a statement that she was not aware of the Chinese deputy consul general's endorsement of Li, saying that the comment was likely made in Mandarin, a language that she doesn't understand.
The Epoch Times reached out to Mendès for comment on whether she had any concerns about the Chinese consulate holding an event at Li's organization just months ahead of the municipal election in November 2017. The MP didn't respond by publication time.
RCMP Investigation
SFCGM and CSQRS–two organizations associated with Li–are currently under RCMP investigation on allegations that they are functioning as unofficial Chinese police service stations.
While Li and her organizations have denied allegations of being Chinese police stations, police say they've received at least 15 serious tips in relation to the two locations in Montreal and Brossard.
Concerns about China's secret police stations stemmed from reports by the Spain-based NGO Safeguard Defenders, which has identified 102 such police outposts in 53 countries, including five in Canada–three in the Greater Toronto Area and two in Metro Vancouver, British Columbia.
The Chinese Embassy has acknowledged that local authorities have set up online service platforms, but said their purpose is to help Chinese citizens abroad with services such as driver's licence renewal, and that the service centres are needed to perform eyesight and hearing examinations. The embassy said those service centres were staffed by volunteers, who are "not Chinese police officers" and that they are "not involved in any criminal investigation or relevant activity," reported CBC News.
A Safeguard Defenders report, citing open-source information from Chinese local and state media, raised concerns that some of those alleged Chinese police service stations were engaged in Beijing's crackdown on criminal activities involving overseas Chinese people.
Citing one incident provided by Chinese authorities, the report showed that the police stations have a role in the so-called "persuade to return" effort, which is an involuntary repatriation method used in China's Sky Net operation and Operation Fox Hunt, which the report said has led to over "10,000 successful returns by Christmas 2021, from 120 different countries."