China's Threat to Canada's Hold on Arctic 'More Immediate' Than Defence Chief Warns, Expert Says
China will challenge Canadian sovereignty in the Arctic region sooner than Chief of the Defence Staff General Wayne Eyre previously warned, an expert told MPs in testimony before a House committee.Robert Huebert, associate professor at the University of Calgary, told the Standing Committee on National Defence on Oct. 25 that he believes China is ramping up its military capabilities and seeking to bring nuclear submarines into the Arctic region to vie for control. The timeline for China to challenge Canada will be sooner than the 20 years that Eyre predicted at the committee's previous meeting on Oct. 18, Huebert said. "The time periods are so short, which means the problem is not 20 years. [The Chinese] are doing the capabilities studies right now," he said, adding that a more specific schedule will depend on when Beijing decides to launch a military incursion into Taiwan. "I agree with General Eyre: the Chinese will be a threat. I disagree with his timeline. I think it will be much more immediate than what he is expecting. Once again, on the important dependent of Taiwan." Huebert said Canada is increasingly reluctant to engage the international community, which he said is because of a false belief that "geography protects us" from concerns about military conflicts launched by Russia and China. But Beijing has been building up its capabilities to compete in the Arctic, with a timeline shaped by the regime's plan to invade the self-ruled, democratic island of Taiwan, which Beijing regards as a rogue territory. "There's a huge debate on whether or not the Chinese plan on having their nuclear-powered cruise submarines come into Arctic waters, but if they do—and I believe that they are actively preparing for that—a cruise missile strike then from the north would be given to try to catch us off guard," he said. "All Canadian observers on this point will immediately change their view when the war in Taiwan begins because when the war in Taiwan begins, we will see both the international ramifications along with the Chinese military capabilities," Huebert said. "Then we will do a reevaluation in which people will say—just as we're doing with the second phase of the Russian-Ukrainian War—'Oh, I guess we should have seen this coming.'" This view of China posing increasing challenges to the West was echoed by Justin Massie, professor at Université du Québec à Montréal, who was also testifying before the defence committee on Oct. 25. Massie said the once-benign Arctic environment is changing due to the increased power conflicts, marked by the Russia–Ukraine War and the rising U.S.–China strategic competition, as well as the increased use of armed forces to address environmental issues in relation to climate change. "We've seen these trends on the horizon for a while—the new militarization of the large powers and climate change. But taken together, they constitute a threat which may force Canada to focus its strategic attention, its resources, and its concentration of those resources on its own territory," Massie said. Uncertainties The defence committee also heard testimony from Anessa Kimball, a professor at Université Laval, who warned about the uncertainties caused by China's and Russia's ambitions in the Arctic. "Uncertainty about future actor behaviour by both Russia and China creates more problems," Kimbell said, pointing to Beijing's attempt to create a Polar Silk Road, an expansion of its Belt and Road Initiative, which is a global infrastructure development strategy introduced by Chinese leader Xi Jinping in 2013. "For China, their interest is in maritime commerce, being able to travel through that area, as well as being able to explore for resources. We've seen them try a few times over, either by trying to purchase territory or mineral exploration interests in that region, or entering into agreements with international companies," she said, adding that while none of those plans succeeded, Beijing is still trying to "carve out space for themselves in the region." Kimbell noted that the most pressing strategic problem for stakeholders is the uncertainty about the future state of the world that follows what appears to be the slow decline of the United States relative to China in terms of economy and politics. "The reality is the U.S. and many other Arctic states have sufficient capacities to jointly secure the region in a crisis," she said, noting this would intensify conflict. "The current configuration of defence assets in the region offers a level of deterrence from ambition, but is not sufficiently strong enough to deter incursions into the aerial and maritime spaces. Such incursions raise the risk of accidents, misunderstandings." Kimbell said considering China's ambitions in the Arctic, the country should be integrated into "existing institutional structures" to codify norms and reduce externalities. "Great power competition is coming to the region. The prospects for cooperation can be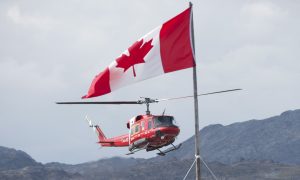 China will challenge Canadian sovereignty in the Arctic region sooner than Chief of the Defence Staff General Wayne Eyre previously warned, an expert told MPs in testimony before a House committee.
Robert Huebert, associate professor at the University of Calgary, told the Standing Committee on National Defence on Oct. 25 that he believes China is ramping up its military capabilities and seeking to bring nuclear submarines into the Arctic region to vie for control. The timeline for China to challenge Canada will be sooner than the 20 years that Eyre predicted at the committee's previous meeting on Oct. 18, Huebert said.
"The time periods are so short, which means the problem is not 20 years. [The Chinese] are doing the capabilities studies right now," he said, adding that a more specific schedule will depend on when Beijing decides to launch a military incursion into Taiwan.
"I agree with General Eyre: the Chinese will be a threat. I disagree with his timeline. I think it will be much more immediate than what he is expecting. Once again, on the important dependent of Taiwan."
Huebert said Canada is increasingly reluctant to engage the international community, which he said is because of a false belief that "geography protects us" from concerns about military conflicts launched by Russia and China. But Beijing has been building up its capabilities to compete in the Arctic, with a timeline shaped by the regime's plan to invade the self-ruled, democratic island of Taiwan, which Beijing regards as a rogue territory.
"There's a huge debate on whether or not the Chinese plan on having their nuclear-powered cruise submarines come into Arctic waters, but if they do—and I believe that they are actively preparing for that—a cruise missile strike then from the north would be given to try to catch us off guard," he said.
"All Canadian observers on this point will immediately change their view when the war in Taiwan begins because when the war in Taiwan begins, we will see both the international ramifications along with the Chinese military capabilities," Huebert said.
"Then we will do a reevaluation in which people will say—just as we're doing with the second phase of the Russian-Ukrainian War—'Oh, I guess we should have seen this coming.'"
This view of China posing increasing challenges to the West was echoed by Justin Massie, professor at Université du Québec à Montréal, who was also testifying before the defence committee on Oct. 25.
Massie said the once-benign Arctic environment is changing due to the increased power conflicts, marked by the Russia–Ukraine War and the rising U.S.–China strategic competition, as well as the increased use of armed forces to address environmental issues in relation to climate change.
"We've seen these trends on the horizon for a while—the new militarization of the large powers and climate change. But taken together, they constitute a threat which may force Canada to focus its strategic attention, its resources, and its concentration of those resources on its own territory," Massie said.
Uncertainties
The defence committee also heard testimony from Anessa Kimball, a professor at Université Laval, who warned about the uncertainties caused by China's and Russia's ambitions in the Arctic.
"Uncertainty about future actor behaviour by both Russia and China creates more problems," Kimbell said, pointing to Beijing's attempt to create a Polar Silk Road, an expansion of its Belt and Road Initiative, which is a global infrastructure development strategy introduced by Chinese leader Xi Jinping in 2013.
"For China, their interest is in maritime commerce, being able to travel through that area, as well as being able to explore for resources. We've seen them try a few times over, either by trying to purchase territory or mineral exploration interests in that region, or entering into agreements with international companies," she said, adding that while none of those plans succeeded, Beijing is still trying to "carve out space for themselves in the region."
Kimbell noted that the most pressing strategic problem for stakeholders is the uncertainty about the future state of the world that follows what appears to be the slow decline of the United States relative to China in terms of economy and politics.
"The reality is the U.S. and many other Arctic states have sufficient capacities to jointly secure the region in a crisis," she said, noting this would intensify conflict.
"The current configuration of defence assets in the region offers a level of deterrence from ambition, but is not sufficiently strong enough to deter incursions into the aerial and maritime spaces. Such incursions raise the risk of accidents, misunderstandings."
Kimbell said considering China's ambitions in the Arctic, the country should be integrated into "existing institutional structures" to codify norms and reduce externalities.
"Great power competition is coming to the region. The prospects for cooperation can be increased by identifying issues early and designing appropriate institutional structures to regularize behaviour," she said.