China's South Pacific Gambit: The Strategic Challenge
News AnalysisOn Aug. 23, the Solomon Islands advised the United States that it had issued a moratorium on port visits by foreign military vessels, pending a formal review of current protocols regarding such visits. The announcement affected the U.S. Coast Guard Cutter Oliver Henry and the Royal Navy's HMS Spey, both tasked with policing international fishing in South Pacific waters. U.S. hospital ship USNS Mercy, however, was exempted from the ban. The announcement came just a few months after the Solomon Islands and China signed a secret agreement that significantly expanded military and security cooperation between the two countries. The pact also allows the Solomon Islands government to call on China to provide security and military forces if they were needed to quell domestic unrest. These two events, combined with several other notable developments, underscored Beijing's growing diplomatic and economic clout in the South Pacific and triggered alarm bells from Canberra to Washington. What is China up to in the South Pacific, and what are the security implications for the United States and its Pacific allies? The Geostrategic Significance of Oceania The South Pacific region, often termed Oceania, covers approximately 15 percent of the world's surface, a region roughly three times the area of the continental United States. It consists of 14 sovereign nations and seven territories. It includes some 30,000 different islands and atolls and stretches from South America to Western Australia and north to Hawaii and Guam. Some 13 million people inhabit the region. Although Australia and New Zealand are South Pacific nations, they are typically excluded from the geographic scope of Oceania. Oceania sits astride the main maritime shipping routes between Australia and the United States and between Australia and Japan and South Korea. More importantly, the transpacific fiber optic cables that connect the United States with Australia and New Zealand, and those that connect those countries with East Asia to the north, all transit to Oceania. The region is mineral rich both on land and on and beneath the seabed. Notwithstanding some two decades of unrelenting Chinese fishing, it also represents the world's largest untapped source of marine protein. Chinese military strategists have often characterized Beijing's main geostrategic objective in the Western and Central Pacific as gaining control of the three successive island chains that ring the Chinese mainland. These rings present a series of naval choke points that would allow an adversary to interdict China's maritime trade and cripple its economy. The first island chain runs from the Kuril Islands through Japan, Taiwan, to the Philippines, and on to Indonesia and Vietnam. It borders the eastern perimeter of the East and South China seas. Screenshot from Google Maps showing the first island chain, taken on Sept. 23, 2021. (Screenshot via Google maps) The second island chain runs from Japan to the Marianas, including the key U.S. base on Guam, the Western Caroline Islands, extends to Western New Guinea, and forms the eastern maritime boundary of the Philippine Sea. The third island chain extends from the eastern Aleutians to Hawaii, across the center of the Pacific Ocean to American Samoa, Fiji, and New Zealand. While Chinese military strategists have often referenced the island chains—arguing that Beijing must control the first two island chains to secure its maritime approaches and, ideally, the third island chain to thwart the projection of American naval power into the Western Pacific—the concept of the three island chain was originally American in origin. It was first coined by U.S. Secretary John Foster Dulles in 1952 as part of the strategy of "containing" the Soviet Union and China. Oceania sits astride the second and third island chains. Beijing has played an increasingly prominent role in Oceania over the last two decades. Between 2006 and 2021, Beijing provided between $1.5 billion and $2.0 billion in foreign aid through a mixture of grants and "soft" loans. Those loans were used to fund various projects—from a new sports stadium in the Solomon Islands to various infrastructure projects, including bridges in Fiji and highways in New Guinea. Notwithstanding Beijing's largess, however, it is only the third largest donor to Oceania. Australia remains the largest contributor to foreign aid. Over the last decade, it has provided over $7 billion across 8,738 projects. The statistics, however, are subject to a fair degree of interpretation since Australian and American assistance is sometimes in the form of in-kind goods and services, and their value is not always clear. Two-way trade between China and Oceania reached $5.3 billion in 2021. China has become the principal trading partner for most of the countries in Oceania, surpassing Australia. In the case of the Solomon Islands, currently, China's closest ally in the region, 46 percent of its t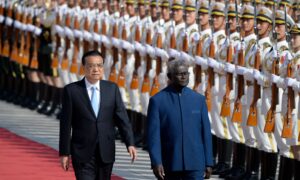 News Analysis
On Aug. 23, the Solomon Islands advised the United States that it had issued a moratorium on port visits by foreign military vessels, pending a formal review of current protocols regarding such visits. The announcement affected the U.S. Coast Guard Cutter Oliver Henry and the Royal Navy's HMS Spey, both tasked with policing international fishing in South Pacific waters. U.S. hospital ship USNS Mercy, however, was exempted from the ban.
The announcement came just a few months after the Solomon Islands and China signed a secret agreement that significantly expanded military and security cooperation between the two countries. The pact also allows the Solomon Islands government to call on China to provide security and military forces if they were needed to quell domestic unrest.
These two events, combined with several other notable developments, underscored Beijing's growing diplomatic and economic clout in the South Pacific and triggered alarm bells from Canberra to Washington.
What is China up to in the South Pacific, and what are the security implications for the United States and its Pacific allies?
The Geostrategic Significance of Oceania
The South Pacific region, often termed Oceania, covers approximately 15 percent of the world's surface, a region roughly three times the area of the continental United States. It consists of 14 sovereign nations and seven territories. It includes some 30,000 different islands and atolls and stretches from South America to Western Australia and north to Hawaii and Guam. Some 13 million people inhabit the region.
Although Australia and New Zealand are South Pacific nations, they are typically excluded from the geographic scope of Oceania.
Oceania sits astride the main maritime shipping routes between Australia and the United States and between Australia and Japan and South Korea. More importantly, the transpacific fiber optic cables that connect the United States with Australia and New Zealand, and those that connect those countries with East Asia to the north, all transit to Oceania.
The region is mineral rich both on land and on and beneath the seabed. Notwithstanding some two decades of unrelenting Chinese fishing, it also represents the world's largest untapped source of marine protein.
Chinese military strategists have often characterized Beijing's main geostrategic objective in the Western and Central Pacific as gaining control of the three successive island chains that ring the Chinese mainland. These rings present a series of naval choke points that would allow an adversary to interdict China's maritime trade and cripple its economy.
The first island chain runs from the Kuril Islands through Japan, Taiwan, to the Philippines, and on to Indonesia and Vietnam. It borders the eastern perimeter of the East and South China seas.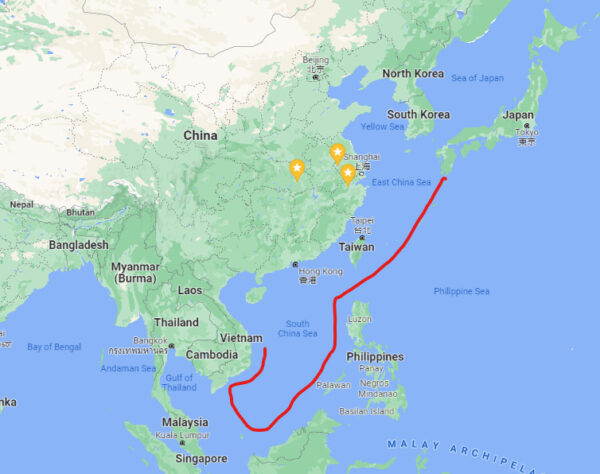 The second island chain runs from Japan to the Marianas, including the key U.S. base on Guam, the Western Caroline Islands, extends to Western New Guinea, and forms the eastern maritime boundary of the Philippine Sea.
The third island chain extends from the eastern Aleutians to Hawaii, across the center of the Pacific Ocean to American Samoa, Fiji, and New Zealand.
While Chinese military strategists have often referenced the island chains—arguing that Beijing must control the first two island chains to secure its maritime approaches and, ideally, the third island chain to thwart the projection of American naval power into the Western Pacific—the concept of the three island chain was originally American in origin. It was first coined by U.S. Secretary John Foster Dulles in 1952 as part of the strategy of "containing" the Soviet Union and China.
Oceania sits astride the second and third island chains.
Beijing has played an increasingly prominent role in Oceania over the last two decades.
Between 2006 and 2021, Beijing provided between $1.5 billion and $2.0 billion in foreign aid through a mixture of grants and "soft" loans. Those loans were used to fund various projects—from a new sports stadium in the Solomon Islands to various infrastructure projects, including bridges in Fiji and highways in New Guinea. Notwithstanding Beijing's largess, however, it is only the third largest donor to Oceania.
Australia remains the largest contributor to foreign aid. Over the last decade, it has provided over $7 billion across 8,738 projects. The statistics, however, are subject to a fair degree of interpretation since Australian and American assistance is sometimes in the form of in-kind goods and services, and their value is not always clear.
Two-way trade between China and Oceania reached $5.3 billion in 2021. China has become the principal trading partner for most of the countries in Oceania, surpassing Australia. In the case of the Solomon Islands, currently, China's closest ally in the region, 46 percent of its trade turnover is with China. A further $2.72 billion in direct foreign investment has been made by Chinese companies, many of them state-owned.
While Beijing's involvement in Oceania is relatively new, expatriate Chinese communities in the region have deep historical roots and date back several centuries. Those communities play an outsize role in the local economies and often dominate key areas of retailing and wholesale trade.
Anti-Chinese sentiment has at times sparked violent domestic riots, often in the guise of anti-government protests, for example, in the 2021 riots in Honiara, the capital of the Solomon Islands.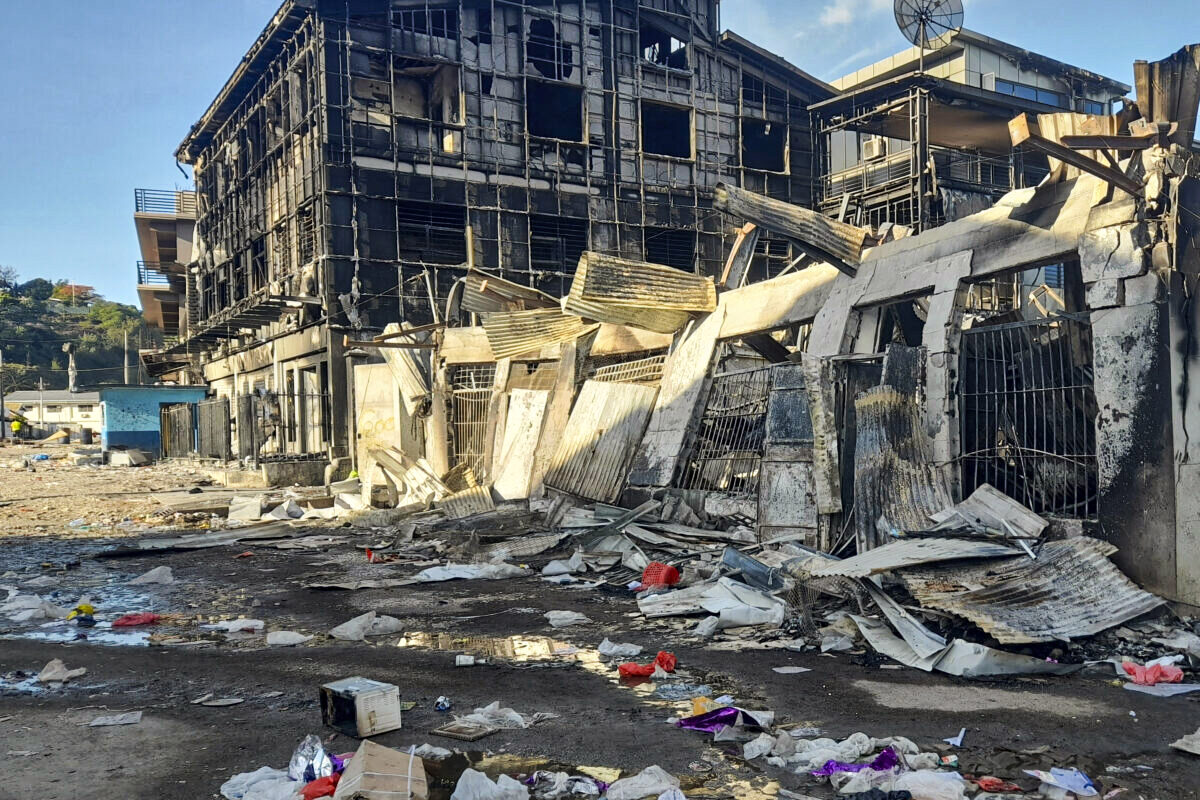 Those riots resulted in the torching and looting of Chinese businesses in Honiara and the death of four Chinese Solomon Islanders. Resentment against the financial success of expatriate Chinese communities has been an infrequent but persistent phenomenon not just in Oceania but throughout East Asia.
The region is particularly vulnerable to outside pressure. Most of these countries consist of low-lying islands that are at significant risk from natural calamities. These are small, generally remote nations situated at the end of maritime routes that are thousands of miles long.
Although their populations are quite small, so is the available land area. Overcrowding is a significant problem, especially given their rapid population growth.
Tourism is a critical industry in Oceania, although its impact varies significantly, ranging from relatively insignificant in Tuvalu to 10 percent of GDP in the Solomon Islands (among the least developed for tourism) to almost 40 percent in Fiji (the most developed for tourism).
Cruise-related tourism has also become an important factor, with around 1.5 million cruise tourists visiting the region in 2019. The bulk of Oceania's tourists is from Australia and New Zealand and, to a lesser extent, from the United States.
Oceania's tourism industry has been hard hit by the impact of COVID-19 lockdowns, including the extensive lockdowns in Australia, and has still not returned to pre-pandemic levels.
The result is that Tonga has been on the verge of default for the last decade, while Kiribati, the Marshall Islands, Micronesia, Papua New Guinea, Samoa, Tonga, and Tuvalu are considered to be severely financially distressed.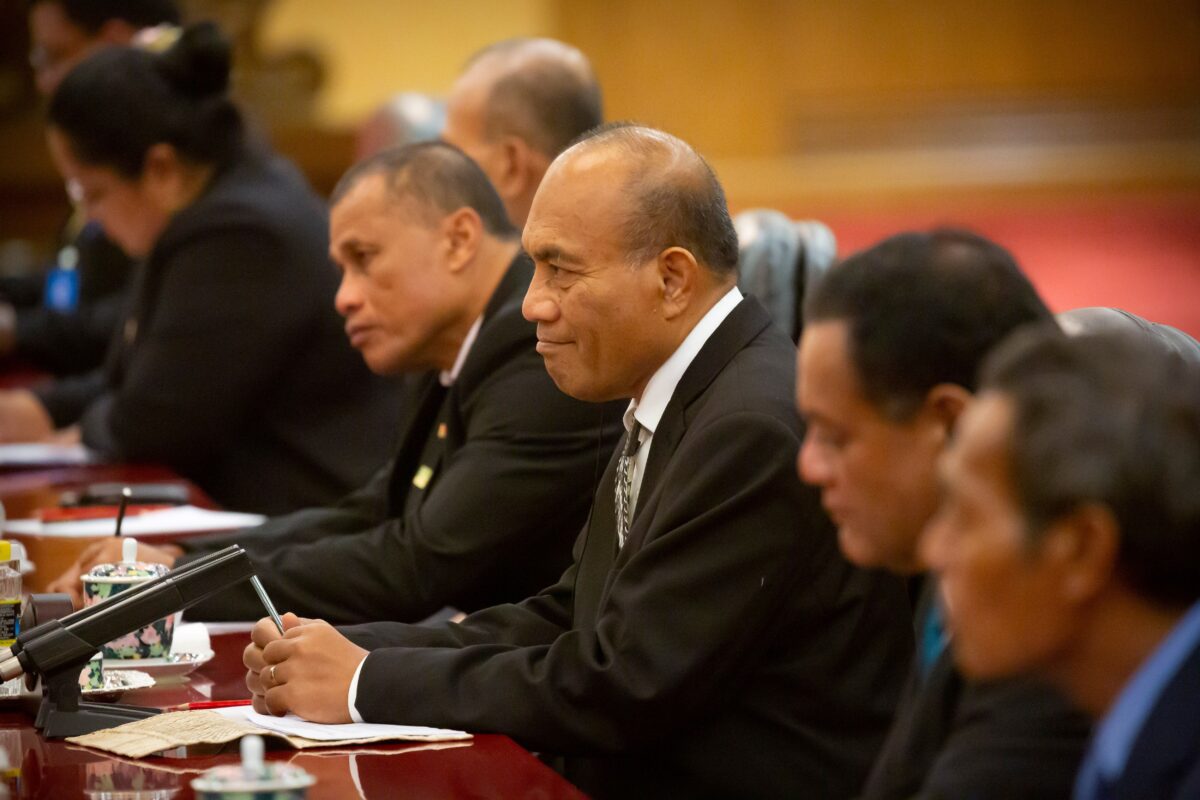 The Solomon Islands, Vanuatu, and East Timor are financially more stable but still stressed.
China's South Pacific Ambitions
Beijing, in the guise of the Belt and Road Initiative (BRI, also known as "One Belt, One Road") infrastructure program, has been looking for opportunities to develop air and marine infrastructure in Oceania. Western military analysts see such projects as presenting dual use—both commercial and military—capabilities.
In 2018, a Chinese proposal to finance a major port development on Vanuatu's Santo island precipitated a strongly-worded protest from Australia and was subsequently turned down by Vanuatu.
Several years later, a Chinese offer to rehabilitate World War II-era port facilities on New Guinea's Manus Island was preempted by a joint U.S.-Australian proposal to modernize the port. Another Chinese initiative was a proposal to lease the entire island of Tulagi in the Solomon Islands, the scene of intense fighting in World War II.
In 2021, Beijing offered to finance a study to rehabilitate an airstrip on Kiribati's island of Kanton. The now rarely used strategic airstrip is located about halfway between the Americas and Asia and was, until the advent of long-range commercial jets, a major refueling stop in transpacific airline flights. The status of this proposal is unclear.
Diplomatically, one of Beijing's ongoing objectives has been to isolate Taiwan from Oceania's countries. Until 2019, 6 of 14 Oceania countries recognized Taiwan. That year, the Solomon Islands and Kiribati dropped their diplomatic recognition of Taipei. The Marshall Islands, Nauru, Palau, and Tuvalu still maintain diplomatic relations with both Taiwan and China.
In April 2022, the Solomon Islands signed a far-reaching five-year pact with China, despite significant domestic opposition and protests from the United States, Australia, and New Zealand.
The final agreement was not released, but a previously leaked draft disclosed that the People's Liberation Army Navy (PLAN), with the approval of the Solomon Islands government, could make port calls and carry out replenishment activities. It would also be able to transit and conduct stopovers throughout the Solomon Islands.
Other provisions include permission for Beijing to use its police and military forces "to protect the safety of Chinese personnel and major projects in the Solomon Islands," as well as the equipping and training of local police in anti-riot and security procedures. It's unclear whether the agreement also applies to the protection of ethnic Chinese Solomon Islanders.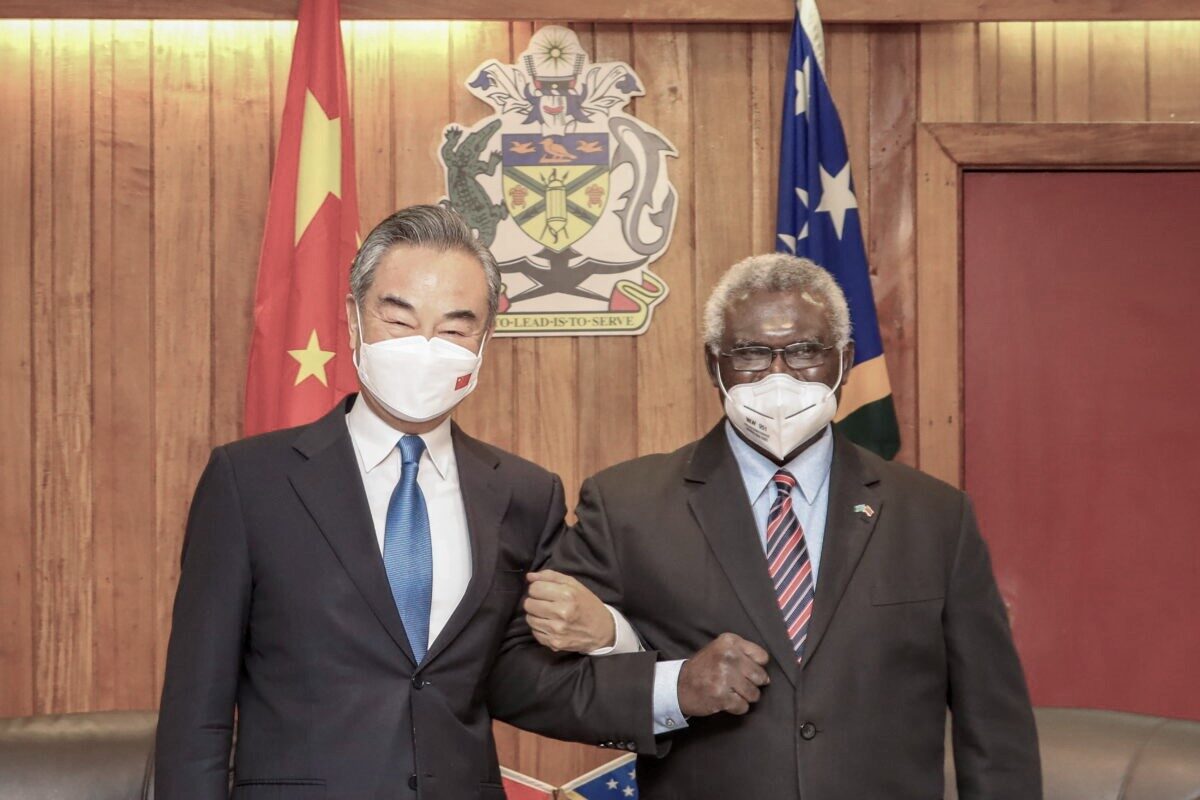 Both Beijing and Honiara have denied that the agreement paves the way for a permanent Chinese base in the region. However, China does not need a permanent base to expand its military role in the region.
Access agreements and ongoing rotational deployments—as both the United States and Japan have done in the Philippines and China has done in Cambodia—provide a permanent military presence while still allowing all sides to deny that it represents a permanent military base.
Over the last decade, the PLAN's fleet has grown to 355 platforms, surpassing the size of the U.S. Navy and becoming the largest fleet in the world. Beijing has announced plans to grow that fleet to 420 ships by 2025 and 460 ships by 2030. However, at least one estimate of future Chinese naval strength has forecast that PLAN platforms could reach 560 by 2030. Retired Navy Capt. Jim Fanell provides an analysis of the development and capabilities of the PLAN on the U.S. Naval Institute podcast here.
Including Coast Guard ships, which are not included in the PLAN number, current China naval forces amount to roughly 571 ships.
The number of ships notwithstanding, however, 309 of the 571 ships in China's naval forces are coast guard cutters and coastal patrol craft. These ships, in general, have an operating range of fewer than 500 miles. However, the PLAN has invested heavily in Type 901 and Type 903 resupply ships. Combined with overseas bases, this resupply capability gives the PLAN significant and rapidly growing blue water capabilities.
Over the last decade, PLAN ships have operated globally, including in major maritime theaters like the Baltic, Mediterranean, Caribbean, Arabian, Japanese, and Philippine seas. Moreover, China's blue water capability is continuing to grow rapidly. While the U.S. Navy still retains a significant edge, its advantage is being steadily eroded both by the continued growth in the number of PLAN ships and their resupply capabilities and by U.S. Navy budgetary cuts and ship obsolescence.
Effective force projection into the Western Pacific and the ability to secure its maritime passages across the various choke points in the first and second island arcs will require several regional bases, especially in Oceania, and the continued expansion of the PLAN's resupply capability.
That's one reason why Beijing's BRI and its emphasis on maritime infrastructure has raised concerns in Washington that these facilities, ostensible for civilian and commercial purposes, could also double as dual-use facilities and will significantly expand the PLAN's operational range.
The scope of Beijing's ambitions in the South Pacific was outlined in May when Chinese Foreign Minister Wang Yi did a tour of eight Oceania nations, met with three more remotely, and hosted a second round of the China-Pacific Island Countries Foreign Ministers' Meeting in Suva, Fiji.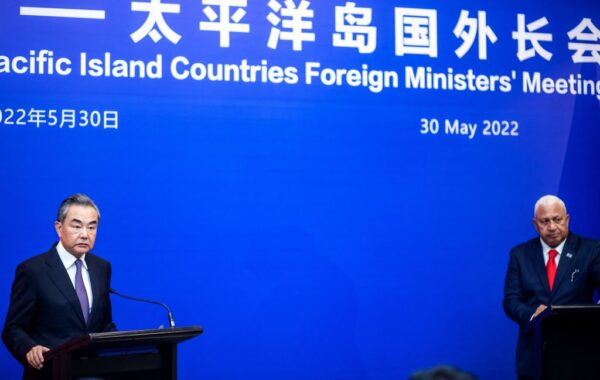 Wang unexpectedly, presented a sweeping proposal, the "China-Pacific Island Countries Common Development Vision," calling for China and the nations of Oceania to formulate a "marine spatial plan" to fully develop the region's "blue" economy.
In addition to the expanded investment—both from private Chinese companies and state entities—and Beijing's BRI infrastructure program, China also proposed new security arrangements that envisioned cybersecurity cooperation, an expanded role for Chinese telecommunications company Huawei in building and maintaining local communications and internet infrastructure, and an expanded role for Chinese police and military/security forces to train, provide equipment and support for police and military forces at both a national and regional level.
The proposal also called for establishing a network of Beijing-funded Confucius Institutes throughout Oceania, the provisioning of thousands of scholarships for advanced study in China, as well as the appointment of a Chinese special envoy to the region, and the establishment of several high-level diplomatic forums.
A leaked version of Beijing's proposed agreement and reports in Chinese media suggested that the initiative's long-term goal was to establish a common market between China and the nations of Oceania.
The proposed region-wide economic and security framework failed to generate support among Oceania's nations. After the meeting, Beijing published a "Position Paper on Mutual Respect and Common Development with Pacific Island Countries," which presented 15 proposals for expanding China's role in the region.
Wang's effort was not entirely fruitless, however. Samoa, Kiribati, and Niue agreed to enhance their cooperation with China's BRI. Additionally, Wang signed 52 separate bilateral agreements during his tour, including a rumored proposal to have Kiribati open the Phoenix Islands Protected Area (PIPA)—the world's largest marine reserve—to China's fishing fleet. The PIPA World Heritage Site is roughly the size of the state of California.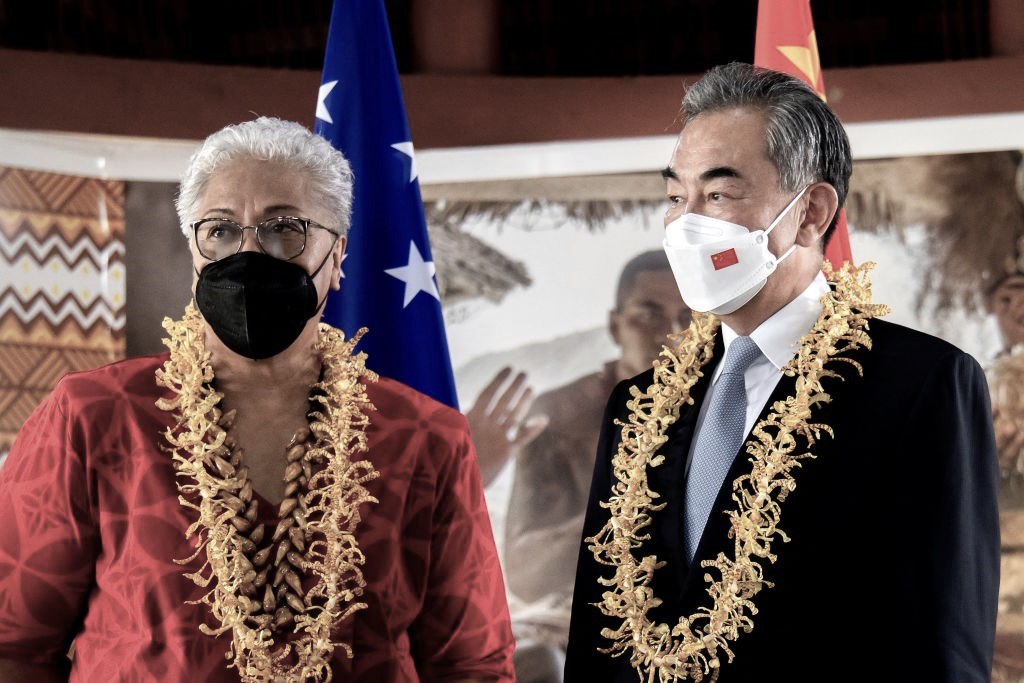 The Responses to China's South Pacific Gambit
Predictably, China's diplomatic and economic initiatives in the South Pacific have triggered concern in Washington, Canberra, and Auckland and unleashed a flurry of diplomatic activity.
The Biden administration has announced plans to open embassies in Kiribati and Tonga, increase financial aid to the region, and plans to name a special envoy to the Pacific Islands Forum. It also unveiled the Indo-Pacific Economic Framework for Prosperity. The United States also announced plans to reopen its embassy in the Solomon Islands after being closed for almost three decades.
Washington has also dispatched several high-level diplomatic delegations to meet with Oceania's leaders. Secretary of State Antony Blinken visited the region, becoming the first American secretary of state in 36 years to visit Fiji. Vice President Kamala Harris appeared virtually at the Pacific Islands Forum to unveil the Biden administration's Pacific Strategy.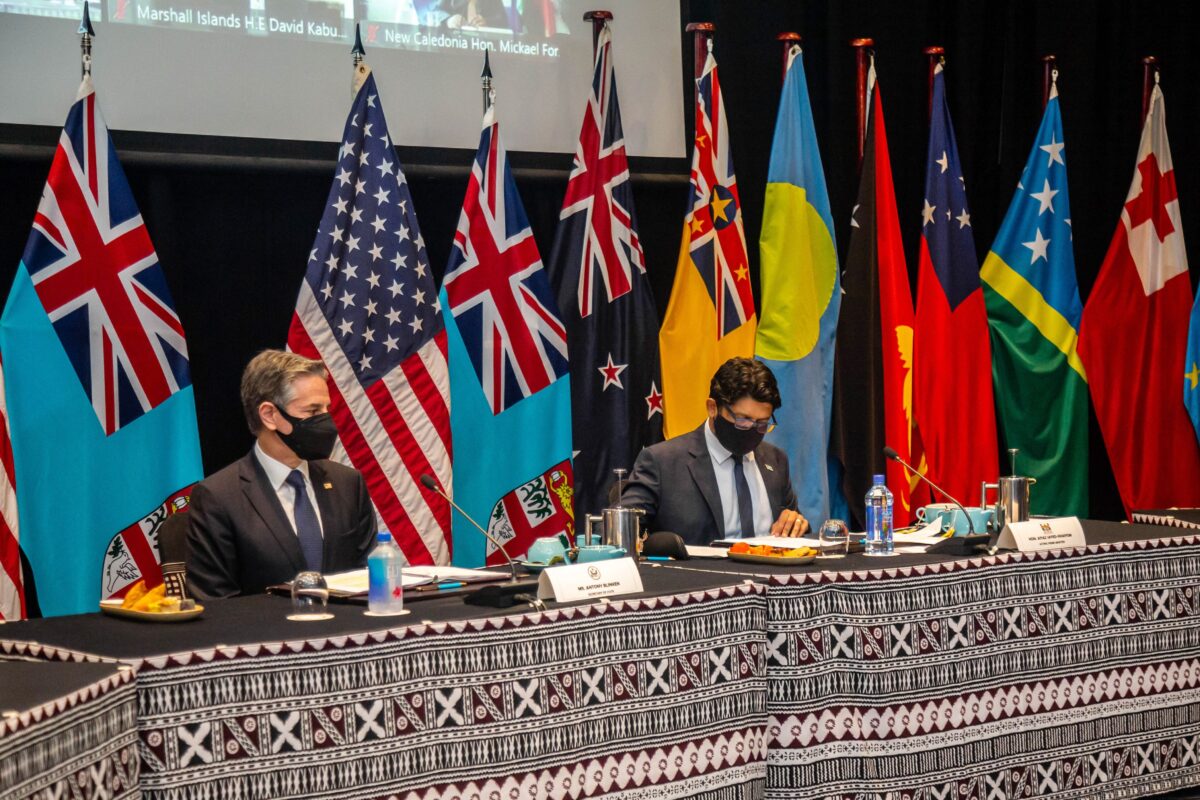 In June, the Biden administration announced the "Partners in the Blue Pacific," an intergovernmental group that includes Australia, New Zealand, Japan, and the United Kingdom, to foster diplomatic and economic ties with Oceania.
Newly-appointed Australian Foreign Minister Penny Wong made three trips to the region following her appointment on May 22. Australian Prime Minister Anthony Albanese also visited Oceania, attending a regional meeting in Fiji on July 14, and talked up Australia's "Neighborhood First" policy. He also promised more financial assistance and plans to establish a school to train Pacific island security forces.
New Zealand Prime Minister Jacinda Ardern expressed concern over China's ambitions in Oceania. She attended the Fiji summit and promised expanded financial aid and a new climate initiative.
Although the avalanche of diplomatic activity has underscored the region's importance to the United States and its regional allies after decades of benign neglect, little substantive has come from it to date.
The United States, Australia, and New Zealand remain Oceania's preferred development and security partners. Many countries in Oceania are hesitant about expanding their relationship with China if that comes at the price of weakening traditional ties to the United States and its local allies.
On the other hand, Beijing has made it clear that securing its maritime approaches is a key objective of its strategic policy. Achieving that object will require both the expansion of Chinese naval power in the Western and Central Pacific and the diminution of American strength and diplomatic influence in Oceania.
Chinese financial assistance, trade, investment, and Beijing's success at co-opting local elites give China considerable tools to achieve its objectives. Given Oceania's importance to China's long-term security goals, the region will continue to be a focus of Beijing's diplomacy.
Oceania is well on its way to becoming another arena of Sino-American competition.