China's Reopening Will Face Delays
A surge in COVID cases and an already soft economy will overshadow the early months of 2023Commentary Beijing has bowed to public pressure and abandoned its Zero-COVID lockdowns and quarantines. The anticipated "reopening" has caused a stir of optimism. However, China's immediate economic prospects look pretty bad after a tough fourth quarter and with surging COVID-19 cases. The economic lift from the end of Zero-COVID will likely wait until later in the spring and perhaps not until the second half of 2023. China's economy is starting the year in a far from robust situation. The independent consultant, China Beige Book International, has gone on record saying that the economy declined throughout last year's final quarter. Caixin, a data source on China, noted that the economy ended the year with its manufacturing purchasing managers index (PMI) also in decline, registering a level of 49 in December, down from a level of 49.4 in November. In this measure, anything below a level of 50 indicates a contraction. The official National Bureau of Statistics (NBS) PMI for manufacturing was even more discouraging. It showed a level of 47 in December, down from 48 in November. The NBS non-manufacturing index was even worse. It showed a level of 41.6 in December, down from 46.7 in November. Significantly, all the subindices—for output, new orders, and employment—also fell in December. Deliveries were slower, too, indicating continuing supply disruptions. Clearly, Chinese business is not anticipating a sudden upsurge. Nor is this recent weakness a fluke. This economic decline has been developing for several months. According to Caixin's accounting, the weakness began in earnest in the summer months after its manufacturing PMI briefly hit a high of 55 last June. Similarly, the NBS measures for manufacturing and non-manufacturing have declined steadily since last June. This extended deterioration has impelled the analysts at China Beige Book International to determine that whatever official figure is ultimately released, China's economy grew no more than 2 percent in 2022. Hopeful about China's reopening as Chinese leader Xi Jinping sounded in his recent remarks, he and the rest of his team are clearly aware of the weakness now weighing on the economy. The People's Bank of China (PBOC) has announced that it is ready to extend its rate reductions and monetary easing program into 2023. The Ministry of Finance recently reiterated its plans for a fiscal expansion to help stimulate economic growth activity. Specifics are scarce. All the authorities have indicated is that they will do what is "appropriate." Nonetheless, the pledge shows that they are aware of the need. A patient on oxygen is wheeled on a gurney into a busy emergency room at a hospital in Beijing, China, on Jan. 2, 2023. (Getty Images) Economies can occasionally turn on a dime, as the saying goes. Still, even if China were primed to do so, which is by no means apparent, it now must deal with the ill economic effects of an ongoing surge in COVID-19 cases. This could have been avoided. Beijing's Zero-COVID lockdowns and quarantines blocked any hope of the population developing herd immunity. At the same time, an ineffective vaccination policy has left its most vulnerable people more likely to need serious medical attention than they otherwise would. Beijing even rejected offers from Europe to provide free vaccine doses. Whatever the cause, infections have risen fast even with late December's partial reopening and seem likely to increase even faster now with a full reopening. Travel for January's Lunar New Year holiday is expected to exacerbate the medical emergency. Until this initial wave of infection runs its course, widespread illness and death will hamper economic activity as much as the Zero-COVID lockdowns and quarantines did. With luck, this new economic impediment will lift quickly. Still, if the West's experience is any indication, such relief likely will take until spring at the earliest and possibly even longer. On this basis, this year's official forecast of 4.8 percent real growth looks overly optimistic. Immediate delays in the economic response will no doubt disappoint those who look for an immediate upturn in response to the end of Zero-COVID policies. Some of those are the people driving up Hong Kong's Hang Seng China Enterprise Stock Index of China-based firms listed in Hong Kong. It has risen some 36 percent during the last couple of months. That optimism may aim at the economic gains later in the year after the infection surge has begun to abate. Still, it is ill-placed if it reflects an expectation of an immediate economic surge. Whether China's rebound develops sooner, as the consensus seems to expect, or later, as is more likely, it will take the economy a long time to get back to pre-COVID-19 levels of activity and prosperity. Though travel bookings, for example, have surged, the Ministry of Culture and Tourism nonetheless puts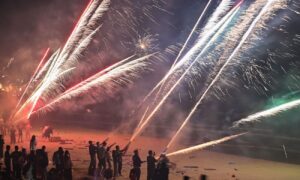 A surge in COVID cases and an already soft economy will overshadow the early months of 2023
Commentary
Beijing has bowed to public pressure and abandoned its Zero-COVID lockdowns and quarantines. The anticipated "reopening" has caused a stir of optimism. However, China's immediate economic prospects look pretty bad after a tough fourth quarter and with surging COVID-19 cases. The economic lift from the end of Zero-COVID will likely wait until later in the spring and perhaps not until the second half of 2023.
China's economy is starting the year in a far from robust situation. The independent consultant, China Beige Book International, has gone on record saying that the economy declined throughout last year's final quarter.
Caixin, a data source on China, noted that the economy ended the year with its manufacturing purchasing managers index (PMI) also in decline, registering a level of 49 in December, down from a level of 49.4 in November. In this measure, anything below a level of 50 indicates a contraction.
The official National Bureau of Statistics (NBS) PMI for manufacturing was even more discouraging. It showed a level of 47 in December, down from 48 in November. The NBS non-manufacturing index was even worse. It showed a level of 41.6 in December, down from 46.7 in November. Significantly, all the subindices—for output, new orders, and employment—also fell in December. Deliveries were slower, too, indicating continuing supply disruptions. Clearly, Chinese business is not anticipating a sudden upsurge.
Nor is this recent weakness a fluke. This economic decline has been developing for several months. According to Caixin's accounting, the weakness began in earnest in the summer months after its manufacturing PMI briefly hit a high of 55 last June. Similarly, the NBS measures for manufacturing and non-manufacturing have declined steadily since last June. This extended deterioration has impelled the analysts at China Beige Book International to determine that whatever official figure is ultimately released, China's economy grew no more than 2 percent in 2022.
Hopeful about China's reopening as Chinese leader Xi Jinping sounded in his recent remarks, he and the rest of his team are clearly aware of the weakness now weighing on the economy. The People's Bank of China (PBOC) has announced that it is ready to extend its rate reductions and monetary easing program into 2023. The Ministry of Finance recently reiterated its plans for a fiscal expansion to help stimulate economic growth activity. Specifics are scarce. All the authorities have indicated is that they will do what is "appropriate." Nonetheless, the pledge shows that they are aware of the need.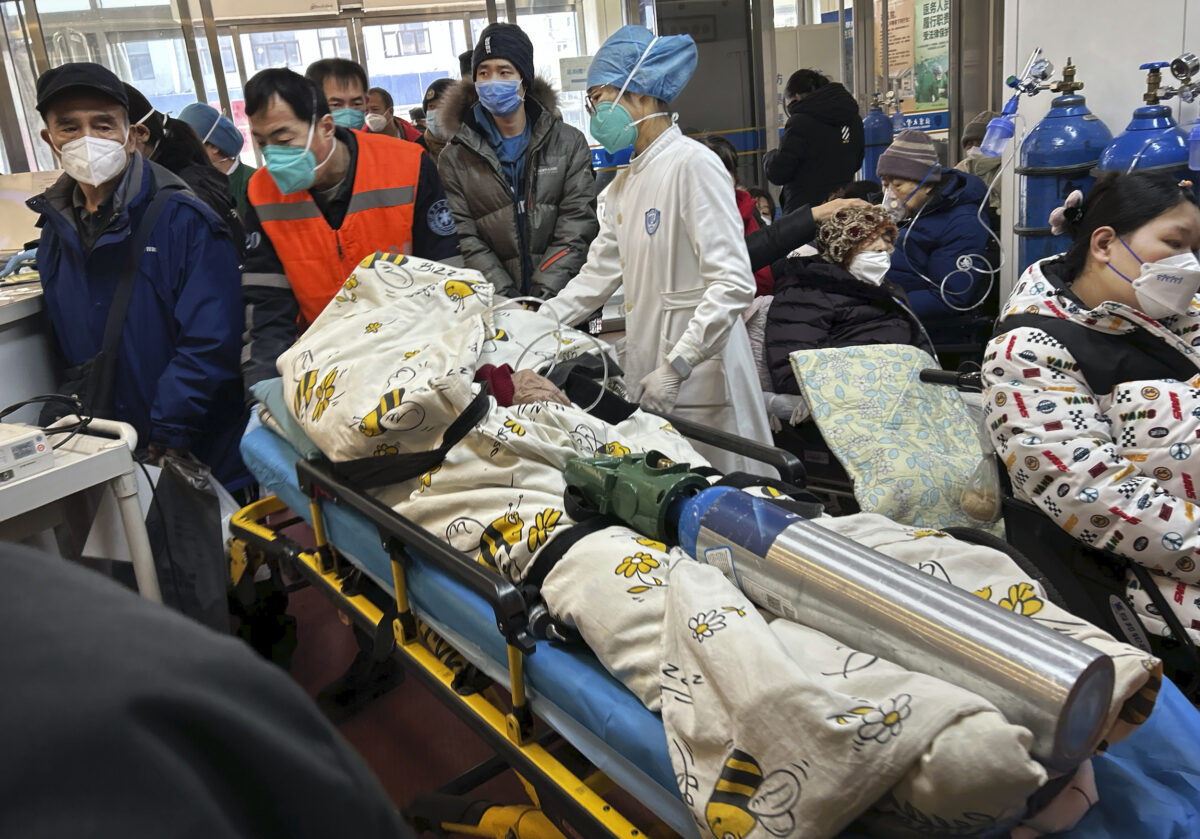 Economies can occasionally turn on a dime, as the saying goes. Still, even if China were primed to do so, which is by no means apparent, it now must deal with the ill economic effects of an ongoing surge in COVID-19 cases. This could have been avoided. Beijing's Zero-COVID lockdowns and quarantines blocked any hope of the population developing herd immunity. At the same time, an ineffective vaccination policy has left its most vulnerable people more likely to need serious medical attention than they otherwise would. Beijing even rejected offers from Europe to provide free vaccine doses.
Whatever the cause, infections have risen fast even with late December's partial reopening and seem likely to increase even faster now with a full reopening. Travel for January's Lunar New Year holiday is expected to exacerbate the medical emergency. Until this initial wave of infection runs its course, widespread illness and death will hamper economic activity as much as the Zero-COVID lockdowns and quarantines did.
With luck, this new economic impediment will lift quickly. Still, if the West's experience is any indication, such relief likely will take until spring at the earliest and possibly even longer. On this basis, this year's official forecast of 4.8 percent real growth looks overly optimistic. Immediate delays in the economic response will no doubt disappoint those who look for an immediate upturn in response to the end of Zero-COVID policies. Some of those are the people driving up Hong Kong's Hang Seng China Enterprise Stock Index of China-based firms listed in Hong Kong. It has risen some 36 percent during the last couple of months. That optimism may aim at the economic gains later in the year after the infection surge has begun to abate. Still, it is ill-placed if it reflects an expectation of an immediate economic surge.
Whether China's rebound develops sooner, as the consensus seems to expect, or later, as is more likely, it will take the economy a long time to get back to pre-COVID-19 levels of activity and prosperity. Though travel bookings, for example, have surged, the Ministry of Culture and Tourism nonetheless puts the overall level of tourism at 35.1 percent below pre-pandemic levels.
Meanwhile, two reveals emerge from these turbulent events. First, Beijing's Zero-COVID policy was less than clever. It failed to eliminate COVID-19 and ultimately left the Chinese population more vulnerable to the virus than it otherwise would have been. Second, behind the timing of this year's economic rebound or even its strength, the authorities in Beijing are coming to realize that the economy will not return to its former breakneck pace of growth and development. Even if China's economy achieves the overly optimistic 4.8 percent real growth target in 2023, that pace palls compared to the growth pace China showed earlier in the century.
Views expressed in this article are the opinions of the author and do not necessarily reflect the views of The Epoch Times.