China's New Energy Vehicle 'Star' Company Goes Bankrupt Despite Hefty Subsidies
Yangtze River Automobile Group, a Chinese electric vehicle (EV) manufacturer, recently declared bankruptcy. The company was once called Asia's largest new energy vehicle manufacturer, and had acquired land in several big cities to build its manufacturing bases.However, it went bankrupt at a time when the EV industry is thriving. Insiders told Chinese media that the company was allegedly founded to obtain government subsidies, and its over-reliance on subsidies eventually led to a broken funding chain. Huge Investments, Quick Expansion, Little Success Yangtze River Automobile (hereafter referred to as Yangtze Auto) has been operating at a loss since its establishment. When it formally declared bankruptcy in July, the company owed more than 50 million yuan (about $7.3 million) in wages to its employees, its external debts were as high as 3 billion yuan (about $437 million). Yet in 2015 and 2016, Yangtze Auto was one of the few companies in China with "dual qualifications" for both fuel vehicle and EV manufacturing, and claimed that it aimed to become the largest EV maker in Asia. With this claim and the support of renowned investors such as Hong Kong tycoon Li Ka-shing, it received a lot of attention during its prime years. In the span of two plus years, Yangtze Auto opened manufacturing bases in various cities in China, including Hangzhou in Zhejiang Province, Foshan in Guangdong Province, Kunming in Yunnan Province, and Yantai in Shandong Province. It even extended overseas with plants in the United States. The company also established R&D centers in Beijing and Shanghai, power battery production bases in Tianjin City and Liaoning Province, and battery material production bases in Chongqing City. Between 2015 and 2016, Yangtze Auto had a cumulative annual output capacity of 600,000 vehicles. Its investment agreement with the Foshan Municipal Government alone involved funding of 12 billion yuan (about $1.75 billion). In 2016, Yangtze Auto rolled out four models, including an electric small SUV, electric bus, and a minibus. However, its SUV passenger car was never mass-produced, and its commercial vehicle, which consumed 90 percent of its manpower and financial resources, had slightly more than 3,000 vehicles licensed in 2018. In that same year, Li Ka-shing began to withdraw his investment, apparently no longer optimistic about the outlook of Yangtze Auto. Founder's Strong Political Background Cao Zhong, founder of Yangtze Auto, was once an official at the State Planning Commission, the top economic management department of the Chinese Communist Party (CCP). It was widely speculated that Cao's political background make it possible for Yangtze Auto to easily obtain the qualifications needed to produce EVs. Cao admitted that when he first entered the EV industry, he didn't understand automobiles at all. The experts recruited by the board of directors, such as former Volvo (China) CEO Tong Zhiyuan and others, did not play a major role in the development of Yangtze Auto, and there were rumors of discord among shareholders and dissent among management executives. In addition to Cao, there are several others who eagerly entered the EV industry with no automotive background. Zhu Jiangming, the founder of another EV industry star Leapmotor, also revealed that when he first started a career in automobiles in 2015, he didn't know what expertise was needed in automaking, to the point that when he went about recruiting talent, he had no idea what type of person he should hire. Chinese real estate giant Evergrande Group, is also engaged in the EV industry. Struggling with financial troubles, Evergrande is considering selling its stake in the auto making division to pay off some debts. The film and video platform LeEco still has its EV making division, but lacks the funds needed for mass production. 'Founded Simply to Pursue Government Subsidies' Chinese news portal NetEase quoted the opinion of a former employee of Yangtze Auto as saying that from the very beginning, the company was "founded simply to pursue government subsidies." On Aug. 4, two former employees of the company revealed to Chinese financial media Yicai that Yangtze Auto's production line, which was put into operation in 2016 and claimed to have an annual production capacity of 100,000 vehicles, has produced 2,000 plus vehicles as of today. Many of the Yangtze Auto vehicles were sold to the company's own subsidiary companies or affiliated leasing companies. Because the Chinese government offers hefty subsidies for EV sales to promote EV development, "quite a few speculative companies secretly set up leasing companies, and the electric cars they produced were sold to their own leasing companies. This kind of car sales is equivalent to trade a merchant [moving a product] from one's left hand to the right hand, a scheme of subsidy fraud," one employee said. In addition to subsidies from central authorities, local governments also provide su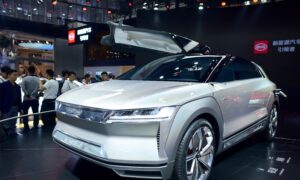 Yangtze River Automobile Group, a Chinese electric vehicle (EV) manufacturer, recently declared bankruptcy. The company was once called Asia's largest new energy vehicle manufacturer, and had acquired land in several big cities to build its manufacturing bases.
However, it went bankrupt at a time when the EV industry is thriving. Insiders told Chinese media that the company was allegedly founded to obtain government subsidies, and its over-reliance on subsidies eventually led to a broken funding chain.
Huge Investments, Quick Expansion, Little Success
Yangtze River Automobile (hereafter referred to as Yangtze Auto) has been operating at a loss since its establishment. When it formally declared bankruptcy in July, the company owed more than 50 million yuan (about $7.3 million) in wages to its employees, its external debts were as high as 3 billion yuan (about $437 million).
Yet in 2015 and 2016, Yangtze Auto was one of the few companies in China with "dual qualifications" for both fuel vehicle and EV manufacturing, and claimed that it aimed to become the largest EV maker in Asia. With this claim and the support of renowned investors such as Hong Kong tycoon Li Ka-shing, it received a lot of attention during its prime years.
In the span of two plus years, Yangtze Auto opened manufacturing bases in various cities in China, including Hangzhou in Zhejiang Province, Foshan in Guangdong Province, Kunming in Yunnan Province, and Yantai in Shandong Province. It even extended overseas with plants in the United States.
The company also established R&D centers in Beijing and Shanghai, power battery production bases in Tianjin City and Liaoning Province, and battery material production bases in Chongqing City.
Between 2015 and 2016, Yangtze Auto had a cumulative annual output capacity of 600,000 vehicles. Its investment agreement with the Foshan Municipal Government alone involved funding of 12 billion yuan (about $1.75 billion).
In 2016, Yangtze Auto rolled out four models, including an electric small SUV, electric bus, and a minibus. However, its SUV passenger car was never mass-produced, and its commercial vehicle, which consumed 90 percent of its manpower and financial resources, had slightly more than 3,000 vehicles licensed in 2018.
In that same year, Li Ka-shing began to withdraw his investment, apparently no longer optimistic about the outlook of Yangtze Auto.
Founder's Strong Political Background
Cao Zhong, founder of Yangtze Auto, was once an official at the State Planning Commission, the top economic management department of the Chinese Communist Party (CCP). It was widely speculated that Cao's political background make it possible for Yangtze Auto to easily obtain the qualifications needed to produce EVs.
Cao admitted that when he first entered the EV industry, he didn't understand automobiles at all. The experts recruited by the board of directors, such as former Volvo (China) CEO Tong Zhiyuan and others, did not play a major role in the development of Yangtze Auto, and there were rumors of discord among shareholders and dissent among management executives.
In addition to Cao, there are several others who eagerly entered the EV industry with no automotive background. Zhu Jiangming, the founder of another EV industry star Leapmotor, also revealed that when he first started a career in automobiles in 2015, he didn't know what expertise was needed in automaking, to the point that when he went about recruiting talent, he had no idea what type of person he should hire.
Chinese real estate giant Evergrande Group, is also engaged in the EV industry. Struggling with financial troubles, Evergrande is considering selling its stake in the auto making division to pay off some debts.
The film and video platform LeEco still has its EV making division, but lacks the funds needed for mass production.
'Founded Simply to Pursue Government Subsidies'
Chinese news portal NetEase quoted the opinion of a former employee of Yangtze Auto as saying that from the very beginning, the company was "founded simply to pursue government subsidies."
On Aug. 4, two former employees of the company revealed to Chinese financial media Yicai that Yangtze Auto's production line, which was put into operation in 2016 and claimed to have an annual production capacity of 100,000 vehicles, has produced 2,000 plus vehicles as of today.
Many of the Yangtze Auto vehicles were sold to the company's own subsidiary companies or affiliated leasing companies.
Because the Chinese government offers hefty subsidies for EV sales to promote EV development, "quite a few speculative companies secretly set up leasing companies, and the electric cars they produced were sold to their own leasing companies. This kind of car sales is equivalent to trade a merchant [moving a product] from one's left hand to the right hand, a scheme of subsidy fraud," one employee said.
In addition to subsidies from central authorities, local governments also provide supporting subsidies on a 1:1 basis.
In 2015, a 6-8 meter (20-26 feet) pure electric minibus could get up to 600,000 yuan (about $88,000) in subsidies; a pure electric bus, 10 meters (33 feet) or longer, could get a maximum of 1 million yuan (about $145,522) in subsidies, which is much more than the cost of production.
However, this type of subsidy fraud—selling cars to subsidiary companies—faces the problem of receipt of subsidies lagging behind the cost input, which could easily lead to a broken funding chain. A Yangtze Auto spokesperson once said that due to the long period needed to receive local government subsidies, it often suffered from insufficient cash flow, which made it difficult to maintain normal operations.
In 2018, it was reported that the company began to experience a disruption in funding, the same year that China's EV subsidies were greatly reduced and the qualification requirements were increased. From 2020 to 2022, the subsidy was further phased out, dropping by 10 percent, 20 percent, and 30 percent from the previous year, respectively, and was set to expire at the end of this year.
Widespread Subsidy Fraud
From 2015 to 2017, the total subsidies for the entire Chinese EV industry exceeded 300 billion yuan (about $43.82 billion), and the cumulative investment in the entire EV industry chain had also exceeded 2 trillion yuan (about $292.15 billion), according to Chinese news portal NetEase.
In 2016, Chinese authorities investigated 93 EV companies with regard to their use of subsidies, and found that as many as 72 companies committed subsidy fraud, involving nearly 80,000 vehicles, and a total of nearly 9.3 billion yuan (about $1.36 billion).
On average, each company obtained more than 130 million yuan (about $19 million) by cheating, and each car they produced garnered an average subsidy of 116,000 yuan (about $16,900 U.S. dollars).
The fates of many of the EV companies are similar to that of Yangtze Auto. As of March 2019, there were as many as 635 EV companies registered on China's national monitoring platform, but few have survived to today.
However, the Chinese regime still continues its practice of offering subsidies for EVs, but the subsidies have been shifted from pure electric vehicles to fuel cell vehicles, including hydrogen refueling stations and hydrogen fuel cell vans.