China's Ambition to Acquire VTOL Aircraft 
Commentary The Chinese military's ambition to acquire and build vertical takeoff and landing (VTOL) combat aircraft dates back to the early 1970s. After 40 years of espionage and indigenous development, China's Chengdu Aircraft Corporation (CAC) may have a fighter program to fulfill that ambition. In the 1970s, Britain carried out a lengthy public policy debate over whether to sell China its Hawker Siddeley Harrier GR.1/3, then operated by Britain's Royal Air Force (RAF), the U.S. Marine Corps (as the AV-8A), and the Spanish Navy. Though with modest subsonic speed, a 5,000-pound payload, and a short 380-mile combat radius, the 11-ton Harrier was a revolutionary combat aircraft in that the low- and high-pressure thrust from its Rolls Royce Pegasus turbofan engine was vectored through four swiveling exhaust nozzles, to achieve vertical and horizontal flight. Britain deployed its Harriers to Germany where, from dispersed small support "pads," they could help thwart a Soviet invasion. The U.S. Marines deployed the AV-8As from Landing Helicopter Dock (LHD) large amphibious assault ships, enabling them for the first time to provide "long-range" combat air support to Marines, decreasing their reliance on U.S. Navy carrier air support. In the 1970s, the Chinese Communist Party (CCP) began considering its hegemonic revival, starting with control of the South China Sea. For the People's Liberation Army (PLA), the Harrier promised to compensate for the PLA Navy's lack of aircraft carriers, and it could fly from initial small island bases planned for the Paracel Islands, which China took from South Vietnam in 1974. For almost a decade, Britain and China carried out a sales dance, with China offering to buy up to 90 Harriers outright and then perhaps co-produce another 350. As London gave briefings to the PLA and even test rides to Chinese pilots, its debates reflected uncertainty over whether China was a friend or foe and whether the Americans would support or oppose the sale. The Soviet Union registered its strong opposition. But what apparently ended chances for the Harrier sale was Deng Xiaoping's 1979 invasion of Vietnam, as punishment for Hanoi's earlier invasion that ended the Chinese client regime of Communist Pol Pot, with the world reeling from revelations of its vast ideological mass murder purges. As the 1980s enthusiasm in the United States, Europe, and Israel to arm China as an anti-Soviet bulwark started to fade after the 1989 Tiananmen Square massacre and the Soviet collapse opened the door to broad Russian military technology, Beijing placed a lower priority on its VTOL ambitions and concentrated on gathering technology. By the mid-2000s, in an exchange with a British museum, the museum of the Beijing University of Aeronautics and Astronautics—a key technology subcontractor for the PLA—acquired a British Harrier GR.3 airframe, without its more sensitive turbofan engine but with its thrust vector system. A Royal Air Force Harrier GR.3 at the RAF Museum in Hendon, United Kingdom, in early 2004. (Courtesy of Richard Fisher) Defense press reports from the 1990s indicate that China also sought to acquire, and perhaps purchased, technology related to the Soviet-era Yakovlev Yak-141 supersonic short takeoff and vertical landing (STOVL) fighter, which used a main large afterburning turbofan with a unique 90-degree swiveling thrust vector system, and two vertically-mounted small turbofans behind the cockpit. Continued PLA interest in acquiring a VTOL or STOVL fighter was boosted by Britain's successful use of the Harrier in its 1982 war to recapture the Falklands Islands from Argentina, a war deeply studied by the PLA to develop insights for its current goal of invading democratic Taiwan. This brings us to a patent filed with the China National Intellectual Property Administration on May 23 by the CAC for a design for a STOVL combat aircraft. First reported on May 27 by veteran Taipei-based defense reporter Wendell Minnick in his Substack-published "China In Arms" newsletter, the patent shows a delta wing fighter with an under-nose diverterless air intake similar to that of the 19-ton Chengdu J-10C fourth-generation fighter. But the patent also reveals that the CAC is developing a novel two-engine STOVL system that uses a medium size turbofan just behind the cockpit, vectoring thrust via two Harrier-like nozzles, and an aft-mounted medium thrust afterburning turbofan with a Yak-141 style swiveling thrust vector system. It is also curious that the Chengdu STOVL fighter bears a resemblance to the new 2021-revealed Russian Sukhoi Su-75 "Checkmate" low-cost fifth-generation fighter; sharing design insight with the CAC may be one way Russia is trying to pay for the Su-75. In the 1990s, the U.S. Lockheed Martin company also purchased Yakovlev's thrust vector technology to develop its 27-ton F-35B STOVL fifth-generation fighter, which has succeeded the Harrier in the U.S. Marine Corps and the Briti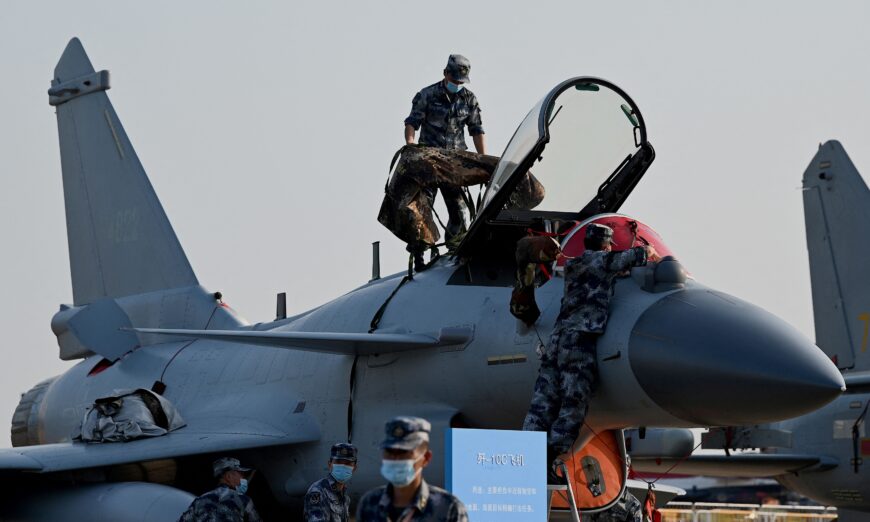 Commentary
The Chinese military's ambition to acquire and build vertical takeoff and landing (VTOL) combat aircraft dates back to the early 1970s. After 40 years of espionage and indigenous development, China's Chengdu Aircraft Corporation (CAC) may have a fighter program to fulfill that ambition.
In the 1970s, Britain carried out a lengthy public policy debate over whether to sell China its Hawker Siddeley Harrier GR.1/3, then operated by Britain's Royal Air Force (RAF), the U.S. Marine Corps (as the AV-8A), and the Spanish Navy.
Though with modest subsonic speed, a 5,000-pound payload, and a short 380-mile combat radius, the 11-ton Harrier was a revolutionary combat aircraft in that the low- and high-pressure thrust from its Rolls Royce Pegasus turbofan engine was vectored through four swiveling exhaust nozzles, to achieve vertical and horizontal flight.
Britain deployed its Harriers to Germany where, from dispersed small support "pads," they could help thwart a Soviet invasion.
The U.S. Marines deployed the AV-8As from Landing Helicopter Dock (LHD) large amphibious assault ships, enabling them for the first time to provide "long-range" combat air support to Marines, decreasing their reliance on U.S. Navy carrier air support.
In the 1970s, the Chinese Communist Party (CCP) began considering its hegemonic revival, starting with control of the South China Sea.
For the People's Liberation Army (PLA), the Harrier promised to compensate for the PLA Navy's lack of aircraft carriers, and it could fly from initial small island bases planned for the Paracel Islands, which China took from South Vietnam in 1974.
For almost a decade, Britain and China carried out a sales dance, with China offering to buy up to 90 Harriers outright and then perhaps co-produce another 350.
As London gave briefings to the PLA and even test rides to Chinese pilots, its debates reflected uncertainty over whether China was a friend or foe and whether the Americans would support or oppose the sale. The Soviet Union registered its strong opposition.
But what apparently ended chances for the Harrier sale was Deng Xiaoping's 1979 invasion of Vietnam, as punishment for Hanoi's earlier invasion that ended the Chinese client regime of Communist Pol Pot, with the world reeling from revelations of its vast ideological mass murder purges.
As the 1980s enthusiasm in the United States, Europe, and Israel to arm China as an anti-Soviet bulwark started to fade after the 1989 Tiananmen Square massacre and the Soviet collapse opened the door to broad Russian military technology, Beijing placed a lower priority on its VTOL ambitions and concentrated on gathering technology.
By the mid-2000s, in an exchange with a British museum, the museum of the Beijing University of Aeronautics and Astronautics—a key technology subcontractor for the PLA—acquired a British Harrier GR.3 airframe, without its more sensitive turbofan engine but with its thrust vector system.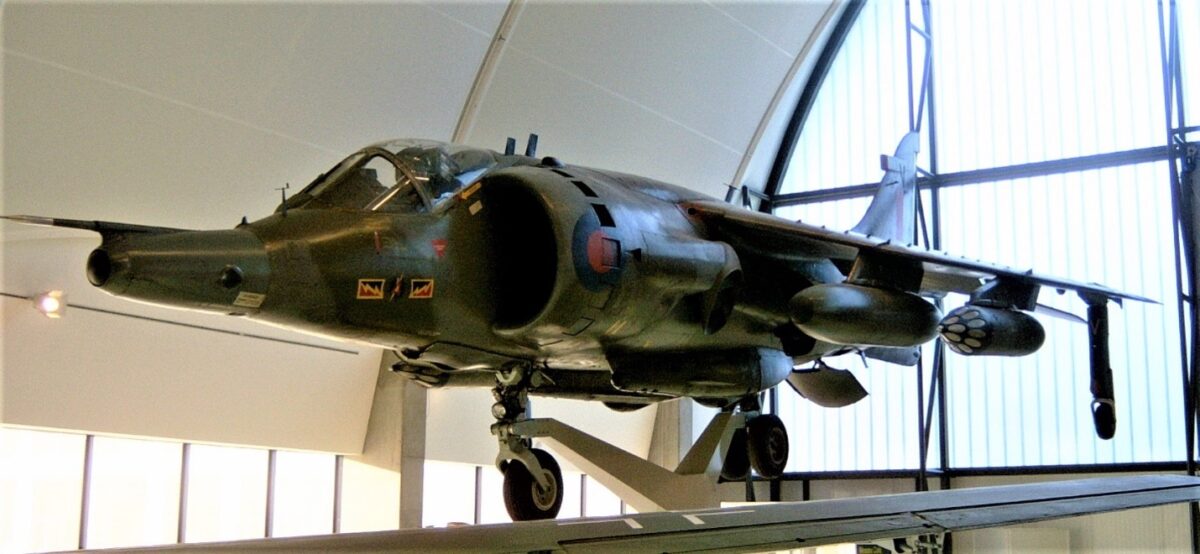 Defense press reports from the 1990s indicate that China also sought to acquire, and perhaps purchased, technology related to the Soviet-era Yakovlev Yak-141 supersonic short takeoff and vertical landing (STOVL) fighter, which used a main large afterburning turbofan with a unique 90-degree swiveling thrust vector system, and two vertically-mounted small turbofans behind the cockpit.
Continued PLA interest in acquiring a VTOL or STOVL fighter was boosted by Britain's successful use of the Harrier in its 1982 war to recapture the Falklands Islands from Argentina, a war deeply studied by the PLA to develop insights for its current goal of invading democratic Taiwan.
This brings us to a patent filed with the China National Intellectual Property Administration on May 23 by the CAC for a design for a STOVL combat aircraft.
First reported on May 27 by veteran Taipei-based defense reporter Wendell Minnick in his Substack-published "China In Arms" newsletter, the patent shows a delta wing fighter with an under-nose diverterless air intake similar to that of the 19-ton Chengdu J-10C fourth-generation fighter.
But the patent also reveals that the CAC is developing a novel two-engine STOVL system that uses a medium size turbofan just behind the cockpit, vectoring thrust via two Harrier-like nozzles, and an aft-mounted medium thrust afterburning turbofan with a Yak-141 style swiveling thrust vector system.
It is also curious that the Chengdu STOVL fighter bears a resemblance to the new 2021-revealed Russian Sukhoi Su-75 "Checkmate" low-cost fifth-generation fighter; sharing design insight with the CAC may be one way Russia is trying to pay for the Su-75.
In the 1990s, the U.S. Lockheed Martin company also purchased Yakovlev's thrust vector technology to develop its 27-ton F-35B STOVL fifth-generation fighter, which has succeeded the Harrier in the U.S. Marine Corps and the British Royal Air Force, and will equip small carriers for the Japanese, Italian, and perhaps the South Korean navies.
In a strategy China has used to develop other modern weapons, the CAC is opting for a lighter-weight STOVL fighter so that it can use easier-to-develop medium-thrust turbofan engines, likely derived from the WS-13 or WS-19 medium thrust turbofan for the Chengdu FC-1 lightweight fighter.
Should it emerge, the Chengdu STOVL fighter will likely equip new larger versions of the 40,000-ton Type 075 LHD, like the Type 076 that initially may use unmanned aircraft and helicopters.
Adding the Chengdu STOVL fighter to this "hybrid" air wing will give the PLA Navy a manned aircraft from which it can better control larger numbers of fast unmanned combat aircraft.
A smaller LHD-based carrier would then offer China a less expensive option for building up larger numbers of "carriers" that—in cooperation with cruisers and destroyers armed with land-attack and anti-ship long-range ballistic and cruise missiles—could perform power projection missions without larger, more expensive "flattop" carrier battle groups.
It should also be expected that the CAC will develop a land-based close-air support variant of its STOVL fighter, which, like the Harrier, can be deployed to smaller or even damaged/captured air bases closer to the battle zone.
Views expressed in this article are the opinions of the author and do not necessarily reflect the views of The Epoch Times.