China Using Numerous Monitoring Cameras and Big Data to Suppress Religious Groups and Rights Defenders, Files Show
Rural areas of China's eastern coastal Shandong Province have installed hundreds of thousands of surveillance cameras since 2013 as a part of its massive monitoring system, initiating a monitoring model which became known as the "Sharp Eyes Project." The main targets of the system are Falun Gong adherents and rights defenders, according to official documents viewed by the Chinese language edition of The Epoch Times.Linyi City in Shandong started installing surveillance cameras in some of its villages in 2013, which were connected via cable television to the surveillance platforms of the local police and governments. By the end of 2017, the number of networked surveillance cameras in Linyi was 360,000, basically achieving "overall coverage" of video surveillance of public places in the city, according to a report of IQilu, a state-run news portal in Shandong, in 2017. This monitoring system targets mainly Chinese rural areas, and it overlaps and intersects with multiple other surveillance systems and big data centers. It is divided into grids, or smaller areas within a city or administrative area, which are managed by "grid members" who monitor all neighbors within a grid. The monitoring system is partly accessible to residents within a grid via TV boxes installed at home and apps on their smartphones. An undated photo obtained by the Chinese language edition of The Epoch Times reveals live footage monitored by a local grid member in Shandong, China's eastern coastal province. (Screenshot via the Chinese language edition of The Epoch Times) Residents can watch live video footage of the cameras in their grid on TVs or smartphones and are able to report to the police anything they regard as amiss by pushing a button with their TV remote control or clicking the app on their phones. The regime thus turns residents into their informants. The practice was first rolled out in Linyi in 2015, and later across the country, and was highly praised as "an important tool and carrier" to maintain social stability by the regime's central legal and political commission. China is now the most surveilled country in the world. There were approximately 540 million CCTV cameras installed in China as of 2021, accounting for 54 percent of the world's cameras, according to Comparitech, a cyber security and technology information website based in the United Kingdom. The monitoring cameras, combined with facial recognition and gait recognition technologies plus big data, are used as tools by the regime to control and suppress religious groups, dissidents, and rights defenders in the country. Targeting Falun Gong Adherents Falun Gong practitioners in China hand out pamphlets or paste posters, or "truth-clarification materials" as Falun Gong practitioners call them, on walls or light poles to tell people about the persecution of Falun Gong by the Chinese communist regime. Falun Gong believers are the main targets of the regime's surveillance systems, according to public official data. Falun Gong, also known as Falun Dafa, is an ancient Buddha school meditation practice comprised of five gentle exercises and teachings based on truth, compassion, and tolerance. It became very popular among Chinese people due to the significant physical and spiritual benefits that practitioners experienced. According to official data, there were 70 million to 100 million people practicing Falun Gong in China before the persecution started in July 1999. A recent report by Minghui.org says that Zhang Lianmei, a Falun Gong practitioner from Guozhuang Village, Shangye Town of Fei County, Shandong Province, was seen handing out informational pamphlets in downtown areas of the county by the county police through surveillance cameras. Local police then abducted Zhang and her husband Guo Qingtian and ransacked their home on Aug. 5. An earlier report by Minghui.org revealed that Wei Qishan and his wife Yu Shurong were abducted in 2018 and imprisoned in 2019 for allegedly pasting posters on light poles. The evidence shown to the court was video footage of two people wearing protective face masks pasting posters. The couple are Falun Gong adherents from Qinhuangdao City, Hebei Province. Wei suddenly died on November 23, 2019, when he was being held in custody in Qinhuangdao City Detention Center, awaiting an appeal hearing. He was taken to a hospital in Qinhuangdao but could not be resuscitated. A family member noticed his right arm was hanging down unnaturally and was "completely black and purple." The Chinese language edition of The Epoch Times recently obtained access to a file from a database of the regime and found that Falun Gong adherents are listed under special codes with detailed personal information and designated work teams responsible for monitoring them. The file also keeps photos that show banners posted and newsletters handed out by Falun Gong practitioners which were removed later by local police or other grid monitors. Local police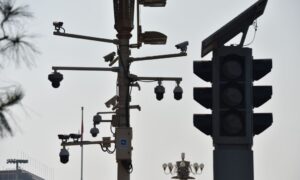 Rural areas of China's eastern coastal Shandong Province have installed hundreds of thousands of surveillance cameras since 2013 as a part of its massive monitoring system, initiating a monitoring model which became known as the "Sharp Eyes Project." The main targets of the system are Falun Gong adherents and rights defenders, according to official documents viewed by the Chinese language edition of The Epoch Times.
Linyi City in Shandong started installing surveillance cameras in some of its villages in 2013, which were connected via cable television to the surveillance platforms of the local police and governments.
By the end of 2017, the number of networked surveillance cameras in Linyi was 360,000, basically achieving "overall coverage" of video surveillance of public places in the city, according to a report of IQilu, a state-run news portal in Shandong, in 2017.
This monitoring system targets mainly Chinese rural areas, and it overlaps and intersects with multiple other surveillance systems and big data centers. It is divided into grids, or smaller areas within a city or administrative area, which are managed by "grid members" who monitor all neighbors within a grid. The monitoring system is partly accessible to residents within a grid via TV boxes installed at home and apps on their smartphones.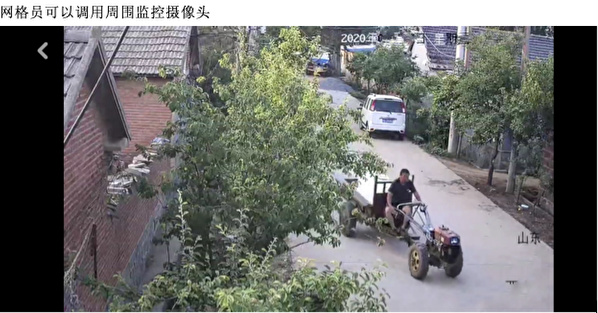 Residents can watch live video footage of the cameras in their grid on TVs or smartphones and are able to report to the police anything they regard as amiss by pushing a button with their TV remote control or clicking the app on their phones. The regime thus turns residents into their informants.
The practice was first rolled out in Linyi in 2015, and later across the country, and was highly praised as "an important tool and carrier" to maintain social stability by the regime's central legal and political commission.
China is now the most surveilled country in the world. There were approximately 540 million CCTV cameras installed in China as of 2021, accounting for 54 percent of the world's cameras, according to Comparitech, a cyber security and technology information website based in the United Kingdom.
The monitoring cameras, combined with facial recognition and gait recognition technologies plus big data, are used as tools by the regime to control and suppress religious groups, dissidents, and rights defenders in the country.
Targeting Falun Gong Adherents
Falun Gong practitioners in China hand out pamphlets or paste posters, or "truth-clarification materials" as Falun Gong practitioners call them, on walls or light poles to tell people about the persecution of Falun Gong by the Chinese communist regime. Falun Gong believers are the main targets of the regime's surveillance systems, according to public official data.
Falun Gong, also known as Falun Dafa, is an ancient Buddha school meditation practice comprised of five gentle exercises and teachings based on truth, compassion, and tolerance. It became very popular among Chinese people due to the significant physical and spiritual benefits that practitioners experienced. According to official data, there were 70 million to 100 million people practicing Falun Gong in China before the persecution started in July 1999.
A recent report by Minghui.org says that Zhang Lianmei, a Falun Gong practitioner from Guozhuang Village, Shangye Town of Fei County, Shandong Province, was seen handing out informational pamphlets in downtown areas of the county by the county police through surveillance cameras. Local police then abducted Zhang and her husband Guo Qingtian and ransacked their home on Aug. 5.
An earlier report by Minghui.org revealed that Wei Qishan and his wife Yu Shurong were abducted in 2018 and imprisoned in 2019 for allegedly pasting posters on light poles. The evidence shown to the court was video footage of two people wearing protective face masks pasting posters.
The couple are Falun Gong adherents from Qinhuangdao City, Hebei Province.
Wei suddenly died on November 23, 2019, when he was being held in custody in Qinhuangdao City Detention Center, awaiting an appeal hearing. He was taken to a hospital in Qinhuangdao but could not be resuscitated. A family member noticed his right arm was hanging down unnaturally and was "completely black and purple."
The Chinese language edition of The Epoch Times recently obtained access to a file from a database of the regime and found that Falun Gong adherents are listed under special codes with detailed personal information and designated work teams responsible for monitoring them. The file also keeps photos that show banners posted and newsletters handed out by Falun Gong practitioners which were removed later by local police or other grid monitors.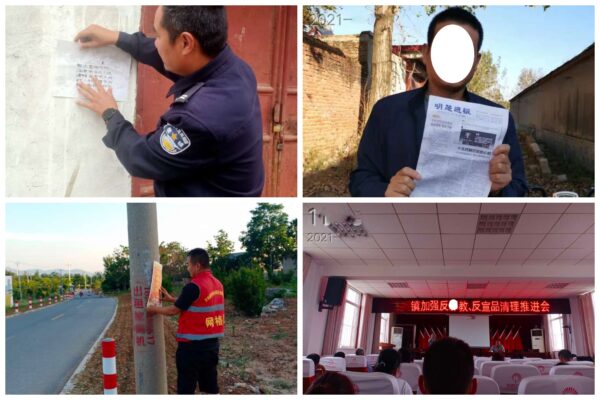 Grid monitors go to Falun Gong practitioners' homes to take their photos and use their children to coerce them into giving up their beliefs.
One screenshot by the Chinese language edition of The Epoch Times shows a photo of an elderly female Falun Gong adherent marked as "key personnel" in a form from the database. The grid member who went to her home wrote that they chatted with her about "the future of her children" as well as her wellbeing. The background shows the elderly lady is from a poor rural area.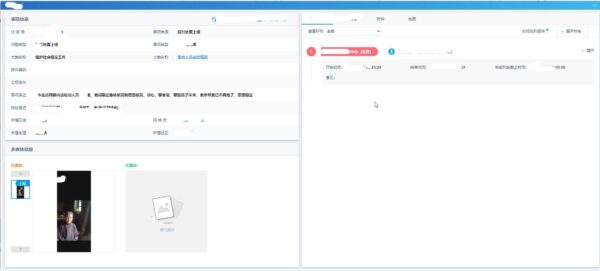 The communist regime also uses big data to control and suppress Falun Gong practitioners.
A Falun Gong follower from Changchun, China's northeastern Jilin Province, using a pseudonym for safety, told the Chinese language of The Epoch Times recently that he is on the blacklist in the grid management system. He worked in Shenzhen for several years, and on multiple occasions when he went back to Changchun by train, police at the railway stations checked his ID card and searched his luggage.
"Falun Gong practitioners are listed in records by the governments at all levels—from the neighborhood community to the central government—and by public security bureaus at all levels," he told the publication.
Targeting Christians
Chinese people are no longer allowed to hang couplets with religious contents on their home doors.
An undated file photo submitted by a grid member in 2017 shows a couplet posted on the door of a residence, reading "Believing in God gives you much happiness and joy" and "Relying on the Lord you are safe and fortunate." The couplets were removed, as shown on the right of the photo.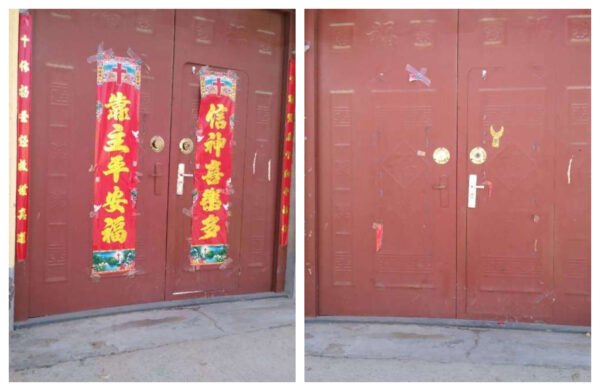 The location of the residence is not included in the file photo, and The Epoch Times wasn't able to verify the authenticity of the photo.
Targeting Rights Defenders
A list of military veterans is included in a file obtained by the Chinese language edition of The Epoch Times. These veterans are marked as "unstable personnel." The list shows the ID numbers, contact information, and family addresses of dozens of such veterans. Other information includes what the veterans ask for and who is responsible for controlling each of them.
The majority of these veterans were participants in the violent crackdown of a peaceful student protest on Tiananmen Square in 1989 and veterans of the regime's war with Vietnam in 1979, according to the information in the list.
Huge Investments in Surveillance
The Chinese Communist Party (CCP) has spent huge sums on establishing and upgrading its surveillance systems.
Besides Sharp Eyes, the regime has multiple digital surveillance and control systems that overlap and intersect with each other, including the Golden Shield Project (also known as the Great Firewall), Smart Cities, Safe Cities, Skynet, Police Cloud, digital yuan, and health codes. They are designed to collect personal data and monitor and control people in China.
According to a 2020 report by China File, an online magazine published by the Center on U.S.-China Relations at Asia Society, the regime's central government invested 3.1 billion renminbi (about $456.7 million) in Sharp Eyes projects between their launch in 2015 and the end of 2017.
Local governments add to the investment, according to China File. For instance, Zhoukou, Henan Province, spent $56 million on surveillance purchases in 2018, almost equaling that year's local education budget.
Li Xin'an contributed to the article.