China Steals Our Shipping Data
CommentaryChina stole a march on the United States by getting a major information technology system to market while we were dozing. The technology, called LOGINK, reportedly tracks 90 percent of the world's container ships in real time, including granular details about thousands of containers per ship and packages per container. Beijing provides the technology free of charge to ports and shippers globally. The cost is the confidentiality of shipping, price, customs, and even military information lost to Beijing, which almost certainly hacks it through LOGINK backdoors and without notifying users. Beginning in 2007 as a Chinese provincial initiative, LOGINK grew to a regional network with Japan and South Korea in 2010 and globally after 2014, according to a Sept. 20 U.S. congressional report, which states, "The state-sponsored and -supported platform has now expanded to partner with over 20 ports worldwide as well as numerous Chinese and international companies." Only now, 15 years after its inception, is the United States gearing up to address the danger. The U.S.–China Economic and Security Review Commission (USCC) report is 16 pages full of evidence about how the Chinese Communist Party (CCP) is stealing the world's shipping data. In July, Rep. Michelle Steel (R-Calif.) introduced legislation to ban LOGINK. "Only the House version has been voted on," Steel's staff stated in an email. "That version included Rep. Steel's amendment to ban the US military from using LOGINK. Rep. Steel introduced a separate bill that would ban the entire federal govt & govt contractors from using LOGINK." A Cosco Shipping container ship passes the Golden Gate Bridge bound for the Port of Oakland, in San Franciso, Calif., on May 14, 2019. (Eric Risberg/AP Photo) The Chinese system might sound like a backwater of the global economy. Still, the third-party logistics industry is worth almost $1 trillion, and the freight-forwarding services market is worth nearly $200 billion. Of course, the CCP wants a big part of that. LOGINK "has cooperation agreements with at least 24 ports, freeports, and port operators outside of China, including twelve in Asia, nine in Europe, and three in the Middle East," according to the USCC report. China's biggest companies in shipping, including Alibaba and state-owned COSCO, are LOGINK partners. COSCO "currently operates terminals at Long Beach, Los Angeles, and Seattle, potentially granting LOGINK a window into vessel, container, and other data at those ports," the report reads. The Port of Los Angeles is a member of an international organization that may potentially share data with LOGINK on vessel and container status from 70 ports and 10 airports. LOGINK is also expanding its cooperation with international organizations, including the United Nations and the International Organization for Standardization, to set standards regionally and internationally that would benefit China's leadership in not only shipping logistics, but other adjacent technologies. LOGINK is integrated with China's Cainiao network of more than 200 global warehouses. "In the past few years, Cainiao has focused on expansion in Europe, building a major hub at Liège Airport in Belgium; launching regional warehouses in Madrid, Paris, Bremen, and Rome and announcing plans for several more in late 2021; and establishing an intra-Europe trucking fleet and system of delivery lockers throughout Europe," the report reads. It notes that the system gives China a major business advantage, as "streamlined logistics from a factory in China to a European wholesaler may make the difference between the wholesaler buying from China or from a supplier within the eurozone." The LOGINK information system uses China's Beidou satellite navigation system, a key part of China's Belt and Road Initiative (also known as "One Belt, One Road"), which is the economic core of Beijing's plans for a mercantilist and global hegemony. A Long March 3B rocket carrying the Beidou-3GEO3 satellite lifts off from the Xichang Satellite Launch Center in Xichang, in China's southwestern Sichuan Province, on June 23, 2020. (STR/AFP via Getty Images) LOGINK is part of China's "smart transportation system" in a "Digital Silk Road" that could eventually make political control of international trade possible through Beijing's centralized system. The CCP can extend its global control by using LOGINK data to precisely target economic coercion against U.S. allies, or interdict U.S. military shipments during times of crisis, for example. As with other areas of CCP expansion, the United States and its allies must get much tougher on LOGINK—and quickly. In addition to Steel's legislation, U.S., European, Japanese, and South Korean businesses should voluntarily stop using the system. The United States and allies should work together to offer the world's shippers an alternative shipping logistics information and facilitation system that's superior to LOGINK and fr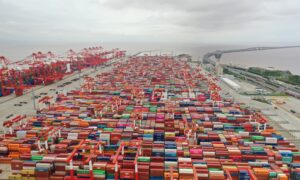 Commentary
China stole a march on the United States by getting a major information technology system to market while we were dozing. The technology, called LOGINK, reportedly tracks 90 percent of the world's container ships in real time, including granular details about thousands of containers per ship and packages per container.
Beijing provides the technology free of charge to ports and shippers globally. The cost is the confidentiality of shipping, price, customs, and even military information lost to Beijing, which almost certainly hacks it through LOGINK backdoors and without notifying users.
Beginning in 2007 as a Chinese provincial initiative, LOGINK grew to a regional network with Japan and South Korea in 2010 and globally after 2014, according to a Sept. 20 U.S. congressional report, which states, "The state-sponsored and -supported platform has now expanded to partner with over 20 ports worldwide as well as numerous Chinese and international companies."
Only now, 15 years after its inception, is the United States gearing up to address the danger. The U.S.–China Economic and Security Review Commission (USCC) report is 16 pages full of evidence about how the Chinese Communist Party (CCP) is stealing the world's shipping data.
In July, Rep. Michelle Steel (R-Calif.) introduced legislation to ban LOGINK.
"Only the House version has been voted on," Steel's staff stated in an email. "That version included Rep. Steel's amendment to ban the US military from using LOGINK. Rep. Steel introduced a separate bill that would ban the entire federal govt & govt contractors from using LOGINK."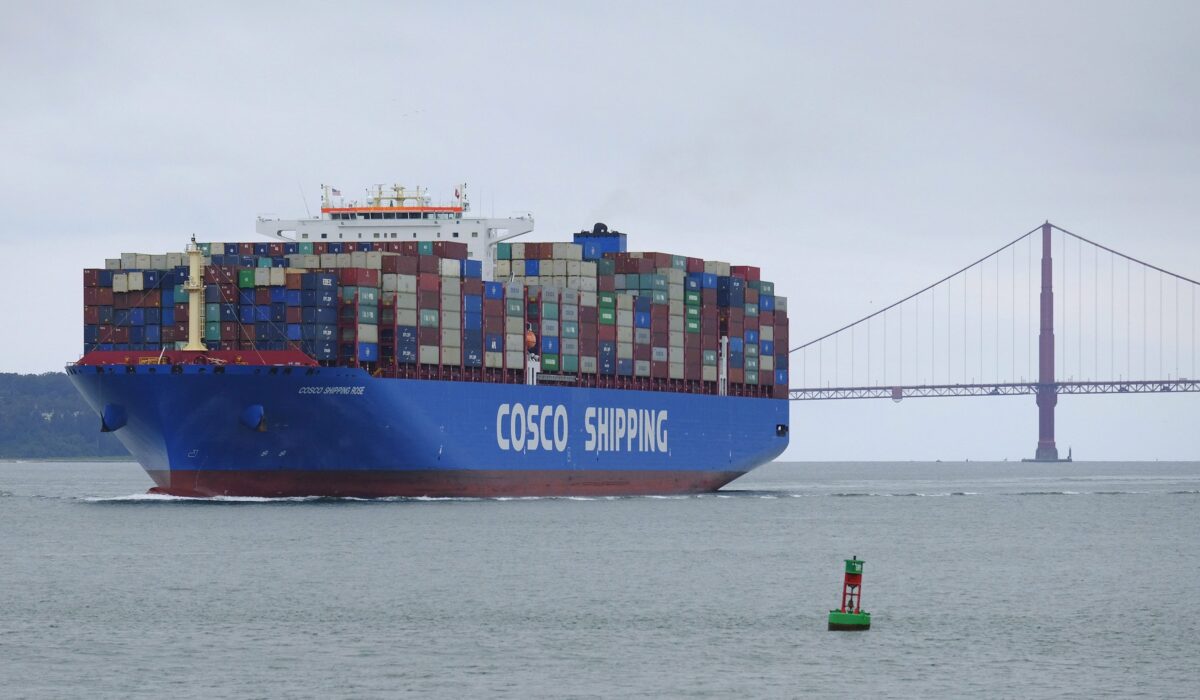 The Chinese system might sound like a backwater of the global economy. Still, the third-party logistics industry is worth almost $1 trillion, and the freight-forwarding services market is worth nearly $200 billion. Of course, the CCP wants a big part of that.
LOGINK "has cooperation agreements with at least 24 ports, freeports, and port operators outside of China, including twelve in Asia, nine in Europe, and three in the Middle East," according to the USCC report.
China's biggest companies in shipping, including Alibaba and state-owned COSCO, are LOGINK partners. COSCO "currently operates terminals at Long Beach, Los Angeles, and Seattle, potentially granting LOGINK a window into vessel, container, and other data at those ports," the report reads.
The Port of Los Angeles is a member of an international organization that may potentially share data with LOGINK on vessel and container status from 70 ports and 10 airports.
LOGINK is also expanding its cooperation with international organizations, including the United Nations and the International Organization for Standardization, to set standards regionally and internationally that would benefit China's leadership in not only shipping logistics, but other adjacent technologies.
LOGINK is integrated with China's Cainiao network of more than 200 global warehouses.
"In the past few years, Cainiao has focused on expansion in Europe, building a major hub at Liège Airport in Belgium; launching regional warehouses in Madrid, Paris, Bremen, and Rome and announcing plans for several more in late 2021; and establishing an intra-Europe trucking fleet and system of delivery lockers throughout Europe," the report reads.
It notes that the system gives China a major business advantage, as "streamlined logistics from a factory in China to a European wholesaler may make the difference between the wholesaler buying from China or from a supplier within the eurozone."
The LOGINK information system uses China's Beidou satellite navigation system, a key part of China's Belt and Road Initiative (also known as "One Belt, One Road"), which is the economic core of Beijing's plans for a mercantilist and global hegemony.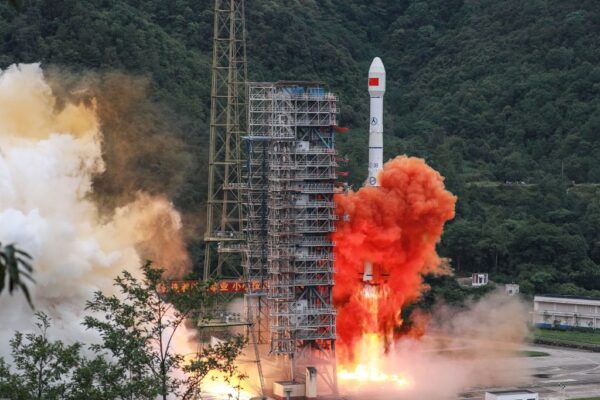 LOGINK is part of China's "smart transportation system" in a "Digital Silk Road" that could eventually make political control of international trade possible through Beijing's centralized system.
The CCP can extend its global control by using LOGINK data to precisely target economic coercion against U.S. allies, or interdict U.S. military shipments during times of crisis, for example.
As with other areas of CCP expansion, the United States and its allies must get much tougher on LOGINK—and quickly. In addition to Steel's legislation, U.S., European, Japanese, and South Korean businesses should voluntarily stop using the system.
The United States and allies should work together to offer the world's shippers an alternative shipping logistics information and facilitation system that's superior to LOGINK and free of charge.
This system should be extended to Africa, Latin America, and Asia while making clear that trade privileges in the economies of the United States and its allies are a privilege, not a right, and that countries and companies will only be afforded those privileges when they refuse to use information systems such as LOGINK that are associated with the CCP and other totalitarian regimes.
Views expressed in this article are the opinions of the author and do not necessarily reflect the views of The Epoch Times.