China State Media Threatens to 'Shoot' Down Pelosi's Plane to Taiwan If She Flies With Military Escort
The White House has refused to comment on a threat by a Chinese state media figure who said that the Chinese military should "shoot … down" a plane carrying House speaker Nancy Pelosi if she visited Taiwan with a military escort."As it relates to the Speaker's travels, it's something that we're just not going to speak to. Right now that's a hypothetical," said White House Press Secretary Karine Jean-Pierre on July 29. "We are just not going to speak on her schedule… I'm not going to speak to a hypothetical." Jean-Pierre's comments were made in response to a question as to the White House's position on recent comments made by Hu Xijin, the former editor-in-chief of the Chinese Communist Party-controlled Global Times media outlet. Hu suggested that China's military, the People's Liberation Army (PLA), should use force against Pelosi if she visited Taiwan with U.S. military protection. "If U.S. fighter jets escort Pelosi's plane into Taiwan, it is invasion," Hu said in a tweet. "The PLA has the right to forcibly dispel Pelosi's plane and the US fighter jets, including firing warning shots and making tactical movement of obstruction. If ineffective, then shoot them down." Hu's comments were just the latest in a growing list of bellicose rhetoric emanating from Beijing and its various mouthpieces. In May, China's defense secretary threatened to start a war "no matter the cost" to prevent Taiwan's de facto independence from becoming internationally recognized. Likewise, Chinese communist leader Xi Jinping threatened President Joe Biden on a phone call on Thursday, warning that the United States was "playing with fire" on the Taiwan issue. The saga comes amid reports that Pelosi was planning a personal visit to Taiwan, which was previously scheduled in April. At that time, Pelosi contracted COVID-19 and canceled the trip. The House speaker is reportedly departing for a tour of Asia on July 29, with a Taiwan stop remaining uncertain. News of the trip has become something of an international incident owing to the White House's intervention into the matter. Upon hearing of the trip, Chinese communist leadership threatened "forceful measures" against the United States and Taiwan. Following those threats, Biden publicly said that Pelosi's trip was "a bad idea" and that the military was against it. Pelosi subsequently said that she had not spoken to Biden about the trip but that the military may have been concerned China would shoot down her plane. Security experts, however, believe that the many threats from China's communist leadership are not serious, and reflect a weakness in Chinese diplomacy. "These are just idle, empty, hollow threats, [meant] to get us to back down for free," said Gen. David Stilwell, former Assistant Secretary of State for East Asian and Pacific Affairs told NTD, an affiliate of The Epoch Times. "They [China] still play the role of second-tier middle power… But as a great power, empty threats, when demonstrated to be empty with no intent to prove them, makes it more difficult for them to actually create the desired deterrent effect with future threats." Earlier this week, a White House official said that Pelosi was receiving standard military input on the security situation in relation to Taiwan. "It's routine for us when she travels overseas to provide her facts and analysis, context, geopolitical realities that she's going to be facing wherever she goes," said John Kirby, an official at the White House's National Security Council. "And there's always issues of security surrounded by her travel, too, that sometimes the Department of Defense participates in, depending on where she goes and how long she's going to stay and what the threats and challenges are." The Chinese Communist Party (CCP) maintains that Taiwan is a breakaway province of China. CCP leadership has thus vowed to unite the island with the mainland, and has not ruled out the use of force to do so. Taiwan, however, has been self-governed since 1949, has never been under CCP control, and boasts a thriving democracy and market economy. The United States does not have formal diplomatic relations with Taiwan but is bound by the Taiwan Relations Act to provide it with the arms necessary for its self-defense. Washington also maintains a doctrine of "strategic ambiguity" in which it will neither confirm nor deny whether it would defend Taiwan in the event of a Chinese invasion. CCP leadership has ramped up its hostilities in recent years in an effort to get the United States to break from its relations with Taiwan. While these efforts have been wholly unsuccessful, the White House has warned that China's hostile behavior in the region, including dangerous actions against international aircraft, is likely to lead to a "major incident." Follow Andrew Thornebrooke is a reporter for The Epoch Times covering China-related issues with a focus on defense, military affairs, and national securi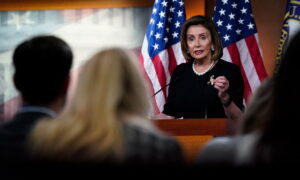 The White House has refused to comment on a threat by a Chinese state media figure who said that the Chinese military should "shoot … down" a plane carrying House speaker Nancy Pelosi if she visited Taiwan with a military escort.
"As it relates to the Speaker's travels, it's something that we're just not going to speak to. Right now that's a hypothetical," said White House Press Secretary Karine Jean-Pierre on July 29.
"We are just not going to speak on her schedule… I'm not going to speak to a hypothetical."
Jean-Pierre's comments were made in response to a question as to the White House's position on recent comments made by Hu Xijin, the former editor-in-chief of the Chinese Communist Party-controlled Global Times media outlet.
Hu suggested that China's military, the People's Liberation Army (PLA), should use force against Pelosi if she visited Taiwan with U.S. military protection.
"If U.S. fighter jets escort Pelosi's plane into Taiwan, it is invasion," Hu said in a tweet.
"The PLA has the right to forcibly dispel Pelosi's plane and the US fighter jets, including firing warning shots and making tactical movement of obstruction. If ineffective, then shoot them down."
Hu's comments were just the latest in a growing list of bellicose rhetoric emanating from Beijing and its various mouthpieces.
In May, China's defense secretary threatened to start a war "no matter the cost" to prevent Taiwan's de facto independence from becoming internationally recognized. Likewise, Chinese communist leader Xi Jinping threatened President Joe Biden on a phone call on Thursday, warning that the United States was "playing with fire" on the Taiwan issue.
The saga comes amid reports that Pelosi was planning a personal visit to Taiwan, which was previously scheduled in April. At that time, Pelosi contracted COVID-19 and canceled the trip. The House speaker is reportedly departing for a tour of Asia on July 29, with a Taiwan stop remaining uncertain.
News of the trip has become something of an international incident owing to the White House's intervention into the matter. Upon hearing of the trip, Chinese communist leadership threatened "forceful measures" against the United States and Taiwan. Following those threats, Biden publicly said that Pelosi's trip was "a bad idea" and that the military was against it.
Pelosi subsequently said that she had not spoken to Biden about the trip but that the military may have been concerned China would shoot down her plane.
Security experts, however, believe that the many threats from China's communist leadership are not serious, and reflect a weakness in Chinese diplomacy.
"These are just idle, empty, hollow threats, [meant] to get us to back down for free," said Gen. David Stilwell, former Assistant Secretary of State for East Asian and Pacific Affairs told NTD, an affiliate of The Epoch Times.
"They [China] still play the role of second-tier middle power… But as a great power, empty threats, when demonstrated to be empty with no intent to prove them, makes it more difficult for them to actually create the desired deterrent effect with future threats."
Earlier this week, a White House official said that Pelosi was receiving standard military input on the security situation in relation to Taiwan.
"It's routine for us when she travels overseas to provide her facts and analysis, context, geopolitical realities that she's going to be facing wherever she goes," said John Kirby, an official at the White House's National Security Council.
"And there's always issues of security surrounded by her travel, too, that sometimes the Department of Defense participates in, depending on where she goes and how long she's going to stay and what the threats and challenges are."
The Chinese Communist Party (CCP) maintains that Taiwan is a breakaway province of China. CCP leadership has thus vowed to unite the island with the mainland, and has not ruled out the use of force to do so. Taiwan, however, has been self-governed since 1949, has never been under CCP control, and boasts a thriving democracy and market economy.
The United States does not have formal diplomatic relations with Taiwan but is bound by the Taiwan Relations Act to provide it with the arms necessary for its self-defense. Washington also maintains a doctrine of "strategic ambiguity" in which it will neither confirm nor deny whether it would defend Taiwan in the event of a Chinese invasion.
CCP leadership has ramped up its hostilities in recent years in an effort to get the United States to break from its relations with Taiwan. While these efforts have been wholly unsuccessful, the White House has warned that China's hostile behavior in the region, including dangerous actions against international aircraft, is likely to lead to a "major incident."