China Is the Winner in the Russia-Ukraine War
The US must remember that communist China is its greatest threat, and to resume its 'pivot to Asia' policyCommentary Seven months into the Russia-Ukraine War, a winner has clearly emerged—China. Russia isn't winning. Its territorial gains in the Donbass, in Ukraine's south, have stalled, and it has lost ground in Ukraine's east, where Ukraine broke through Russian lines to reclaim some 2,317 square miles. Ukraine isn't winning. Despite massive military aid from Western nations and an army that exceeds 300,000—larger than Russia's invading force of 190,000—Ukraine hasn't been able to repel the invasion. NATO's secretary general this month told BBC that despite Ukraine's recent breakthrough, "this is not the beginning of the end of the war, we need to be prepared for the long haul." The European Union and the United Kingdom, which have bankrolled and armed Ukraine's government to enable it to hold off the Russians, aren't winning. The sanctions they imposed on Russian energy have kneecapped their own populations with rising prices and fuel shortages, contributing to widespread unrest, their currencies plummeting, and the ousting of British Prime Minister Boris Johnson, Italian Prime Minister Mario Draghi, and Swedish Prime Minister Magdalena Andersson. The United States, which has effectively made Ukraine its proxy in an effort to neuter Russia, isn't winning. In taking on the role of Ukraine's chief armer, the United States has depleted its inventory of weaponry to a level the Pentagon considers "uncomfortably low," raising doubts about Ukraine's ability to remain armed for long, particularly since European countries have similarly depleted their arsenals to arm Ukraine. Without U.S. aid, Ukraine Prime Minister Volodymyr Zelenskyy told CNN last week, Ukraine cannot prevail—a grim prospect given the expectation that a Republican majority following November's congressional election would oppose continuing to fund Ukraine. In contrast to that litany of losers, the county that the United States recognizes as its greatest geostrategic foe—China—has seen its geopolitical influence increase. Before the Ukraine war, the United States was focused on containing China through its "pivot to Asia" policy. That policy is now in shambles. Militarily, China's armed forces have continued their inexorable growth, estimated at 7.1 percent in 2022 versus 6.8 percent the previous year. And with the United States focused on eastern Europe, China has become more belligerent in asserting its claims in the China Seas. Rep. Mike Gallagher (R-Wis.) of the U.S. House Armed Services Committee told Fox News in May: "The real ugly is that we are running low in terms of our stockpiles. We just burned through seven years of Javelins and that's not only important as we continue to try and help the Ukrainians win in Ukraine, that's important as we try to simultaneously defend Taiwan from aggression from the Chinese Communist Party. They are going to need access to some of these same weapons systems, and we simply don't have the stockpiles at present in order to backfill what we've spent in Ukraine." Aircraft of the Eastern Theater Command of the Chinese People's Liberation Army (PLA) conduct joint combat training exercises around Taiwan on Aug. 7, 2022. (Li Bingyu/Xinhua via AP) As significant as China's military ascendancy is its strengthened alliance with Russia, historically a foe. Until its recent war with Ukraine, Russia had hoped to be able to join the West, a goal it pursued following the collapse of the USSR. Those long-held hopes vanished with the ferocity with which the West has armed Ukraine, convincing Russia that the West wants no less than to see it dismembered. To the United States' detriment, Russia is now unambiguously in the Chinese camp, as seen earlier this month in a mammoth week-long exercise in the Sea of Japan, hailed as a show of the breadth and depth of China-Russia military cooperation, in which China for the first time sent forces from three branches of its military to take part in a single Russian drill. Significantly, the exercise, which involved more than 50,000 troops, 140 aircraft, and 60 warships, included troops from other nations that refused to join the West in sanctioning Russia: India, Laos, Mongolia, Nicaragua, Syria, and several ex-Soviet nations. The more profound fallout of the Russian-Ukraine war may be diplomatic as well as military, however. At the United Nations in March, the United States tried and failed to get the nations of the world to overwhelmingly sanction Russia, and then it doubled down by threatening to sanction nations that refused to do its bidding. The effect was to create a global rift between those nations compliant with the United States and those not, to expose the United States and the West as diminished powers, and to accelerate the rise of non-Western organizations and institutions. China plays a leadership role in most, if not all, of these organizations. Take t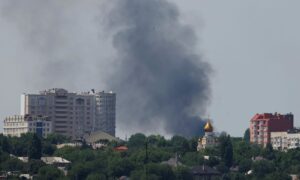 The US must remember that communist China is its greatest threat, and to resume its 'pivot to Asia' policy
Commentary
Seven months into the Russia-Ukraine War, a winner has clearly emerged—China.
Russia isn't winning. Its territorial gains in the Donbass, in Ukraine's south, have stalled, and it has lost ground in Ukraine's east, where Ukraine broke through Russian lines to reclaim some 2,317 square miles.
Ukraine isn't winning. Despite massive military aid from Western nations and an army that exceeds 300,000—larger than Russia's invading force of 190,000—Ukraine hasn't been able to repel the invasion. NATO's secretary general this month told BBC that despite Ukraine's recent breakthrough, "this is not the beginning of the end of the war, we need to be prepared for the long haul."
The European Union and the United Kingdom, which have bankrolled and armed Ukraine's government to enable it to hold off the Russians, aren't winning. The sanctions they imposed on Russian energy have kneecapped their own populations with rising prices and fuel shortages, contributing to widespread unrest, their currencies plummeting, and the ousting of British Prime Minister Boris Johnson, Italian Prime Minister Mario Draghi, and Swedish Prime Minister Magdalena Andersson.
The United States, which has effectively made Ukraine its proxy in an effort to neuter Russia, isn't winning. In taking on the role of Ukraine's chief armer, the United States has depleted its inventory of weaponry to a level the Pentagon considers "uncomfortably low," raising doubts about Ukraine's ability to remain armed for long, particularly since European countries have similarly depleted their arsenals to arm Ukraine. Without U.S. aid, Ukraine Prime Minister Volodymyr Zelenskyy told CNN last week, Ukraine cannot prevail—a grim prospect given the expectation that a Republican majority following November's congressional election would oppose continuing to fund Ukraine.
In contrast to that litany of losers, the county that the United States recognizes as its greatest geostrategic foe—China—has seen its geopolitical influence increase. Before the Ukraine war, the United States was focused on containing China through its "pivot to Asia" policy. That policy is now in shambles. Militarily, China's armed forces have continued their inexorable growth, estimated at 7.1 percent in 2022 versus 6.8 percent the previous year. And with the United States focused on eastern Europe, China has become more belligerent in asserting its claims in the China Seas.
Rep. Mike Gallagher (R-Wis.) of the U.S. House Armed Services Committee told Fox News in May: "The real ugly is that we are running low in terms of our stockpiles. We just burned through seven years of Javelins and that's not only important as we continue to try and help the Ukrainians win in Ukraine, that's important as we try to simultaneously defend Taiwan from aggression from the Chinese Communist Party. They are going to need access to some of these same weapons systems, and we simply don't have the stockpiles at present in order to backfill what we've spent in Ukraine."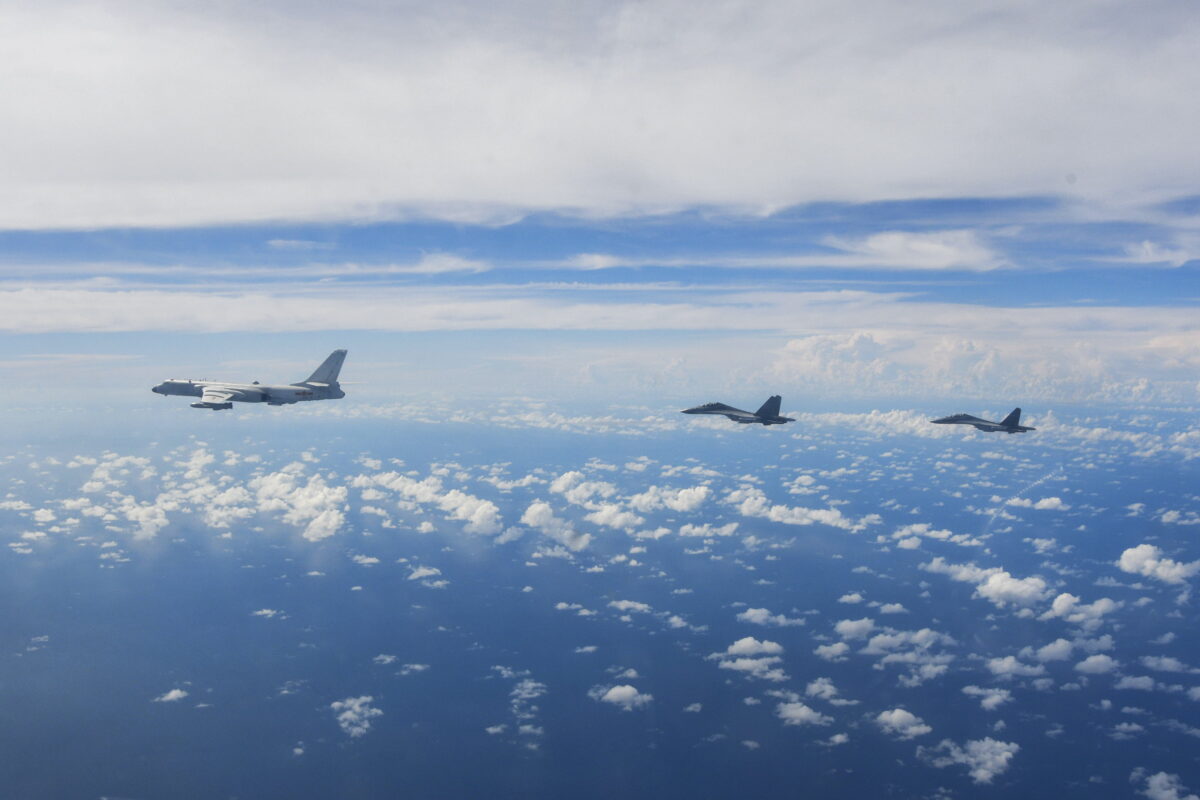 As significant as China's military ascendancy is its strengthened alliance with Russia, historically a foe. Until its recent war with Ukraine, Russia had hoped to be able to join the West, a goal it pursued following the collapse of the USSR. Those long-held hopes vanished with the ferocity with which the West has armed Ukraine, convincing Russia that the West wants no less than to see it dismembered.
To the United States' detriment, Russia is now unambiguously in the Chinese camp, as seen earlier this month in a mammoth week-long exercise in the Sea of Japan, hailed as a show of the breadth and depth of China-Russia military cooperation, in which China for the first time sent forces from three branches of its military to take part in a single Russian drill. Significantly, the exercise, which involved more than 50,000 troops, 140 aircraft, and 60 warships, included troops from other nations that refused to join the West in sanctioning Russia: India, Laos, Mongolia, Nicaragua, Syria, and several ex-Soviet nations.
The more profound fallout of the Russian-Ukraine war may be diplomatic as well as military, however. At the United Nations in March, the United States tried and failed to get the nations of the world to overwhelmingly sanction Russia, and then it doubled down by threatening to sanction nations that refused to do its bidding. The effect was to create a global rift between those nations compliant with the United States and those not, to expose the United States and the West as diminished powers, and to accelerate the rise of non-Western organizations and institutions. China plays a leadership role in most, if not all, of these organizations.
Take the Shanghai Cooperation Organization, an anti-Western rival to NATO that includes four nuclear powers, 44 percent of the world's population, and 30 percent of its GDP. Since the Ukraine war, other countries are likely to join, not least Turkey, a NATO member. At an SCO Summit earlier this month, Xi Jinping and Vladimir Putin doubled down on their earlier "no-limits" friendship, vouched on the eve of Russia's February invasion of Ukraine, by vowing to respect each other's "core interests," a term understood to accept their national sovereignty claims.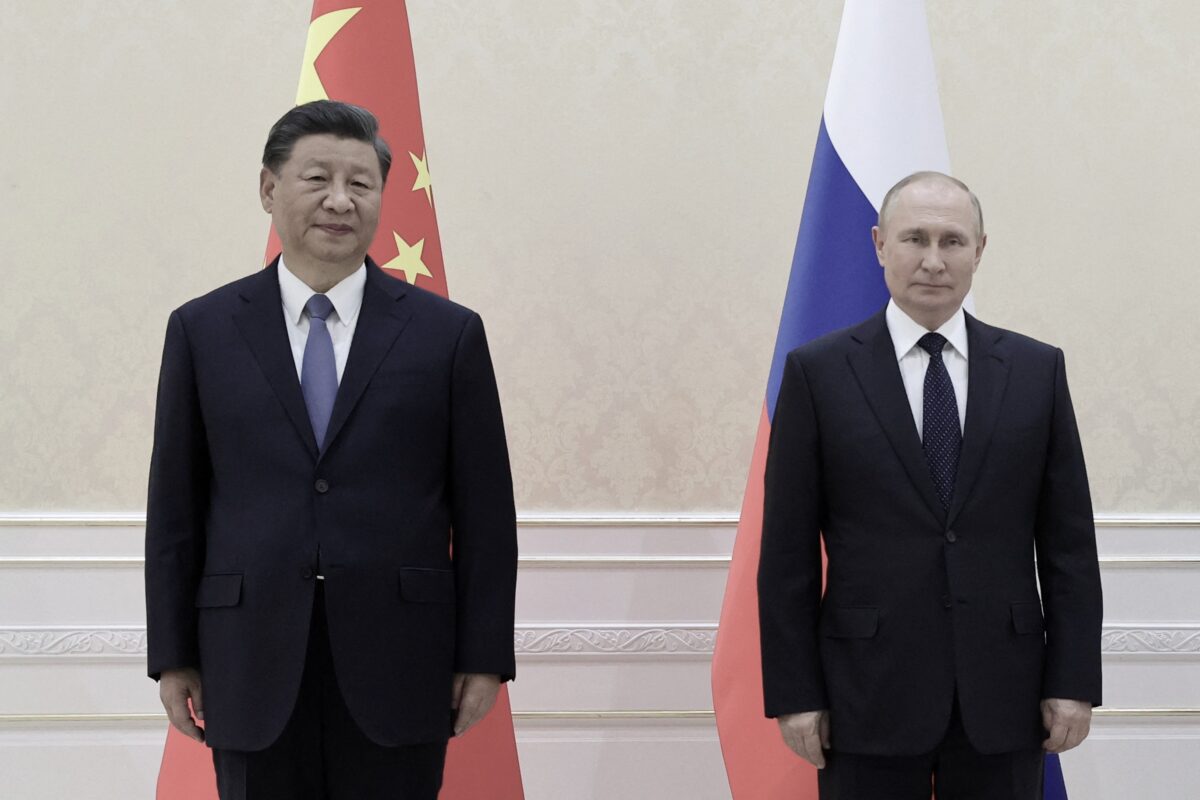 Another major China-influenced organization is BRICS, an economic grouping that includes Brazil, Russia, India, and South Africa, accounting for 41 percent of the world's population and 25 percent of its GDP. Argentina is set to join soon, possibly followed by Saudi Arabia, Iran, and others. BRICS may also be a wedge that undermines the dominance of the U.S. dollar in world transactions in favor of the yuan and other BRICS currencies.
"There is no need for our countries to use the dollar in mutual settlements," stated BRICS International Forum President Purnima Anand last month, explaining that BRICS countries are thwarting U.S. sanctions in trade with Russia by implementing mechanisms of mutual settlements using yuan, rupees, and rubles.
With winter approaching and the war in Ukraine continuing, EU sanctions on Russian energy stand to devastate Europe, causing untold upheaval to its industries and harm to its populace. Not so for China, which is ramping up deliveries of energy from Russia through ever-expanding infrastructure to capitalize on the large, low-cost quantities available to it, making it more energy-secure than ever, and better positioned than ever to pick up the pieces being strewn around, with no end in sight, by the large cast of losers in the Ukraine war.
By sanctioning Russia, the United States has neglected its "pivot to Asia" and made communist China—by far its greater threat—a winner. The United States needs to get its priorities straight, wrap up the hostilities in Ukraine that have so greatly weakened the Western alliance, and return to Job #1—containing China.
Views expressed in this article are the opinions of the author and do not necessarily reflect the views of The Epoch Times.