China 'Incredibly Challenging' on Global Stage: UK Foreign Secretary
The Chinese regime is "incredibly challenging" on the global stage and threatens some of the principles and institutions underpinning the international order, UK Foreign Secretary James Cleverly has said.Cleverly made the comments when pressed about the UK's position in relation to the communist regime, as he is set to give a major speech on the future of UK foreign policy on Monday. Appearing on the BBC's Sunday with Laura Kuenssberg programme, he said: "China is an incredibly challenging country on the international stage." Cleverly said China is "a potentially important partner for good in areas like climate change," but the regime's behaviour is "unacceptable" on a number of issues such as the treatment of the Uyghur Muslim minority and the violation of international treaties in regard to Hong Kong. "When we agree, we will look to work together. But when we disagree, we will make that clear as well," he said. Prime Minister Rishi Sunak speaking at the annual Lord Mayor's Banquet at the Guildhall in central London on Nov. 28, 2022. (Belinda Jiao/PA Media) 'Threat' or 'Challenge'? The relationship between the UK and the Chinese Communist Party (CCP) regime has become increasingly strained following Beijing's upending of democracy and the rule of law in Hong Kong and its reciprocal sanctioning of British politicians who are vocal critics of its human rights abuses in Xinjiang. Prime Minister Rishi Sunak said in a major foreign policy speech on Nov. 28 that the so-called "golden era" of the Sino–British relationship is over, and said the UK will strengthen its resilience and economic security. But he stopped short of calling the Chinese regime a threat, and said the UK will stand up to the UK's competitors with "robust pragmatism" instead of "grand rhetoric" and "simplistic Cold War rhetoric." The speech marked a clear softening of rhetoric since his leadership campaign when he said the Chinese regime poses "the largest threat to Britain and the world's security and prosperity this century," and his recent description of the regime as posing the "biggest state-based threat to our economic security." It was also in contrast with his hawkish predecessor Liz Truss, who in April called for a "global NATO" to tackle international threats and warned the CCP against invading Taiwan. Talking to the BBC on Sunday, Cleverly declined to repeat Sunak's previous claim that China is the "number one" threat to the UK. He said: "We need to think long term about defending the principles and the institutions that we know have kept us safe for decades. China has threatened a number of those foundation stones that we feel are important and we will work with our old friends and new friends to make sure that we protect things that we need to protect." But Cleverly said the UK government will still "look for opportunities to influence China to move in a better direction, and also work with China to make improvements where we can." Hongkongers holding a rally outside the Chinese Consulate in Manchester, UK, were dragged into the consulate and beaten by the staff, on Oct. 16, 2022. (Screenshot of Hong Kong Indigenous Defense Force) CCP Behaviour in UK The Chinese regime's behaviour on UK soil has recently attracted local media attention, especially the violent assault of Hong Kong protesters by Chinese diplomats at the Manchester Chinese Consulate on Oct. 16, when a group of masked men led by Consul General Zheng Xiyuan snatched a banner from protesters and dragged one of them onto the consulate grounds and beat him up. Cleverly called the behaviour "inappropriate" and "unacceptable," and said the UK government will stick to a "rule-of-law-based process" in response to the incident. He said the government will evaluate the analysis of the incident by the Greater Manchester Police, and will make sure that the UK's response is "robust" but "demonstrably based on rules." The foreign secretary was also pressed on the alleged presence of three Chinese "secret police stations" on UK soil. The allegation was first made by human rights NGO Safeguard Defenders, which revealed in its September report that China had set up at least 38 police "service stations" in dozens of countries across five continents, which are tasked to track down, arrest, and extradite people wanted by the CCP regime. Asked if the UK government has taken action in response to the allegations, Cleverly said: "I know there is a desire to move quickly, and we will move quickly. But we've also got to make sure that we can demonstrate that we do it right, that we follow due process, that we abide by the law. Because that's what sets us apart from some other countries around the world." Worsening Human Rights Situation This comes just two days after the UK's Foreign, Commonwealth & Development Office (FCDO) published its report on human rights and democracy across the world. In its preface, Cleverly said: "We will not rest in the face of alarming hu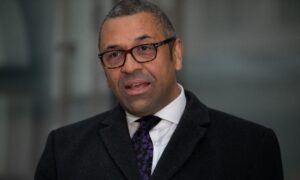 The Chinese regime is "incredibly challenging" on the global stage and threatens some of the principles and institutions underpinning the international order, UK Foreign Secretary James Cleverly has said.
Cleverly made the comments when pressed about the UK's position in relation to the communist regime, as he is set to give a major speech on the future of UK foreign policy on Monday.
Appearing on the BBC's Sunday with Laura Kuenssberg programme, he said: "China is an incredibly challenging country on the international stage."
Cleverly said China is "a potentially important partner for good in areas like climate change," but the regime's behaviour is "unacceptable" on a number of issues such as the treatment of the Uyghur Muslim minority and the violation of international treaties in regard to Hong Kong.
"When we agree, we will look to work together. But when we disagree, we will make that clear as well," he said.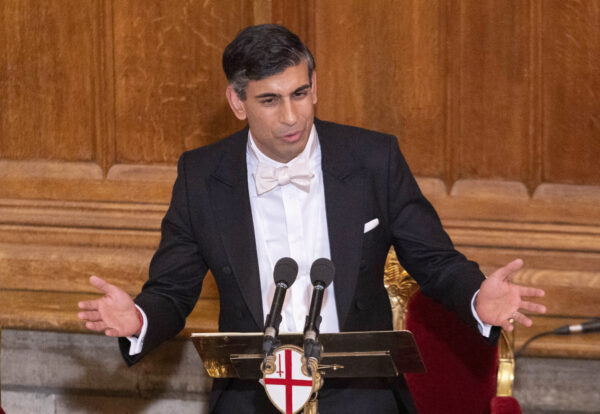 'Threat' or 'Challenge'?
The relationship between the UK and the Chinese Communist Party (CCP) regime has become increasingly strained following Beijing's upending of democracy and the rule of law in Hong Kong and its reciprocal sanctioning of British politicians who are vocal critics of its human rights abuses in Xinjiang.
Prime Minister Rishi Sunak said in a major foreign policy speech on Nov. 28 that the so-called "golden era" of the Sino–British relationship is over, and said the UK will strengthen its resilience and economic security.
But he stopped short of calling the Chinese regime a threat, and said the UK will stand up to the UK's competitors with "robust pragmatism" instead of "grand rhetoric" and "simplistic Cold War rhetoric."
The speech marked a clear softening of rhetoric since his leadership campaign when he said the Chinese regime poses "the largest threat to Britain and the world's security and prosperity this century," and his recent description of the regime as posing the "biggest state-based threat to our economic security."
It was also in contrast with his hawkish predecessor Liz Truss, who in April called for a "global NATO" to tackle international threats and warned the CCP against invading Taiwan.
Talking to the BBC on Sunday, Cleverly declined to repeat Sunak's previous claim that China is the "number one" threat to the UK.
He said: "We need to think long term about defending the principles and the institutions that we know have kept us safe for decades. China has threatened a number of those foundation stones that we feel are important and we will work with our old friends and new friends to make sure that we protect things that we need to protect."
But Cleverly said the UK government will still "look for opportunities to influence China to move in a better direction, and also work with China to make improvements where we can."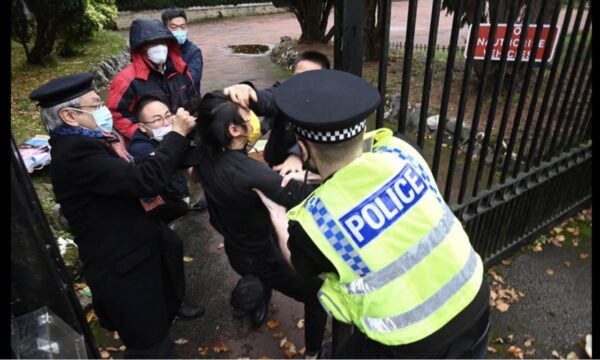 CCP Behaviour in UK
The Chinese regime's behaviour on UK soil has recently attracted local media attention, especially the violent assault of Hong Kong protesters by Chinese diplomats at the Manchester Chinese Consulate on Oct. 16, when a group of masked men led by Consul General Zheng Xiyuan snatched a banner from protesters and dragged one of them onto the consulate grounds and beat him up.
Cleverly called the behaviour "inappropriate" and "unacceptable," and said the UK government will stick to a "rule-of-law-based process" in response to the incident.
He said the government will evaluate the analysis of the incident by the Greater Manchester Police, and will make sure that the UK's response is "robust" but "demonstrably based on rules."
The foreign secretary was also pressed on the alleged presence of three Chinese "secret police stations" on UK soil.
The allegation was first made by human rights NGO Safeguard Defenders, which revealed in its September report that China had set up at least 38 police "service stations" in dozens of countries across five continents, which are tasked to track down, arrest, and extradite people wanted by the CCP regime.
Asked if the UK government has taken action in response to the allegations, Cleverly said: "I know there is a desire to move quickly, and we will move quickly. But we've also got to make sure that we can demonstrate that we do it right, that we follow due process, that we abide by the law. Because that's what sets us apart from some other countries around the world."
Worsening Human Rights Situation
This comes just two days after the UK's Foreign, Commonwealth & Development Office (FCDO) published its report on human rights and democracy across the world.
In its preface, Cleverly said: "We will not rest in the face of alarming human rights violations in China—particularly in Xinjiang and Tibet."
The report said: "The human rights situation in China continued to deteriorate in 2021. The evidence of widespread, systematic human rights violations and abuses in Xinjiang grew. Extensive restrictions continued to be imposed on media freedom, freedom of religion or belief and rule of law."
"Christians, Muslims, Buddhists, and Falun Gong practitioners and others remained at risk of persecution on the grounds of their religion or belief," it added.
The report said the UK "took further robust action in response to human rights concerns in China," and will "continue to play a leading role in holding China to account on issues of concern, including Hong Kong and Xinjiang."
Lily Zhou and PA Media contributed to this report.