China Increasing Its Violation of International Norms Daily, Says Minister Joly
Fresh on the heels of unveiling a new Indo-Pacific Strategy to tackle issues in the region, Canadian Foreign Minister Mélanie Joly says that China is breaking international norms on a daily basis."China works every day more and more to either violate international norms, or I would say also bend international norms in their favour," Joly told CPAC in an interview on Dec. 14. Host Michael Serapio had asked Joly how to explain the change in tone from the Trudeau government, describing it as a "huge shift" from back in 2017 when China was considered a "partner." "So is your strategy now an acknowledgement that China is no longer a friend?" he asked. Joly added there are two schools of thought regarding international relations currently, one being that international norms can be trampled to maintain a sphere of influence and she gave the example of Russia. The other, Joly said, is the one Canada and its allies uphold to protect the UN Charter and "the basic principles of sovereignty and territorial integrity, which are at the core of the world's stability." Joly had unveiled her government's Indo-Pacific Strategy on Nov. 27 and called China an "increasingly disruptive power." The strategy pledges about $2.2 billion over the next five years to finance projects in the region. Though the Canadian government made this investment pledge and its public stance on Beijing has shifted, Joly told CPAC there was no plan to divest from the China-controlled Asian Infrastructure Investment Bank. (AIIB). Focused on infrastructure investing in Asia, the AIIB was established by the Chinese regime in 2016 and Ottawa subscribed to shares worth approximately $256 million over five years in 2017. "We want to make sure that all our investments are well taken care of, and at the same time, follow the basic guidelines of international norms," Joly said about the participation. Foreign Interference Joly also commented on the issue of foreign interference by Beijing in the democratic process and said she has not seen information about such an issue in the 2019 elections. "Obviously, it's in our own public interests, our own shared interest to address this issue, but we don't have any information to that regard," she said. Global News reported in early November that Prime Minister Justin Trudeau and other ministers had been briefed on a foreign interference network linked to the Chinese Communist Party (CCP) that provided funding to at least 11 candidates during the 2019 federal election. Joly said there was no evidence about that, even within security agencies. "We need to have evidence and right now, I don't have that evidence, the prime minister doesn't have that evidence, our public service and national security agencies, including CSIS, don't have that intelligence," she said. Joly had testified before the House affairs committee the day prior on the issue, where some evidence had been provided by Conservative MP Michael Cooper. Cooper read from a Daily Foreign Intelligence Brief (DFIB) document produced by the intelligence analysis arm of the Privy Council Office (PCO), the Intelligence Assessment Secretariat (IAS). It said there had been a CCP-linked "active foreign interference network" around the 2019 elections. IAS does not collect information itself and produces DFIBs based on various sources of information, including from domestic and foreign intelligence agencies. Its products are typically consumed by top officials and shared across relevant departments. Cooper also mentioned CSIS documents discussing the targeting of politicians and riding associations, suggesting that the agency is in fact in possession of such information. Trudeau said on Dec. 14 he gets briefed all the time on issues of foreign interference, but that he was never briefed on the issue of federal candidates receiving money from China. Government Leader in the House of Commons Mark Holland told reporters on Dec. 14 that one of his party's priorities during the next session would be to tackle foreign interference. "Making sure that that flame of democracy is protected both domestically and abroad I think will be major themes in the new year," he said. Noé Chartier is an Epoch Times reporter based in Montreal. Twitter: @NChartierET Gettr: @nchartieret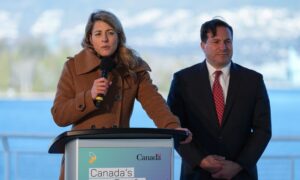 Fresh on the heels of unveiling a new Indo-Pacific Strategy to tackle issues in the region, Canadian Foreign Minister Mélanie Joly says that China is breaking international norms on a daily basis.
"China works every day more and more to either violate international norms, or I would say also bend international norms in their favour," Joly told CPAC in an interview on Dec. 14.
Host Michael Serapio had asked Joly how to explain the change in tone from the Trudeau government, describing it as a "huge shift" from back in 2017 when China was considered a "partner."
"So is your strategy now an acknowledgement that China is no longer a friend?" he asked.
Joly added there are two schools of thought regarding international relations currently, one being that international norms can be trampled to maintain a sphere of influence and she gave the example of Russia.
The other, Joly said, is the one Canada and its allies uphold to protect the UN Charter and "the basic principles of sovereignty and territorial integrity, which are at the core of the world's stability."
Joly had unveiled her government's Indo-Pacific Strategy on Nov. 27 and called China an "increasingly disruptive power."
The strategy pledges about $2.2 billion over the next five years to finance projects in the region.
Though the Canadian government made this investment pledge and its public stance on Beijing has shifted, Joly told CPAC there was no plan to divest from the China-controlled Asian Infrastructure Investment Bank. (AIIB).
Focused on infrastructure investing in Asia, the AIIB was established by the Chinese regime in 2016 and Ottawa subscribed to shares worth approximately $256 million over five years in 2017.
"We want to make sure that all our investments are well taken care of, and at the same time, follow the basic guidelines of international norms," Joly said about the participation.
Foreign Interference
Joly also commented on the issue of foreign interference by Beijing in the democratic process and said she has not seen information about such an issue in the 2019 elections.
"Obviously, it's in our own public interests, our own shared interest to address this issue, but we don't have any information to that regard," she said.
Global News reported in early November that Prime Minister Justin Trudeau and other ministers had been briefed on a foreign interference network linked to the Chinese Communist Party (CCP) that provided funding to at least 11 candidates during the 2019 federal election.
Joly said there was no evidence about that, even within security agencies.
"We need to have evidence and right now, I don't have that evidence, the prime minister doesn't have that evidence, our public service and national security agencies, including CSIS, don't have that intelligence," she said.
Joly had testified before the House affairs committee the day prior on the issue, where some evidence had been provided by Conservative MP Michael Cooper.
Cooper read from a Daily Foreign Intelligence Brief (DFIB) document produced by the intelligence analysis arm of the Privy Council Office (PCO), the Intelligence Assessment Secretariat (IAS).
It said there had been a CCP-linked "active foreign interference network" around the 2019 elections.
IAS does not collect information itself and produces DFIBs based on various sources of information, including from domestic and foreign intelligence agencies. Its products are typically consumed by top officials and shared across relevant departments.
Cooper also mentioned CSIS documents discussing the targeting of politicians and riding associations, suggesting that the agency is in fact in possession of such information.
Trudeau said on Dec. 14 he gets briefed all the time on issues of foreign interference, but that he was never briefed on the issue of federal candidates receiving money from China.
Government Leader in the House of Commons Mark Holland told reporters on Dec. 14 that one of his party's priorities during the next session would be to tackle foreign interference.
"Making sure that that flame of democracy is protected both domestically and abroad I think will be major themes in the new year," he said.