China Has 'Positioned Itself to Take Further Steps' Targeting Taiwan Amid Pelosi Visit, White House Warns
The White House and the Chinese Communist Party (CCP) are in a war of words over the meaning of House Speaker Nancy Pelosi's arrival in Taiwan on Tuesday.White House officials maintain that Pelosi's arrival is in line with nearly five decades of precedent governing Sino–American relations. CCP authorities have lambasted the United States, however, for what it has characterized as an attack on its sovereignty. "China will definitely take all necessary measures to resolutely safeguard its sovereignty and territorial integrity in response to the U.S. Speaker's visit," said a statement from China's foreign ministry. "All the consequences arising therefrom must be borne by the U.S. side and the 'Taiwan independence' separatist forces." The statement framed the ongoing drama over Taiwan in the CCP's mythic terms of national "rejuvenation" and "reunification of the motherland," the latter of which is a euphemism for the CCP's stated ambition of compelling Taiwan to unite with the mainland, by force if necessary. The White House maintained that the trip was well within the confines of the United States' policies and agreements with China and Taiwan. "The Speaker's visit is totally consistent with our long-standing One China Policy," said White House National Security Council coordinator for strategic communications John Kirby during an Aug. 2 press conference. "We've been very clear that nothing has changed about our One China policy, which is guided by the Taiwan Relations Act, three PRC-U.S. Joint Communiques, and the Six Assurances." "We've said we oppose any unilateral changes to the status quo from either side. We've said we do not support Taiwan independence." Kirby added that the content of his comments was explicitly communicated to CCP leadership on a number of occasions in recent months, including during President Joe Biden's call with CCP leader Xi Jinping last week. The spokesperson also said that the White House believed CCP leadership was attempting to manufacture a crisis in order to legitimize its desire to carry out increased aggression throughout the Indo-Pacific. "China has positioned itself to take further steps, and we expect that they will continue to react over a longer-term horizon," Kirby said. "The United States will not seek and does not want a crisis. [But] We are prepared to manage what Beijing chooses to do." Pelosi Hailed in Taiwan and US Pelosi's motorcade was swarmed by enthusiastic Taiwanese citizens upon exiting the airport, demonstrating an eagerness for closer relations with the United States despite ongoing tensions. Taiwan's tallest building, the Taipei 101 tower, was illuminated with messages reading "Welcome to TW," "Thank You," and "Taiwan [loves] US." For her part, Pelosi also expressed support for the Taiwanese people and reiterated her belief that the visit was in line with extant U.S. policy. "Our Congressional Delegation's visit to Taiwan honors America's unwavering commitment to supporting Taiwan's vibrant democracy," Pelosi said upon arriving. "America's solidarity with the 23 million people of Taiwan is more important today than ever, as the world faces a choice between autocracy and democracy." The trip also received bipartisan support from Pelosi's congressional colleagues, with Senate Republicans signing a joint statement affirming the trip and the United States' continued commitment to its policies on China and Taiwan. Vincent Chao, the former Political Division director at the Taipei Economic and Cultural Representative Office in the United States, said Pelosi's trip was a welcome evolution of U.S.–Taiwan relations. "Her arrival here is welcomed," Chao said in a tweet. "It is consistent with Taiwan's national interests & within the framework of the existing Taiwan-US relationship." "Pelosi's visit makes sense. Stronger ties with both Democrat & Republican leadership ensure continuity in the Taiwan-US relationship. Support for Taiwan—symbolic & substantive—is essential as we face growing PRC pressure. Other countries will take note." China's Military and Economic Backlash China's communist leadership was less than enthusiastic about the visit, and China's vice foreign minister summoned U.S. Ambassador to China Nicholas Burns in order to submit "stern representations against" Pelosi's visit. Moreover, the CCP lashed out at Taiwan over the visit, and has sought to implement a series of retaliatory measures. The website of Taiwan's president was hit with a cyberattack as Pelosi neared Taiwan. Shortly thereafter, CCP leadership announced an import ban on thousands of food products from Taiwan. Following those measures, the CCP announced joint military drills, including live-fire exercises, in six locations surrounding Taiwan, including within Taiwan's Air Defense Identification Zone. Chinese Foreign Ministry spokesperson Hua Chunying, said that it was "justified and necessary for China to take any countermeasure," according to state-owned med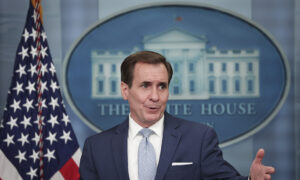 The White House and the Chinese Communist Party (CCP) are in a war of words over the meaning of House Speaker Nancy Pelosi's arrival in Taiwan on Tuesday.
White House officials maintain that Pelosi's arrival is in line with nearly five decades of precedent governing Sino–American relations. CCP authorities have lambasted the United States, however, for what it has characterized as an attack on its sovereignty.
"China will definitely take all necessary measures to resolutely safeguard its sovereignty and territorial integrity in response to the U.S. Speaker's visit," said a statement from China's foreign ministry. "All the consequences arising therefrom must be borne by the U.S. side and the 'Taiwan independence' separatist forces."
The statement framed the ongoing drama over Taiwan in the CCP's mythic terms of national "rejuvenation" and "reunification of the motherland," the latter of which is a euphemism for the CCP's stated ambition of compelling Taiwan to unite with the mainland, by force if necessary.
The White House maintained that the trip was well within the confines of the United States' policies and agreements with China and Taiwan.
"The Speaker's visit is totally consistent with our long-standing One China Policy," said White House National Security Council coordinator for strategic communications John Kirby during an Aug. 2 press conference. "We've been very clear that nothing has changed about our One China policy, which is guided by the Taiwan Relations Act, three PRC-U.S. Joint Communiques, and the Six Assurances."
"We've said we oppose any unilateral changes to the status quo from either side. We've said we do not support Taiwan independence."
Kirby added that the content of his comments was explicitly communicated to CCP leadership on a number of occasions in recent months, including during President Joe Biden's call with CCP leader Xi Jinping last week.
The spokesperson also said that the White House believed CCP leadership was attempting to manufacture a crisis in order to legitimize its desire to carry out increased aggression throughout the Indo-Pacific.
"China has positioned itself to take further steps, and we expect that they will continue to react over a longer-term horizon," Kirby said.
"The United States will not seek and does not want a crisis. [But] We are prepared to manage what Beijing chooses to do."
Pelosi Hailed in Taiwan and US
Pelosi's motorcade was swarmed by enthusiastic Taiwanese citizens upon exiting the airport, demonstrating an eagerness for closer relations with the United States despite ongoing tensions. Taiwan's tallest building, the Taipei 101 tower, was illuminated with messages reading "Welcome to TW," "Thank You," and "Taiwan [loves] US."
For her part, Pelosi also expressed support for the Taiwanese people and reiterated her belief that the visit was in line with extant U.S. policy.
"Our Congressional Delegation's visit to Taiwan honors America's unwavering commitment to supporting Taiwan's vibrant democracy," Pelosi said upon arriving.
"America's solidarity with the 23 million people of Taiwan is more important today than ever, as the world faces a choice between autocracy and democracy."
The trip also received bipartisan support from Pelosi's congressional colleagues, with Senate Republicans signing a joint statement affirming the trip and the United States' continued commitment to its policies on China and Taiwan.
Vincent Chao, the former Political Division director at the Taipei Economic and Cultural Representative Office in the United States, said Pelosi's trip was a welcome evolution of U.S.–Taiwan relations.
"Her arrival here is welcomed," Chao said in a tweet. "It is consistent with Taiwan's national interests & within the framework of the existing Taiwan-US relationship."
"Pelosi's visit makes sense. Stronger ties with both Democrat & Republican leadership ensure continuity in the Taiwan-US relationship. Support for Taiwan—symbolic & substantive—is essential as we face growing PRC pressure. Other countries will take note."
China's Military and Economic Backlash
China's communist leadership was less than enthusiastic about the visit, and China's vice foreign minister summoned U.S. Ambassador to China Nicholas Burns in order to submit "stern representations against" Pelosi's visit.
Moreover, the CCP lashed out at Taiwan over the visit, and has sought to implement a series of retaliatory measures.
The website of Taiwan's president was hit with a cyberattack as Pelosi neared Taiwan. Shortly thereafter, CCP leadership announced an import ban on thousands of food products from Taiwan.
Following those measures, the CCP announced joint military drills, including live-fire exercises, in six locations surrounding Taiwan, including within Taiwan's Air Defense Identification Zone.
Chinese Foreign Ministry spokesperson Hua Chunying, said that it was "justified and necessary for China to take any countermeasure," according to state-owned media.
Gu Zhong, Deputy Chief of Staff for China's Eastern Theater Command, was featured in a clip by state-run English language broadcaster CGTN, defending the maneuvers.
"This joint military operation is a necessary response to the U.S. administration and Taiwan authorities' dangerous move on the Taiwan problem," Gu said.
The USS Ronald Reagan aircraft carrier and its strike group are also currently located nearby on a planned freedom of navigation trip following a five-day port call in Singapore last week.
Kirby declined to comment on U.S. military maneuvers currently ongoing in the region but said that the United States was prepared to maintain the peace and stability of the Indo-Pacific.
"What we've seen thus far is consistent with the playbook that we expected them to run," Kirby said.
"We take our security commitments in the region broadly very, very seriously. We have robust military capability obviously available to meet those commitments."