China Estimates 248 Million People Infected With COVID in 20 Days: Reports
As many as 37 million people are contracting COVID-19 in a single day in China, according to leaked minutes from a meeting of the country's top health body confirmed by multiple news outlets.In the first 20 days of December, 248 million people—accounting for about 18 percent of the population—were likely to have been infected with the disease, officials said during the National Health Commission's internal meeting on Dec. 21. The figure is exponentially higher than the regime's official virus tally, and if accurate, would mean that China's outbreak is the largest in the world. Nearly three years under the regime's stringent zero-COVID policy has left the Chinese public with little natural immunity against COVID-19's highly contagious Omicron variant, which appears to be spinning out of control in the country. A screenshot of the conference notes circulating on Chinese social media shows that the virus has hit over half of the residents in the country's capital of Beijing and Sichuan Province in southwestern China. Sichuan is also one of three provinces with over 20 million infections, while six other provinces and cities, Beijing included, have an infected population of between 10 million to 20 million, the estimates said. Bloomberg and other media outlets confirmed the notes with anonymous officials involved in the discussions. The minutes cited 12 Omicron subvariants. The three that are most prevalent, it said, are BA.5.2, BF.7, and BM.7. While officials said they haven't identified variants with "significant change in transmissibility, pathogenicity, and immune evasion." How the agency arrived at these figures remains unclear given the country abandoned mandatory mass virus testing earlier in the month. The numbers nonetheless appear consistent with anecdotal evidence of a spike in infections and deaths nationwide, including among the regime's elite circle. They also align with analysis by UK researchers projecting 167 and 279 million cases nationwide, which could lead to between 1.3 and 2.1 million deaths. Emergency health workers transport a patient to a fever clinic at a hospital amid the Covid-19 pandemic in Beijing on Dec. 21, 2022. (Jade Gao/AFP via Getty Images) The virus surge has overloaded morgues and hospitals across China. Beijing Tongzhou Civil Affairs Bureau told state-owned Beijing Youth Daily that the funeral home in its district is cremating 140 to 150 bodies each day as of Dec. 22, a stark contrast with the 40-per-day workload in the past. More than half a dozen funeral homes have confirmed a similar situation with The Epoch Times in recent days. A Beijing resident told The Epoch Times that he lost five family members over 10 days, at least two of which were COVID-positive. All of them had been vaccinated with homegrown vaccines from Sinovac, which has received heavy scrutiny in the past for alleged side effects from diabetes to leukemia. "These fake vaccines really haven't provided any protection," he said in an interview on Wednesday, requesting his name be withheld for safety reasons. "The commoners who contract COVID have nothing but their own immunity as a defense." People wait for medical attention at Fever Clinic area in Tongren Hospital in the Changning district in Shanghai, on Dec. 23, 2022. (Hector Retamal/AFP via Getty Images) "It's too hard for me to take," he said. "I'm near a total breakdown these past few days." "The government is not telling the COVID death numbers even though so many people have died in Beijing," the resident added. Mr. Song from Xi'an, the capital of Shaanxi Province in central China, also described a grim picture in his city. His relatives who contracted the virus include some in their 60s and young newlyweds, who experienced pains similar to a knife slicing their body, according to Song. All of them had gotten vaccinated, and none sought help from hospitals, which he said were so packed that patients have been forced to take intravenous drips on the streets. "The intravenous tubes are hanging off the street trees even though the weather is so cold," he told The Epoch Times, providing only his surname. Song, who didn't get vaccinated, said he had experienced mild throat discomfort himself, but it has since disappeared. "I can't imagine what will happen if it goes on like this," he said, calling it a "humanitarian disaster." The Epoch Times has sought comments from the National Health Commission over the meeting. Chang Chun and Hong Ning contributed to this report. Eva Fu is a New York-based writer for The Epoch Times focusing on U.S. politics, U.S.-China relations, religious freedom, and human rights. Contact Eva at [email protected]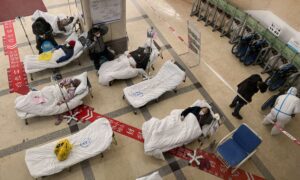 As many as 37 million people are contracting COVID-19 in a single day in China, according to leaked minutes from a meeting of the country's top health body confirmed by multiple news outlets.
In the first 20 days of December, 248 million people—accounting for about 18 percent of the population—were likely to have been infected with the disease, officials said during the National Health Commission's internal meeting on Dec. 21. The figure is exponentially higher than the regime's official virus tally, and if accurate, would mean that China's outbreak is the largest in the world.
Nearly three years under the regime's stringent zero-COVID policy has left the Chinese public with little natural immunity against COVID-19's highly contagious Omicron variant, which appears to be spinning out of control in the country.
A screenshot of the conference notes circulating on Chinese social media shows that the virus has hit over half of the residents in the country's capital of Beijing and Sichuan Province in southwestern China. Sichuan is also one of three provinces with over 20 million infections, while six other provinces and cities, Beijing included, have an infected population of between 10 million to 20 million, the estimates said. Bloomberg and other media outlets confirmed the notes with anonymous officials involved in the discussions.
The minutes cited 12 Omicron subvariants. The three that are most prevalent, it said, are BA.5.2, BF.7, and BM.7. While officials said they haven't identified variants with "significant change in transmissibility, pathogenicity, and immune evasion."
How the agency arrived at these figures remains unclear given the country abandoned mandatory mass virus testing earlier in the month.
The numbers nonetheless appear consistent with anecdotal evidence of a spike in infections and deaths nationwide, including among the regime's elite circle. They also align with analysis by UK researchers projecting 167 and 279 million cases nationwide, which could lead to between 1.3 and 2.1 million deaths.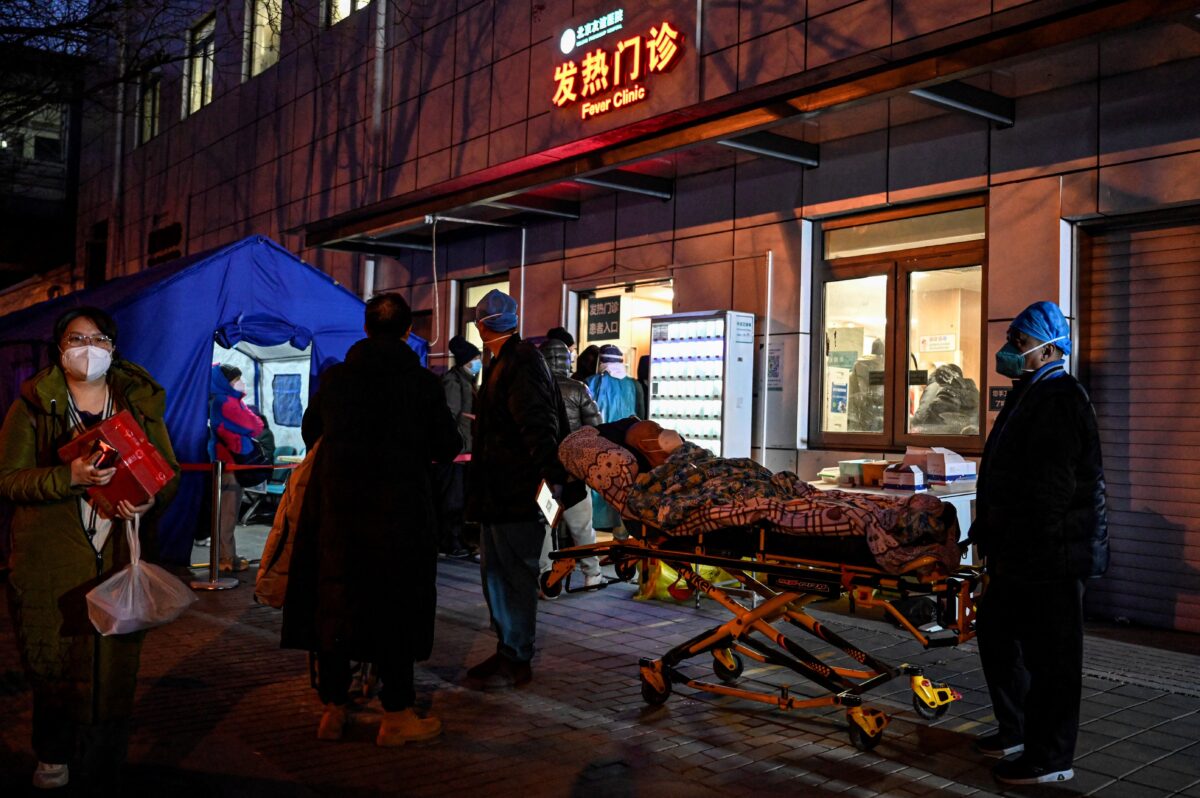 The virus surge has overloaded morgues and hospitals across China. Beijing Tongzhou Civil Affairs Bureau told state-owned Beijing Youth Daily that the funeral home in its district is cremating 140 to 150 bodies each day as of Dec. 22, a stark contrast with the 40-per-day workload in the past. More than half a dozen funeral homes have confirmed a similar situation with The Epoch Times in recent days.
A Beijing resident told The Epoch Times that he lost five family members over 10 days, at least two of which were COVID-positive. All of them had been vaccinated with homegrown vaccines from Sinovac, which has received heavy scrutiny in the past for alleged side effects from diabetes to leukemia.
"These fake vaccines really haven't provided any protection," he said in an interview on Wednesday, requesting his name be withheld for safety reasons. "The commoners who contract COVID have nothing but their own immunity as a defense."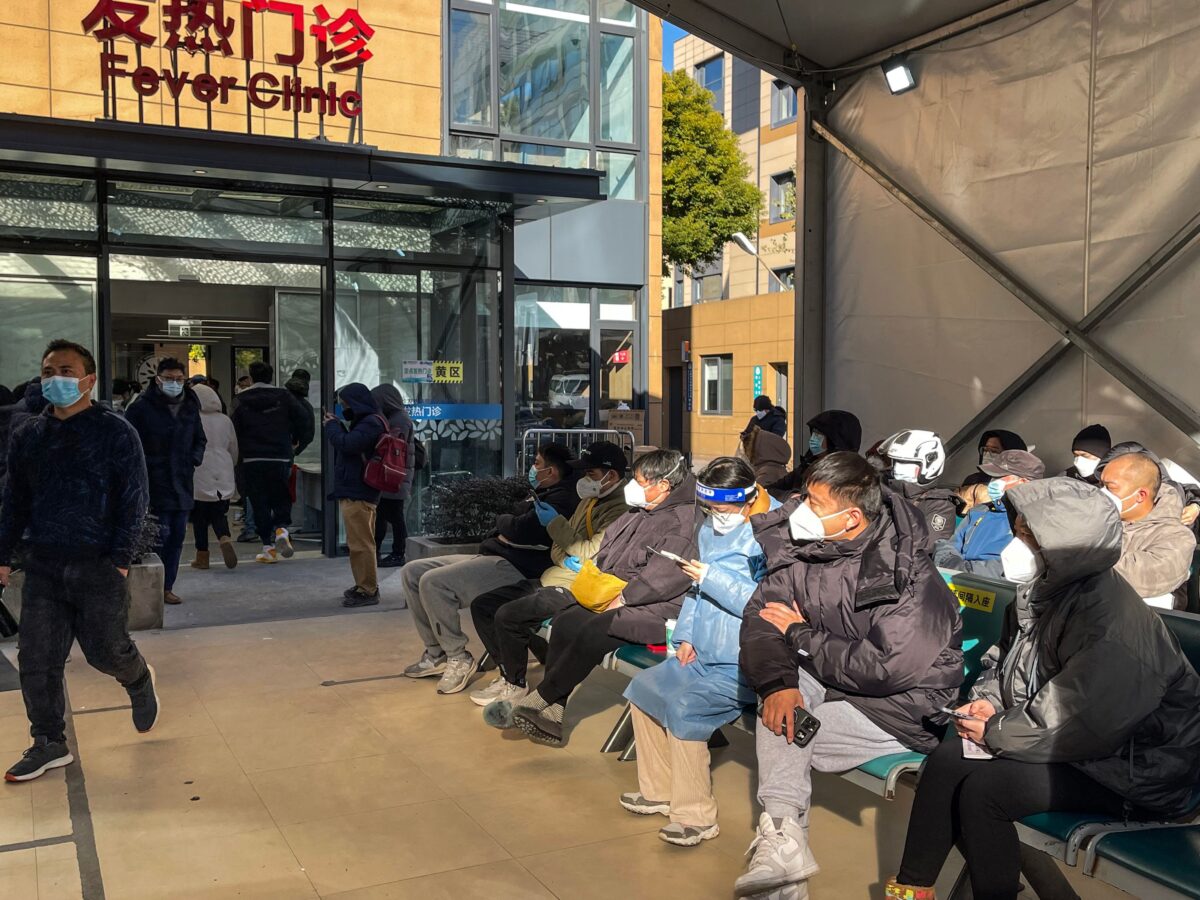 "It's too hard for me to take," he said. "I'm near a total breakdown these past few days."
"The government is not telling the COVID death numbers even though so many people have died in Beijing," the resident added.
Mr. Song from Xi'an, the capital of Shaanxi Province in central China, also described a grim picture in his city.
His relatives who contracted the virus include some in their 60s and young newlyweds, who experienced pains similar to a knife slicing their body, according to Song. All of them had gotten vaccinated, and none sought help from hospitals, which he said were so packed that patients have been forced to take intravenous drips on the streets.
"The intravenous tubes are hanging off the street trees even though the weather is so cold," he told The Epoch Times, providing only his surname. Song, who didn't get vaccinated, said he had experienced mild throat discomfort himself, but it has since disappeared.
"I can't imagine what will happen if it goes on like this," he said, calling it a "humanitarian disaster."
The Epoch Times has sought comments from the National Health Commission over the meeting.
Chang Chun and Hong Ning contributed to this report.