China Detains Taiwan-Based Publisher Who Released Books Critical of CCP
A Taiwan-based book publisher was detained while visiting Shanghai, Chinese officials confirmed Wednesday. Taiwanese officials said the move displays the communist regime's intimidation against the self-ruled island. Li Yanhe, known by his pen name, Fu Cha, was born in China but has lived in Taiwan since 2009. He has served as the editor-in-chief of Gusa Publishing, a company that has released books critical of the Chinese Communist Party (CCP). Li traveled to Shanghai to visit relatives in March, but his friend later lost contact with him. Concerns about Li's safety and whereabouts grew after news emerged in the past week that the Chinese police had secretly detained Li. Chinese officials confirmed Li's detention on Wednesday. Li is under investigation "on suspicion of engaging in activities endangering national security," Zhu Fenglian, a Beijing's Taiwan Affairs Office spokesperson, told reporters at a briefing. "The detention of publisher and radio host Li Yanhe is yet another example of China's suffocating intolerance of a free press," Iris Hsu, China representative for the Committee to Protect Journalists (CPJ), said in a statement. "Chinese authorities must stop pinning national security charges on both foreign and local journalists." Beijing's announcement comes on the same day when China's rubber-stamp legislator passed an amended anti-espionage law, broadening the definition of espionage to "all documents, data, materials, or items related to national security and interests," official media Xinhua reported. But the legislation doesn't specify what falls under national security, analysts noted, suggesting that could bring more risks to foreign businesses and journalists in China. Li is not the first to be detained after releasing books banned in China. In 2015, five publishers and staff of Causeway Bay Books, a Hong Kong bookshop famous for selling texts critical of CCP leadership, were taken across the border and put into custody on the mainland. The highest-profile of them, Swedish citizen Gui Minhai, was accused of "providing intelligence" overseas and is currently serving a 10-year term. Placards showing missing bookseller Gui Minhai (R) are seen left by members of the Civic Party outside the China liaison office in Hong Kong on Jan. 19, 2016. (Philippe Lopez/AFP via Getty Images) Li, 52, was born in the northern Chinese province of Liaoning. He married a Taiwanese woman and relocated to the island in 2009. On the democratically governed island, Li set up Gusa Publishing, which has printed a wide range of Chinese-language translations, including history or political books that had no chance of being released in China. Translations released by Gusa include "Xinjiang Uyghur Autonomous Region: 70 Years of Chinese Communist Rule," an analysis revealing the CCP's human rights abuses against Uyghur Muslims by Jun Kumakura, an associate professor at Japan's Hosei University. Gusa also published the Chinese version of "The People's Republic of Amnesia: Tiananmen Revisited," a book uncovering the deadly suppression of pro-democracy student protests in 1989 by award-winning journalist Louisa Lim. The detention of Li shows "the CCP directly puts its hands in the publishing industry in Taiwan by suppressing the freedom of speech and publishing," Lee Ming-che, a human rights activist from Taiwan who was previously jailed in China for five years, said on Facebook. In recent years, the CCP has detained several Taiwanese people as it stepped up political, diplomatic, and military pressures on Taipei. For example, on April 24, Chinese police formally arrested Yang Chih-yuan, a Taiwanese political activist, on "secession" charges. Yang was taken into custody in August 2022, hours after then-U.S House Speaker Nancy Pelosi wrapped up her visit to Taiwan. The CCP claims the self-ruled island as its own territory to be taken by force if necessary. Taiwan's Mainland Affairs Council Minister Chiu Tai-san said the detention of Li and Yang showed the CCP is exercising its "long-arm jurisdiction" over Taiwan. "There is the smell of intimidation in this, and it's a show of suppression by [the CCP]," Chiu said in Taipei on April 26. Newly appointed Minister of Taiwan's Mainland Affairs Council (MAC) Chiu Tai-san speaks during a ceremony at the MAC headquarters in Taipei on Feb. 23, 2021. (Sam Yeh/AFP via Getty Images) Overseas writers, translators, and rights advocacy groups have called for Li's immediate release. "In Taiwan, freedom of speech and publication, and academic freedom, are like the air we breathe. They are part of daily life for every reader, every author, every translator, and every editor," a group of 40 writers and Gusa's staff said in a joint statement. "We believe Fu Cha has not committed any crime in enjoying the freedoms of speech and publishing," read the open letter. "We urge the Chinese government to immediately release Fu Cha so that he can return to his beloved family and his pu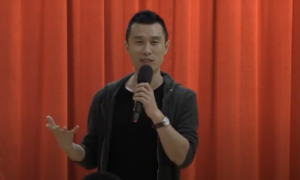 A Taiwan-based book publisher was detained while visiting Shanghai, Chinese officials confirmed Wednesday. Taiwanese officials said the move displays the communist regime's intimidation against the self-ruled island.
Li Yanhe, known by his pen name, Fu Cha, was born in China but has lived in Taiwan since 2009. He has served as the editor-in-chief of Gusa Publishing, a company that has released books critical of the Chinese Communist Party (CCP).
Li traveled to Shanghai to visit relatives in March, but his friend later lost contact with him. Concerns about Li's safety and whereabouts grew after news emerged in the past week that the Chinese police had secretly detained Li.
Chinese officials confirmed Li's detention on Wednesday. Li is under investigation "on suspicion of engaging in activities endangering national security," Zhu Fenglian, a Beijing's Taiwan Affairs Office spokesperson, told reporters at a briefing.
"The detention of publisher and radio host Li Yanhe is yet another example of China's suffocating intolerance of a free press," Iris Hsu, China representative for the Committee to Protect Journalists (CPJ), said in a statement. "Chinese authorities must stop pinning national security charges on both foreign and local journalists."
Beijing's announcement comes on the same day when China's rubber-stamp legislator passed an amended anti-espionage law, broadening the definition of espionage to "all documents, data, materials, or items related to national security and interests," official media Xinhua reported. But the legislation doesn't specify what falls under national security, analysts noted, suggesting that could bring more risks to foreign businesses and journalists in China.
Li is not the first to be detained after releasing books banned in China. In 2015, five publishers and staff of Causeway Bay Books, a Hong Kong bookshop famous for selling texts critical of CCP leadership, were taken across the border and put into custody on the mainland. The highest-profile of them, Swedish citizen Gui Minhai, was accused of "providing intelligence" overseas and is currently serving a 10-year term.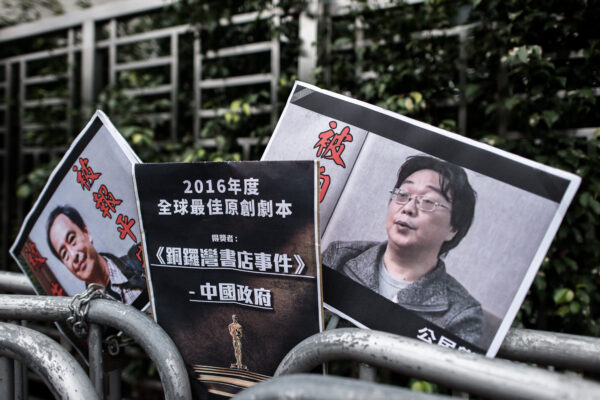 Li, 52, was born in the northern Chinese province of Liaoning. He married a Taiwanese woman and relocated to the island in 2009.
On the democratically governed island, Li set up Gusa Publishing, which has printed a wide range of Chinese-language translations, including history or political books that had no chance of being released in China.
Translations released by Gusa include "Xinjiang Uyghur Autonomous Region: 70 Years of Chinese Communist Rule," an analysis revealing the CCP's human rights abuses against Uyghur Muslims by Jun Kumakura, an associate professor at Japan's Hosei University. Gusa also published the Chinese version of "The People's Republic of Amnesia: Tiananmen Revisited," a book uncovering the deadly suppression of pro-democracy student protests in 1989 by award-winning journalist Louisa Lim.
The detention of Li shows "the CCP directly puts its hands in the publishing industry in Taiwan by suppressing the freedom of speech and publishing," Lee Ming-che, a human rights activist from Taiwan who was previously jailed in China for five years, said on Facebook.
In recent years, the CCP has detained several Taiwanese people as it stepped up political, diplomatic, and military pressures on Taipei. For example, on April 24, Chinese police formally arrested Yang Chih-yuan, a Taiwanese political activist, on "secession" charges. Yang was taken into custody in August 2022, hours after then-U.S House Speaker Nancy Pelosi wrapped up her visit to Taiwan.
The CCP claims the self-ruled island as its own territory to be taken by force if necessary.
Taiwan's Mainland Affairs Council Minister Chiu Tai-san said the detention of Li and Yang showed the CCP is exercising its "long-arm jurisdiction" over Taiwan.
"There is the smell of intimidation in this, and it's a show of suppression by [the CCP]," Chiu said in Taipei on April 26.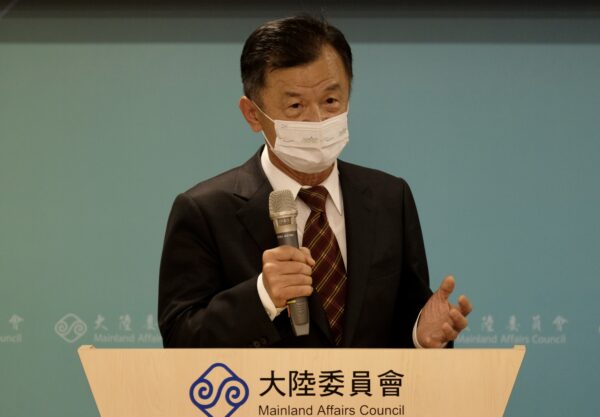 Overseas writers, translators, and rights advocacy groups have called for Li's immediate release.
"In Taiwan, freedom of speech and publication, and academic freedom, are like the air we breathe. They are part of daily life for every reader, every author, every translator, and every editor," a group of 40 writers and Gusa's staff said in a joint statement.
"We believe Fu Cha has not committed any crime in enjoying the freedoms of speech and publishing," read the open letter. "We urge the Chinese government to immediately release Fu Cha so that he can return to his beloved family and his publishing work."
Angeli Datt, PEN America's China research and advocacy lead, described the detention of Li as "an outrageous attempt to muzzle the work of Gusa Publishing House as the Chinese Communist Party continues to try and silence free expression outside its border."
"Publishing is not a crime, and Li Yanhe should be released immediately and unconditionally," Datt said in an April 26 statement. "His detention is an attack on free expression and another example of the Chinese government's belligerence towards anyone who stands for the free and open exchange of ideas."
Frank Fang contributed to this report.