China Can Sneak-Attack Taiwan
Originally published by Gatestone InstituteCommentary The United States will have months of warning before China attacks Taiwan. At least that is what John Culver, a retired CIA officer and now an Atlantic Council scholar, argues in a report issued this month by the influential Carnegie Endowment for International Peace. On the contrary, Americans may not even know that China has struck the first blow until months after it has occurred. As Culver's writings show, Americans think China's war planners think like America's war planners. Unfortunately, the Chinese ones do not. First strikes, despite what former intelligence officials believe, do not have to look like the invasion of Normandy in 1944. "Any invasion of Taiwan will not be secret for months prior to Beijing's initiation of hostilities," writes Culver in "How We Would Know When China Is Preparing to Invade Taiwan." "It would be a national, all-of-regime undertaking for a war potentially lasting years." Therefore, foreign intelligence agencies and amateur sleuths could see China surging production of missiles and other items "at least a year before D-Day." Moreover, Beijing would take steps to sanctions-proof itself, such as selling and repatriating foreign assets. It would ration or reduce demand of "key goods" like oil and gas. The regime would restrict "Chinese elites and high-priority workers" from leaving China, Culver points out. China's leaders would prepare the population for austerity. Beijing would launch blood drives. Moreover, the People's Liberation Army would halt demobilizations of personnel and call up reservists. Regular training would end. The military would build field hospitals. As Culver writes, "If China decides to fight a war of choice over Taiwan, strategic surprise would be a casualty of the sheer scale of the undertaking." Maybe. Culver is describing how the America military would ready itself for an invasion. Yet Chinese doctrine is different, something evident from "Unrestricted Warfare," the 1999 book by Qiao Liang and Wang Xiangsui, then two Chinese air force colonels. China, the two officers wrote, can and should recognize no limits in what it would do to win a war. Analysts think the Chinese military has adopted the key tenets of the widely read work. So what would China's first attack on Taiwan look like? Say, six months before an invasion China, violating the Biological Weapons Convention, could release a deadly pathogen on Taiwan. China's National Defense University, in the 2017 edition of the authoritative Science of Military Strategy, mentioned a new kind of biological warfare of "specific ethnic genetic attacks." Pathogens can now be designed to infect specific groups and even specific individuals. "In a future war, we can expect China to use refined and targeted strains of coronavirus or other pathogens to target certain ethnic groups, certain countries, or certain age cohorts," Richard Fisher of the Virginia-based International Assessment and Strategy Center told Newsweek last year. As Fisher noted, the COVID-19 pandemic was a proof of concept that biological weapons work. China's regime has already weaponized one pathogen, SARS-CoV-2. Although scientists do not agree that the virus was engineered, it is clear the Communist Party lied about contagiousness—it told the world that the disease was not human-to-human transmissible when it knew it was highly so—and pressured other countries to take arrivals from China without restriction while locking down Chinese territory. Taken together, these two acts show that the Communist Party wanted COVID-19 to infect those beyond China's borders. At last count, more than 6.5 million people outside China have been killed by a pathogen that should have been confined to that country. A regime monstrous enough to kill millions around the world is surely monstrous enough to release, as the first act in a conflict, a disease on the 23.9 million people of Taiwan. It could take the Pentagon months to realize that China had started a war to annex the island republic. Some might say that, after an epidemic in Taiwan, Beijing would still have to mobilize forces and the world could then observe the effort. This observation would be true only if the People's Liberation Army decided to wage a war with just conventional weapons. Tactical nuclear strikes on Taiwan's military installations and cities could allow China to take a depopulated island with a small, light, quick-to-mobilize force. I suspect Chinese ruler Xi Jinping would not be overly upset if Taiwan were a smoking radioactive slab as long as it were part of the People's Republic of China. Why? The condition of a conquered Taiwan does not really matter to the Communist Party. It wants democratic Taiwan principally because the island republic represents a direct challenge to its core narrative that the Chinese people cannot govern themselves. Although most people in Taiwan do not self-identify as Chinese, their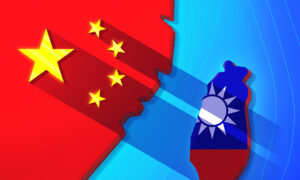 Originally published by Gatestone Institute
Commentary
The United States will have months of warning before China attacks Taiwan.
At least that is what John Culver, a retired CIA officer and now an Atlantic Council scholar, argues in a report issued this month by the influential Carnegie Endowment for International Peace.
On the contrary, Americans may not even know that China has struck the first blow until months after it has occurred. As Culver's writings show, Americans think China's war planners think like America's war planners. Unfortunately, the Chinese ones do not. First strikes, despite what former intelligence officials believe, do not have to look like the invasion of Normandy in 1944.
"Any invasion of Taiwan will not be secret for months prior to Beijing's initiation of hostilities," writes Culver in "How We Would Know When China Is Preparing to Invade Taiwan." "It would be a national, all-of-regime undertaking for a war potentially lasting years."
Therefore, foreign intelligence agencies and amateur sleuths could see China surging production of missiles and other items "at least a year before D-Day." Moreover, Beijing would take steps to sanctions-proof itself, such as selling and repatriating foreign assets. It would ration or reduce demand of "key goods" like oil and gas.
The regime would restrict "Chinese elites and high-priority workers" from leaving China, Culver points out. China's leaders would prepare the population for austerity. Beijing would launch blood drives.
Moreover, the People's Liberation Army would halt demobilizations of personnel and call up reservists. Regular training would end. The military would build field hospitals.
As Culver writes, "If China decides to fight a war of choice over Taiwan, strategic surprise would be a casualty of the sheer scale of the undertaking."
Maybe.
Culver is describing how the America military would ready itself for an invasion. Yet Chinese doctrine is different, something evident from "Unrestricted Warfare," the 1999 book by Qiao Liang and Wang Xiangsui, then two Chinese air force colonels.
China, the two officers wrote, can and should recognize no limits in what it would do to win a war. Analysts think the Chinese military has adopted the key tenets of the widely read work.
So what would China's first attack on Taiwan look like? Say, six months before an invasion China, violating the Biological Weapons Convention, could release a deadly pathogen on Taiwan.
China's National Defense University, in the 2017 edition of the authoritative Science of Military Strategy, mentioned a new kind of biological warfare of "specific ethnic genetic attacks." Pathogens can now be designed to infect specific groups and even specific individuals.
"In a future war, we can expect China to use refined and targeted strains of coronavirus or other pathogens to target certain ethnic groups, certain countries, or certain age cohorts," Richard Fisher of the Virginia-based International Assessment and Strategy Center told Newsweek last year. As Fisher noted, the COVID-19 pandemic was a proof of concept that biological weapons work.
China's regime has already weaponized one pathogen, SARS-CoV-2. Although scientists do not agree that the virus was engineered, it is clear the Communist Party lied about contagiousness—it told the world that the disease was not human-to-human transmissible when it knew it was highly so—and pressured other countries to take arrivals from China without restriction while locking down Chinese territory. Taken together, these two acts show that the Communist Party wanted COVID-19 to infect those beyond China's borders. At last count, more than 6.5 million people outside China have been killed by a pathogen that should have been confined to that country.
A regime monstrous enough to kill millions around the world is surely monstrous enough to release, as the first act in a conflict, a disease on the 23.9 million people of Taiwan. It could take the Pentagon months to realize that China had started a war to annex the island republic.
Some might say that, after an epidemic in Taiwan, Beijing would still have to mobilize forces and the world could then observe the effort. This observation would be true only if the People's Liberation Army decided to wage a war with just conventional weapons.
Tactical nuclear strikes on Taiwan's military installations and cities could allow China to take a depopulated island with a small, light, quick-to-mobilize force.
I suspect Chinese ruler Xi Jinping would not be overly upset if Taiwan were a smoking radioactive slab as long as it were part of the People's Republic of China.
Why? The condition of a conquered Taiwan does not really matter to the Communist Party. It wants democratic Taiwan principally because the island republic represents a direct challenge to its core narrative that the Chinese people cannot govern themselves. Although most people in Taiwan do not self-identify as Chinese, their democracy, in the eyes of Communist Party leaders, is an existential threat to their rule.
The People's Republic of China for decades has threatened nuclear strikes against Taiwan or countries coming to its assistance. In fact, Beijing has increased the frequency of such warnings since July of last year, when it proclaimed it would incinerate Japan. After that threat, it has promised destruction to all others coming to Taiwan's aid. If Vladimir Putin uses tactical nuclear weapons in Ukraine and gets away with it—a distinct possibility—Xi Jinping might think he can also launch nukes.
None of this is to say that Beijing will definitely resort to these means to take Taiwan. It is to say, however, that Culver's optimistic we-will-see-it-coming line of thinking looks incorrect.
"The biggest problem with the 'China Hands' of the U.S. intelligence community is their inability to place themselves into the mindset of the Communist Party and its Central Military Commission, in other words, to think like the enemy," James Fanell of the Geneva Centre for Security Policy told Gatestone, in response to the Culver report. "There is still too much mirror-imaging going on and not enough willingness to think out of the box."
Fanell, a former director of Intelligence and Information Operations of the U.S. Pacific Fleet, is correct. Americans make assumptions about the Chinese style of warfare; some of those assumptions are almost certainly wrong.
Views expressed in this article are the opinions of the author and do not necessarily reflect the views of The Epoch Times.