Chairman of Hong Kong Journalists Association Travels to UK While on Bail
Although out of jail on bail, Ronson Chan Ron-sing, chairman of the Hong Kong Journalists Association, left Hong Kong for the UK via Bangkok, on the evening of Sept. 29 for a six-month fellowship at the University of Oxford. Before boarding the plane, he said that he was a Hong Kong reporter and would return [to Hong Kong] and continue to report the truth.Chan said that a friend told him about the fellowship programme at Oxford University after Stand News ceased operations. He said he was lucky that his application was accepted. Stand News was an online publication that focused on social and political issues in Hong Kong and was seen as pro-democracy. Chan was arrested outside MacPherson Stadium on Sept. 7, while on an interview assignment. He was charged with "obstructing police officers" and released after paying HK$20,000 (about $ 2,574) bail. Chan said at the time that he was surprised that he was granted bail and was uncertain if he would be allowed to travel outside the country. He described his feelings about getting permission to leave Hong Kong as a mixture of sadness and happiness. He said he was happy to see many reporters and friends come to the airport to say farewell to him. He expected that he would have good experiences and gain insights in the coming six months in Oxford, and hoped to bring back the experiences and views of outstanding reporters from around the world so that Hong Kong residents can better face the complex and ever-changing environment. "We have always been journalists in Hong Kong. We have to stay in Hong Kong and continue to report the truth and facts," he said. Chan successfully boarded the plane to Bangkok on his way to the UK on Sept. 29. (Facebook photo from Ronson Chan) He will stay at a friend's house in London for two days before traveling to Oxford and he hopes to watch a football (soccer) game. He said he was grateful for the enthusiastic support of his friends in the UK. Chan said that in the week of Oct.3, there would be different gatherings and social activities every day, and he would be very busy. He said that he misses his wife because he has not traveled alone for more than 10 years. "I do not have problems in everyday life, but whether you miss Hong Kong or not depends on whether you are staying here for a long time or not." When he was asked if he had worried about being banned from traveling to the UK, Chan said he hadn't worried too much. Once he returns to Hong Kong, he will be affected by the current laws in Hong Kong, "I will not do any risky thing, but I will try my best to talk about (the situation in Hong Kong). People said that leaving Hong Kong is not complete freedom, you can say it this way." Ronson Chan, Chairman of the Hong Kong Journalists Association, went to the UK to participate in the "fellowship programme" of the University of Oxford. (Sung Pi-Lung /The Epoch Times) Chan also pointed out that it was a pity that since his family did not want to be photographed, they could only say farewell to him remotely. When asked what he was taking to the UK, he replied that he was taking several sets of football shirts because he loves football. He was also taking a formal suit as he might have to attend a grand occasion after arriving in the UK, and he packed a large amount of medication for diabetes. After arriving in the UK, Chan must inform the Hong Kong police of his UK address and telephone number and notify it within 48 hours of any change. Follow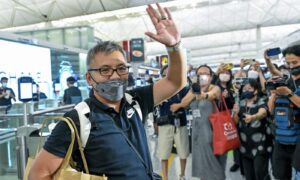 Although out of jail on bail, Ronson Chan Ron-sing, chairman of the Hong Kong Journalists Association, left Hong Kong for the UK via Bangkok, on the evening of Sept. 29 for a six-month fellowship at the University of Oxford. Before boarding the plane, he said that he was a Hong Kong reporter and would return [to Hong Kong] and continue to report the truth.
Chan said that a friend told him about the fellowship programme at Oxford University after Stand News ceased operations. He said he was lucky that his application was accepted.
Stand News was an online publication that focused on social and political issues in Hong Kong and was seen as pro-democracy.
Chan was arrested outside MacPherson Stadium on Sept. 7, while on an interview assignment. He was charged with "obstructing police officers" and released after paying HK$20,000 (about $ 2,574) bail. Chan said at the time that he was surprised that he was granted bail and was uncertain if he would be allowed to travel outside the country.
He described his feelings about getting permission to leave Hong Kong as a mixture of sadness and happiness. He said he was happy to see many reporters and friends come to the airport to say farewell to him.
He expected that he would have good experiences and gain insights in the coming six months in Oxford, and hoped to bring back the experiences and views of outstanding reporters from around the world so that Hong Kong residents can better face the complex and ever-changing environment. "We have always been journalists in Hong Kong. We have to stay in Hong Kong and continue to report the truth and facts," he said.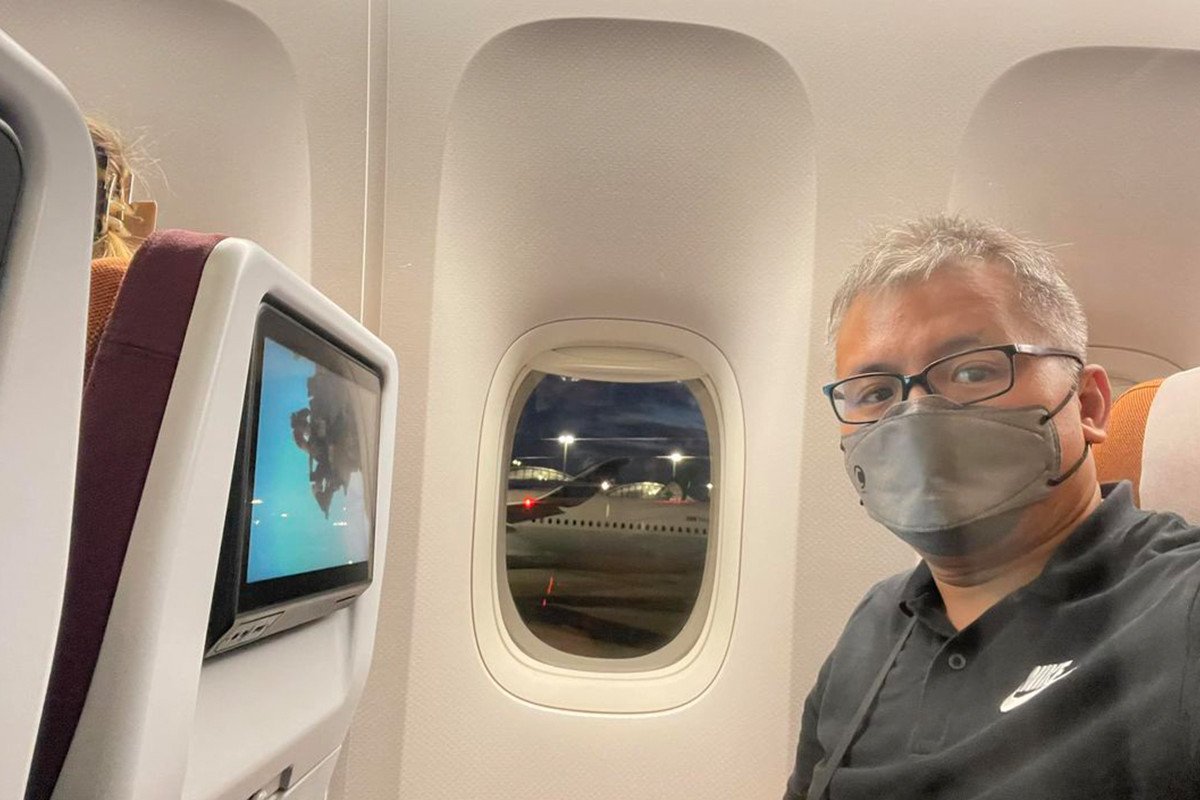 He will stay at a friend's house in London for two days before traveling to Oxford and he hopes to watch a football (soccer) game. He said he was grateful for the enthusiastic support of his friends in the UK.
Chan said that in the week of Oct.3, there would be different gatherings and social activities every day, and he would be very busy.
He said that he misses his wife because he has not traveled alone for more than 10 years. "I do not have problems in everyday life, but whether you miss Hong Kong or not depends on whether you are staying here for a long time or not."
When he was asked if he had worried about being banned from traveling to the UK, Chan said he hadn't worried too much.
Once he returns to Hong Kong, he will be affected by the current laws in Hong Kong, "I will not do any risky thing, but I will try my best to talk about (the situation in Hong Kong). People said that leaving Hong Kong is not complete freedom, you can say it this way."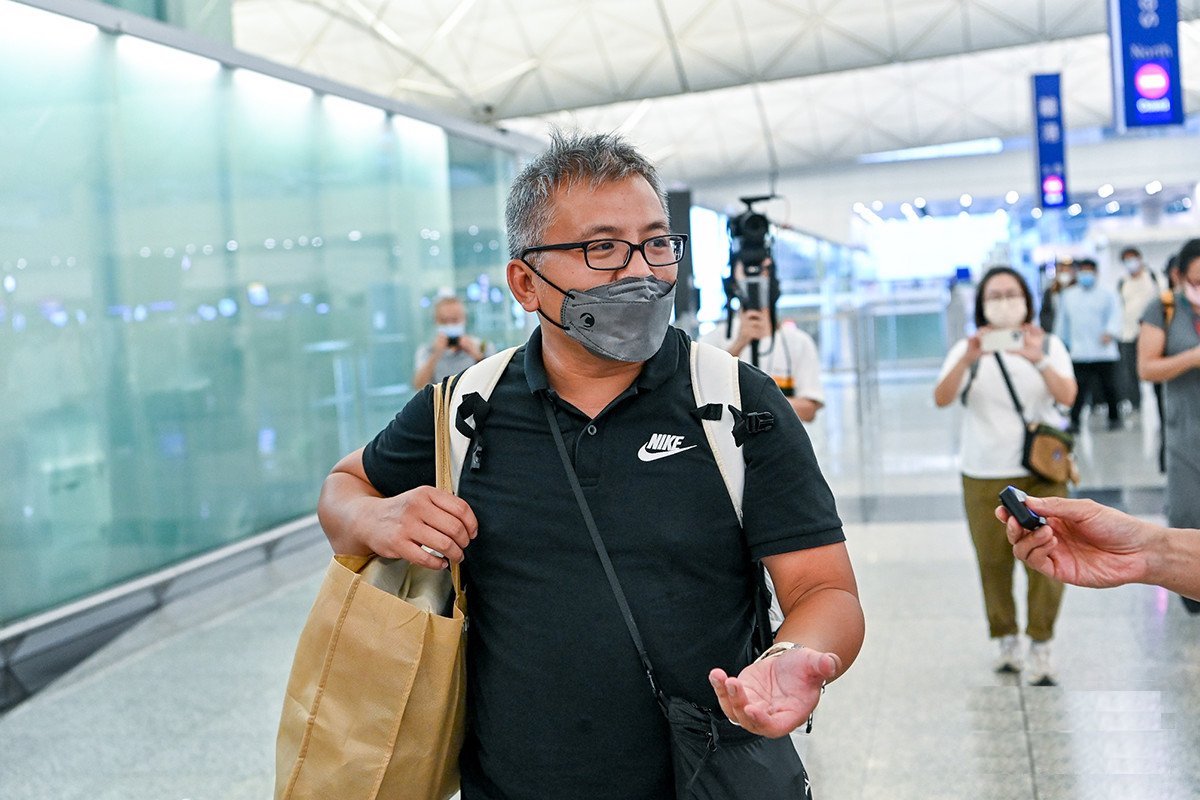 Chan also pointed out that it was a pity that since his family did not want to be photographed, they could only say farewell to him remotely.
When asked what he was taking to the UK, he replied that he was taking several sets of football shirts because he loves football. He was also taking a formal suit as he might have to attend a grand occasion after arriving in the UK, and he packed a large amount of medication for diabetes.
After arriving in the UK, Chan must inform the Hong Kong police of his UK address and telephone number and notify it within 48 hours of any change.