CDC Study: Remote Learning Hurt Children's Mental Health
When schools pivoted to remote learning amid the COVID-19 pandemic, the first casualty was children's mental health.A new study by the Centers for Disease Control and Prevention (CDC) analyzed teenagers' mental health from January 2021 to June 2021. Compared with 2019, the study found that the proportion of mental health-related emergency department visits in 2020 increased by about 31 percent among children aged 12–17 years. Overall, 37.1 percent of students experienced bouts of poor mental health during the pandemic, and 31.1 percent experienced poor mental health during the preceding 30 days. During the 12 months before the survey, 44.2 percent experienced persistent feelings of sadness or hopelessness, 19.9 percent had seriously considered attempting suicide, and 9.0 percent had attempted suicide. The researchers noted that increasing school "connectedness" can reduce substance use among students. "The prevalence of poor mental health and suicidality was high across students of all sex, sexual identity, and racial and ethnic groups; however, poor mental health, persistent feelings of sadness or hopelessness, and suicidal thoughts and behaviors were less prevalent among those who felt close to persons at school and were virtually connected with others during the pandemic," the study noted. Students who felt close to people at school notched a significantly lower prevalence of poor mental health during the pandemic, compared to those who didn't (28.4 percent versus 45.2 percent). Data were collected using a 110-item questionnaire from 7,705 student surveys about high school behaviors during the COVID-19 pandemic from January though June 2021 in 128 schools, including unintentional injury, violence, tobacco product use, sexual behaviors, and dietary behaviors. ​​Among the high school students surveyed, 26.7 percent were in 9th grade, 25.5 percent in 10th grade, 24.3 percent in 11th grade, and 23.6 percent in 12th grade. About one in three students who ever used alcohol or other drugs reported using these substances more during the pandemic, the study said. During the COVID-19 pandemic, many children experienced factors that could increase risk for substance use, including social isolation; boredom; stress and fear about COVID-19; grief; housing, and food insecurity; and disruption to medical, mental health, and social service. High school students reported substance use during the COVID-19 pandemic, with the most common substances being electronic vapor products (EVPs), alcohol, and marijuana. Between January 2021 and June 2021, 31.6 percent of high school students reported current use of any tobacco product, alcohol, or marijuana or current misuse of prescription opioids. Current alcohol use (19.5 percent), EVP use (15.4 percent), and marijuana use (12.8 percent) were more prevalent among high school students than prescription opioid misuse (4.3 percent), current cigarette smoking (3.3 percent), cigar smoking (2.3 percent), and smokeless tobacco use (1.9 percent). Statewide assessments for 2021 show students' grades suffered during remote learning and COVID-19. A McKinsey & Company report found that pandemic learning loss includes more than just academic learning. "They are at risk of finishing school without the skills, behaviors, and mindsets to succeed in college or in the workforce," the analysis said. The report estimated that "[S]tudents may earn $49,000 to $61,000 less over their lifetime owing to the impact of the pandemic on their schooling. The impact on the U.S. economy could amount to $128 billion to $188 billion every year as this cohort enters the workforce." By Scott McClallen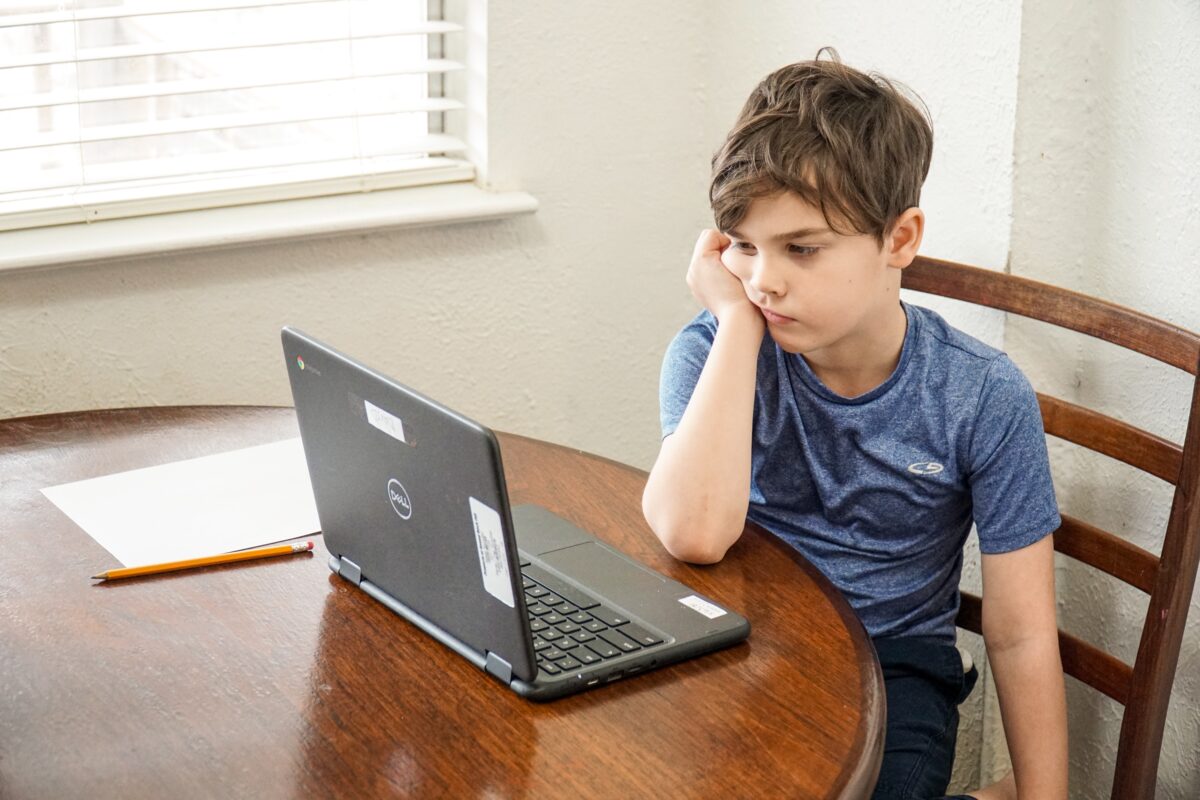 When schools pivoted to remote learning amid the COVID-19 pandemic, the first casualty was children's mental health.
A new study by the Centers for Disease Control and Prevention (CDC) analyzed teenagers' mental health from January 2021 to June 2021. Compared with 2019, the study found that the proportion of mental health-related emergency department visits in 2020 increased by about 31 percent among children aged 12–17 years.
Overall, 37.1 percent of students experienced bouts of poor mental health during the pandemic, and 31.1 percent experienced poor mental health during the preceding 30 days. During the 12 months before the survey, 44.2 percent experienced persistent feelings of sadness or hopelessness, 19.9 percent had seriously considered attempting suicide, and 9.0 percent had attempted suicide.
The researchers noted that increasing school "connectedness" can reduce substance use among students.
"The prevalence of poor mental health and suicidality was high across students of all sex, sexual identity, and racial and ethnic groups; however, poor mental health, persistent feelings of sadness or hopelessness, and suicidal thoughts and behaviors were less prevalent among those who felt close to persons at school and were virtually connected with others during the pandemic," the study noted.
Students who felt close to people at school notched a significantly lower prevalence of poor mental health during the pandemic, compared to those who didn't (28.4 percent versus 45.2 percent).
Data were collected using a 110-item questionnaire from 7,705 student surveys about high school behaviors during the COVID-19 pandemic from January though June 2021 in 128 schools, including unintentional injury, violence, tobacco product use, sexual behaviors, and dietary behaviors.
​​Among the high school students surveyed, 26.7 percent were in 9th grade, 25.5 percent in 10th grade, 24.3 percent in 11th grade, and 23.6 percent in 12th grade.
About one in three students who ever used alcohol or other drugs reported using these substances more during the pandemic, the study said.
During the COVID-19 pandemic, many children experienced factors that could increase risk for substance use, including social isolation; boredom; stress and fear about COVID-19; grief; housing, and food insecurity; and disruption to medical, mental health, and social service.
High school students reported substance use during the COVID-19 pandemic, with the most common substances being electronic vapor products (EVPs), alcohol, and marijuana.
Between January 2021 and June 2021, 31.6 percent of high school students reported current use of any tobacco product, alcohol, or marijuana or current misuse of prescription opioids. Current alcohol use (19.5 percent), EVP use (15.4 percent), and marijuana use (12.8 percent) were more prevalent among high school students than prescription opioid misuse (4.3 percent), current cigarette smoking (3.3 percent), cigar smoking (2.3 percent), and smokeless tobacco use (1.9 percent).
Statewide assessments for 2021 show students' grades suffered during remote learning and COVID-19.
A McKinsey & Company report found that pandemic learning loss includes more than just academic learning.
"They are at risk of finishing school without the skills, behaviors, and mindsets to succeed in college or in the workforce," the analysis said.
The report estimated that "[S]tudents may earn $49,000 to $61,000 less over their lifetime owing to the impact of the pandemic on their schooling. The impact on the U.S. economy could amount to $128 billion to $188 billion every year as this cohort enters the workforce."
By Scott McClallen