CCP's Hero 'Journalist' Died at 30
Fu Guohao, allegedly a former reporter for a Chinese Communist Party (CCP) media, Global Times who claimed to support Hong Kong police in their suppression of pro-democracy protestors in 2019, died at the age of 30 on Oct. 25, 2021. Almost one year later, his father posted his son's death on a social media platform.According to the Global Times, Fu was one of its reporters, but as netizens revealed in 2019, Fu's name cannot be found as a reporter of the CCP in the card inquiry system . Until now, Fu's claim to be a reporter has been widely questioned and his true occupation remains a mystery. Claiming to Support HK Police, Beaten by Protestors On Aug. 13, 2019, Fu was found secretly taking photos of Hong Kong protesters at the airport while wearing a reporter's reflective vest. The demonstrators suspected he was a plainclothes member of the CCP or the Hong Kong police, so they stopped and questioned him. Fu tried to escape but while held by protesters, he claimed in English to be a tourist and denied being a reporter. The protesters then found he had a Chinese passport and an "I love the police" shirt with him but didn't find a press card; so they tied him to a luggage cart and beat him. Shortly after, Fu was sent to hospital in an ambulance. The CCP mouthpiece Global Times issued a statement announcing Fu's identity as "the newspaper's reporter sent to the Hong Kong airport to carry out an interview mission" and claimed that when he was tied up and beaten, he said, "I support the Hong Kong police. You can now hit me." Rewarded by CCP for Being 'Patriotic' A few hours later, Fu appeared on the CCP's major media platform CCTV and was described as a "hero" and a propaganda model after encountering the so-called "Hong Kong thugs." Fu thus became famous. At the same time, the CCP media publicized that an armed police brigade was going to Shenzhen, and the military also publicly vowed to "eliminate the protesters after autumn." In September 2020, the Global Times awarded Fu a bonus at the Hong Kong Reporting Commendation Meeting, according to its editor-in-chief, Hu Xijin. Fraudulent Identity After the incident, netizens searched for Fu's personal information, including his dormitory in the Fourth Bureau of the Ministry of National Security of the CCP, ID number, and mobile phone number, and published them online. They found that Fu had different names for different bank accounts. He worked for a company called Beijing All-rounded Information Corp., which provides information services for the local media responsible for the CCP's overseas propaganda. Hong Kong's now-shuttered pro-democracy newspaper Apple Daily quoted a former Chinese reporter at the time of saying that it is impossible for an ordinary person to hold valid documents with different names on them in China unless he has some kind of special status, such as, a national security employee. Identifying him as a Global Times Special Correspondent was just a cover-up. 'Fight Against Depression' According to the Paper (a CCP media), on the evening of Nov. 17, 2022, Fu's father posted on social media: "Fu Guohao, a well-known patriot and Hong Kong journalist, died of illness at the age of 30 on the evening of Oct. 25, 2021. The ashes of the heroic reporter Fu Guohao were placed in Tianjin Qiyuan in May, and the tombstone is engraved with four characters: 'Gone But Never Forgotten.'" The Paper confirmed from several of Fu's relatives and friends that he had passed away in October last year and was buried in his hometown Tianjin. The cause of Fu's death was not stated in the Paper. However, another media outlet revealed that Fu had been suffering from depression. The CCP media Dingduan News interviewed Fu's father, who said, "After my son left work, our family accompanied him to fight against depression, but he still left us in October 2021." In April last year, Fu's father, Fu Chengxue, posted on Toutiao, a news platform owned by ByteDance, on behalf of his son, "Leaving Beijing, Leaving Global Times and leaving Hu [Global Timeseditor-in-chief] is a painful and helpless choice for Fu Guohao," but at the age of 30, "it is difficult for him to buy a flat for himself in Beijing due to his income and financial situation," and his elderly parents cannot allow their only son to wander in Beijing, so Fu decided to leave Beijing and the Global Times,  "2019 ‧8‧13 has become history, and the Global Times has become the past." His Death Makes the Mysteries 'More Difficult to Solve' Current affairs commentator Li Linyi said: "After the Fu Guohao incident, there have been various rumors. The biggest problem is his true identity. The CCP officials said that he was a reporter for the Global Times at the time, and then various rumors were directed at him. Hu Xijin, editor-in-chief of Global Times at the time, publicly supported him." "But the problem is that after the Fu Guohao incident, the CCP took the opportunity to publicize and make the mainland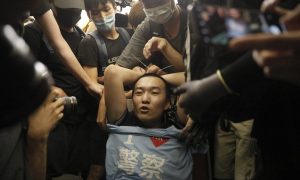 Fu Guohao, allegedly a former reporter for a Chinese Communist Party (CCP) media, Global Times who claimed to support Hong Kong police in their suppression of pro-democracy protestors in 2019, died at the age of 30 on Oct. 25, 2021. Almost one year later, his father posted his son's death on a social media platform.
According to the Global Times, Fu was one of its reporters, but as netizens revealed in 2019, Fu's name cannot be found as a reporter of the CCP in the card inquiry system .
Until now, Fu's claim to be a reporter has been widely questioned and his true occupation remains a mystery.
Claiming to Support HK Police, Beaten by Protestors
On Aug. 13, 2019, Fu was found secretly taking photos of Hong Kong protesters at the airport while wearing a reporter's reflective vest. The demonstrators suspected he was a plainclothes member of the CCP or the Hong Kong police, so they stopped and questioned him. Fu tried to escape but while held by protesters, he claimed in English to be a tourist and denied being a reporter.
The protesters then found he had a Chinese passport and an "I love the police" shirt with him but didn't find a press card; so they tied him to a luggage cart and beat him. Shortly after, Fu was sent to hospital in an ambulance.
The CCP mouthpiece Global Times issued a statement announcing Fu's identity as "the newspaper's reporter sent to the Hong Kong airport to carry out an interview mission" and claimed that when he was tied up and beaten, he said, "I support the Hong Kong police. You can now hit me."
Rewarded by CCP for Being 'Patriotic'
A few hours later, Fu appeared on the CCP's major media platform CCTV and was described as a "hero" and a propaganda model after encountering the so-called "Hong Kong thugs." Fu thus became famous.
At the same time, the CCP media publicized that an armed police brigade was going to Shenzhen, and the military also publicly vowed to "eliminate the protesters after autumn."
In September 2020, the Global Times awarded Fu a bonus at the Hong Kong Reporting Commendation Meeting, according to its editor-in-chief, Hu Xijin.
Fraudulent Identity
After the incident, netizens searched for Fu's personal information, including his dormitory in the Fourth Bureau of the Ministry of National Security of the CCP, ID number, and mobile phone number, and published them online.
They found that Fu had different names for different bank accounts. He worked for a company called Beijing All-rounded Information Corp., which provides information services for the local media responsible for the CCP's overseas propaganda.
Hong Kong's now-shuttered pro-democracy newspaper Apple Daily quoted a former Chinese reporter at the time of saying that it is impossible for an ordinary person to hold valid documents with different names on them in China unless he has some kind of special status, such as, a national security employee. Identifying him as a Global Times Special Correspondent was just a cover-up.
'Fight Against Depression'
According to the Paper (a CCP media), on the evening of Nov. 17, 2022, Fu's father posted on social media: "Fu Guohao, a well-known patriot and Hong Kong journalist, died of illness at the age of 30 on the evening of Oct. 25, 2021. The ashes of the heroic reporter Fu Guohao were placed in Tianjin Qiyuan in May, and the tombstone is engraved with four characters: 'Gone But Never Forgotten.'"
The Paper confirmed from several of Fu's relatives and friends that he had passed away in October last year and was buried in his hometown Tianjin.
The cause of Fu's death was not stated in the Paper. However, another media outlet revealed that Fu had been suffering from depression. The CCP media Dingduan News interviewed Fu's father, who said, "After my son left work, our family accompanied him to fight against depression, but he still left us in October 2021."
In April last year, Fu's father, Fu Chengxue, posted on Toutiao, a news platform owned by ByteDance, on behalf of his son, "Leaving Beijing, Leaving Global Times and leaving Hu [Global Timeseditor-in-chief] is a painful and helpless choice for Fu Guohao," but at the age of 30, "it is difficult for him to buy a flat for himself in Beijing due to his income and financial situation," and his elderly parents cannot allow their only son to wander in Beijing, so Fu decided to leave Beijing and the Global Times, "2019 ‧8‧13 has become history, and the Global Times has become the past."
His Death Makes the Mysteries 'More Difficult to Solve'
Current affairs commentator Li Linyi said: "After the Fu Guohao incident, there have been various rumors. The biggest problem is his true identity. The CCP officials said that he was a reporter for the Global Times at the time, and then various rumors were directed at him. Hu Xijin, editor-in-chief of Global Times at the time, publicly supported him."
"But the problem is that after the Fu Guohao incident, the CCP took the opportunity to publicize and make the mainland people hate the Hong Kong people who opposed the anti-Extradition Law Amendment Bill, and Fu himself was also exposed by netizens as a reporter for the CCP. There is no such person found in the card inquiry system. In addition, the name of Fu Guohao Minsheng Bank's credit card has only two words 'FU HAO.' His real identity is still controversial until now."
Li said: "Fu Guohao has resigned from [the] Global Times until now, and his father suddenly announced that Fu had passed away in October last year. Why did his father speak up after his son died nearly a year later? And What exactly is Fu Guohao's true identity? After Fu Guohao's death, the mysteries will become even more difficult to solve."