CCP State Media and Diplomats Used Social Media to Spread False Information About Xinjiang: Report
China's diplomats and state media outlets are using social media platforms to manipulate public opinion and spread false information to divert international condemnation of human rights abuses in Xinjiang, a new report found.A report released on July 20 by the Australian Strategic Policy Institute (ASPI) found that since early 2020, the Chinese Communist Party (CCP)'s diplomats and state media have been "using increasingly sophisticated online tactics" to deny the human rights abuses it has committed in Xinjiang, the home of the Muslim Uyghur minority. The report, titled "Assessing the impact of CCP information operations related to Xinjiang," analyzed more than 613,000 Facebook posts and 6.78 million Twitter tweets and retweets mentioning "Xinjiang" between Jan. 1, 2020 and Jan. 1, 2022. CCP Manipulation Active on Social Media Of the top 400 most interactive Facebook posts (including reactions and shares), 60.3 percent were posted by CCP state media and diplomats; Of the 1,000 most interactive tweets (including likes and retweets), 5.5 percent were from CCP state media and diplomats, and 4 percent were from accounts suspended by Twitter for platform manipulation. The CCP's top leadership considers information and disinformation central to geopolitical competition and influencing international opinion, according to the report. "Instead of improving its treatment of Uyghurs and other Turkic minorities, the CCP is responding to critiques of its current actions against human rights by coordinating its state propaganda apparatus, security agencies and public relations industry to silence and shape Xinjiang narratives at home and abroad," the authors wrote. Workers are seen on the production line at a cotton textile factory in Korla, Xinjiang, China, on April 1, 2021. (cnsphoto via Reuters) The researchers also analyzed 494,710 articles mentioning Xinjiang published in more than 65 languages between Jan 1, 2021, and Jan 1, 2022. Most were published in Chinese (55 percent) or English (35 percent). Chinese-language articles were more likely to make positive comments about the communist regime's national policies and actions in Xinjiang. The CCP has carried out mass surveillance, detention, and "re-education" of Uyghurs and other ethnic minorities in Xinjiang in recent years under the pretext of fighting instability and counterterrorism. Beijing has always denied the accusation of "genocide" in Xinjiang. However, leaked Xinjiang Police files published in May revealed the brutal persecution of Uyghurs in mass concentration camps, including executions of fugitives. The report also warns that while social media platforms are increasingly removing fake accounts linked to covert CCP influence operations, the regime will enlist diaspora groups to shape perceptions of Xinjiang around the world. Economic Sanctions Should be Expanded Albert Zhang, the co-author of the report, argues that the impact of the CCP's information campaign is not widely understood internationally, and the global challenges posed have not been adequately addressed. "Governments must lead this policymaking process in coordination with allies and partners with shared interests," Zhang said. "Economic sanctions regimes that target the perpetrators of serious human rights violations and abuses should be expanded to include the distributors of disinformation and foreign propaganda who silence, intimidate, and continue the abuse of survivors and victims of human rights violations." "Governments should disrupt Chinese propaganda assets and identify strategic data sources—such as public opinion mining of US-based social media—that are being exploited to improve the party's influence and interference capabilities. "In addition, governments, civil society actors, think tanks, and social media operators should create countermeasures and responses to CCP information operations and propaganda activities focusing on the discourse on human rights to blunt and deter malign CCP activity." Workers walk by the perimeter fence of what is officially known as a vocational skills education centre in Dabancheng in Xinjiang region, China, on Sept. 4, 2018. (Thomas Peter/Reuters) In another report titled "#StopXinjiangRumors: The CCP's decentralised disinformation campaign" released in late 2021, ASPI found that the CCP was looking to influence international perceptions of its Xinjiang policies by publishing videos from Uyghurs saying they're happy with their life in the region. "CCP policies in the region are framed as counterterrorism responses as a way of attempting to legitimise actions, while negative information and testimonies of abuse are simply denied or not reported," the authors said. Follow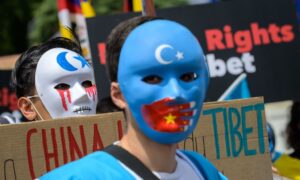 China's diplomats and state media outlets are using social media platforms to manipulate public opinion and spread false information to divert international condemnation of human rights abuses in Xinjiang, a new report found.
A report released on July 20 by the Australian Strategic Policy Institute (ASPI) found that since early 2020, the Chinese Communist Party (CCP)'s diplomats and state media have been "using increasingly sophisticated online tactics" to deny the human rights abuses it has committed in Xinjiang, the home of the Muslim Uyghur minority.
The report, titled "Assessing the impact of CCP information operations related to Xinjiang," analyzed more than 613,000 Facebook posts and 6.78 million Twitter tweets and retweets mentioning "Xinjiang" between Jan. 1, 2020 and Jan. 1, 2022.
CCP Manipulation Active on Social Media
Of the top 400 most interactive Facebook posts (including reactions and shares), 60.3 percent were posted by CCP state media and diplomats; Of the 1,000 most interactive tweets (including likes and retweets), 5.5 percent were from CCP state media and diplomats, and 4 percent were from accounts suspended by Twitter for platform manipulation.
The CCP's top leadership considers information and disinformation central to geopolitical competition and influencing international opinion, according to the report.
"Instead of improving its treatment of Uyghurs and other Turkic minorities, the CCP is responding to critiques of its current actions against human rights by coordinating its state propaganda apparatus, security agencies and public relations industry to silence and shape Xinjiang narratives at home and abroad," the authors wrote.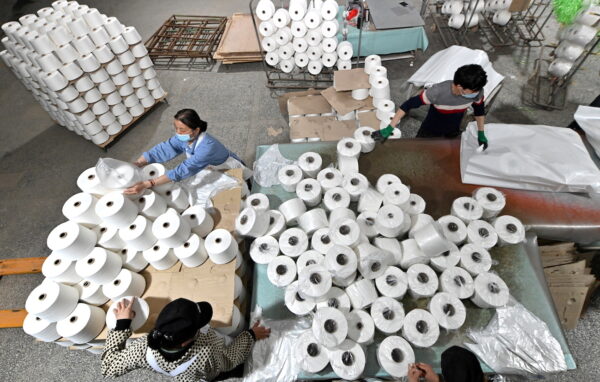 The researchers also analyzed 494,710 articles mentioning Xinjiang published in more than 65 languages between Jan 1, 2021, and Jan 1, 2022. Most were published in Chinese (55 percent) or English (35 percent). Chinese-language articles were more likely to make positive comments about the communist regime's national policies and actions in Xinjiang.
The CCP has carried out mass surveillance, detention, and "re-education" of Uyghurs and other ethnic minorities in Xinjiang in recent years under the pretext of fighting instability and counterterrorism.
Beijing has always denied the accusation of "genocide" in Xinjiang. However, leaked Xinjiang Police files published in May revealed the brutal persecution of Uyghurs in mass concentration camps, including executions of fugitives.
The report also warns that while social media platforms are increasingly removing fake accounts linked to covert CCP influence operations, the regime will enlist diaspora groups to shape perceptions of Xinjiang around the world.
Economic Sanctions Should be Expanded
Albert Zhang, the co-author of the report, argues that the impact of the CCP's information campaign is not widely understood internationally, and the global challenges posed have not been adequately addressed.
"Governments must lead this policymaking process in coordination with allies and partners with shared interests," Zhang said.
"Economic sanctions regimes that target the perpetrators of serious human rights violations and abuses should be expanded to include the distributors of disinformation and foreign propaganda who silence, intimidate, and continue the abuse of survivors and victims of human rights violations."
"Governments should disrupt Chinese propaganda assets and identify strategic data sources—such as public opinion mining of US-based social media—that are being exploited to improve the party's influence and interference capabilities.
"In addition, governments, civil society actors, think tanks, and social media operators should create countermeasures and responses to CCP information operations and propaganda activities focusing on the discourse on human rights to blunt and deter malign CCP activity."
In another report titled "#StopXinjiangRumors: The CCP's decentralised disinformation campaign" released in late 2021, ASPI found that the CCP was looking to influence international perceptions of its Xinjiang policies by publishing videos from Uyghurs saying they're happy with their life in the region.
"CCP policies in the region are framed as counterterrorism responses as a way of attempting to legitimise actions, while negative information and testimonies of abuse are simply denied or not reported," the authors said.