CCP Seeks to Use TikTok Data Against Americans: Former Pentagon Official
China's communist regime is in a cold war with the United States and seeks to use data gathered by companies like TikTok against American interests, according to a former Pentagon official.The Chinese Communist Party (CCP) will use apps like TikTok as weapons of mass manipulation and misinformation, according to Nicolas Chaillan, former chief software officer of the U.S. Air Force. "What you're going to find is now 40 percent of kids under 24 are using TikTok as the way to search for information," Chaillan said during an interview with EpochTV that aired on Oct. 18. "When you look at what the CCP has been doing, for many years now, information and the control of information is probably the cornerstone of being able to push that agenda to the American people." Chaillan's comments follow a rough couple of weeks for TikTok, which has faced allegations that it allowed political ads with false claims and misinformation ahead of the 2022 midterm elections. The company previously admitted that it had censored users at the behest of the CCP, but claims to no longer participate in the practice. TikTok Key to CCP Efforts to Steal Technology For Chaillan, TikTok and its China-based parent company, ByteDance, present a unique problem for U.S. national security, as both companies' ties to the CCP mean that detailed and sensitive information on U.S. citizens could be passed on to a hostile regime. "The issue you're going to see with TikTok is multifaceted," Chaillan said. "Effectively, you're going to find the data issue with potential access to personal information, including face prints, and voiceprints, which can ultimately give access to future payment systems." Chaillan said that China was already deploying authentication systems for financial systems that rely on facial recognition. As TikTok scoops users' information about their facial, vocal, and typing patterns, this information could be used by CCP assets to steal from or impersonate Americans. It also provides the CCP's intelligence apparatus with the ability to target people or companies for espionage by gaining leverage that it can use for social engineering, a type of psychological manipulation intended to get people to divulge information or otherwise behave in ways that they normally would not. "Think of the ability to infiltrate American companies," Chaillan said. "Let's say you want to steal some technology from an American company. You're going to be able to know exactly what the people behind the company like, what they're listening to, what books they read." "So, you can show up as an intelligence group and you can really engage with those people and have a deep relationship, thanks to the information you gather. So, it's really enabling them as an intelligence community to have access to pretty much everything about, you know, 40 percent [or more] of America." 'China is at War with Us' Chaillan also said that the pace at which TikTok was accumulating data about U.S. citizen was worrying because that data could boost the CCP's efforts to develop artificial intelligence (AI) and weapons platforms that depend on it. "The more data you have the faster you can train, and the faster you can train the faster you can deploy," Chaillan said. "With the volume of data we're talking about, this is what's going to be powering the next iteration of artificial intelligence and machine learning weapons. Not just for basic use cases of spying on people and tracking faces and things like that. It's also now being used for the next generation of weapons, of actual physical weapons." Chaillan said that the Pentagon and lawmakers in Washington are not fully appreciating the severity of the situation, however, and are too slow to act on emerging threats. "Congress still struggles to turn on their phone, let alone understand the power of data," Chaillan said. "There's really a lack of understanding of technology, probably because Congress has no term limits, and you end up seeing people that just should not even be in [these] jobs." To that end, Chaillan said the CCP considers itself at war with the United States, albeit, for now, a bloodless one. "I think there's a really poor understanding of what China is doing," Chaillan said. "But the CCP is an enemy here. And I can tell you that when you take a step back and you look at what's been done in the last 25 years, you're going to see a methodical war against American interests." Follow Andrew Thornebrooke is a reporter for The Epoch Times covering China-related issues with a focus on defense, military affairs, and national security. He holds a master's in military history from Norwich University. Senior Editor Follow Jan Jekielek is a senior editor with The Epoch Times and host of the show, "American Thought Leaders." Jan's career has spanned academia, media, and international human rights work. In 2009 he joined The Epoch Time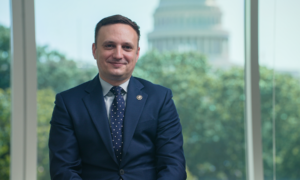 China's communist regime is in a cold war with the United States and seeks to use data gathered by companies like TikTok against American interests, according to a former Pentagon official.
The Chinese Communist Party (CCP) will use apps like TikTok as weapons of mass manipulation and misinformation, according to Nicolas Chaillan, former chief software officer of the U.S. Air Force.
"What you're going to find is now 40 percent of kids under 24 are using TikTok as the way to search for information," Chaillan said during an interview with EpochTV that aired on Oct. 18.
"When you look at what the CCP has been doing, for many years now, information and the control of information is probably the cornerstone of being able to push that agenda to the American people."
Chaillan's comments follow a rough couple of weeks for TikTok, which has faced allegations that it allowed political ads with false claims and misinformation ahead of the 2022 midterm elections.
The company previously admitted that it had censored users at the behest of the CCP, but claims to no longer participate in the practice.
TikTok Key to CCP Efforts to Steal Technology

For Chaillan, TikTok and its China-based parent company, ByteDance, present a unique problem for U.S. national security, as both companies' ties to the CCP mean that detailed and sensitive information on U.S. citizens could be passed on to a hostile regime.
"The issue you're going to see with TikTok is multifaceted," Chaillan said. "Effectively, you're going to find the data issue with potential access to personal information, including face prints, and voiceprints, which can ultimately give access to future payment systems."
Chaillan said that China was already deploying authentication systems for financial systems that rely on facial recognition. As TikTok scoops users' information about their facial, vocal, and typing patterns, this information could be used by CCP assets to steal from or impersonate Americans.
It also provides the CCP's intelligence apparatus with the ability to target people or companies for espionage by gaining leverage that it can use for social engineering, a type of psychological manipulation intended to get people to divulge information or otherwise behave in ways that they normally would not.
"Think of the ability to infiltrate American companies," Chaillan said. "Let's say you want to steal some technology from an American company. You're going to be able to know exactly what the people behind the company like, what they're listening to, what books they read."
"So, you can show up as an intelligence group and you can really engage with those people and have a deep relationship, thanks to the information you gather. So, it's really enabling them as an intelligence community to have access to pretty much everything about, you know, 40 percent [or more] of America."
'China is at War with Us'

Chaillan also said that the pace at which TikTok was accumulating data about U.S. citizen was worrying because that data could boost the CCP's efforts to develop artificial intelligence (AI) and weapons platforms that depend on it.
"The more data you have the faster you can train, and the faster you can train the faster you can deploy," Chaillan said.
"With the volume of data we're talking about, this is what's going to be powering the next iteration of artificial intelligence and machine learning weapons. Not just for basic use cases of spying on people and tracking faces and things like that. It's also now being used for the next generation of weapons, of actual physical weapons."
Chaillan said that the Pentagon and lawmakers in Washington are not fully appreciating the severity of the situation, however, and are too slow to act on emerging threats.
"Congress still struggles to turn on their phone, let alone understand the power of data," Chaillan said.
"There's really a lack of understanding of technology, probably because Congress has no term limits, and you end up seeing people that just should not even be in [these] jobs."
To that end, Chaillan said the CCP considers itself at war with the United States, albeit, for now, a bloodless one.
"I think there's a really poor understanding of what China is doing," Chaillan said.
"But the CCP is an enemy here. And I can tell you that when you take a step back and you look at what's been done in the last 25 years, you're going to see a methodical war against American interests."