CCP Relaxes COVID Controls Amid White Paper Movement
Authorities in many Chinese cities have been relaxing the epidemic prevention restrictions after protests against the zero-COVID policy broke out across the country. According to political analysts, while the Chinese regime has made some concessions on the surface, it will bide its time for revenge and eventually adopt a "precision crackdown" policy.In recent days, many local authorities in China have relaxed their control measures on COVID-19, with transport operators no longer required to have nucleic acid test results. Passengers without a negative nucleic acid certificate dated within 48 hours will no longer be denied access to buses and subways in Beijing starting Dec. 5. Shenzhen authorities also announced on Dec. 3 that people will no longer be asked for a nucleic acid test certificate on public transportation such as buses, subways, and taxis in the city. Tianjin rail transit announced it would cancel the 72-hour nucleic acid certificate check on Dec. 2. Protesters hold sheets of blank white paper, denoting censorship, during a march objecting to China's strict zero-COVID measures in Beijing on Nov.27, 2022. (Kevin Frayer/Getty Images) In addition, many establishments have stopped checking nucleic acid test certificates. People in Chengdu now only need to show their health code to enter and leave a residential community. Medical and health institutions at all levels in Beijing no longer require patients to have a negative nucleic acid result dated within 48 hours. Since Dec. 1, people in Guangzhou are no longer required to have a negative nucleic acid test within 48 hours when purchasing medicine for a cold or fever at the pharmacy. Business activities are also resuming in many places. Larger supermarkets such as the Outlets in Badaling and Chaoyang Joy City in Beijing resumed operations. In Zhengzhou, supermarkets, vegetable markets, barbershops, and other essential establishments are back in business. Cinemas, libraries, gymnasiums, and restaurants are also opening gradually. In the past few days, nucleic acid testing policies have also been relaxed. Authorities in Beijing, Guangzhou, Shenyang, Fuzhou, Hohhot, Zhengzhou, and Taiyuan have announced that long-term home-bound elderly, students taking classes online, people working from home, and infants and children don't have to participate in nucleic acid screening if they do not plan to go out. According to China Business Network, authorities in Chengdu, Guangzhou, Tianjin, Beijing, and Chongqing released new travel policies on Dec. 2. Based on the population of these cities, over 100 million people will be able to travel more easily due to the new policies. People line up for a throat swab during mass COVID-19 testing in a residential community in Shanghai, on March 10, 2022. China is tackling a COVID-19 spike with selective lockdowns and other measures that appear to slightly ease its draconian zero tolerance strategy. (AP Photo) However, China News Service, the Chinese Communist Party's (CCP) official media outlet, said on Dec. 3 that many places in China are now adjusting their measures to prevent and control the pandemic, "but adjusting is not the same as 'opening up,'" and that many places are still implementing the 20 New Guidelines issued in November. Analysis: CCP Using Two-Pronged Strategy Wang He, a U.S.-based China expert and commentator, believes that the CCP has a two-pronged strategy: on the one hand, it has made some so-called concessions on the epidemic prevention and control measures; on the other hand, it has stepped up its crackdown on the "White Paper Movement." Wang said although the CCP is now making some concessions, (the policies in place) are still in line with the 20 New Guidelines it released. "The '20 Guidelines' were publicized before the 'White Paper Movement,' but the implementation of '20 Guidelines' varies greatly from place to place," he told The Epoch Times on Dec. 4.  "The CCP has shifted the responsibility to local [authorities] and let them make their own decisions. The local [authorities] have to gauge their leaders' intentions. Do they dare make their own decisions? They are just sticking to the old policies." "But on the other hand, the CCP has intensified its crackdown, stepped up controls and police presence on the streets. Some people have been arrested." On Nov. 28, Chinese students at Columbia University in New York held a rally in solidarity with China protesters. (New Tang Dynasty Television/Screenshot via The Epoch Times) "From what we can see now, it is not clear how far the White Paper Movement will go next and whether there will be more large-scale outbreaks," Wang said. "The CCP is also worried, so it is now making all-round preparations." "The Political and Legal Committee held a meeting on Nov. 28, after which all provincial and municipal government heads personally expressed their positions and made deployments. This shows that the CCP has now taken it [the protests] as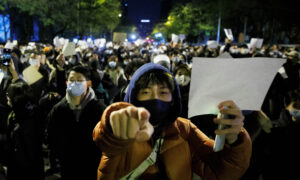 Authorities in many Chinese cities have been relaxing the epidemic prevention restrictions after protests against the zero-COVID policy broke out across the country. According to political analysts, while the Chinese regime has made some concessions on the surface, it will bide its time for revenge and eventually adopt a "precision crackdown" policy.
In recent days, many local authorities in China have relaxed their control measures on COVID-19, with transport operators no longer required to have nucleic acid test results.
Passengers without a negative nucleic acid certificate dated within 48 hours will no longer be denied access to buses and subways in Beijing starting Dec. 5. Shenzhen authorities also announced on Dec. 3 that people will no longer be asked for a nucleic acid test certificate on public transportation such as buses, subways, and taxis in the city. Tianjin rail transit announced it would cancel the 72-hour nucleic acid certificate check on Dec. 2.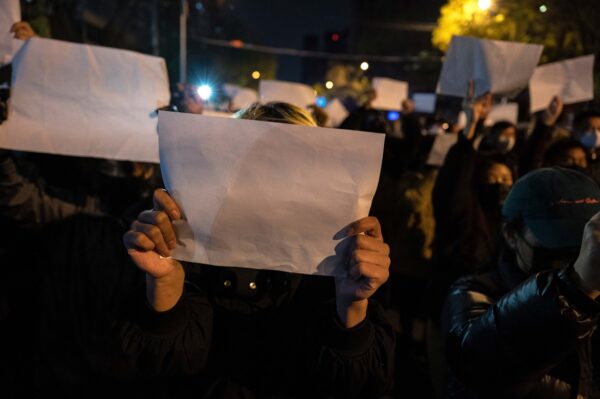 In addition, many establishments have stopped checking nucleic acid test certificates.
People in Chengdu now only need to show their health code to enter and leave a residential community. Medical and health institutions at all levels in Beijing no longer require patients to have a negative nucleic acid result dated within 48 hours. Since Dec. 1, people in Guangzhou are no longer required to have a negative nucleic acid test within 48 hours when purchasing medicine for a cold or fever at the pharmacy.
Business activities are also resuming in many places.
Larger supermarkets such as the Outlets in Badaling and Chaoyang Joy City in Beijing resumed operations. In Zhengzhou, supermarkets, vegetable markets, barbershops, and other essential establishments are back in business. Cinemas, libraries, gymnasiums, and restaurants are also opening gradually.
In the past few days, nucleic acid testing policies have also been relaxed. Authorities in Beijing, Guangzhou, Shenyang, Fuzhou, Hohhot, Zhengzhou, and Taiyuan have announced that long-term home-bound elderly, students taking classes online, people working from home, and infants and children don't have to participate in nucleic acid screening if they do not plan to go out.
According to China Business Network, authorities in Chengdu, Guangzhou, Tianjin, Beijing, and Chongqing released new travel policies on Dec. 2. Based on the population of these cities, over 100 million people will be able to travel more easily due to the new policies.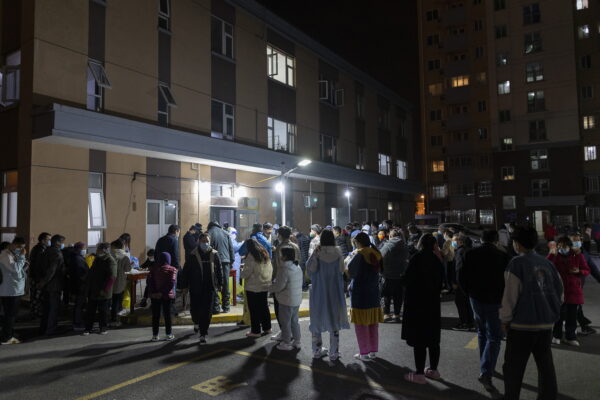 However, China News Service, the Chinese Communist Party's (CCP) official media outlet, said on Dec. 3 that many places in China are now adjusting their measures to prevent and control the pandemic, "but adjusting is not the same as 'opening up,'" and that many places are still implementing the 20 New Guidelines issued in November.
Analysis: CCP Using Two-Pronged Strategy
Wang He, a U.S.-based China expert and commentator, believes that the CCP has a two-pronged strategy: on the one hand, it has made some so-called concessions on the epidemic prevention and control measures; on the other hand, it has stepped up its crackdown on the "White Paper Movement."
Wang said although the CCP is now making some concessions, (the policies in place) are still in line with the 20 New Guidelines it released.
"The '20 Guidelines' were publicized before the 'White Paper Movement,' but the implementation of '20 Guidelines' varies greatly from place to place," he told The Epoch Times on Dec. 4. "The CCP has shifted the responsibility to local [authorities] and let them make their own decisions. The local [authorities] have to gauge their leaders' intentions. Do they dare make their own decisions? They are just sticking to the old policies."
"But on the other hand, the CCP has intensified its crackdown, stepped up controls and police presence on the streets. Some people have been arrested."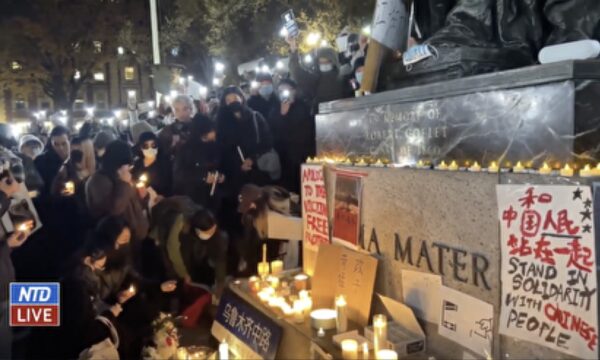 "From what we can see now, it is not clear how far the White Paper Movement will go next and whether there will be more large-scale outbreaks," Wang said. "The CCP is also worried, so it is now making all-round preparations."
"The Political and Legal Committee held a meeting on Nov. 28, after which all provincial and municipal government heads personally expressed their positions and made deployments. This shows that the CCP has now taken it [the protests] as a top priority as if facing a formidable enemy. It's hard to say that this is a big concession."
The CCP will use the "old ways" to suppress the White Paper Movement, according to Wang.
"It's going to arrest a few of the so-called organizers and planners who stand out, that is, execute one as a warning to others, as it always did before," he said. "But now its surveillance capabilities are much stronger than in the past, especially when its target groups are targeted. What the other side is doing is almost transparent to it."
CCP Adopts 'Precision Crackdown'
Zhang Tianliang, a U.S.-based China commentator, said that the CCP will eventually retaliate against those who participated in the "White Paper Movement."
Zhang said on his YouTube channel that the lifting of strict epidemic prevention policies across China was a move by the CCP to temporarily calm things down through limited compromise, but it would retaliate against the protesters.
Zhang believes that it is unlikely for the CCP to again take tanks to the streets to carry out a crackdown, but it may adopt a "precise crackdown" strategy. He cited a Voice of America report on Dec. 3 saying that the Chinese police used the methods of face recognition, cell phone information, and informant reports to identify who was participating in the protests.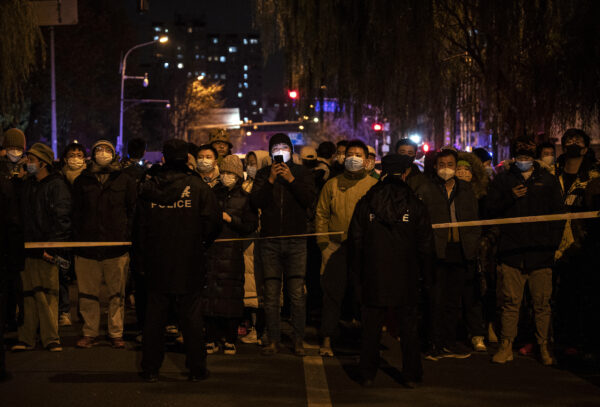 Tang Jingyuan, a U.S.-based China expert, agreed that the CCP may use violence to suppress protestors.
Tang said that the CCP will use police, including armed police and special police, to carry out the so-called "stability maintenance" and use the big data it controls to arrest protestors.
"The CCP has the help of big data, face recognition, and its various surveillance methods," he told The Epoch Times on Nov. 30. "So technically speaking, it will not be too difficult for them to locate most of the people who participated on the scene."
Tang believes that the CCP will target those who directly participated in the White Paper Movement.
"I think they may directly arrest, try, convict, or even make them confess on TV," he said. "In this way, it can create a deterrent effect and gain legitimacy for its crackdown."
US Senators Warn CCP Against a Crackdown on Protesters
A bipartisan group of more than 40 U.S. federal senators sent a letter to Chinese Ambassador to the United States Qin Gang on Dec. 1, warning the CCP against any violent crackdown on peaceful protesters.
The 42 senators were led by Dan Sullivan (R-Alaska) and Jeff Merkley (D-Ore.).
"We are following the current peaceful protests in China over your government's policies very carefully. We are also closely watching the Chinese Communist Party's (CCP) reaction to them," reads the letter.
The senators refer to the communist regime's violent crackdown on the student-led pro-democracy movement at Beijing's Tiananmen Square in 1989, which killed "hundreds, if not thousands."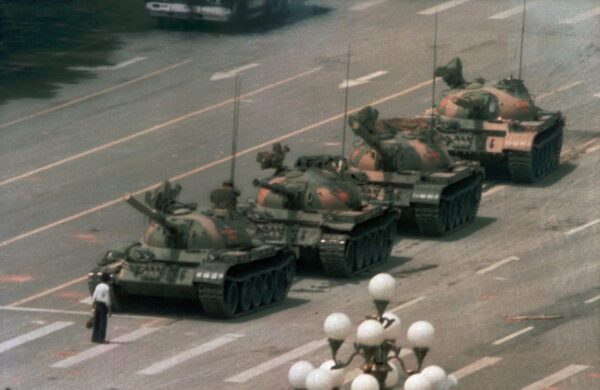 "We caution the CCP in the strongest possible terms not to once again undertake a violent crackdown on peaceful Chinese protesters who simply want more freedom. If that happens, we believe there will be grave consequences for the US-China relationship, causing extraordinary damage to it," they said in the letter.
Since Nov. 26, people in many parts of China have been holding rallies to mourn the victims of the Urumqi fire. The rallies have since turned into protests against the CCP's "Zero-COVID" measures. The protesters held a blank sheet of white paper to accuse the CCP of controlling speech, which gained the movement the name White Paper Revolution. This is the largest protest in China since the Tiananmen Square protest in 1989.