CCP on a Diplomatic Offensive
Commentary The takeaway from a flurry of high-level meetings is that Chinese Communist Party (CCP) leader Xi Jinping is happy to work with any country willing to let Beijing rewrite the international order. Since consolidating power last October, Xi has met with more than 25 heads of state. His recent negotiation of a peace deal between Saudi Arabia and Iran has allowed him to launch a new soft power campaign portraying himself and the CCP as peacemakers. In his recent visit to Moscow, he offered Russian President Vladimir Putin his 12-point Ukraine peace plan, which Putin loved because it did not require him to pull the Russian army out of Ukraine. The next big meeting will be in May when Xi plans to meet with the leaders of Kazakhstan, Kyrgyzstan, Tajikistan, and Uzbekistan at the "first China-Central Asia summit." It seems now that COVID-19 lockdowns are finished, the CCP is back to influencing and co-opting as many countries as possible. On March 16, Xi gave the keynote speech at the CCP Dialogue with World Political Parties High-level Meeting. The takeaway is that the CCP's goals remain the same, but the approach is changing a bit. Xi is attempting to position himself and the CCP as diplomats bringing order to a world where the United States has caused chaos by defending Taiwan, Ukraine, and the Uyghur people. Without actually naming the United States, Xi told attendees of the Dialogue that a Cold War mentality has placed "humanity's modernization process" at a "crossroads of history." Among his five propositions for overcoming this problem was "upholding fundamental principles," which includes respecting the sovereignty and not meddling in the internal affairs of other countries. This was yet another veiled reference to the U.S. condemnation of the genocide in Xinjiang and China's threats to Taiwan. His comment also extends to the Ukrainian War, which he effectively blames on the United States. Another of his propositions was to "ensure firm leadership over modernization." China's President Xi Jinping waves as he disembarks off his aircraft upon arrival at Moscow's Vnukovo airport on March 20, 2023. (Anatoliy Zhdanov/Kommersant /AFP via Getty Images) The official statement from the Ministry of Foreign Affairs of the People's Republic of China following the CCP Dialogue said, "The CPC stands ready to work with political parties of all other countries to advance high-quality Belt and Road cooperation, accelerate the solid implementation of the Global Development Initiative, foster new drivers for global development and build a global community of development," using the official acronym for the communist party. In short, China's campaign for world domination is officially back. Furthermore, the statement said that "China firmly opposes hegemony," a statement that boils down to Xi being ready to cooperate with other countries willing to allow the CCP to rewrite the international order in Beijing's image. Xi's new role as diplomat-peacemaker presents some difficulties for his relationship with Putin. Xi's meeting with his "dear friend" Putin came only days after the International Criminal Court issued an arrest warrant for President Putin. U.S. Secretary of State Blinken saw this as Beijing sheltering Putin while enabling Russia to continue its war crimes. At the conclusion of their meeting, Xi and Putin reaffirmed that cooperation between China and Russia is limitless. Faced with challenges in Ukraine and around the world, the two countries need each other. Beijing needs cheap energy, and Russia needs money and allies. And both oppose the U.S.-led international order. Their relationship clearly has limits though. Moscow and Beijing have never signed a mutual defense agreement. And many experts believe it is unlikely that China would provide weapons to Russia for fear of sanctions and alienation from the west and its lucrative markets. Furthermore, the China-Central Asia summit is seen as a direct challenge to Russian influence in the former Soviet states. Another issue is that Xi's 12-point Ukraine peace plan is unlikely to be accepted. It calls for respecting the sovereignty of other nations, yet it does not require Russia to remove its troops from Ukraine. Consequently, there is no way that it will be accepted by either Zelenskyy, the United States, or NATO. Ukrainian Foreign Ministry spokesman Oleg Nikolenko told CNN Monday that, "restoring territorial integrity of Ukraine should be at the core of every diplomatic effort." Xi has not formally presented the peace plan to NATO, the U.N., or Zelenskyy. If Beijing were serious about creating peace, Xi would already have called Zelenskyy directly, but neither Kyiv, the United States nor Europe, have been part of Xi's peace plans for Ukraine. China does have support from the BRICS countries though, and Brazil's Lula has written his own peace plan for Ukraine which includes participation from China. If Xi moves forward with his peace plan and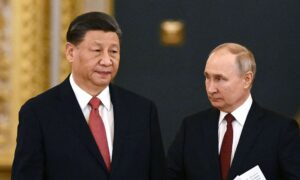 Commentary
The takeaway from a flurry of high-level meetings is that Chinese Communist Party (CCP) leader Xi Jinping is happy to work with any country willing to let Beijing rewrite the international order.
Since consolidating power last October, Xi has met with more than 25 heads of state. His recent negotiation of a peace deal between Saudi Arabia and Iran has allowed him to launch a new soft power campaign portraying himself and the CCP as peacemakers. In his recent visit to Moscow, he offered Russian President Vladimir Putin his 12-point Ukraine peace plan, which Putin loved because it did not require him to pull the Russian army out of Ukraine. The next big meeting will be in May when Xi plans to meet with the leaders of Kazakhstan, Kyrgyzstan, Tajikistan, and Uzbekistan at the "first China-Central Asia summit."
It seems now that COVID-19 lockdowns are finished, the CCP is back to influencing and co-opting as many countries as possible. On March 16, Xi gave the keynote speech at the CCP Dialogue with World Political Parties High-level Meeting. The takeaway is that the CCP's goals remain the same, but the approach is changing a bit. Xi is attempting to position himself and the CCP as diplomats bringing order to a world where the United States has caused chaos by defending Taiwan, Ukraine, and the Uyghur people.
Without actually naming the United States, Xi told attendees of the Dialogue that a Cold War mentality has placed "humanity's modernization process" at a "crossroads of history." Among his five propositions for overcoming this problem was "upholding fundamental principles," which includes respecting the sovereignty and not meddling in the internal affairs of other countries.
This was yet another veiled reference to the U.S. condemnation of the genocide in Xinjiang and China's threats to Taiwan. His comment also extends to the Ukrainian War, which he effectively blames on the United States. Another of his propositions was to "ensure firm leadership over modernization."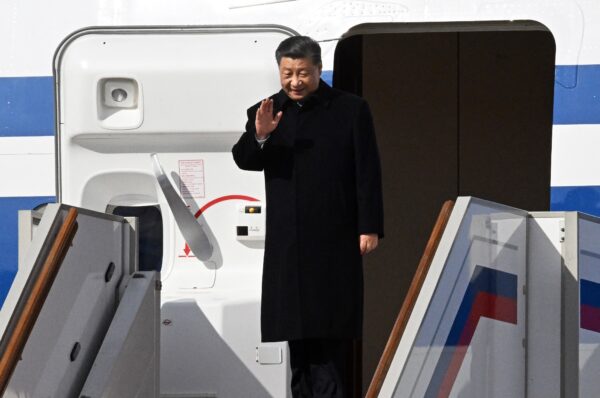 The official statement from the Ministry of Foreign Affairs of the People's Republic of China following the CCP Dialogue said, "The CPC stands ready to work with political parties of all other countries to advance high-quality Belt and Road cooperation, accelerate the solid implementation of the Global Development Initiative, foster new drivers for global development and build a global community of development," using the official acronym for the communist party.
In short, China's campaign for world domination is officially back. Furthermore, the statement said that "China firmly opposes hegemony," a statement that boils down to Xi being ready to cooperate with other countries willing to allow the CCP to rewrite the international order in Beijing's image.
Xi's new role as diplomat-peacemaker presents some difficulties for his relationship with Putin. Xi's meeting with his "dear friend" Putin came only days after the International Criminal Court issued an arrest warrant for President Putin. U.S. Secretary of State Blinken saw this as Beijing sheltering Putin while enabling Russia to continue its war crimes.
At the conclusion of their meeting, Xi and Putin reaffirmed that cooperation between China and Russia is limitless. Faced with challenges in Ukraine and around the world, the two countries need each other. Beijing needs cheap energy, and Russia needs money and allies. And both oppose the U.S.-led international order.
Their relationship clearly has limits though. Moscow and Beijing have never signed a mutual defense agreement. And many experts believe it is unlikely that China would provide weapons to Russia for fear of sanctions and alienation from the west and its lucrative markets. Furthermore, the China-Central Asia summit is seen as a direct challenge to Russian influence in the former Soviet states.
Another issue is that Xi's 12-point Ukraine peace plan is unlikely to be accepted. It calls for respecting the sovereignty of other nations, yet it does not require Russia to remove its troops from Ukraine. Consequently, there is no way that it will be accepted by either Zelenskyy, the United States, or NATO. Ukrainian Foreign Ministry spokesman Oleg Nikolenko told CNN Monday that, "restoring territorial integrity of Ukraine should be at the core of every diplomatic effort."
Xi has not formally presented the peace plan to NATO, the U.N., or Zelenskyy. If Beijing were serious about creating peace, Xi would already have called Zelenskyy directly, but neither Kyiv, the United States nor Europe, have been part of Xi's peace plans for Ukraine.
China does have support from the BRICS countries though, and Brazil's Lula has written his own peace plan for Ukraine which includes participation from China.
If Xi moves forward with his peace plan and it is rejected, his new guise as a stateman-negotiator will be shattered. On the other hand, he may be able to squeeze out a victory by blaming the west for perpetuating the war.
Views expressed in this article are the opinions of the author and do not necessarily reflect the views of The Epoch Times.