CCP Media Eradicates Hong Kong From 'The Most Donation to 2008 Sichuan Earthquake Worldwide Ranking' After 22 Billion yuan Aid
In the 2008 Sichuan catastrophic earthquake, Hong Kong donated 22 billion yuan (US$3 billion) to China. However, a recent donation ranking from the Chinese Communist Party's (CCP) media eradicates Hong Kong, Macau, and Taiwan from the list. The 8.0 magnitude earthquake occurred in the central region of Sichuan, China, with many aftershocks, tearing down 75 percent of building structures in the affected area. It also wiped out villages, mountains, towns, and schools. Hong Kong, Macao, and Taiwan immediately poured in support and disaster relief funds for the people of Sichuan. Hong Kong, Macao, and Taiwan donated about 22 billion yuan, 5 billion yuan, and 1.52 billion yuan to the Sichuan disaster relief. On July 1, 2017, the People's Daily, CCP media's overseas edition, published an article headlined, "Hong Kong and the Mainland: Heart On Sleeve, Working Together In Stormy Weather." The report praised and acknowledged the donation from Hong Kong, which tops the highest donation ranking region worldwide. However, on May 12, 2023, CCP media Sina released a video ranking which country donated the most for the earthquake. Hong Kong, Macao, and Taiwan are left out of the order. CCP Sent Pro-Democratic Donators To Jail Hong Kong ranks the highest donation to Sichuan's earthquake; however, after the anti-extradition movement in Hong Kong, some pro-democratic donators were prosecuted by CCP. In 2008, the now-dissolved Hong Kong Alliance in Support of Patriotic Democratic Movements of China (the Alliance) raised HK$780,000 (US$100,000) at the annual June 4 Vigil and donated all proceeds to the earthquake-affected areas. However, leaders of the Alliance have been on trial for inciting subversion of state power under the Hong Kong National Security Law. On May 21, 2008, the now-defunct Apple Daily held a one-day charity sale to raise funds for Sichuan. Apple Daily's CEO Jimmy Lai is now charged with "conspiring to collude with foreign forces." They are currently in jail, awaiting trial. CCP Repay with Military Intimidation to Taiwan Taiwan donated 1.52 billion yuan (US$200 million) to the Sichuan earthquake fund. However, CCP continues its military intimidation by increasing missile deployment to Taiwan, expanding military exercises against Taiwan, and sending military planes and warships circling in Taiwan's air. 'Blood Thicker than Water' Former TV host and political commentator Ng Chi-sum said that Hongkongers have the heart of "blood is thicker than water," they are all patriots, and they had been supporting the mainland people over the years in hard times. But the CCP eradicates Hong Kong from history because of "riots and protests" for "Hong Kong's independence." "The regime wanted to paint a picture to mainland Chinese that Hongkongers "never loved, or cared about the people of China," added Ng. The same goes for Taiwan. Ng said, "Why would CCP highlight in its propaganda to mainland people that the Taiwanese care for China?"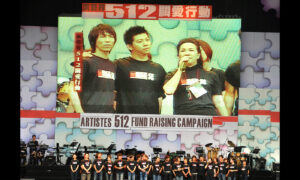 In the 2008 Sichuan catastrophic earthquake, Hong Kong donated 22 billion yuan (US$3 billion) to China. However, a recent donation ranking from the Chinese Communist Party's (CCP) media eradicates Hong Kong, Macau, and Taiwan from the list.
The 8.0 magnitude earthquake occurred in the central region of Sichuan, China, with many aftershocks, tearing down 75 percent of building structures in the affected area. It also wiped out villages, mountains, towns, and schools.
Hong Kong, Macao, and Taiwan immediately poured in support and disaster relief funds for the people of Sichuan. Hong Kong, Macao, and Taiwan donated about 22 billion yuan, 5 billion yuan, and 1.52 billion yuan to the Sichuan disaster relief.
On July 1, 2017, the People's Daily, CCP media's overseas edition, published an article headlined, "Hong Kong and the Mainland: Heart On Sleeve, Working Together In Stormy Weather." The report praised and acknowledged the donation from Hong Kong, which tops the highest donation ranking region worldwide.
However, on May 12, 2023, CCP media Sina released a video ranking which country donated the most for the earthquake. Hong Kong, Macao, and Taiwan are left out of the order.
CCP Sent Pro-Democratic Donators To Jail
Hong Kong ranks the highest donation to Sichuan's earthquake; however, after the anti-extradition movement in Hong Kong, some pro-democratic donators were prosecuted by CCP.
In 2008, the now-dissolved Hong Kong Alliance in Support of Patriotic Democratic Movements of China (the Alliance) raised HK$780,000 (US$100,000) at the annual June 4 Vigil and donated all proceeds to the earthquake-affected areas.
However, leaders of the Alliance have been on trial for inciting subversion of state power under the Hong Kong National Security Law.
On May 21, 2008, the now-defunct Apple Daily held a one-day charity sale to raise funds for Sichuan.
Apple Daily's CEO Jimmy Lai is now charged with "conspiring to collude with foreign forces."
They are currently in jail, awaiting trial.
CCP Repay with Military Intimidation to Taiwan
Taiwan donated 1.52 billion yuan (US$200 million) to the Sichuan earthquake fund.
However, CCP continues its military intimidation by increasing missile deployment to Taiwan, expanding military exercises against Taiwan, and sending military planes and warships circling in Taiwan's air.
'Blood Thicker than Water'
Former TV host and political commentator Ng Chi-sum said that Hongkongers have the heart of "blood is thicker than water," they are all patriots, and they had been supporting the mainland people over the years in hard times.
But the CCP eradicates Hong Kong from history because of "riots and protests" for "Hong Kong's independence."
"The regime wanted to paint a picture to mainland Chinese that Hongkongers "never loved, or cared about the people of China," added Ng.
The same goes for Taiwan. Ng said, "Why would CCP highlight in its propaganda to mainland people that the Taiwanese care for China?"