Canadian MPs Ask for Expansion of Immigration Program for Uyghurs Facing Persecution in China
MPs have voted unanimously to support a report that calls on the federal government to expand existing immigration measures to accommodate Uyghurs and other Turkic Muslims who are fleeing the repression of the Chinese communist regime.The motion, introduced by Conservative MP Garnett Genuis, was adopted on Oct. 25. MPs voted 258 to 0 in support of a recent report from the House Standing Committee on Citizenship and Immigration urging the government to provide safe haven for the Uyghurs in China who are targets of "an ongoing genocide." The report also noted that many victims who fled to third countries "are at continuing risk of detention and deportation back to China, where they face serious risk of arbitrary detention, torture, and other atrocities." To provide relief to these victims, the committee asks that Ottawa extend existing special immigration measures to Uyghurs and other Turkic Muslims, including the expansion of biometrics collection capabilities in third countries and the issuance of Temporary Resident Permits and single journey travel documents to those without a passport. The committee also asked that the government allow displaced Uyghurs in third countries, who are at risk of detention and deportation back to China, to seek refuge in Canada, and to waive the requirement that they be first designated as refugees by the United Nations High Commissioner for Refugees. The government was given a 30-day limit to provide a comprehensive response to the committee. The House of Commons is currently voting on a motion to re-affirm it's recognition of the #UyghurGenocide and to call for special immigration measures to assist Uyghur refugees. The Liberal cabinet fled the chamber – they are abstaining again. Cowards. #cdnpoli #Uyghur — Garnett Genuis (@GarnettGenuis) October 25, 2022 Genuis, the shadow minister for international development, criticized Prime Minister Justin Trudeau's cabinet for abstaining from voting. International Trade Minister Mary Ng initially broke ranks with her party and voted to endorse the report, though a spokesperson from her office later said the minister made a mistake and had intended to also abstain, according to Globe and Mail reporter Steven Chase in a Twitter post. The Liberal cabinet also abstained when MPs were voting on a similar motion in February 2021, when the House of Commons first recognized Beijing's mistreatment of the Uyghurs and other Turkic minorities to be genocide. Call for Admitting 10,000 Refugees The House of Commons this week is debating another motion in relation to providing humanitarian assistance to the Uyghurs who are facing genocide carried out by the Chinese Communist Party (CCP). The motion, M-62, was introduced by Liberal MP Sameer Zuberi, who called on Ottawa to use Immigration, Refugees and Citizenship Canada's (IRCC) Refugee and Humanitarian Resettlement Program to expedite the entry of 10,000 Uyghurs and other Turkic Muslims into Canada over a period of two years starting in 2024. M-62 asked the government to recognize that "Uyghurs and other Turkic Muslims that have fled to third countries face pressure and intimidation by the Chinese state to return to China," where they would face even more serious atrocities, including mass arbitrary detention, mass arbitrary separation of children from their parents, forced sterilization, forced labour, and torture. "The international community, in 2005, said that these types of international crimes must be prevented. Therefore, each and every country has a responsibility to protect when we see crimes against humanity occurring, or the threat of them occurring," Zuberi said at the House of Commons debate on Oct. 26. "When we see genocide occurring or the threat of genocide occurring, we, as a human family, as a collective of countries, and as Canada, all have a responsibility to protect." The first hour of debate for #M62, my motion to resettle 10K #Uyghurs took place today. As an MP and as a Canadian, it is my duty to shed light on the genocide unfolding in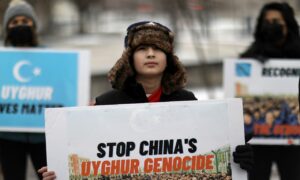 MPs have voted unanimously to support a report that calls on the federal government to expand existing immigration measures to accommodate Uyghurs and other Turkic Muslims who are fleeing the repression of the Chinese communist regime.
The motion, introduced by Conservative MP Garnett Genuis, was adopted on Oct. 25. MPs voted 258 to 0 in support of a recent report from the House Standing Committee on Citizenship and Immigration urging the government to provide safe haven for the Uyghurs in China who are targets of "an ongoing genocide."
The report also noted that many victims who fled to third countries "are at continuing risk of detention and deportation back to China, where they face serious risk of arbitrary detention, torture, and other atrocities."
To provide relief to these victims, the committee asks that Ottawa extend existing special immigration measures to Uyghurs and other Turkic Muslims, including the expansion of biometrics collection capabilities in third countries and the issuance of Temporary Resident Permits and single journey travel documents to those without a passport.
The committee also asked that the government allow displaced Uyghurs in third countries, who are at risk of detention and deportation back to China, to seek refuge in Canada, and to waive the requirement that they be first designated as refugees by the United Nations High Commissioner for Refugees.
The government was given a 30-day limit to provide a comprehensive response to the committee.
The House of Commons is currently voting on a motion to re-affirm it's recognition of the #UyghurGenocide and to call for special immigration measures to assist Uyghur refugees. The Liberal cabinet fled the chamber – they are abstaining again. Cowards. #cdnpoli #Uyghur

— Garnett Genuis (@GarnettGenuis) October 25, 2022
Genuis, the shadow minister for international development, criticized Prime Minister Justin Trudeau's cabinet for abstaining from voting.
International Trade Minister Mary Ng initially broke ranks with her party and voted to endorse the report, though a spokesperson from her office later said the minister made a mistake and had intended to also abstain, according to Globe and Mail reporter Steven Chase in a Twitter post.
The Liberal cabinet also abstained when MPs were voting on a similar motion in February 2021, when the House of Commons first recognized Beijing's mistreatment of the Uyghurs and other Turkic minorities to be genocide.
Call for Admitting 10,000 Refugees
The House of Commons this week is debating another motion in relation to providing humanitarian assistance to the Uyghurs who are facing genocide carried out by the Chinese Communist Party (CCP).
The motion, M-62, was introduced by Liberal MP Sameer Zuberi, who called on Ottawa to use Immigration, Refugees and Citizenship Canada's (IRCC) Refugee and Humanitarian Resettlement Program to expedite the entry of 10,000 Uyghurs and other Turkic Muslims into Canada over a period of two years starting in 2024.
M-62 asked the government to recognize that "Uyghurs and other Turkic Muslims that have fled to third countries face pressure and intimidation by the Chinese state to return to China," where they would face even more serious atrocities, including mass arbitrary detention, mass arbitrary separation of children from their parents, forced sterilization, forced labour, and torture.
"The international community, in 2005, said that these types of international crimes must be prevented. Therefore, each and every country has a responsibility to protect when we see crimes against humanity occurring, or the threat of them occurring," Zuberi said at the House of Commons debate on Oct. 26.
"When we see genocide occurring or the threat of genocide occurring, we, as a human family, as a collective of countries, and as Canada, all have a responsibility to protect."
The first hour of debate for #M62, my motion to resettle 10K #Uyghurs took place today.

As an MP and as a Canadian, it is my duty to shed light on the genocide unfolding in