California Gov. Newsom Tackles Water, Electricity
Commentary"In California, whisky is for drinking and water is for fighting," said Mark Twain. You can learn a lot even from people whose policies you generally don't like. A good example is Gov. Gavin Newsom, whose political skills continue to evolve. Newsom knows the two biggest issues in California are not the ones in the news most days, such as the economy, abortion, and climate change. The two biggest issues are water and electricity. Get those wrong and you'll drown politically. Get them right and, although people might not notice, you will not be hammered because the lights went out for hours. Or they couldn't water their lawns for years. I recently interviewed Temecula Mayor Matt Rahn, who's running for the Assembly from District 71. He mentioned how both increased electricity and water prices are boosting charges to vintners in his area, the major wine region in Southern California. Higher Chablis costs will get the attention even of liberal activists. On electricity, Newsom was a member of the San Francisco Board of Supervisors during what's now called the 2000–01 California Electricity Crisis. Although he didn't cause the crisis, then-Gov. Gray Davis fumbled the response. Critically, in 2001 Davis signed long-term contracts for natural gas for the electric companies—but at the height of the market price. "It seems like people are going to get ripped off for the next 10, 15, 20 years," blasted Republican Assemblyman Tony Strickland at the time. "He looked long-term for what was a short-term solution." The bankruptcy of PG&E and the increased cost of electricity to consumers KO'd Davis's presidential ambitions and played a major part in his October 2003 recall, although there were other factors. In December 2003, just after the recall, Newsom was elected mayor of San Francisco, and had to deal with the fallout from the electricity crisis as well as new Gov. Arnold Schwarzenegger, a Republican. As mayor, Newsom always insisted he was a moderate in the mold of former Mayor Dianne Feinstein, now of course a U.S. senator for three decades. He also saw how Gov. Jerry Brown, elected for his second stint in the governor's chair in 2010, had moderated since his 1970s "Gov. Moonbeam" days. Brown, too, made sure the lights stayed on and the water kept flowing. Today on electricity, Newsom is a big champion of advancing renewables, mainly solar, windmills, and geothermal. But he knows those won't supply enough electrons for Californians until after he takes up his hoped-for residence in the White House. So he has become the biggest supporter of keeping open the Diablo Canyon nuclear plant, currently scheduled to close in 2025. He wants a loan of $1.4 billion to PG&E to keep one reactor open until 2029 and the other until 2030. Nice. That's after a potential 2028 presidential bid. And keeping them open till 2035 would also be explored. Both reactors kick out 2.2 gigawatts of power. That's enough to power 1.65 million homes, about 2.5 percent of the state's population. His proposal upset California environmentalists. When the subject first came up in May, a coalition including San Luis Obispo Mothers for Peace sent him a letter, complaining, "Your suggestion to extend the operational life of the Diablo Canyon nuclear facility is an outrage. Diablo Canyon is dangerous, dirty, and expensive. It must retire as planned." But California environmentalists don't vote in the Iowa Caucuses or the primaries in New Hampshire and South Carolina. On water, on Aug. 11 Newsom released a new document (pdf), "California's Water Supply Strategy, Adapting to a Hotter, Drier Future." According to his office's summary, it "calls for investing in new sources of water supply, accelerating projects, and modernizing how the state manages water through new technology." It stipulated, the Department of Water Resources "will advance the design of and the draft environmental impact report for the proposed Delta conveyance project, which would construct new intakes along the Sacramento River and a tunnel under the Delta to safeguard [State Water Project] deliveries and ensure that the SWP can make the most of big but infrequent storm events." That is scaled down from Brown's Two Tunnels project. But it would be a major accomplishment, one sought since Brown's time as governor five decades ago. It would ensure adequate water for Southern California, while protecting Delta wildlife. Unfortunately, the document also proposes, "Modernize water rights administration for equity, access, flexibility, and transparency." The latter three are fine. But "equity," as I keep writing, means socialist redistribution based on current political jockeying. It pits group against group in this increasingly diverse state. Promoting "equity" is required now for politicians like Newsom gunning for higher status in the Democratic Party ziggurat. But it would mean endless war in California for the resource that, as Mark Twain pointed out, brings ou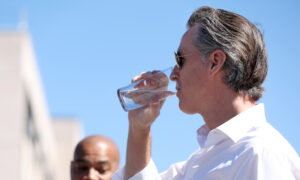 Commentary
"In California, whisky is for drinking and water is for fighting," said Mark Twain.
You can learn a lot even from people whose policies you generally don't like. A good example is Gov. Gavin Newsom, whose political skills continue to evolve.
Newsom knows the two biggest issues in California are not the ones in the news most days, such as the economy, abortion, and climate change. The two biggest issues are water and electricity. Get those wrong and you'll drown politically. Get them right and, although people might not notice, you will not be hammered because the lights went out for hours. Or they couldn't water their lawns for years.
I recently interviewed Temecula Mayor Matt Rahn, who's running for the Assembly from District 71. He mentioned how both increased electricity and water prices are boosting charges to vintners in his area, the major wine region in Southern California. Higher Chablis costs will get the attention even of liberal activists.
On electricity, Newsom was a member of the San Francisco Board of Supervisors during what's now called the 2000–01 California Electricity Crisis. Although he didn't cause the crisis, then-Gov. Gray Davis fumbled the response. Critically, in 2001 Davis signed long-term contracts for natural gas for the electric companies—but at the height of the market price.
"It seems like people are going to get ripped off for the next 10, 15, 20 years," blasted Republican Assemblyman Tony Strickland at the time. "He looked long-term for what was a short-term solution."
The bankruptcy of PG&E and the increased cost of electricity to consumers KO'd Davis's presidential ambitions and played a major part in his October 2003 recall, although there were other factors.
In December 2003, just after the recall, Newsom was elected mayor of San Francisco, and had to deal with the fallout from the electricity crisis as well as new Gov. Arnold Schwarzenegger, a Republican. As mayor, Newsom always insisted he was a moderate in the mold of former Mayor Dianne Feinstein, now of course a U.S. senator for three decades.
He also saw how Gov. Jerry Brown, elected for his second stint in the governor's chair in 2010, had moderated since his 1970s "Gov. Moonbeam" days. Brown, too, made sure the lights stayed on and the water kept flowing.
Today on electricity, Newsom is a big champion of advancing renewables, mainly solar, windmills, and geothermal. But he knows those won't supply enough electrons for Californians until after he takes up his hoped-for residence in the White House. So he has become the biggest supporter of keeping open the Diablo Canyon nuclear plant, currently scheduled to close in 2025.
He wants a loan of $1.4 billion to PG&E to keep one reactor open until 2029 and the other until 2030. Nice. That's after a potential 2028 presidential bid. And keeping them open till 2035 would also be explored.
Both reactors kick out 2.2 gigawatts of power. That's enough to power 1.65 million homes, about 2.5 percent of the state's population.
His proposal upset California environmentalists. When the subject first came up in May, a coalition including San Luis Obispo Mothers for Peace sent him a letter, complaining, "Your suggestion to extend the operational life of the Diablo Canyon nuclear facility is an outrage. Diablo Canyon is dangerous, dirty, and expensive. It must retire as planned."
But California environmentalists don't vote in the Iowa Caucuses or the primaries in New Hampshire and South Carolina.
On water, on Aug. 11 Newsom released a new document (pdf), "California's Water Supply Strategy, Adapting to a Hotter, Drier Future." According to his office's summary, it "calls for investing in new sources of water supply, accelerating projects, and modernizing how the state manages water through new technology."
It stipulated, the Department of Water Resources "will advance the design of and the draft environmental impact report for the proposed Delta conveyance project, which would construct new intakes along the Sacramento River and a tunnel under the Delta to safeguard [State Water Project] deliveries and ensure that the SWP can make the most of big but infrequent storm events."
That is scaled down from Brown's Two Tunnels project. But it would be a major accomplishment, one sought since Brown's time as governor five decades ago. It would ensure adequate water for Southern California, while protecting Delta wildlife.
Unfortunately, the document also proposes, "Modernize water rights administration for equity, access, flexibility, and transparency." The latter three are fine. But "equity," as I keep writing, means socialist redistribution based on current political jockeying. It pits group against group in this increasingly diverse state.
Promoting "equity" is required now for politicians like Newsom gunning for higher status in the Democratic Party ziggurat. But it would mean endless war in California for the resource that, as Mark Twain pointed out, brings out the steel swords in the Golden State.
All in all, Newsom's nimbleness on the volatile issues of water and electricity shows he's a true politician. We will soon find out if voters give him the keys to the Oval Office.
Views expressed in this article are the opinions of the author and do not necessarily reflect the views of The Epoch Times.