California 2023 Budget Preview: Pain Is Coming
CommentaryThe most important California government document every year is the governor's January budget proposal. The one for fiscal year 2023-24, which begins on July 1, will be released next week by Gov. Gavin Newsom. The January budget sets the tables for budget negotiations lasting until the governor's May Revision—the "May Revise" in Sacramento parlance. Then there's a sprint to pass budget bills before the June 15 deadline in the California Constitution. When the money is flowing copiously into the treasury, as in the past decade, it's easy for the Legislature and governor to haggle over items and meet the deadline. I remember when Gov. Gray Davis pushed his first budget through the Legislature just minutes after midnight on June 15, 1999, so technically in violation of the Constitution, and he quipped, "Good enough for government work!" For those of you who never have been in government—I first heard the phrase four decades ago in the U.S. Army—it means nobody expects private-sector efficiencies in government work. That was a year when the budget soared 15 percent over the previous year, to $66.5 billion for the general fund. The next year, it rose again, to $78.1 billion. But soon, the dot-com recession hit in 2000, massive deficits threatened, and the budget had to be cut to $76.8 billion for 2001-02. Davis was recalled and replaced by Gov. Arnold Schwarzenegger, who promised to "blow up the boxes" of government waste. He succeeded for three years, keeping the budget reasonable. It grew to only $79.8 billion by 2004-05. But then he, too, succumbed to spending mania. His next budget, for 2005-06, soared to $91.6 billion. Then again, to $101.4 billion in 2006-07, breaking the $100 billion barrier for the first time. That was an amusing moment. The Legislature actually had OK'd a $100 billion budget. Then Arnold insisted it was too high, and must be "reduced" to $101.4 billion—that is, actually increased. State Sen. Tom McClintock (R), now a U.S. House member, quipped to me, "The hits just keep coming." I'm guessing Schwarzenegger, who has parlayed his movie paychecks into a real estate empire worth $450 million, is better at negotiating in his private business. When the inevitable recession hit in 2007, now called the Subprime Meltdown, the massive deficits returned. That $101.4 billion budget was chopped down to $87.2 billion for 2009-10. In 2008, the budget was signed on Sept. 23, the latest date ever. In January 2009, Schwarzenegger, who had won office promising not to raise taxes, pushed through a record $13 billion tax hike. Today, fortunately, there's a cushion that didn't exist during those previous downturns. The state Rainy Day fund and the Public School System Stabilization Account, also known as the Prop 98 Rainy Day Fund, amount to $30 billion combined. Last November, the nonpartisan Legislative Analyst warned of an impending deficit, which I wrote about in The Epoch Times in, "$100 Billion Surplus Turns Into $24 Billion Deficit." Newsom will soon give us his new estimate. In recent years, he has downplayed expected revenues to play it safe. Last year's January budget proposal, for example, projected a $45.7 billion surplus. It turned out twice that. It's a trick he learned while playing lieutenant governor to Gov. Jerry Brown, who was always careful with budgets. And Newsom, as mayor of San Francisco from 2004-11, certainly was watching when Davis and Schwarzenegger saw their careers end with budget disasters. Meanwhile, the high-tech layoffs continue, cutting expected revenues to the state treasury, while increasing costs for unemployment insurance and welfare. The latest: Amazon is laying off 18,000 employees nationwide. Although headquartered in Seattle, it has a large presence in Silicon Valley for programming, and everywhere in California for distribution. Salesforce, San Francisco's largest employer, is laying off 8,000 employees. Tesla, with a factory still in Fremont after its HQ moved to Texas, is planning layoffs. Its stock has crashed the past year. Critics are blaming CEO Elon Musk's purchase of Twitter, diverting his attention. But almost all tech stocks are off sharply. Tesla is not really a car company, but a high-tech battery company attached to a car platform. No doubt more layoffs will come. The state has tied itself to the roller coaster of revenues from Silicon Valley millionaires and billionaires. With the Valley, as locals called it, now in a valley of value, the state will be suffering. The battles in the Legislature will not be over how to spend a surplus, but how to cut spending—and if taxes should be raised, and how to do so. It will be a year of pain. Views expressed in this article are the opinions of the author and do not necessarily reflect the views of The Epoch Times. John Seiler is a veteran California opinion writer. He has written editorials for The Orange County Register for almost 30 years. He is a U.S. A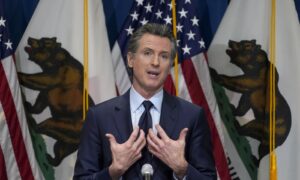 Commentary
The most important California government document every year is the governor's January budget proposal. The one for fiscal year 2023-24, which begins on July 1, will be released next week by Gov. Gavin Newsom.
The January budget sets the tables for budget negotiations lasting until the governor's May Revision—the "May Revise" in Sacramento parlance. Then there's a sprint to pass budget bills before the June 15 deadline in the California Constitution.
When the money is flowing copiously into the treasury, as in the past decade, it's easy for the Legislature and governor to haggle over items and meet the deadline. I remember when Gov. Gray Davis pushed his first budget through the Legislature just minutes after midnight on June 15, 1999, so technically in violation of the Constitution, and he quipped, "Good enough for government work!"
For those of you who never have been in government—I first heard the phrase four decades ago in the U.S. Army—it means nobody expects private-sector efficiencies in government work.
That was a year when the budget soared 15 percent over the previous year, to $66.5 billion for the general fund. The next year, it rose again, to $78.1 billion. But soon, the dot-com recession hit in 2000, massive deficits threatened, and the budget had to be cut to $76.8 billion for 2001-02. Davis was recalled and replaced by Gov. Arnold Schwarzenegger, who promised to "blow up the boxes" of government waste.
He succeeded for three years, keeping the budget reasonable. It grew to only $79.8 billion by 2004-05. But then he, too, succumbed to spending mania. His next budget, for 2005-06, soared to $91.6 billion. Then again, to $101.4 billion in 2006-07, breaking the $100 billion barrier for the first time.
That was an amusing moment. The Legislature actually had OK'd a $100 billion budget. Then Arnold insisted it was too high, and must be "reduced" to $101.4 billion—that is, actually increased. State Sen. Tom McClintock (R), now a U.S. House member, quipped to me, "The hits just keep coming." I'm guessing Schwarzenegger, who has parlayed his movie paychecks into a real estate empire worth $450 million, is better at negotiating in his private business.
When the inevitable recession hit in 2007, now called the Subprime Meltdown, the massive deficits returned. That $101.4 billion budget was chopped down to $87.2 billion for 2009-10.
In 2008, the budget was signed on Sept. 23, the latest date ever. In January 2009, Schwarzenegger, who had won office promising not to raise taxes, pushed through a record $13 billion tax hike.
Today, fortunately, there's a cushion that didn't exist during those previous downturns. The state Rainy Day fund and the Public School System Stabilization Account, also known as the Prop 98 Rainy Day Fund, amount to $30 billion combined.
Last November, the nonpartisan Legislative Analyst warned of an impending deficit, which I wrote about in The Epoch Times in, "$100 Billion Surplus Turns Into $24 Billion Deficit."
Newsom will soon give us his new estimate. In recent years, he has downplayed expected revenues to play it safe. Last year's January budget proposal, for example, projected a $45.7 billion surplus. It turned out twice that. It's a trick he learned while playing lieutenant governor to Gov. Jerry Brown, who was always careful with budgets. And Newsom, as mayor of San Francisco from 2004-11, certainly was watching when Davis and Schwarzenegger saw their careers end with budget disasters.
Meanwhile, the high-tech layoffs continue, cutting expected revenues to the state treasury, while increasing costs for unemployment insurance and welfare. The latest:
Amazon is laying off 18,000 employees nationwide. Although headquartered in Seattle, it has a large presence in Silicon Valley for programming, and everywhere in California for distribution.
Salesforce, San Francisco's largest employer, is laying off 8,000 employees.
Tesla, with a factory still in Fremont after its HQ moved to Texas, is planning layoffs. Its stock has crashed the past year. Critics are blaming CEO Elon Musk's purchase of Twitter, diverting his attention. But almost all tech stocks are off sharply. Tesla is not really a car company, but a high-tech battery company attached to a car platform.
No doubt more layoffs will come. The state has tied itself to the roller coaster of revenues from Silicon Valley millionaires and billionaires. With the Valley, as locals called it, now in a valley of value, the state will be suffering. The battles in the Legislature will not be over how to spend a surplus, but how to cut spending—and if taxes should be raised, and how to do so.
It will be a year of pain.
Views expressed in this article are the opinions of the author and do not necessarily reflect the views of The Epoch Times.