'Bloodhounds of Broadway' From 1952: An Early Mitzi Gaynor Musical
Commentary Author and newspaper columnist Damon Runyon wrote several stories about the rougher citizens of New York. Gangsters, gamblers, chorus girls, and apple sellers were the characters who came to life in his tales. Some of these short stories attracted Hollywood's attention, although the movie adaptations sometimes bore little resemblance to the original works and often featured changed titles. "Bloodhounds of Broadway" was a short story by Runyon. It was made into a movie of the same name in 1952. Mitzi Gaynor is the only big name in the movie, but most of the other roles are played by recognizable character actors. It's a 20th Century Fox musical directed by Harmon Jones. This is a charming story about a simple country girl who meets a big city crook. He intends to civilize her, but she ends up changing him with her homespun honesty and sincerity. A cropped lobby card for the 1952 film "Bloodhounds of Broadway." (MovieStillsDB) Country Girl Meets City Slicker Numbers Foster (Scott Brady) is a New York bookie with an exceptional ability to do mathematical equations in his head and who is a key player with the city's major rackets. He's in trouble when the film starts, since he and his crooked confederates are being roped into a crime investigation. He and his fellow gangsters hide out in Cuba while his girl, Yvonne Dugan (Marguerite Chapman), is called to the stand. She follows his instructions of what to say in court, while Numbers listens in on the radio. Once they're in the clear, Numbers heads back to New York with his right-hand man, hypochondriac Poorly Sammis (Wally Vernon), as his driver. While Numbers is asleep, Poorly takes a wrong turn, and they end up in rural Georgia, out of gas. They head out on foot to find some fuel and come across a simple funeral, where country girl Emily Ann Stackerlee (Gaynor) is singing a beautiful hymn in memory of her grandfather. Despite the hostility of her hillbilly suitor, Crockett Pace (Timothy Carey), Emily Ann welcomes the two strangers, helping them find gas and inviting them to stay for lunch. Their meal is interrupted when Crockett and his brothers show up and start a fight. Numbers, Poorly, Emily Ann, and two huge bloodhounds escape by car, and Numbers decides to take the girl to New York with them, since he feels responsible for her. A publicity still of the 1952 film "Bloodhounds of Broadway." (MovieStillsDB) Once in the Big Apple, Numbers entrusts Emily Ann to Poorly's sister, 52nd Tessie (Mitzi Green). After she's been given the New York glamour treatment, Numbers is shocked to realize his new friend is not a cute "little doll" but a beautiful 20-year-old woman. Yvonne is not happy about Numbers's interest in Emily Ann, especially when he starts training her to be a performer at the same nightclub where she sings. This female rivalry is especially dangerous to Numbers right now, since Inspector McNamara (Michael O'Shea), his childhood friend, is still trying to get some evidence against the bookie. If Yvonne gets angry, she could spill it all. However, Numbers doesn't realize how much Emily Ann loves him. A Hollywood Musical This movie's title refers to Emily Ann's huge, comical dogs and the fact that they go to New York City. "Broadway" of the title refers to the street, not the musical theater genre. This is, however, a musical movie, since it includes multiple musical numbers by several different pairs of songwriters. All of the musical numbers are performed in the context of the story, so they don't stick out from the plot. None of the songs are extremely memorable, but they serve their purpose, which is mainly to showcase Mitzi Gaynor's singing and dancing. Since leading man Scott Brady was not a musical performer, Miss Gaynor is joined by 52nd Tessie and Curtaintime Charlie (Richard Allan), a minor role basically just included for his dancing, in one main number. The musical number I liked the best was "Cindy," an old tune, which Emily Ann performs with a little neighbor girl at her cabin with accompaniment from a crank phonograph. Her friend is 9-year-old Little Elida (Sharon Baird), an adorable character you only see in this scenario. The two girls dance together at first, but Elida eventually breaks out into an amazingly intricate tap dance when the record speeds up, little Sharon has some impressive dancing skills! I wish they had made Elida Emily Ann's little sister instead of just a friend, since her feisty personality and amazing tap dancing would have been enjoyable throughout the rest of the film. People who don't necessarily love musicals can enjoy movie musicals like this, because they keep the singing and dancing to a minimum. At the same time, classic musical fans will enjoy this showcase for young Mitzi Gaynor, one of the last living stars from the Golden Age of Hollywood. A lobby card for the 1952 film "Bloodhounds of Broadway." (MovieStillsDB) Speaking of Broadway, old movies like this one offer something fe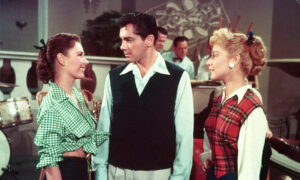 Commentary
Author and newspaper columnist Damon Runyon wrote several stories about the rougher citizens of New York. Gangsters, gamblers, chorus girls, and apple sellers were the characters who came to life in his tales. Some of these short stories attracted Hollywood's attention, although the movie adaptations sometimes bore little resemblance to the original works and often featured changed titles.
"Bloodhounds of Broadway" was a short story by Runyon. It was made into a movie of the same name in 1952. Mitzi Gaynor is the only big name in the movie, but most of the other roles are played by recognizable character actors. It's a 20th Century Fox musical directed by Harmon Jones.
This is a charming story about a simple country girl who meets a big city crook. He intends to civilize her, but she ends up changing him with her homespun honesty and sincerity.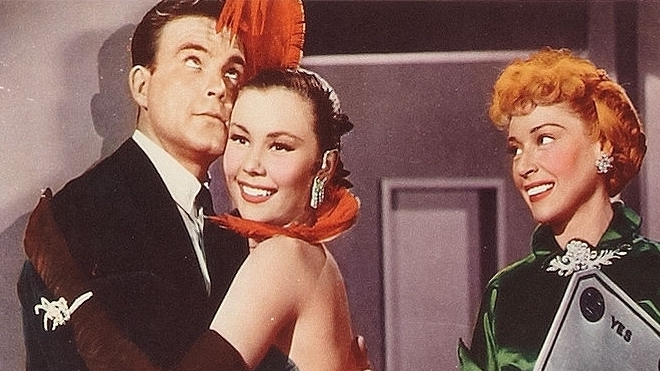 Country Girl Meets City Slicker
Numbers Foster (Scott Brady) is a New York bookie with an exceptional ability to do mathematical equations in his head and who is a key player with the city's major rackets. He's in trouble when the film starts, since he and his crooked confederates are being roped into a crime investigation. He and his fellow gangsters hide out in Cuba while his girl, Yvonne Dugan (Marguerite Chapman), is called to the stand. She follows his instructions of what to say in court, while Numbers listens in on the radio. Once they're in the clear, Numbers heads back to New York with his right-hand man, hypochondriac Poorly Sammis (Wally Vernon), as his driver.
While Numbers is asleep, Poorly takes a wrong turn, and they end up in rural Georgia, out of gas. They head out on foot to find some fuel and come across a simple funeral, where country girl Emily Ann Stackerlee (Gaynor) is singing a beautiful hymn in memory of her grandfather. Despite the hostility of her hillbilly suitor, Crockett Pace (Timothy Carey), Emily Ann welcomes the two strangers, helping them find gas and inviting them to stay for lunch. Their meal is interrupted when Crockett and his brothers show up and start a fight. Numbers, Poorly, Emily Ann, and two huge bloodhounds escape by car, and Numbers decides to take the girl to New York with them, since he feels responsible for her.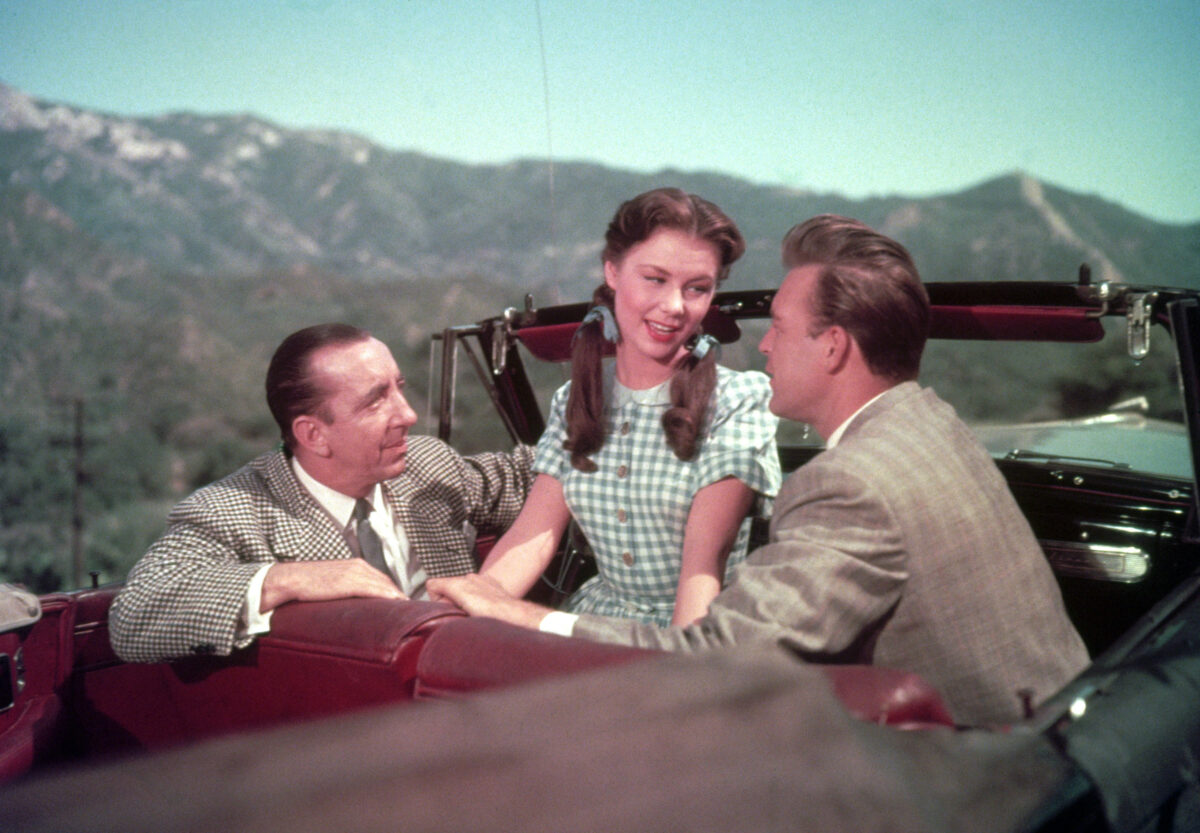 Once in the Big Apple, Numbers entrusts Emily Ann to Poorly's sister, 52nd Tessie (Mitzi Green). After she's been given the New York glamour treatment, Numbers is shocked to realize his new friend is not a cute "little doll" but a beautiful 20-year-old woman. Yvonne is not happy about Numbers's interest in Emily Ann, especially when he starts training her to be a performer at the same nightclub where she sings. This female rivalry is especially dangerous to Numbers right now, since Inspector McNamara (Michael O'Shea), his childhood friend, is still trying to get some evidence against the bookie. If Yvonne gets angry, she could spill it all. However, Numbers doesn't realize how much Emily Ann loves him.
A Hollywood Musical
This movie's title refers to Emily Ann's huge, comical dogs and the fact that they go to New York City. "Broadway" of the title refers to the street, not the musical theater genre. This is, however, a musical movie, since it includes multiple musical numbers by several different pairs of songwriters. All of the musical numbers are performed in the context of the story, so they don't stick out from the plot. None of the songs are extremely memorable, but they serve their purpose, which is mainly to showcase Mitzi Gaynor's singing and dancing. Since leading man Scott Brady was not a musical performer, Miss Gaynor is joined by 52nd Tessie and Curtaintime Charlie (Richard Allan), a minor role basically just included for his dancing, in one main number.
The musical number I liked the best was "Cindy," an old tune, which Emily Ann performs with a little neighbor girl at her cabin with accompaniment from a crank phonograph. Her friend is 9-year-old Little Elida (Sharon Baird), an adorable character you only see in this scenario. The two girls dance together at first, but Elida eventually breaks out into an amazingly intricate tap dance when the record speeds up, little Sharon has some impressive dancing skills! I wish they had made Elida Emily Ann's little sister instead of just a friend, since her feisty personality and amazing tap dancing would have been enjoyable throughout the rest of the film. People who don't necessarily love musicals can enjoy movie musicals like this, because they keep the singing and dancing to a minimum. At the same time, classic musical fans will enjoy this showcase for young Mitzi Gaynor, one of the last living stars from the Golden Age of Hollywood.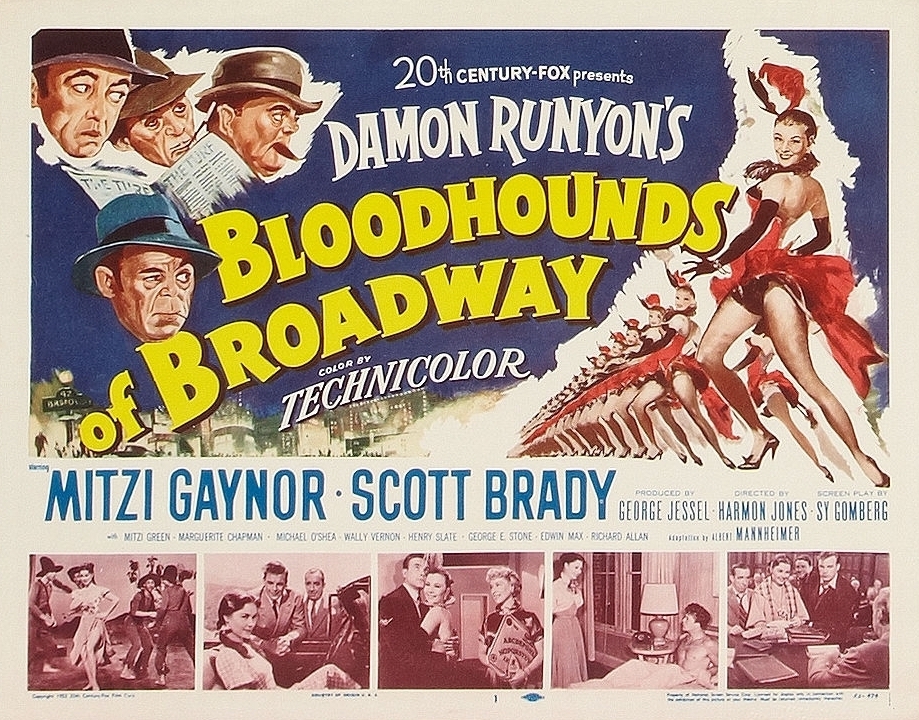 Speaking of Broadway, old movies like this one offer something few recent Broadway musicals can boast: clean fun for the whole family! Unlike contemporary musicals, whose lyrics include a four-letter word every other line, or even revivals of older works, which often are tainted by indecent or foolish new staging, old movie musicals are classy. That's because they have standards. Like all Hollywood movies made between 1934 and 1954, this movie followed the rules for proper film content by which the film industry abided, as laid out in the Motion Picture Production Code of 1930; it was written by Martin J. Quigley and Father Daniel A. Lord but is commonly misnomered the Hays Code. This all-important Code was effectively enforced by the Production Code Administration (PCA), which was powerful as long as it was headed by Joseph I. Breen. When he retired in 1954, clean but clever movies like this quickly became a thing of the past.
A Good Choice
Thankfully, old movies are now easier to watch than ever before. That's about one of the only things that are better about the 2020s than previous decades, so make the most of the resources for classic film viewing which are available! Almost any movie can now be found on DVD and occasionally Blu-ray from Amazon and sometimes Barnes & Noble. "Bloodhounds of Broadway" is also available for streaming to rent or purchase on Amazon Prime Video. If all else fails, you can find a copy of almost any old movie for free on ok.ru, a Russian social media site, although you may have to search for one without subtitles or an overdubbed foreign language.
This movie is the lighter yet more serious alternative to "Guys and Dolls." It comes from a story by the same author, yet there are fewer songs, fewer innuendos, and more heartwarming moments. It's a nice blend of a gangster story with a musical about a country girl who goes to the big city. This is a fun movie that many people with different tastes in movies can enjoy together.
Views expressed in this article are the opinions of the author and do not necessarily reflect the views of The Epoch Times.