Billionaire Brothers Under House Arrest in China for Suspected Financial Crimes
China expert: US citizen Paul Lee and sibling Li Xiaohua may have planned to flee ChinaPaul Xiaoming Lee, (Li Xiaoming) the richest man in China's Yunnan province, and a U.S. citizen, and his younger brother Li Xiaohua, reportedly a U.S. green card holder, are currently under residential surveillance by police in China. The path to wealth of the super-rich brothers is attracting a great deal of attention. Moreover, over the past few years, the Li brothers have cashed out more than 10 billion yuan (about $1.4 billion) from their company, a sign they may have planned to flee the country. Lee is the chairman of Yunnan Energy New Materials Co., Ltd, known in the United States as Semcorp Advanced Materials Group. Xiaohua is the company's vice-chairman. In a statement (pdf) on Nov. 23, the company announced that it received news of the house arrest on Nov. 20 and learned that an investigation is underway. The share price of Yunnan Energy New Materials has plummeted since the announcement. On the 2022 Hurun China rich list, which ranks China's wealthiest individuals, the Lee family ranked 105th, with 44 billion yuan ($6.14 billion) assets, while Li Xiaohua's family ranked 155th, with 32.5 billion assets ($4.54 billion). According to Chinese state-run financial newspaper The Securities Times, Lee is the wealthiest entrepreneur in Yunnan Province, while his brother ranks second. According to a report from Chinese internet giant NetEase, of the six members of the two Li families, five are U.S. citizens.  Yunnan Energy New Material's 2021 annual report (pdf) lists Lee as a U.S. citizen, while his brother is listed as a Chinese national with the right of residence in an unspecified foreign country. The Securities Times reported on Nov. 24 that over the last three years, the Li family has cashed in more than 10 billion yuan ($1.4 billion) from their shareholdings. Yunnan Energy New Material Co., Ltd. is a global leader in lithium battery isolation film and has business relationships with dozens of well-known companies, including Contemporary Amperex Technology Co. Ltd (CATL), Panasonic Holdings Corp., Samsung SDI Co., and BYD Co. Rise to Super Wealth Born in 1958, Lee was already well established in the plastics industry when he graduated from the University of Massachusetts with a degree in polymer materials in 1992, having served as vice president of Kunming Plastic Research Institute from 1984–1989. His brother, who is four years younger, graduated from the University of Massachusetts the following year, also with a degree in polymer materials. Both brothers worked in the plastics industry in America in the mid 1990s:  Lee worked at Inteplast Corp. from 1992–1995, and his younger brother worked at World-Pak Corporation from 1993–1996. In January 1993, the brothers established their own company, Lanser-Tech Corporation, in California. The company has since been terminated. In 1996, they returned to China to do business, running a string of successful companies in the packaging industry and eventually joining the lucrative lithium battery and electric vehicle sectors. The two brothers acquired a majority stake in Yunnan Energy's predecessor, Yunnan Innovative New Materials Co., Ltd., in 2010, according to a Bloomberg report on Nov. 22. It was listed on China's Shenzhen Stock Exchange in September 2016, with new energy and packaging being its two major business lines. In August 2018, Yunnan Innovation acquired a 90.08 percent stake in Shanghai Energy New Materials Technology Co., Ltd for 5 billion (approx. $700 million) and ventured into the lucrative lithium battery industry. In October of the same year, the company's name was changed to Yunnan Energy New Material Co., Ltd. The company's market capitalization stood at 137 billion yuan (about $19 billion) on Nov. 22 based on its share price of 140.17 yuan, almost six times its listing price in 2016, according to the South China Morning Post. Missing Assets May Be Key According to a report from Chinese financial news group Yicai Media, the arrest may have something to do with assets that were left unaccounted for when Yunnan Energy acquired Jiangxi Tongrui New Energy Technology  Development in November 2018. Although the smaller company had been awarded more than 1 billion yuan in government funding and guaranteed loans not long before the acquisition, the modest purchase price and the company's declared assets left over 1 billion yuan, or $140 million, unaccounted for. The investigation now includes the former Communist party secretary of the municipality where the acquisition took place. The former official was dismissed last month on suspicion of taking bribes, Yicai Media reported. Possible Link to Tobacco Industry Cleanup Other Chinese media speculate that the arrest has something to do with the siblings' involvement in the tobacco industry. A report by financial services company Eastmoney Securities noted that one of their first business ventur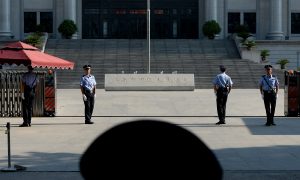 China expert: US citizen Paul Lee and sibling Li Xiaohua may have planned to flee China
Paul Xiaoming Lee, (Li Xiaoming) the richest man in China's Yunnan province, and a U.S. citizen, and his younger brother Li Xiaohua, reportedly a U.S. green card holder, are currently under residential surveillance by police in China.
The path to wealth of the super-rich brothers is attracting a great deal of attention. Moreover, over the past few years, the Li brothers have cashed out more than 10 billion yuan (about $1.4 billion) from their company, a sign they may have planned to flee the country.
Lee is the chairman of Yunnan Energy New Materials Co., Ltd, known in the United States as Semcorp Advanced Materials Group. Xiaohua is the company's vice-chairman. In a statement (pdf) on Nov. 23, the company announced that it received news of the house arrest on Nov. 20 and learned that an investigation is underway. The share price of Yunnan Energy New Materials has plummeted since the announcement.
On the 2022 Hurun China rich list, which ranks China's wealthiest individuals, the Lee family ranked 105th, with 44 billion yuan ($6.14 billion) assets, while Li Xiaohua's family ranked 155th, with 32.5 billion assets ($4.54 billion). According to Chinese state-run financial newspaper The Securities Times, Lee is the wealthiest entrepreneur in Yunnan Province, while his brother ranks second.
According to a report from Chinese internet giant NetEase, of the six members of the two Li families, five are U.S. citizens. Yunnan Energy New Material's 2021 annual report (pdf) lists Lee as a U.S. citizen, while his brother is listed as a Chinese national with the right of residence in an unspecified foreign country.
The Securities Times reported on Nov. 24 that over the last three years, the Li family has cashed in more than 10 billion yuan ($1.4 billion) from their shareholdings.
Yunnan Energy New Material Co., Ltd. is a global leader in lithium battery isolation film and has business relationships with dozens of well-known companies, including Contemporary Amperex Technology Co. Ltd (CATL), Panasonic Holdings Corp., Samsung SDI Co., and BYD Co.
Rise to Super Wealth
Born in 1958, Lee was already well established in the plastics industry when he graduated from the University of Massachusetts with a degree in polymer materials in 1992, having served as vice president of Kunming Plastic Research Institute from 1984–1989.
His brother, who is four years younger, graduated from the University of Massachusetts the following year, also with a degree in polymer materials.
Both brothers worked in the plastics industry in America in the mid 1990s: Lee worked at Inteplast Corp. from 1992–1995, and his younger brother worked at World-Pak Corporation from 1993–1996.
In January 1993, the brothers established their own company, Lanser-Tech Corporation, in California. The company has since been terminated.
In 1996, they returned to China to do business, running a string of successful companies in the packaging industry and eventually joining the lucrative lithium battery and electric vehicle sectors.
The two brothers acquired a majority stake in Yunnan Energy's predecessor, Yunnan Innovative New Materials Co., Ltd., in 2010, according to a Bloomberg report on Nov. 22. It was listed on China's Shenzhen Stock Exchange in September 2016, with new energy and packaging being its two major business lines.
In August 2018, Yunnan Innovation acquired a 90.08 percent stake in Shanghai Energy New Materials Technology Co., Ltd for 5 billion (approx. $700 million) and ventured into the lucrative lithium battery industry. In October of the same year, the company's name was changed to Yunnan Energy New Material Co., Ltd.
The company's market capitalization stood at 137 billion yuan (about $19 billion) on Nov. 22 based on its share price of 140.17 yuan, almost six times its listing price in 2016, according to the South China Morning Post.
Missing Assets May Be Key
According to a report from Chinese financial news group Yicai Media, the arrest may have something to do with assets that were left unaccounted for when Yunnan Energy acquired Jiangxi Tongrui New Energy Technology Development in November 2018.
Although the smaller company had been awarded more than 1 billion yuan in government funding and guaranteed loans not long before the acquisition, the modest purchase price and the company's declared assets left over 1 billion yuan, or $140 million, unaccounted for.
The investigation now includes the former Communist party secretary of the municipality where the acquisition took place. The former official was dismissed last month on suspicion of taking bribes, Yicai Media reported.
Possible Link to Tobacco Industry Cleanup
Other Chinese media speculate that the arrest has something to do with the siblings' involvement in the tobacco industry. A report by financial services company Eastmoney Securities noted that one of their first business ventures upon returning to China involved the production of cigarette packaging.
Yunnan, in southwestern China, is considered a hub for the tobacco industry.
Reporting on the investigation by state media South China Morning Post highlighted the company's involvement in the tobacco industry, calling Yunnan Energy New Materials a "tobacco business." The company currently produces cigarette labels and packaging, among a number of other packaging and print products.
A number of investigations in China recently have involved people involved with the tobacco industry, including the arrest of an official in Yunnan province. Shortly after the brothers were placed under residential surveillance, the former chairman of tobacco products manufacturer Yunnan Zhongyan Industry Co., Ltd., Ye Libin, voluntarily surrendered himself to police, according to Xinhua News.
Raising Capital While Cashing Out
Yunnan Energy has been aggressively raising capital in recent years. According to its 2020 annual report (pdf), in February 2020, it raised 1.6 billion yuan (about $200 million) through the issuance of convertible bonds. In September of the same year, it raised another 5 billion yuan (about $700 million) through non-public stock offerings. Correspondingly, its share prices rose sharply during that time frame.
In May, industry website Energy Trend reported that Yunnan Energy's revenue was up 86.37 percent from 2020, with its net profit increasing a massive 143.6 percent. In the first quarter of this year, the company raised its revenue by 79.62 percent, while its net profit soared by 111.92 percent.
According to Bloomberg, Yunnan Energy New Materials Co. announced in May that it planned a $916 million plant in Ohio. In June, it announced a 5.2 billion yuan (about $700 million) joint venture for battery film production with CATL.
Also in June, Yunnan Energy New Material was approved to raise 12.8 billion yuan (about $1.8 billion) through non-public stock offerings. The offering may not take place due to the current investigation, the report speculated.
Cash-out May Indicate Plans to Flee
According to an investigative report by Chinese news portal Qingliu Studio, the Li family has reduced its equity stake in Yunnan Energy New Material several times in recent years, citing "shareholders' capital needs."
Between August 2020 and June 2022, the family reduced its holdings by about 54 million shares, the report said. It estimated that the cash out was about 3.87 billion yuan, or about $549 million.
In addition, Qingliu Studio reported, since 2019 the family has secured 28 equity pledges, most of which were for "personal capital needs."
Current affairs commentator Li Yanming told The Epoch Times that wealthy families in China have been selling off their assets and fleeing China in the past two months. While Yunnan Energy is financing its expansion, the Li brothers have been reducing their shareholdings and cashing out nearly 10 billion yuan (about $1.4 billion). Li Yanming speculates that they are in the process of transferring their assets in order to flee China.