Biden Sounds Alarm on Monkeypox as CDC Alerts American Doctors
President Joe Biden claimed Sunday that "everybody" should be concerned about an increase of monkeypox cases in Europe and the United States, although the president admitted that he hasn't received information from his advisers on the disease yet.Speaking to reporters before leaving for Japan and South Korea, Biden said that his health advisers "haven't told me the level of exposure yet, but it is something that everybody should be concerned about," adding, "We're working on it hard to figure out what we do and what vaccine, if any, may be available for it." "But it is a concern in the sense that if it were to spread, it's consequential. That's all they have told me," Biden continued. As of May 21, more than 80 cases of monkeypox have been reported in Australia, the United States, Canada, and Europe. In a statement the day before, the World Health Organization (WHO) said it is working to investigate another 50 suspected cases, warning that more could be reported in the near future. "WHO is working with the affected countries and others to expand disease surveillance to find and support people who may be affected, and to provide guidance on how to manage the disease," the WHO said in a statement on Friday. Also on Sunday, White House national security adviser Jake Sullivan told reporters that the United States has vaccines "relevant to treating monkeypox," although he did not elaborate. Monkeypox is mostly reported in Central and West Africa, where hundreds of cases have been reported on a yearly basis. The monkeypox virus was first reported in laboratory monkeys in 1958, and the first human cases were found in the Democratic Republic of the Congo in the early 1970s. A 1971 photo from the Centers for Disease Control handout shows monkeypox-like lesions on the arm and leg of a female child in Bondua, Liberia. (CDC/Getty Images) But most of the recent cases elsewhere appear to have no connection with Africa. Symptoms of monkeypox—which is related to the smallpox virus—include fever, body aches, and rashes. Smallpox, which has been responsible for a number of pandemics throughout history, presents more severe symptoms. With the world on heightened alert over COVID-19, the WHO noted that monkeypox spreads differently and namely through close contact with an infected animal or person. UK health officials warned that homosexual men appear to be at most risk of contracting the disease. Neil Mabbott, a disease expert at the University of Edinburgh, told The Associated Press on May 21 that recent cases suggest a potential new means of contracting the virus: sexual transmission. And Keith Neal, an infectious disease epidemiologist at the University of Nottingham, told the outlet that the mode of transmission may not be via sexual activity but instead may be through "the close contact associated with sexual intercourse." The Centers for Disease Control and Prevention (CDC) has warned that sexually transmitted diseases among homosexual males have been on the rise in recent years. In 2014, that group accounted for about 83 percent of syphilis, a type of sexually transmitted bacterial infection, in the United States. The CDC said in a recent update that regarding cases reported in the United Kingdom, there was a "temporally clustered group of cases involving four people." "Some evidence suggests that cases among [homosexual males] may be epidemiologically linked; the patients in this cluster were identified at sexual health clinics," the agency stated. "This is an evolving investigation and public health authorities hope to learn more about routes of exposure in the coming days."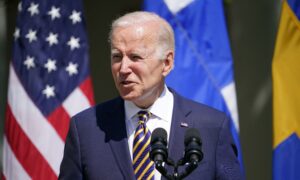 President Joe Biden claimed Sunday that "everybody" should be concerned about an increase of monkeypox cases in Europe and the United States, although the president admitted that he hasn't received information from his advisers on the disease yet.
Speaking to reporters before leaving for Japan and South Korea, Biden said that his health advisers "haven't told me the level of exposure yet, but it is something that everybody should be concerned about," adding, "We're working on it hard to figure out what we do and what vaccine, if any, may be available for it."
"But it is a concern in the sense that if it were to spread, it's consequential. That's all they have told me," Biden continued.
As of May 21, more than 80 cases of monkeypox have been reported in Australia, the United States, Canada, and Europe. In a statement the day before, the World Health Organization (WHO) said it is working to investigate another 50 suspected cases, warning that more could be reported in the near future.
"WHO is working with the affected countries and others to expand disease surveillance to find and support people who may be affected, and to provide guidance on how to manage the disease," the WHO said in a statement on Friday.
Also on Sunday, White House national security adviser Jake Sullivan told reporters that the United States has vaccines "relevant to treating monkeypox," although he did not elaborate.
Monkeypox is mostly reported in Central and West Africa, where hundreds of cases have been reported on a yearly basis. The monkeypox virus was first reported in laboratory monkeys in 1958, and the first human cases were found in the Democratic Republic of the Congo in the early 1970s.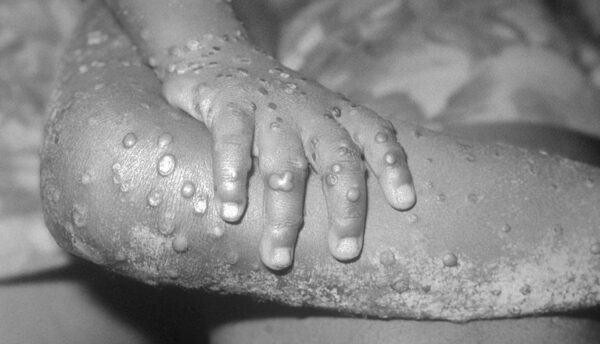 But most of the recent cases elsewhere appear to have no connection with Africa.
Symptoms of monkeypox—which is related to the smallpox virus—include fever, body aches, and rashes. Smallpox, which has been responsible for a number of pandemics throughout history, presents more severe symptoms.
With the world on heightened alert over COVID-19, the WHO noted that monkeypox spreads differently and namely through close contact with an infected animal or person. UK health officials warned that homosexual men appear to be at most risk of contracting the disease.
Neil Mabbott, a disease expert at the University of Edinburgh, told The Associated Press on May 21 that recent cases suggest a potential new means of contracting the virus: sexual transmission. And Keith Neal, an infectious disease epidemiologist at the University of Nottingham, told the outlet that the mode of transmission may not be via sexual activity but instead may be through "the close contact associated with sexual intercourse."
The Centers for Disease Control and Prevention (CDC) has warned that sexually transmitted diseases among homosexual males have been on the rise in recent years. In 2014, that group accounted for about 83 percent of syphilis, a type of sexually transmitted bacterial infection, in the United States.
The CDC said in a recent update that regarding cases reported in the United Kingdom, there was a "temporally clustered group of cases involving four people."
"Some evidence suggests that cases among [homosexual males] may be epidemiologically linked; the patients in this cluster were identified at sexual health clinics," the agency stated. "This is an evolving investigation and public health authorities hope to learn more about routes of exposure in the coming days."