Biden Himself Almost Said It: 'The Strategic Political Reserve'
CommentaryAlong with polyester leisure suits and lines at the gas station, the 1970s is remembered for moralizing dystopian movies, most of which blame the global catastrophes facing the principal characters on corporate greed or excessive procreation; like "Soylent Green," whose title refers to a government mass-produced food whose sinister ingredients turn out to have nothing to do with soy; "Rollerball," in which a corporate-run death sport is the opium of the masses; and "Silent Running," in which we see the last forests of a totally synthesized planet earth relegated to the outer reaches of the Solar System awaiting orders either to return or be discarded and destroyed as obsolete. But so obscure that it fails to make even exhaustive sci-fi geek lists of the era's films of the doomed future is the 1980 Canadian picture, "Firebird 2015 AD." Its story could have been conceived by a MAGA supporter during this or the last decade. Featuring the familiar TV faces of Darrin McGavin and Doug McClure and co-written by Maurice Hurley, who a few years later would be chief writer in the first years of "Star Trek: The Next Generation," and who ironically would pass away in that very year of 2015, the film depicts an early 21st century in which oil and the vehicles that run on it are outlawed. "Burners" defy the government and drive classic '70s muscle cars like a Pontiac Firebird or Ford Mustang, fueled by their hidden gasoline stashes, and are hunted by Washington's Department of Vehicle Control. We soon discover that the supposed depletion of fossil fuels on the planet is a hypocritical deception, as politicians and the military have kept plenty of oil for their own use. At one point Edmund Burke's maxim that "bad laws are the worst sort of tyranny" is even cited by one of the characters, then correctly attributed to Burke by another. Yet the film was panned by critics, TV Guide's reviewer accusing it of "lack of intelligence and … lack of technical know-how." Ideology may be a big reason VHS tapes of it were seldom found on Blockbuster shelves, and why it never achieved cult status. In retrospect, of course, "Firebird 2015 AD" was remarkably prescient. Today it's 2022 AD and the California Air Resources Board is scheduled to abolish the sale of gasoline-powered automobiles by the middle of the next decade. President Joe Biden boasts of having "united automakers and autoworkers around the bold goal for electric vehicles to make up 50 percent of all vehicles sold in the United States by 2030." But in the real world, as opposed to the celluloid one, about 80 percent of the energy economy is made up of "burners," using oil, natural gas, and coal rather than windmills and solar panels. And Joe Biden very much wants their votes. Which is why on Wednesday he gave a speech telling the "burners" to make sure they give him and his party the credit for a modest reduction in the price at the pump that may take place when he, once again, taps into our nation's emergency oil supply, meant to ensure the economy survives in case of a major war or other serious calamity, the Strategic Petroleum Reserve. Here is an excerpt from the White House's official transcript of the speech: "Right now, the Strategic Pol- — the Strategic Petroleum Reserve is more than half full, with about 400 million barrels of oil. That's more than enough for any emergency drawdown. With my announcement today, we're going to continue to stabilize markets and decrease the prices at a time when the actions of other countries have caused such volatility." In a Freudian near-slip, Biden came close to calling the SPR what he has spent this year turning it into—a Strategic Political Reserve, using taxpayer-funded oil to buy their votes. Whatever pittance gasoline prices may go down by in the two weeks before the mid-term congressional elections due to the president releasing another 15 million barrels from the SPR, it will be a drop in the petroleum ocean compared with the 2 million barrels per day in oil production that the Organization of the Petroleum Exporting Countries (OPEC), led by Saudi Arabia, will be cutting beginning in November, a move sure to bring the global price of crude back up into the $90 to $100 range—just in time for Christmas shopping. The desperate personal diplomacy employed by the Biden administration over the past months to convince them not to cut production—including the humiliating spectacle of Biden visiting Jeddah to meet with Saudi Crown Prince Mohammed bin Salman in July—failed spectacularly, which is hardly a surprise since Biden had called the crown prince, an important U.S. ally, a murderous "pariah" during his 2020 campaign. The president would proceed to claim dubiously to CNN earlier this month that going to see the crown prince wasn't about gas prices in America. "Let's get straight why I went," Biden said. "I didn't go about oil. I went about making sure that we made sure that we weren't going to walk away from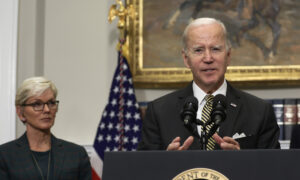 Commentary
Along with polyester leisure suits and lines at the gas station, the 1970s is remembered for moralizing dystopian movies, most of which blame the global catastrophes facing the principal characters on corporate greed or excessive procreation; like "Soylent Green," whose title refers to a government mass-produced food whose sinister ingredients turn out to have nothing to do with soy; "Rollerball," in which a corporate-run death sport is the opium of the masses; and "Silent Running," in which we see the last forests of a totally synthesized planet earth relegated to the outer reaches of the Solar System awaiting orders either to return or be discarded and destroyed as obsolete.
But so obscure that it fails to make even exhaustive sci-fi geek lists of the era's films of the doomed future is the 1980 Canadian picture, "Firebird 2015 AD." Its story could have been conceived by a MAGA supporter during this or the last decade. Featuring the familiar TV faces of Darrin McGavin and Doug McClure and co-written by Maurice Hurley, who a few years later would be chief writer in the first years of "Star Trek: The Next Generation," and who ironically would pass away in that very year of 2015, the film depicts an early 21st century in which oil and the vehicles that run on it are outlawed.
"Burners" defy the government and drive classic '70s muscle cars like a Pontiac Firebird or Ford Mustang, fueled by their hidden gasoline stashes, and are hunted by Washington's Department of Vehicle Control. We soon discover that the supposed depletion of fossil fuels on the planet is a hypocritical deception, as politicians and the military have kept plenty of oil for their own use. At one point Edmund Burke's maxim that "bad laws are the worst sort of tyranny" is even cited by one of the characters, then correctly attributed to Burke by another. Yet the film was panned by critics, TV Guide's reviewer accusing it of "lack of intelligence and … lack of technical know-how." Ideology may be a big reason VHS tapes of it were seldom found on Blockbuster shelves, and why it never achieved cult status.
In retrospect, of course, "Firebird 2015 AD" was remarkably prescient. Today it's 2022 AD and the California Air Resources Board is scheduled to abolish the sale of gasoline-powered automobiles by the middle of the next decade. President Joe Biden boasts of having "united automakers and autoworkers around the bold goal for electric vehicles to make up 50 percent of all vehicles sold in the United States by 2030."
But in the real world, as opposed to the celluloid one, about 80 percent of the energy economy is made up of "burners," using oil, natural gas, and coal rather than windmills and solar panels.
And Joe Biden very much wants their votes. Which is why on Wednesday he gave a speech telling the "burners" to make sure they give him and his party the credit for a modest reduction in the price at the pump that may take place when he, once again, taps into our nation's emergency oil supply, meant to ensure the economy survives in case of a major war or other serious calamity, the Strategic Petroleum Reserve.
Here is an excerpt from the White House's official transcript of the speech: "Right now, the Strategic Pol- — the Strategic Petroleum Reserve is more than half full, with about 400 million barrels of oil. That's more than enough for any emergency drawdown. With my announcement today, we're going to continue to stabilize markets and decrease the prices at a time when the actions of other countries have caused such volatility."
In a Freudian near-slip, Biden came close to calling the SPR what he has spent this year turning it into—a Strategic Political Reserve, using taxpayer-funded oil to buy their votes.
Whatever pittance gasoline prices may go down by in the two weeks before the mid-term congressional elections due to the president releasing another 15 million barrels from the SPR, it will be a drop in the petroleum ocean compared with the 2 million barrels per day in oil production that the Organization of the Petroleum Exporting Countries (OPEC), led by Saudi Arabia, will be cutting beginning in November, a move sure to bring the global price of crude back up into the $90 to $100 range—just in time for Christmas shopping.
The desperate personal diplomacy employed by the Biden administration over the past months to convince them not to cut production—including the humiliating spectacle of Biden visiting Jeddah to meet with Saudi Crown Prince Mohammed bin Salman in July—failed spectacularly, which is hardly a surprise since Biden had called the crown prince, an important U.S. ally, a murderous "pariah" during his 2020 campaign.
The president would proceed to claim dubiously to CNN earlier this month that going to see the crown prince wasn't about gas prices in America. "Let's get straight why I went," Biden said. "I didn't go about oil. I went about making sure that we made sure that we weren't going to walk away from the Middle East."
Wednesday's speech was filled with similar leg-pulling. Gasoline and heating oil cost more "because of Putin's invasion of Ukraine." Yet somehow fuel prices were already increasing substantially under Biden long before Putin made his move against Russia's neighbor. But the credit for energy costs coming down a fraction from their summer highs goes to Biden.
Biden added: "let's debunk some myths here. My administration has not stopped or slowed U.S. oil production; quite the opposite." In fact, he scrapped the Keystone XL oil pipeline practically before his chair in the Oval Office was warm in early 2021, then suspended scheduled drilling leases in the Arctic National Wildlife Refuge in Alaska and prohibited drilling on federal lands.
Much of the rest of the speech was spent complaining about what oil companies do with their own money; it should be noted that if oil firms over the past two decades had followed the environmentalist extremism of the Democratic Party's now-dominant hard left, there would never have been a hydraulic fracturing revolution allowing access to previous unreachable new domestic sources of oil, which multiplied supplies and kept energy prices low for hundreds of millions of Americans, much to the horror of the greens determined to de-industrialize the world—and turn it into something resembling a dystopian science fiction movie.
Views expressed in this article are the opinions of the author and do not necessarily reflect the views of The Epoch Times.