Beijing Needs to Engage With Australia 'Wisely': Foreign Minister Penny Wong
Foreign Minister Penny Wong has again signalled to Beijing that good bilateral relations are dependent on billions in punitive trade sanctions on Australian products being removed.The sanctions, implemented in 2020 as part of a targeted campaign of economic coercion against Australia, have been a sticking point for officials looking to stabilise ties. Beijing has previously said there was nothing wrong with the coercive trade sanctions, with Chinese Communist Party (CCP) spokesperson, Wang Weibin, saying that Beijing's measures were "lawful and beyond reproach." Currently, it is estimated the sanctions on eight Australian exports—including wine, timber, coal, beef, lamb, seafood, barley, and honey—have cost the country's exporters around $23 billion (US$15.4 billion). Speaking at a press conference in the Federated States of Micronesia, Wong said the Albanese Labor government said Beijing needed to engage with Australia "wisely." "We will look to stabilise the relationship; we will be clear that we think it's in both countries' interests for those trade impediments to be removed," Wong said. "We will seek to have an engagement which enables Australia to navigate its differences wisely, and we would encourage China to engage with us in a way that navigates the differences between our interests wisely." Australia's Foreign Minister Penny Wong (L) bumps elbows with China's Foreign Minister Wang Yi during their bilateral meeting on the sidelines of G20 Foreign Ministers Meeting in Nusa Dua on Indonesia's resort island of Bali on July 8, 2022. (Johannes P. Christo/POOL/AFP via Getty Images) Wong stated that, ultimately, it was up to the CCP whether the trade impediments are removed. "We continue to say we think it's in their interests to do so," she said. The comments from the foreign minister come as the two countries explore a potential thawing of bilateral tensions after current Prime Minister Anthony Albanese met with Chinese leader Xi Jinping in Indonesia. However, Albanese cautioned against any immediate change in relations. "It was not anticipated that a meeting such as that, that you get immediate declarations," Albanese said, referring to the trade sanctions. "I believe if people thought that would happen, then that was not realistic." Coercive Tactics Pushing International Community Away The CCP's decision to instigate a campaign of economic coercion against Australia has been regarded as a misstep by the international community, with the U.S. Secretary of State Anthony Blinken remarking in February that China had bit off more than it could chew. "I think China has lost more than Australia has in its efforts to squeeze Australia economically," Blinken told The Sydney Morning Herald and The Age in an interview. Blinken also noted that he thought Beijing would think "twice about this in the future." Secretary of State Antony Blinken delivers remarks on the release of the 2021 Trafficking in Persons (TIP) Report at the State Department in Washington, DC on July 1, 2021. (Ken Cedeno/POOL/AFP via Getty Images) Likewise, Beijing's tactics have been seen as the catalyst for the establishment of AUKUS, with Rory Medcalf, head of the National Security College at the Australian National University and author of "Indo-Pacific Empire", telling POLITICO that it was "an alignment made in Beijing." "The level of Chinese economic coercion and cyber espionage against Australia was once unimaginable, so our security agencies have learned to consider worst-case possibilities," said Medcalf, head of the National Security College at the Australian National University and author of "Indo-Pacific Empire." Australian Trade Continues to Boom Despite the trade sanctions, Australia's trade surplus has grown from $9 billion in December 2021 to $12.2 billion in December 2022. Additionally, the former centre-right Coalition had remarkable success negotiating new free trade deals with other major markets like the UK, the European Union, and India that are set to come into force in the next few weeks. Jeffrey Wilson, the research director of the Perth USAsia Centre, in an article for Foreign Policy in 2021, said that while Beijing intended to punish Australia, it did not work. "It did not have the intended effect of getting Australia to back down. Instead, the government responded defiantly, with [former] Australian Foreign Minister Marise Payne publicly accusing China of economic coercion," he said. "But in fact, the effects have been surprisingly mild. The reason is trade diversion: When a trade barrier is erected, businesses seek alternate outlets for their products. In open international markets, the outcome is rarely the destruction of export industries. Most of the time, trade flows adjust around the barrier." Victoria Kelly-Clark is an Australian based reporter who focuses on national politics and the geopolitical environment in the Asia-pacific region, the Middle East and C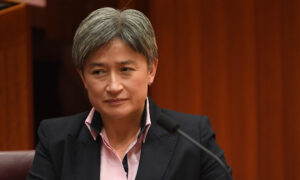 Foreign Minister Penny Wong has again signalled to Beijing that good bilateral relations are dependent on billions in punitive trade sanctions on Australian products being removed.
The sanctions, implemented in 2020 as part of a targeted campaign of economic coercion against Australia, have been a sticking point for officials looking to stabilise ties.
Beijing has previously said there was nothing wrong with the coercive trade sanctions, with Chinese Communist Party (CCP) spokesperson, Wang Weibin, saying that Beijing's measures were "lawful and beyond reproach."
Currently, it is estimated the sanctions on eight Australian exports—including wine, timber, coal, beef, lamb, seafood, barley, and honey—have cost the country's exporters around $23 billion (US$15.4 billion).
Speaking at a press conference in the Federated States of Micronesia, Wong said the Albanese Labor government said Beijing needed to engage with Australia "wisely."
"We will look to stabilise the relationship; we will be clear that we think it's in both countries' interests for those trade impediments to be removed," Wong said.
"We will seek to have an engagement which enables Australia to navigate its differences wisely, and we would encourage China to engage with us in a way that navigates the differences between our interests wisely."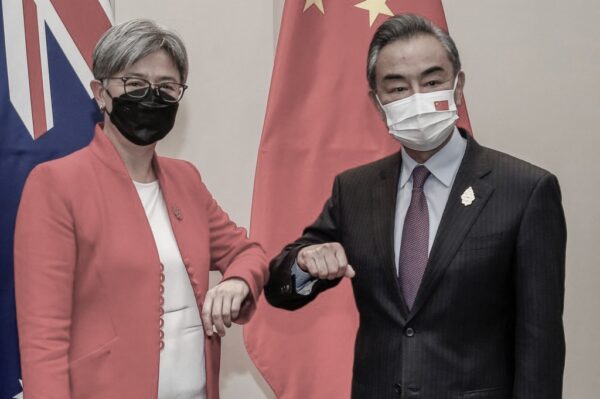 Wong stated that, ultimately, it was up to the CCP whether the trade impediments are removed.
"We continue to say we think it's in their interests to do so," she said.
The comments from the foreign minister come as the two countries explore a potential thawing of bilateral tensions after current Prime Minister Anthony Albanese met with Chinese leader Xi Jinping in Indonesia.
However, Albanese cautioned against any immediate change in relations.
"It was not anticipated that a meeting such as that, that you get immediate declarations," Albanese said, referring to the trade sanctions. "I believe if people thought that would happen, then that was not realistic."
Coercive Tactics Pushing International Community Away
The CCP's decision to instigate a campaign of economic coercion against Australia has been regarded as a misstep by the international community, with the U.S. Secretary of State Anthony Blinken remarking in February that China had bit off more than it could chew.
"I think China has lost more than Australia has in its efforts to squeeze Australia economically," Blinken told The Sydney Morning Herald and The Age in an interview.
Blinken also noted that he thought Beijing would think "twice about this in the future."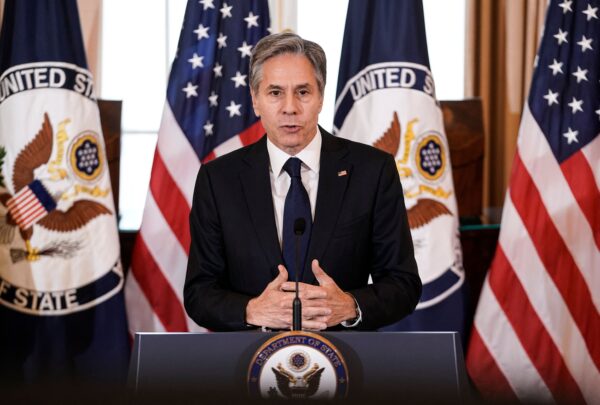 Likewise, Beijing's tactics have been seen as the catalyst for the establishment of AUKUS, with Rory Medcalf, head of the National Security College at the Australian National University and author of "Indo-Pacific Empire", telling POLITICO that it was "an alignment made in Beijing."
"The level of Chinese economic coercion and cyber espionage against Australia was once unimaginable, so our security agencies have learned to consider worst-case possibilities," said Medcalf, head of the National Security College at the Australian National University and author of "Indo-Pacific Empire."
Australian Trade Continues to Boom
Despite the trade sanctions, Australia's trade surplus has grown from $9 billion in December 2021 to $12.2 billion in December 2022.
Additionally, the former centre-right Coalition had remarkable success negotiating new free trade deals with other major markets like the UK, the European Union, and India that are set to come into force in the next few weeks.
Jeffrey Wilson, the research director of the Perth USAsia Centre, in an article for Foreign Policy in 2021, said that while Beijing intended to punish Australia, it did not work.
"It did not have the intended effect of getting Australia to back down. Instead, the government responded defiantly, with [former] Australian Foreign Minister Marise Payne publicly accusing China of economic coercion," he said.
"But in fact, the effects have been surprisingly mild. The reason is trade diversion: When a trade barrier is erected, businesses seek alternate outlets for their products. In open international markets, the outcome is rarely the destruction of export industries. Most of the time, trade flows adjust around the barrier."